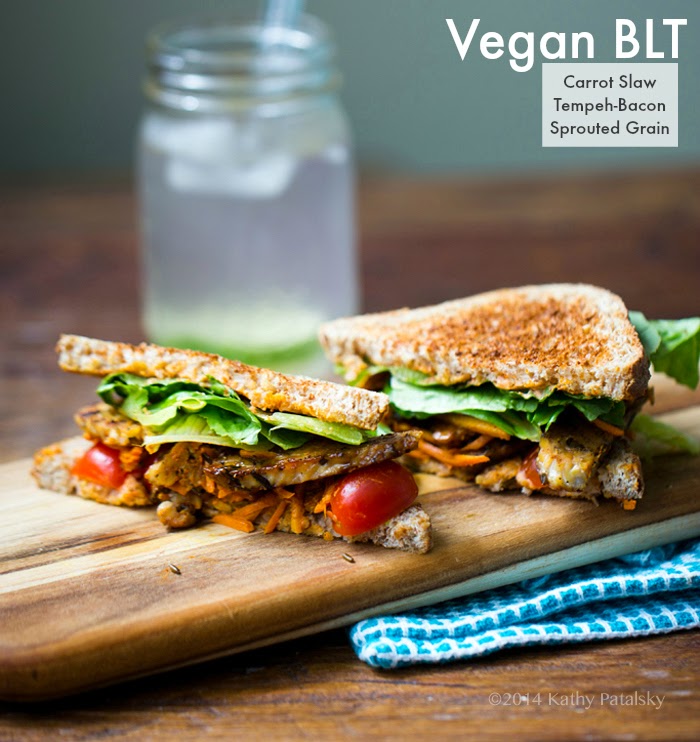 Pack a picnic and find some sunshine! I promise, your computer will not miss you at all. In fact, he (or she?) may actually enjoy the techie "sleep" sesh. Now if getting out there in the fresh air and sunshine poses a challenge to your type A, I-can-never-get-enough-work-done-even-in-summertime mentality, well here is a bit of motivation for you, soul sister (or soul bro.)
Today's Homework: A picnic. Simple. Easy. Just one afternoon of fresh air breezes, blue sky for miles, birds overhead and sunshine in between your toes. A picnic. You can do this. Make a plan. Pack a bag and get out there. This Vegan BLT with curried carrot slaw, smoky tempeh bacon, crisp romaine lettuce leaves, spicy chipotle or smoky paprika "mayo" on toasted sprouted grain is just the recipe inspiration you need. Side of lime-coconut water, and you are golden…

Need some step-by-step help? Watch my video! Oh and I personally think the last 5 seconds are the most inspiring for a calm, happy, cozy sunshine day.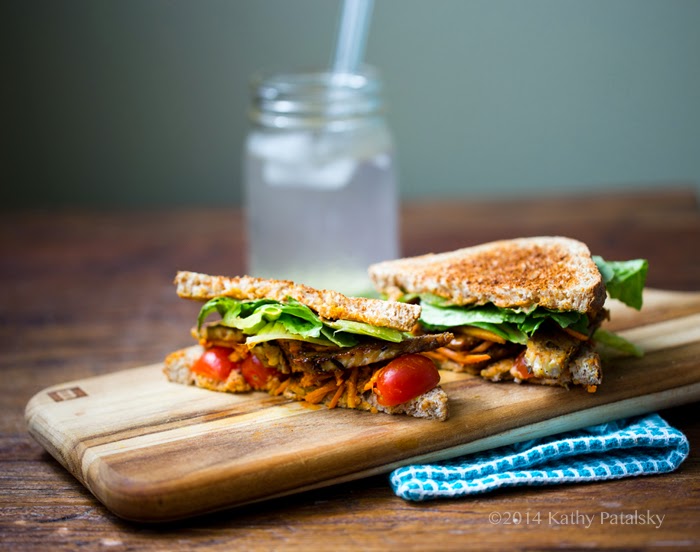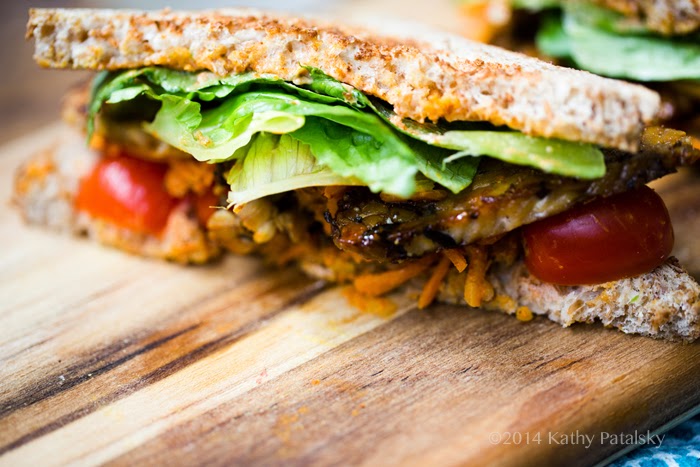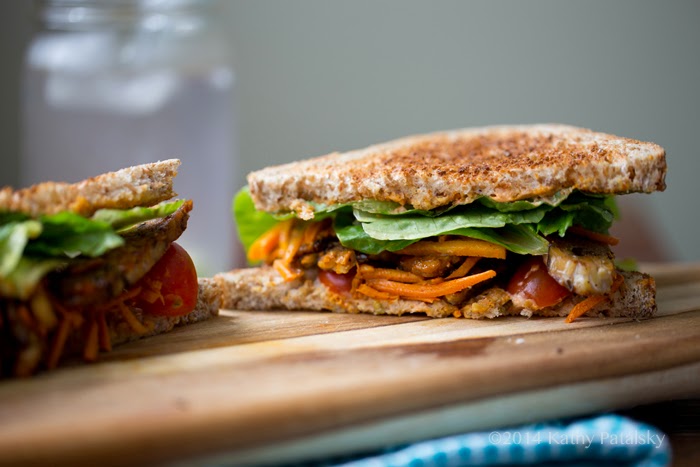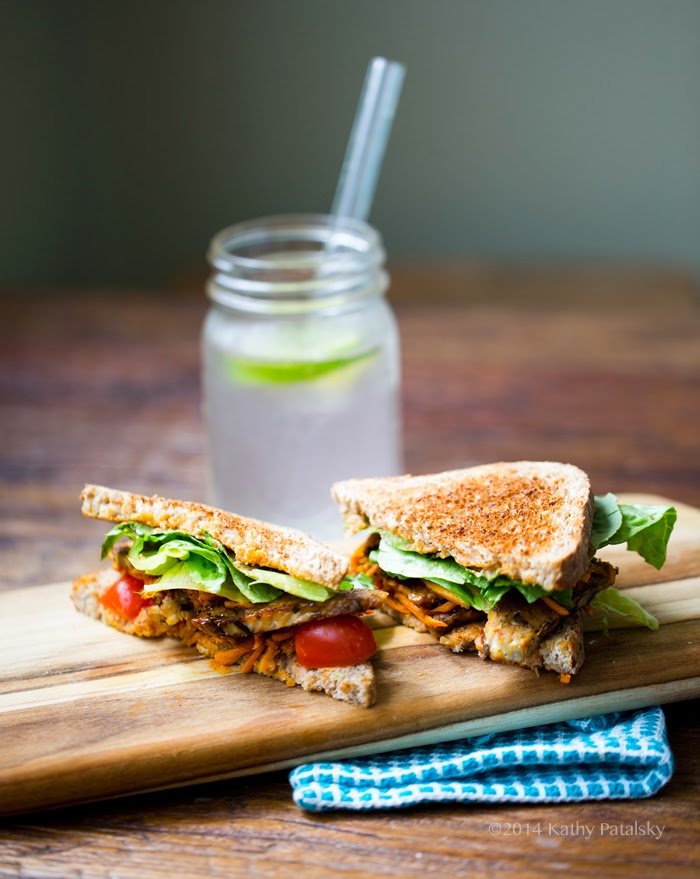 Grab my curried carrot slaw recipe here!
Vegan BLT
By Kathy PatalskyPublished 06/20/2014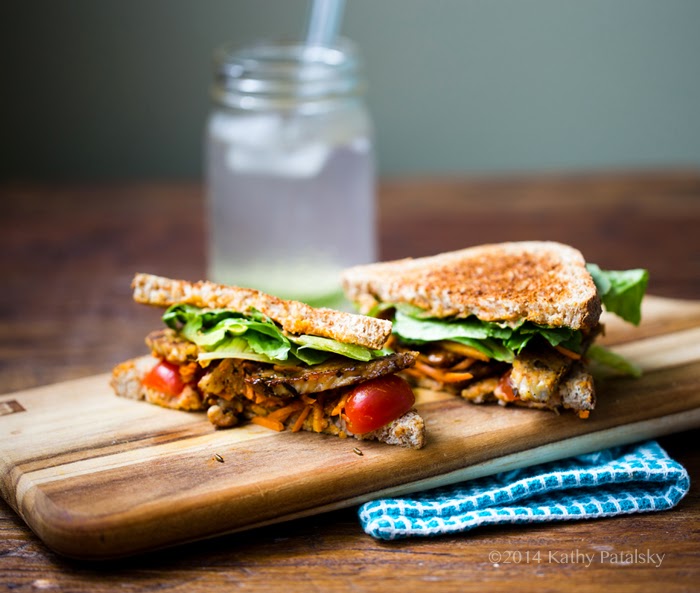 Make a vegan BLT with spicy mayo, tempeh bacon and carrot slaw and have a very healthy happy plant-based lunch!
Ingredients
2 slices sprouted grain toast
2 teaspoon vegan mayo
a few pinches of smoky paprika or chipotle powder
4 oz. tempeh, thinly sliced
2 teaspoon tamari
2 teaspoon grade B maple syrup
a few pinches black pepper
⅛ teaspoon liquid smoke
3-5 leaves romaine lettuce
2 slices tomato (or a few sliced cherry tomatoes)
⅓ cup curried carrot slaw recipe here
Instructions
Whisk the paprika or chipotle powder with the vegan mayo until it dissolves. Set aside.
Toss your tempeh in the maple, tamari and liquid smoke, add the black pepper.
Heat a skillet over med-high heat and add a drizzle of oil. When the oil is hot, add the tempeh and excess marinade. Note: You could allow the tempeh to marinate in the fridge to absorb more flavor, but this is optional. I never do this for quick lunchtime tempeh.
Cook tempeh 1-2 minutes on each side or until browned and edges crisp a bit.
Pour tempeh on a plate and start assembling your sandwich. Slather the vegan mayo on the toast and add the lettuce, tempeh, tomato, carrot slaw and some more black pepper if desired. Slice and serve!
Yield: 1 sandwichPrep Time: 00 hrs. 10 mins. Cook time: 00 hrs. 05 mins. Total time: 15 mins. Tags: sandwich,vegan,lunch,tempeh,blt