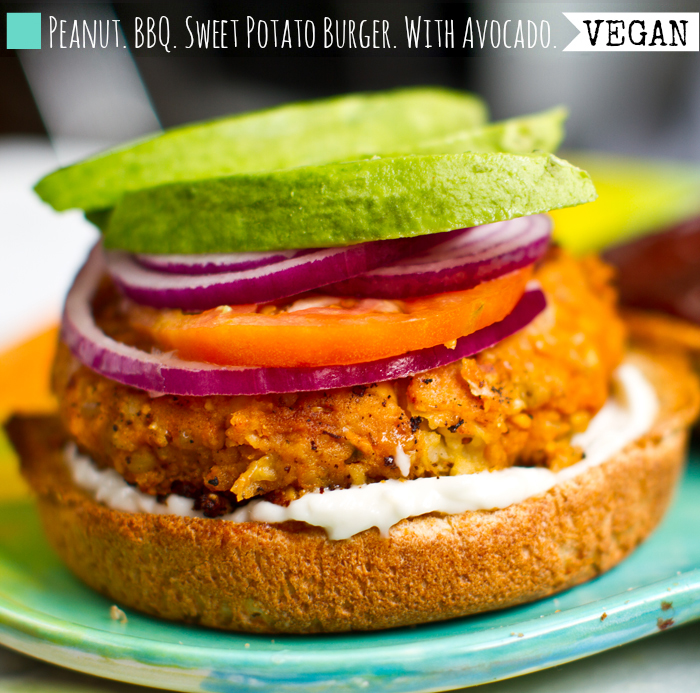 These BBQ Peanut Sweet Potato Burgers are a spin on one of my fave veggie burger recipes. This time around, I added in some bold BBQ flavors via dry BBQ spices and smoky sweet BBQ sauce. Plus some nutty, amazing crushed roasted peanuts to pump up the burger texture. Crushed nuts in general, taste amazing in veggie burgers. Cashew, walnut and almond burgers are quite delicious – but I had never tried peanut burgers – so this was my peanut burger success recipe!
This southern-inspired recipe really made me swoon. Serve with a side of vegan cole slaw, carrot slaw, a raw chard salad, some simple sweet potato fries (or tater tots a la Trader Joe's!) Make these burgers for your next veggie burger night!..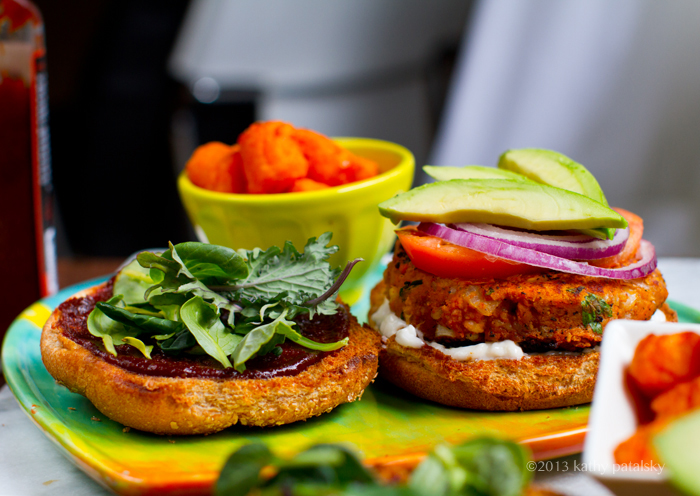 The basics: rice, beans and crushed peanuts. Add in the sweet potato and accents, mash and done!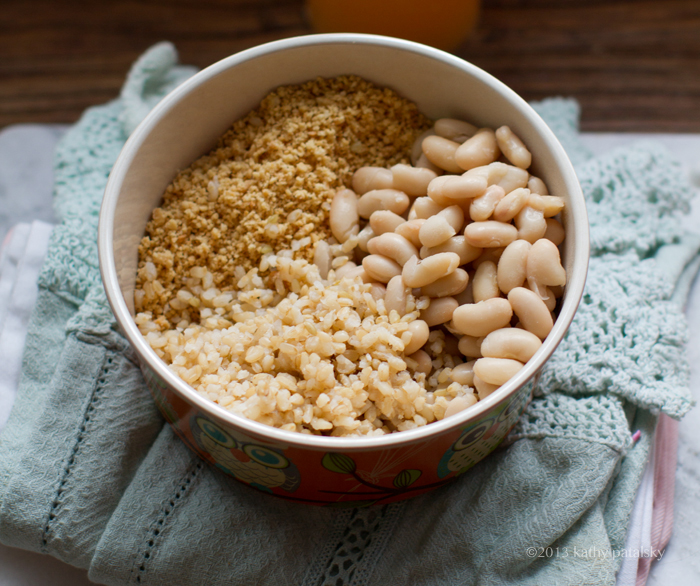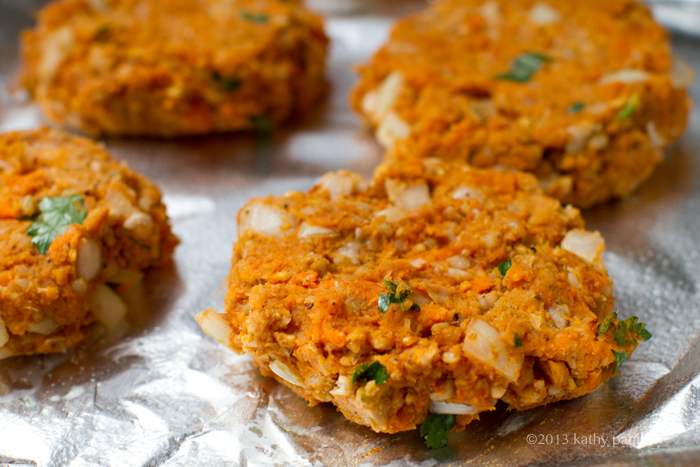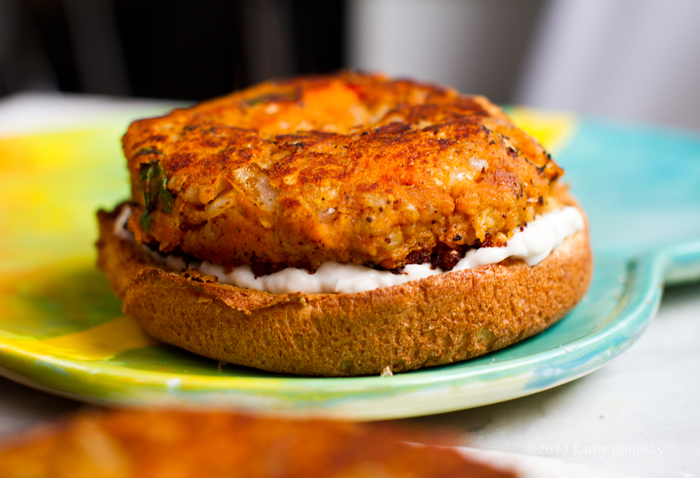 Go for a juicy, ripe tomato sliced on top..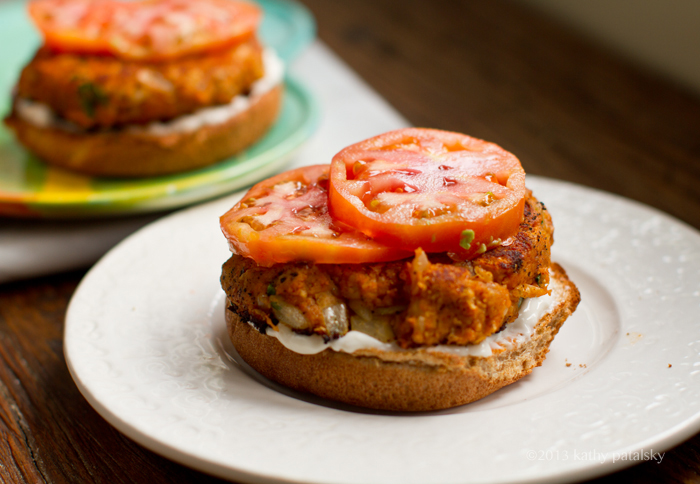 Side of vegan tater tots .. compliments of Trader Joe's freezer section. (Had to try these)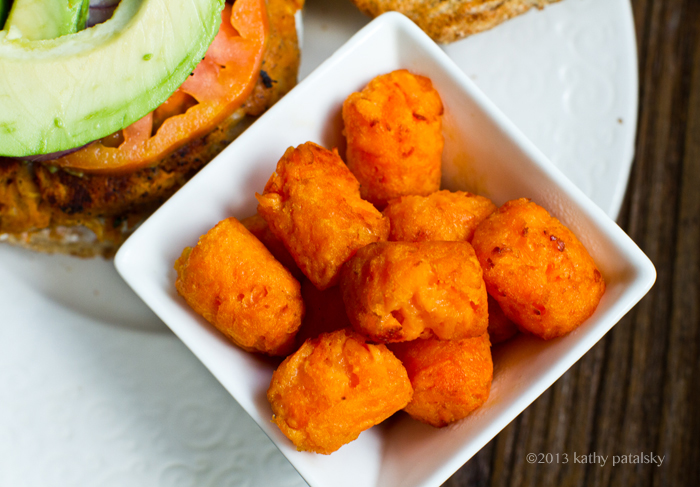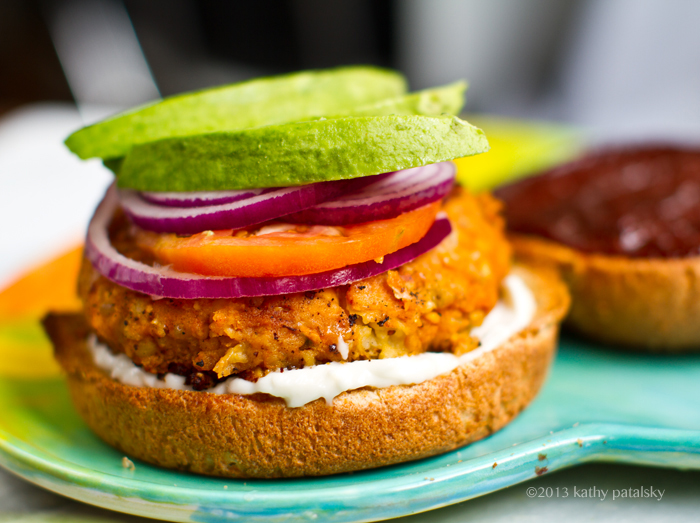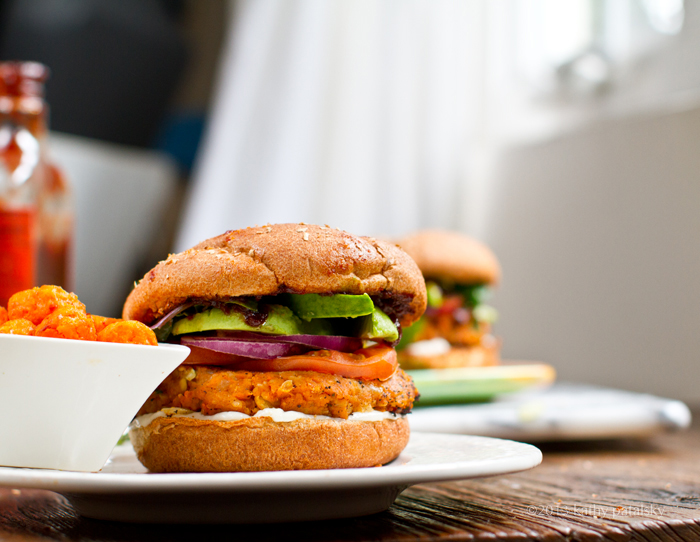 Guys, I have to vent, things are pretty crazy at Healthy Happy Life headquarters. (Aka, my home office and kitchen.) Thus why I haven't posted a new recipe in a few days. (All good stress thank goodness!) Good thing I have my Stress Free Living guru on call 24/7 (aka Nelly Cat.) She squeezes me into her busy napping schedule..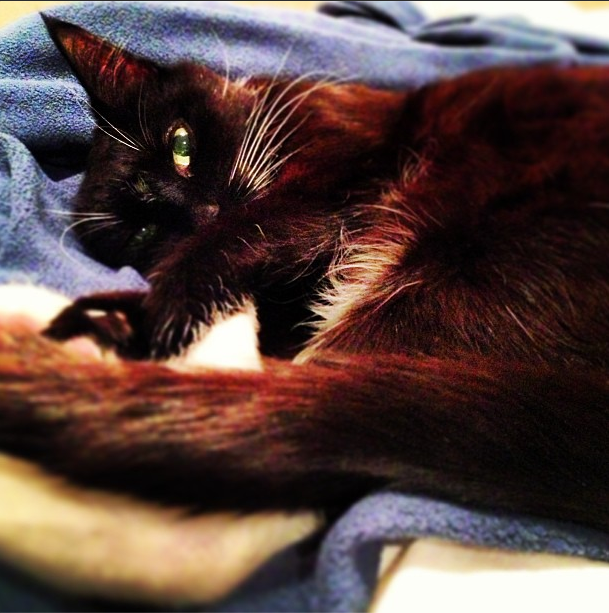 But stress is good! I thrive on being busy and I hate to admit it, but I guess I do work well under pressure. Just as long as I remember to breathe and balance work with activities that de-stress me. Like foam roller yoga, walking, bubble baths, cooking and breathing. Ah, yes breathing. Deeply, with intention – and feel the jitters smooth themselves out.
And even though my work revolves around food, I still adore pleasure cooking. It always centers me. So even when I am busy I find time to get in the kitchen. I turn off my phone, shut down the screens and immerse myself in the bright colors, alluring aromas and lively sounds of dinner being made. And getting to eat and enjoy the results with my husband is pretty nice too! What do you do when you have a lot coming at you at once?
So with that, lets all get in the kitchen and whip up these fun burgers.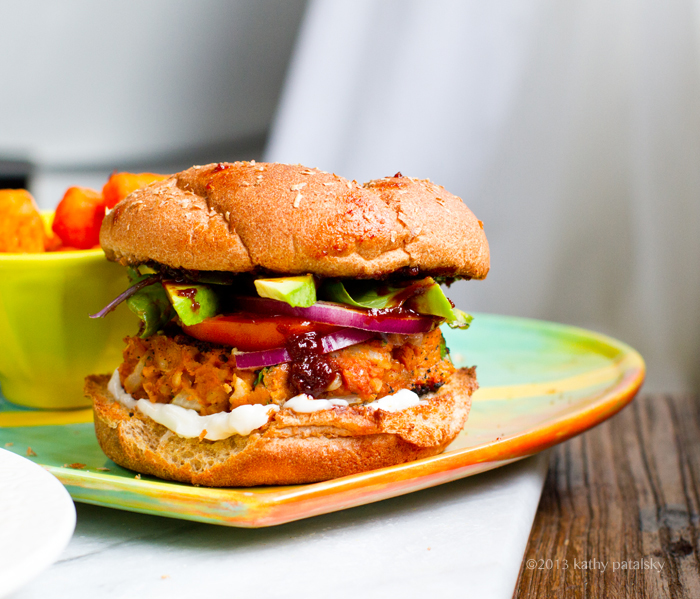 Sweet Potato Veggie Burgers: Peanut BBQ
vegan, makes 5-6 patties
½ cup cooked brown rice, short grain
½ – ¾ cups whole peanuts, roasted & salted (process until crumbly bits)
* start with ½ cup and add more if you'd like a nuttier burger
1 cup mashed sweet potato (oven baked)
1 ½ cups cannellini white beans, drained/rinsed in hot water to soften
1 tablespoon dry BBQ spice blend
2 tablespoon liquid BBQ sauce, vegan
¼ cup onion, diced
2 tablespoon flat leaf parsley, finely chopped
¼ teaspoon fine black pepper
½ teaspoon garlic powder + a few dashes cayenne (optional)
salt to taste
Other ingredients:
oil for sauteing (optional)
burger buns, vegan
vegan mayo
sliced avocado (tossed in lemon juice)
slaw (optional topping or side)
toppings: onion, tomato, mixed greens
warmed BBQ sauce
sides: slaw, sweet potato tots (from Trader Joe's! vegan)
Directions:
1. Preheat oven to 400 degrees.
2. Prep: prep your veggies, process your peanuts and cook your rice. I used my Vitamix to process my peanuts. You want a blend of fine crumbles that range from powdery to chunky.
3. Combine your sweet potato, rice, beans, peanuts, spices, onion, parsley and BBQ sauce in a large mixing bowl. Start mashing! Mash until the mixture is thick and creamy.
4. Spray a baking sheet with oil – must do to prevent sticking. Bake at 400 degrees for about 15 minutes or until edges brown. I like my patties on the softer side so I always under cook them a bit. If sauteing, add a splash of safflower or extra virgin olive oil to a hot sautepan and cook 2-4 minutes on each side over medium-high heat. Patties will fuse and firm up a bit as they cool.
5. Assemble: Toast buns. Slather warmed BBQ sauce on one bun and vegan mayo on the other. Place patty. Add onion,s tomato, sliced avocado and greens. Slice and serve!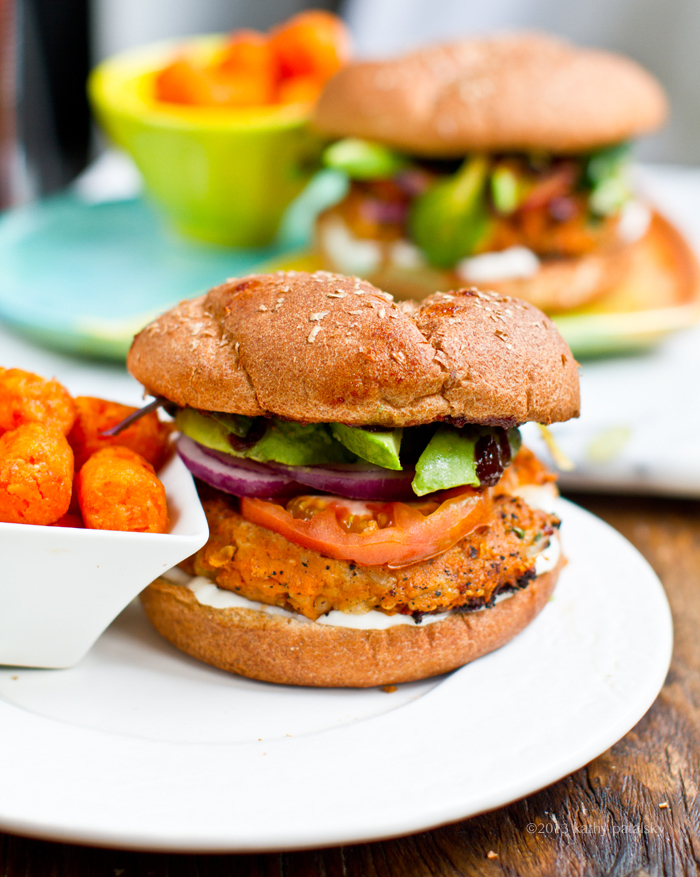 Notes:
* Not So Nutty? If you are allergic to peanuts or nuts in general you can either sub with a different variety of nut (walnuts, almond..) or you can use a seed like pumpkin or sunflower seeds! Just process until crumbly and use in the same way that the peanuts are used. The texture will be similar, the flavor will just vary a bit.
* BBQ flavors. For these burgers you will need either a really stellar dry BBQ spice blend and/or an awesome BBQ sauce. (For best results use both, but just one will work if necessary.) Be sure to check to make sure your BBQ sauce is vegan. Or make your own: vegan BBQ sauce recipe.I like a sweet and slightly spicy sauce for these burgers. Something thick works best since you will be uses some as burger sauce. For the dry blend, check to see if your spices are salted. If they are not you will need to salt the patty mix to taste. And lastly, if you cannot find a BBQ blend, you can add single spices to taste like: paprika, black pepper, mustard, garlic, white pepper and more. Or simply dry season as desired. Creativity encouraged!
* Creative Options: If you want to get creative, try adding in these veggie burger ingredients: 2 tablespoon tahini, ¼+ cup nutritional yeast, panko bread crumbs to coat, try subbing in lentils for the beans, sub in a different grain like farro or barley for the rice…
* To Bake or Saute? You can bake or pan fry the burgers in a light splash of safflower oil. I personally really loved these burgers lightly pan fried because the nutty flavor of the peanuts came out nicely. But you can also bake in the oven: 400 degrees for about 15 minutes. Do not over cook or they will dry out too much on the edges. (optional) -> To prevent the "dry out" baking effect, slather patties in some extra virgin olive oil.
Nutrition info estimate (per patty, based on 6 patties) – doe not include bun or toppings..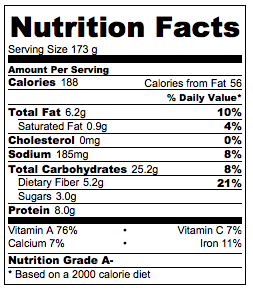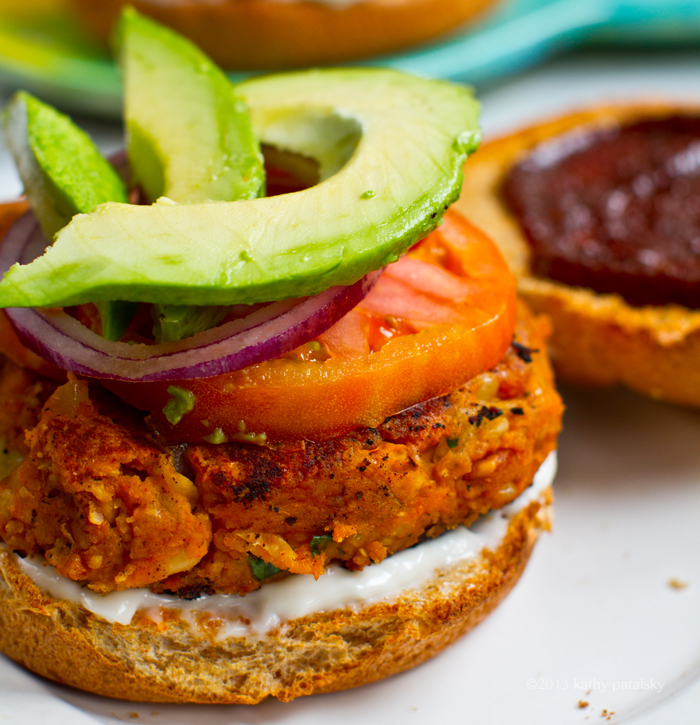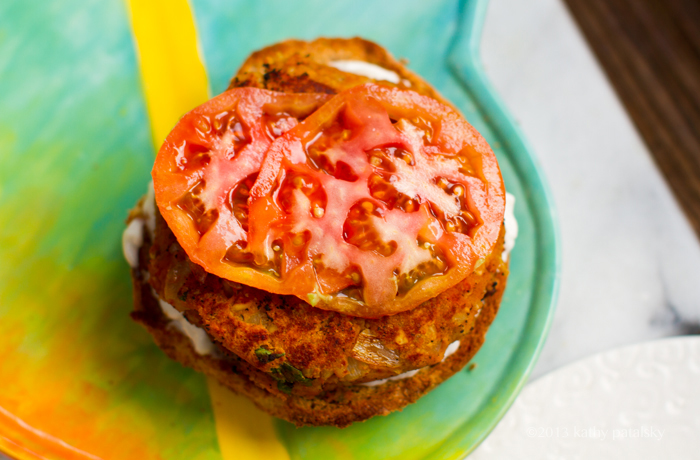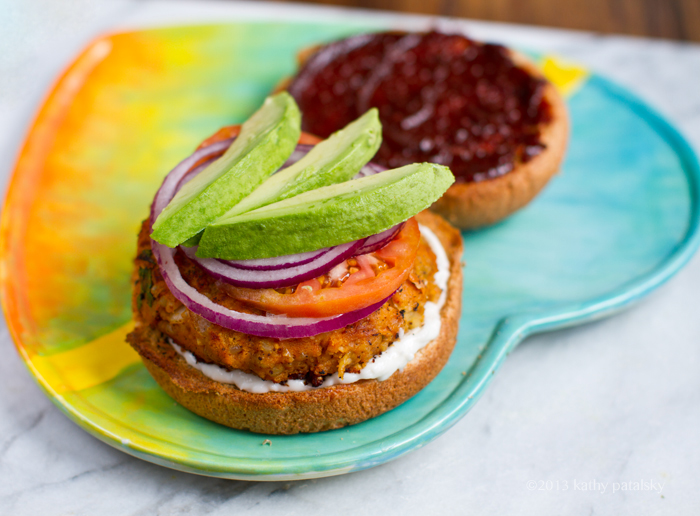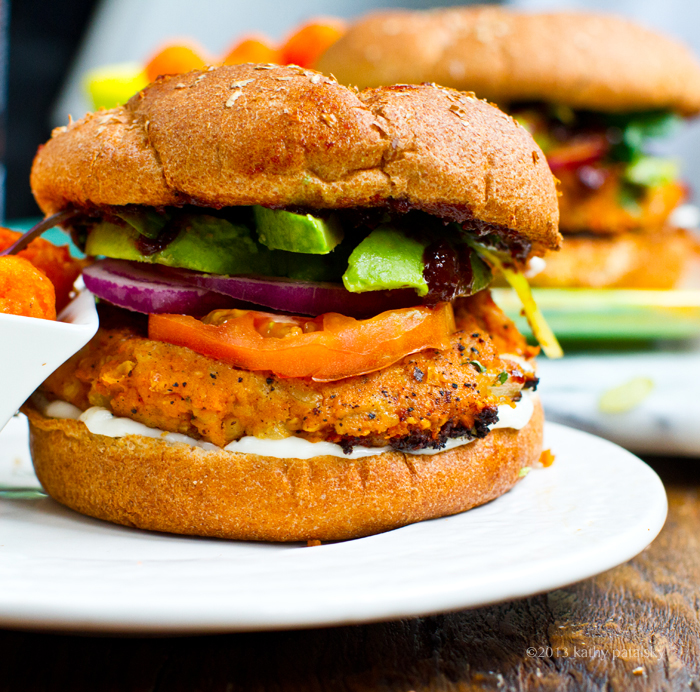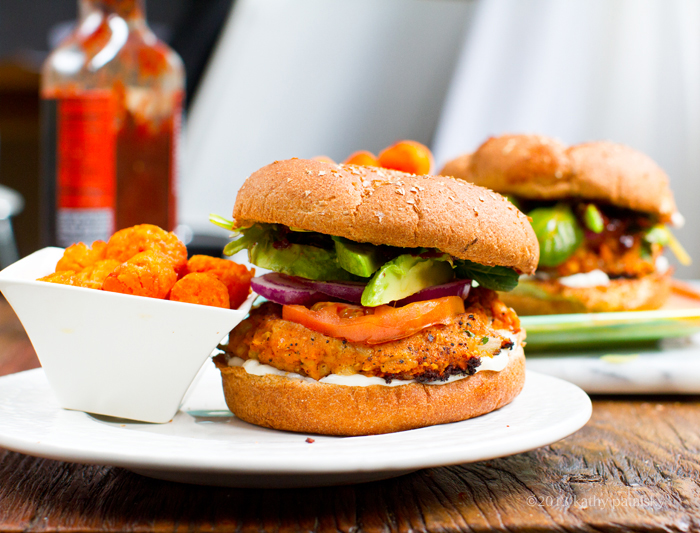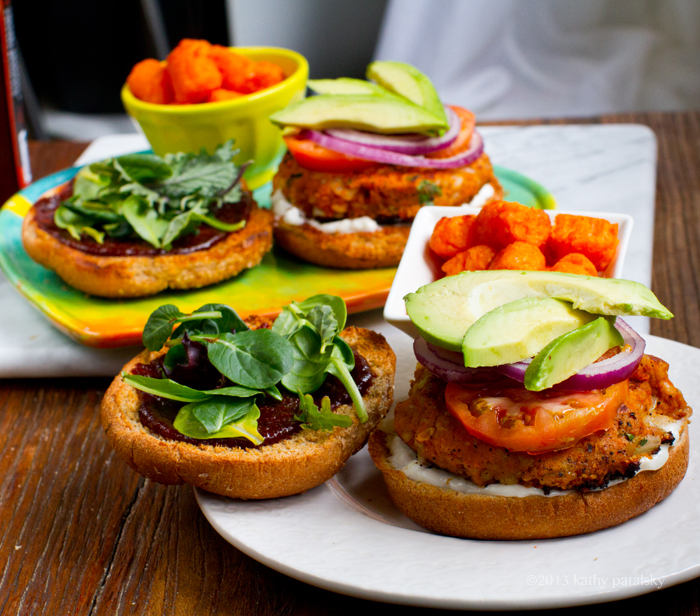 *Enjoy*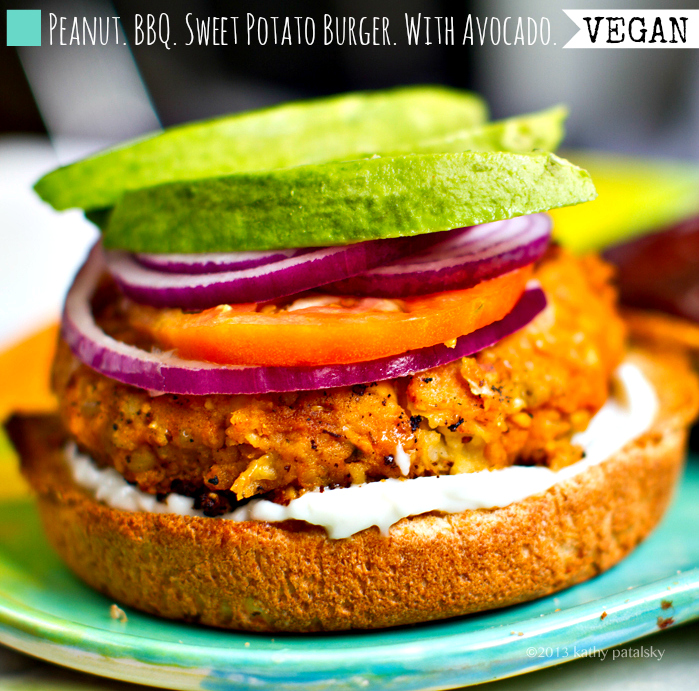 Have you checked out all my smoothie book updates?