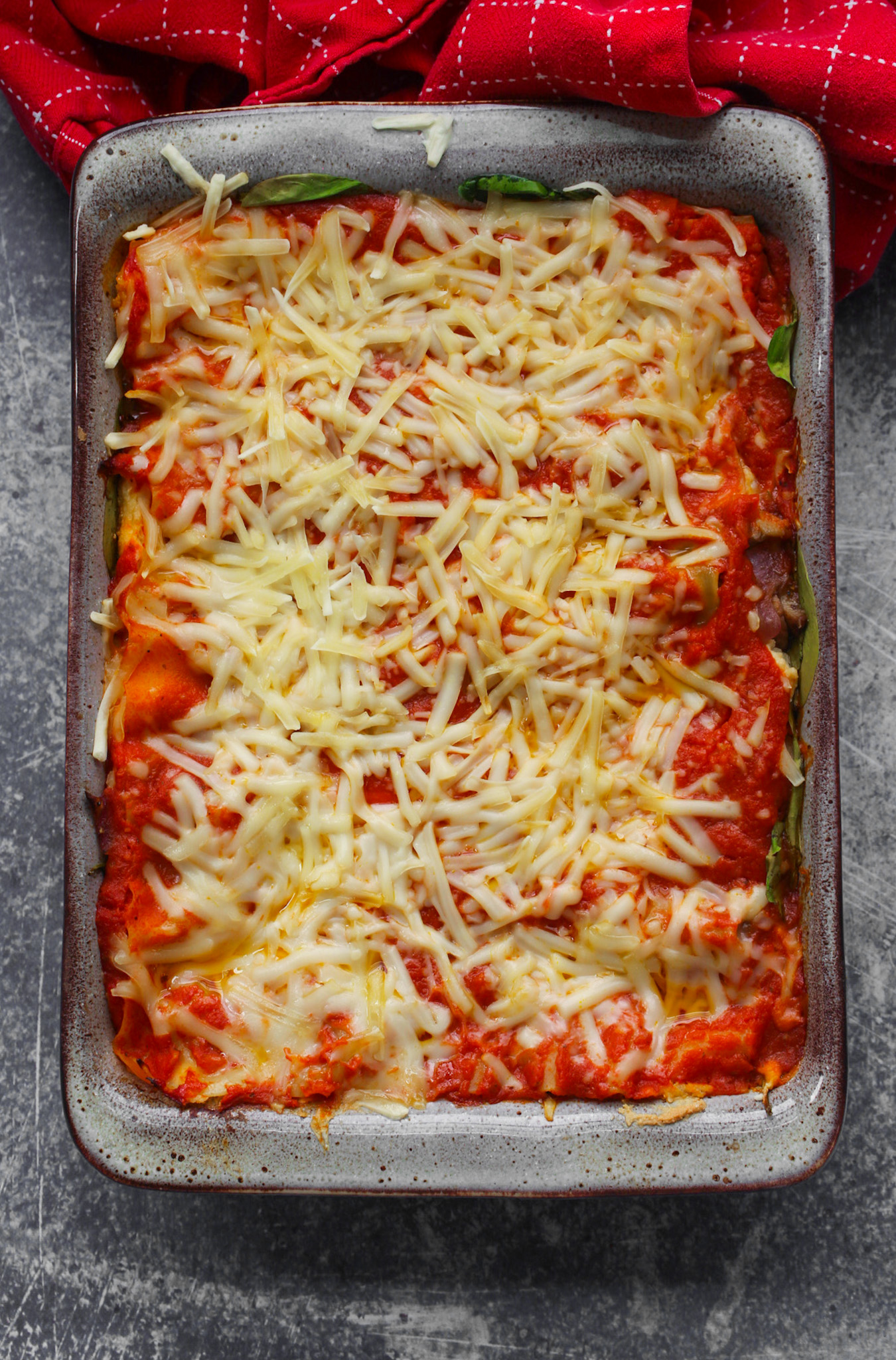 One of my favorite casserole-style meals has always been lasagna. And this vegan Spinach Mushroom Lasagna with homemade cashew ricotta is a total comfort food win. One dish meal, and loaded with good stuff…
Family Meals
I've always loved lasagna. Maybe it was because I was obsessed with Garfield comics when I was a kid and I wanted to devour a cheesy lasagna just like my fave fat kitty cat. Or maybe it's just because I grew up in an Italian household with lots of pasta dishes on the menu. Whatever the draw, lasagna is a recipe that always delivers for me, both on flavor and comfort food appeal!
Perfect for these quarantine days.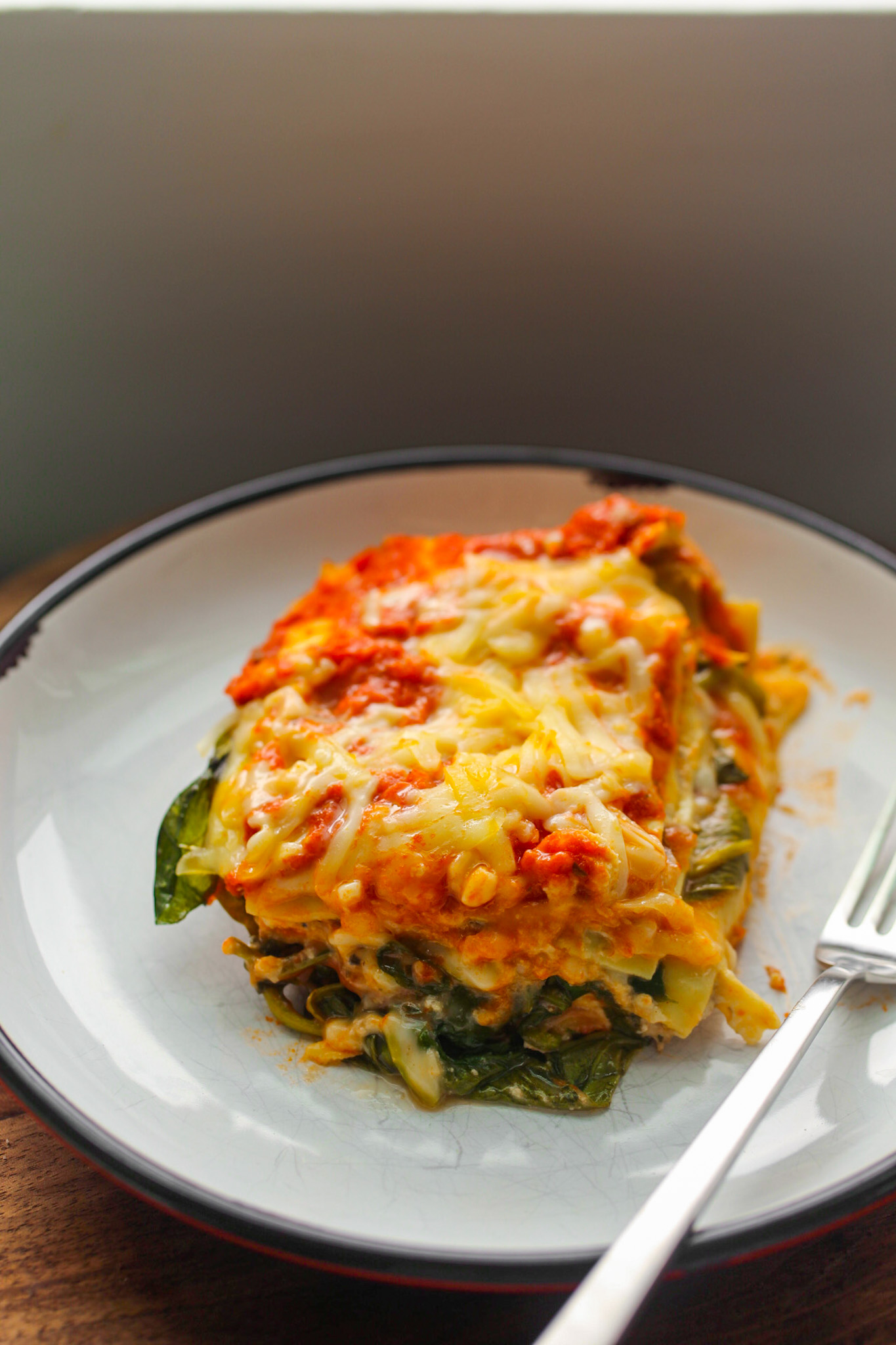 No Boil Noodles
I actually really love using no-boil noodles in vegan lasagna. They may seem like a cheat ingredients that would lend to a sub-par noodle or texture, but I don't think that's the case. I actually think using no-boil noodles enhances the flavor since the noodles are not cooking in water, but rather all the saucy goodness already in your lasagna! You can absolutely use either option for this recipe, but I did in fact use no boil noodles in my own prep.
No-boil saves you at least twenty minutes and you don't have to hassle with cooked noodles that tend to stick together.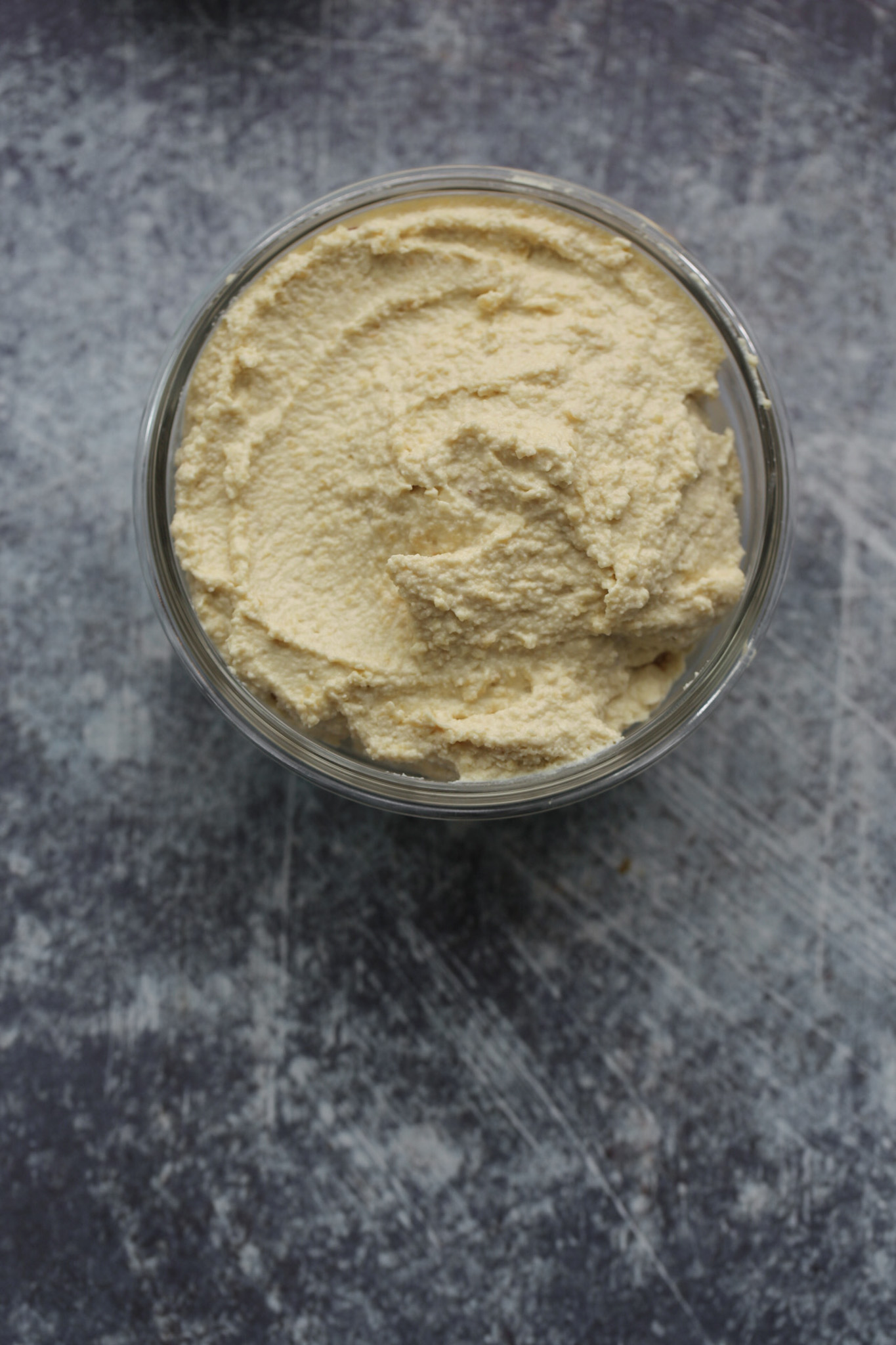 Vegan Ricotta Cheese
For the vegan ricotta, you have three options…
Cashew Ricotta
I love tofu ricotta, but cashew ricotta is super in a veggie-heavy recipe like this because it adds a real richness to the entire dish. Plus, the tart and tangy, bright accent of lemon juice in the ricotta contrasts really well with the warm pasta and cheese flavors.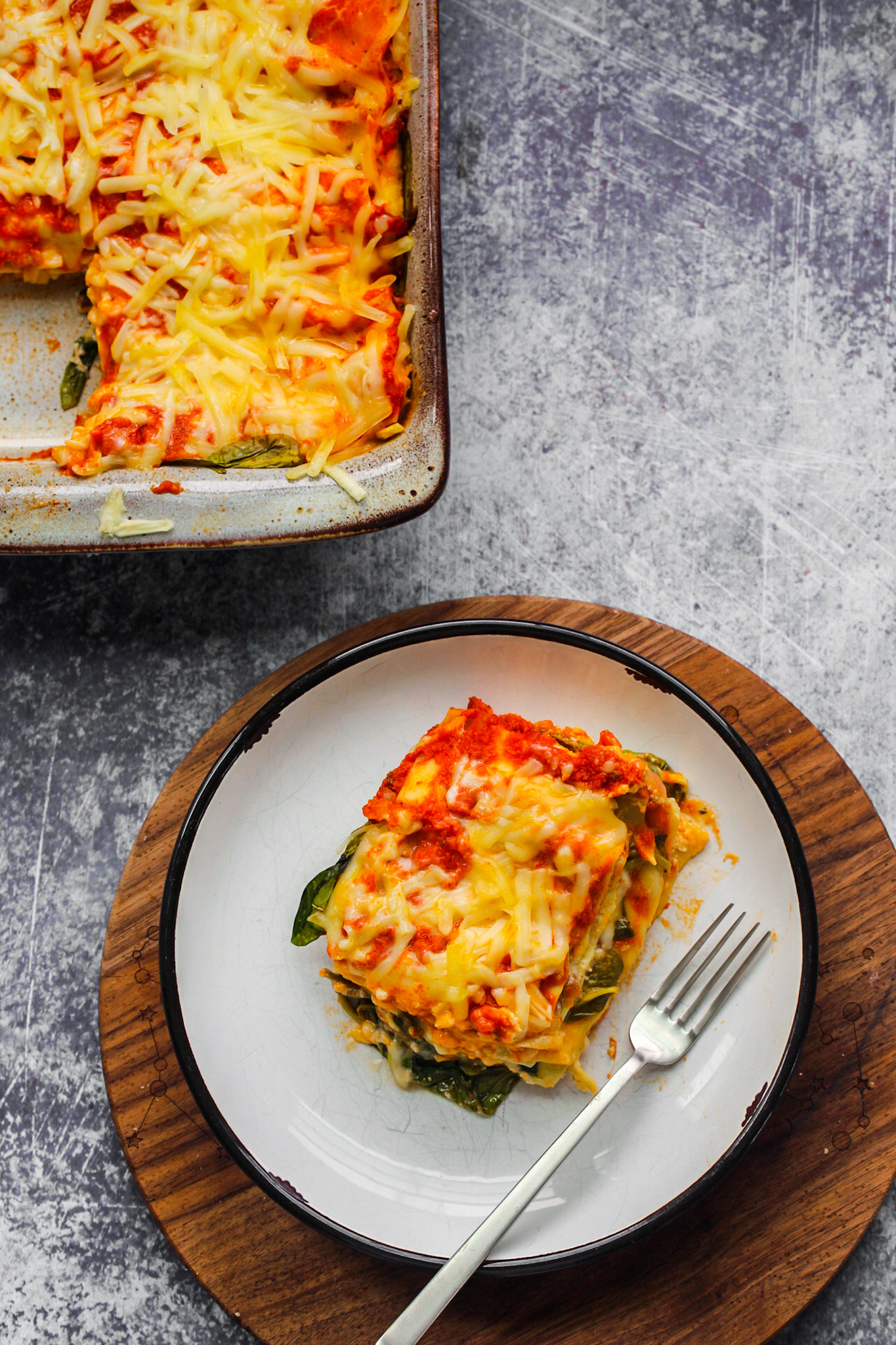 Mozzarella Cheese
For vegan lasagna, you have plenty of shredded cheese options these days.
I just happened to use Violife brand for my lasagna. But there are so many vegan options for mozzarella cheese. Choose whatever brand you like the best! Other brands include:
follow your heart
Miyoko's (which is crazy good)
So Delicious
Daiya
Violife
And more
Check out my cheese for vegan pizza review to browse vegan mozzarella options!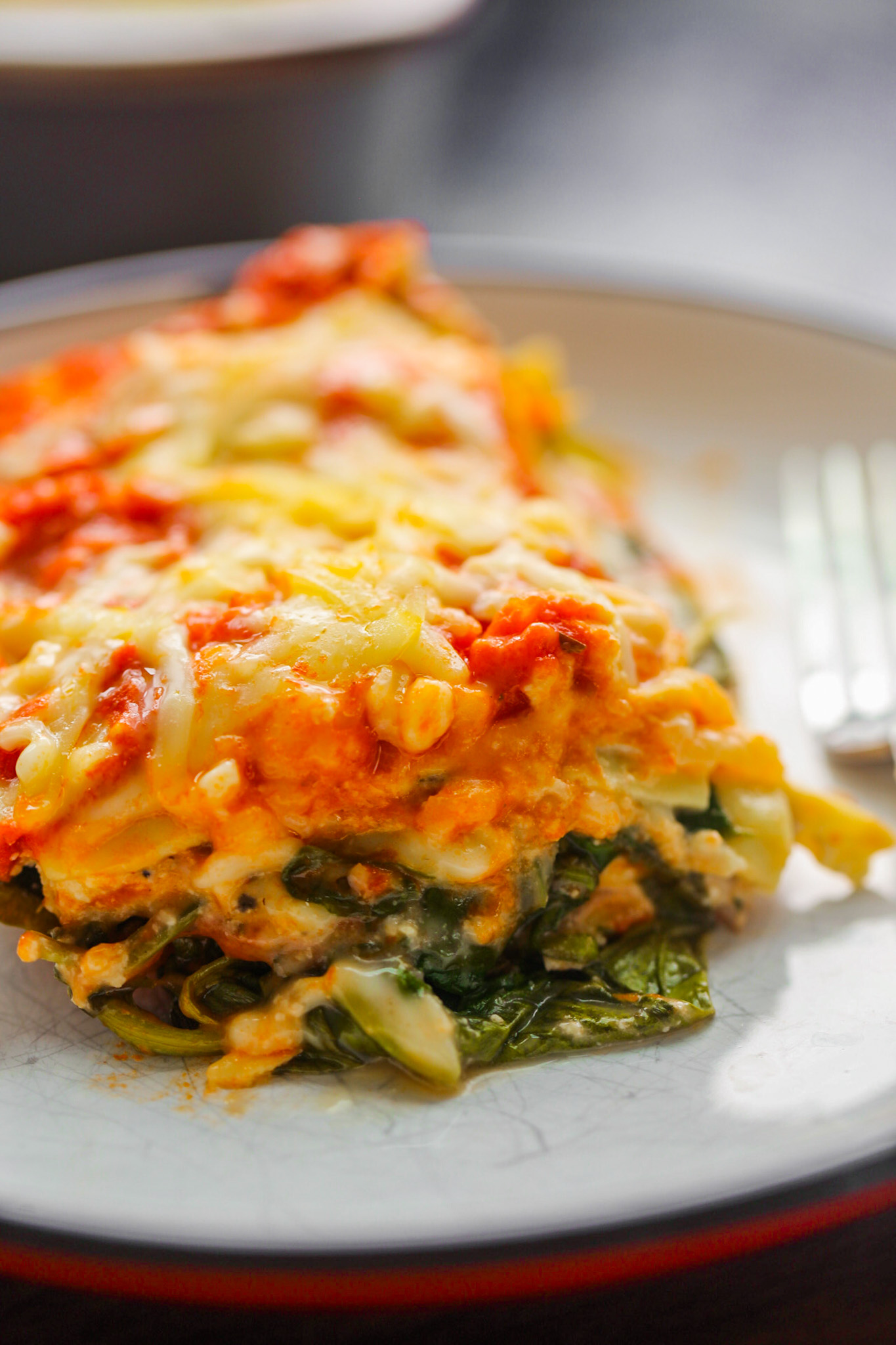 Lasagna with Pesto
Looking for another spin on vegan lasagna? This is it!! This is one of my all-time faves both here on the blog and in my cookbook, HHVK, Lasagna Verde! It uses pesto in place of the marinara sauce…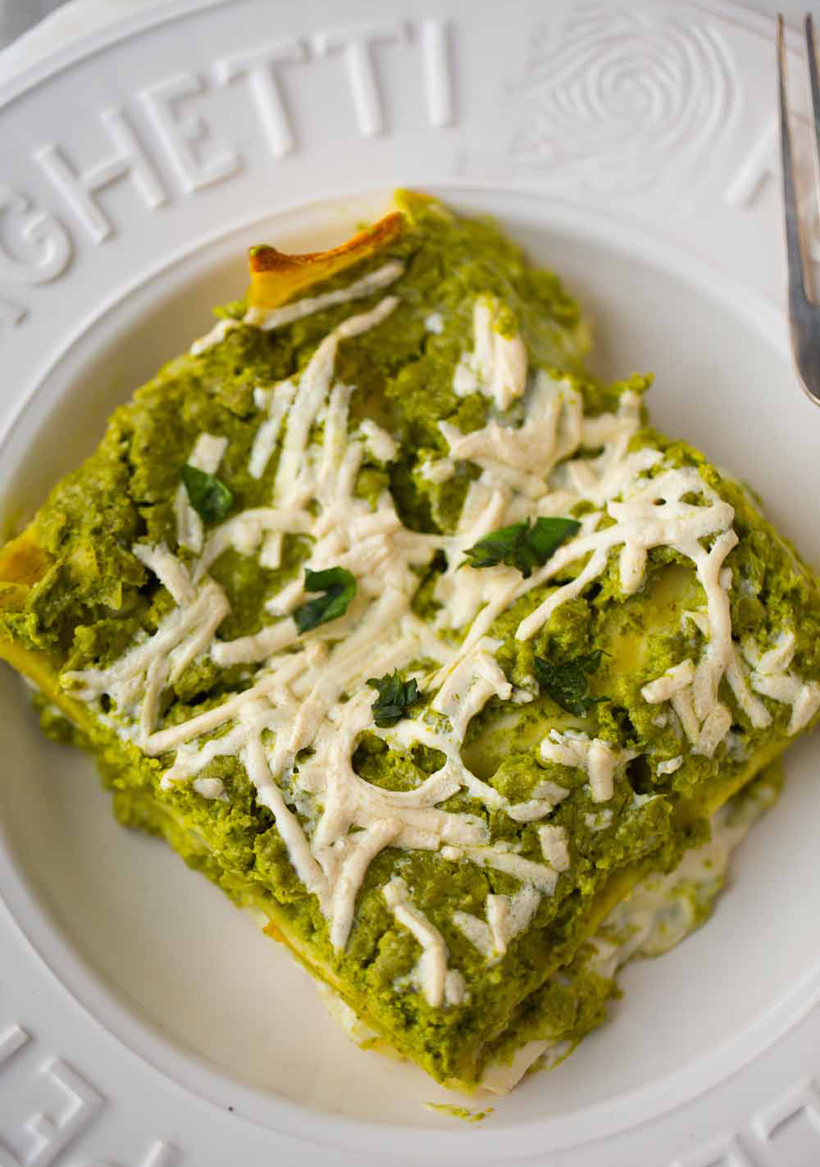 All the Veggies
The thing about lasagna is that is is super versatile in terms of accent ingredients. Once you have the noodles and sauce, feel free to get creative with fillings!
While today I'm sharing a spinach mushroom lasagna, you actually don't have to use spinach and mushrooms. You could try kale or cauliflower, even broccoli or chard. Whatever you think tastes good with tomato sauce and cheese accents works in lasagna. I personally love the earthiness of the mushrooms and garlic paired with the green flavor of the spinach.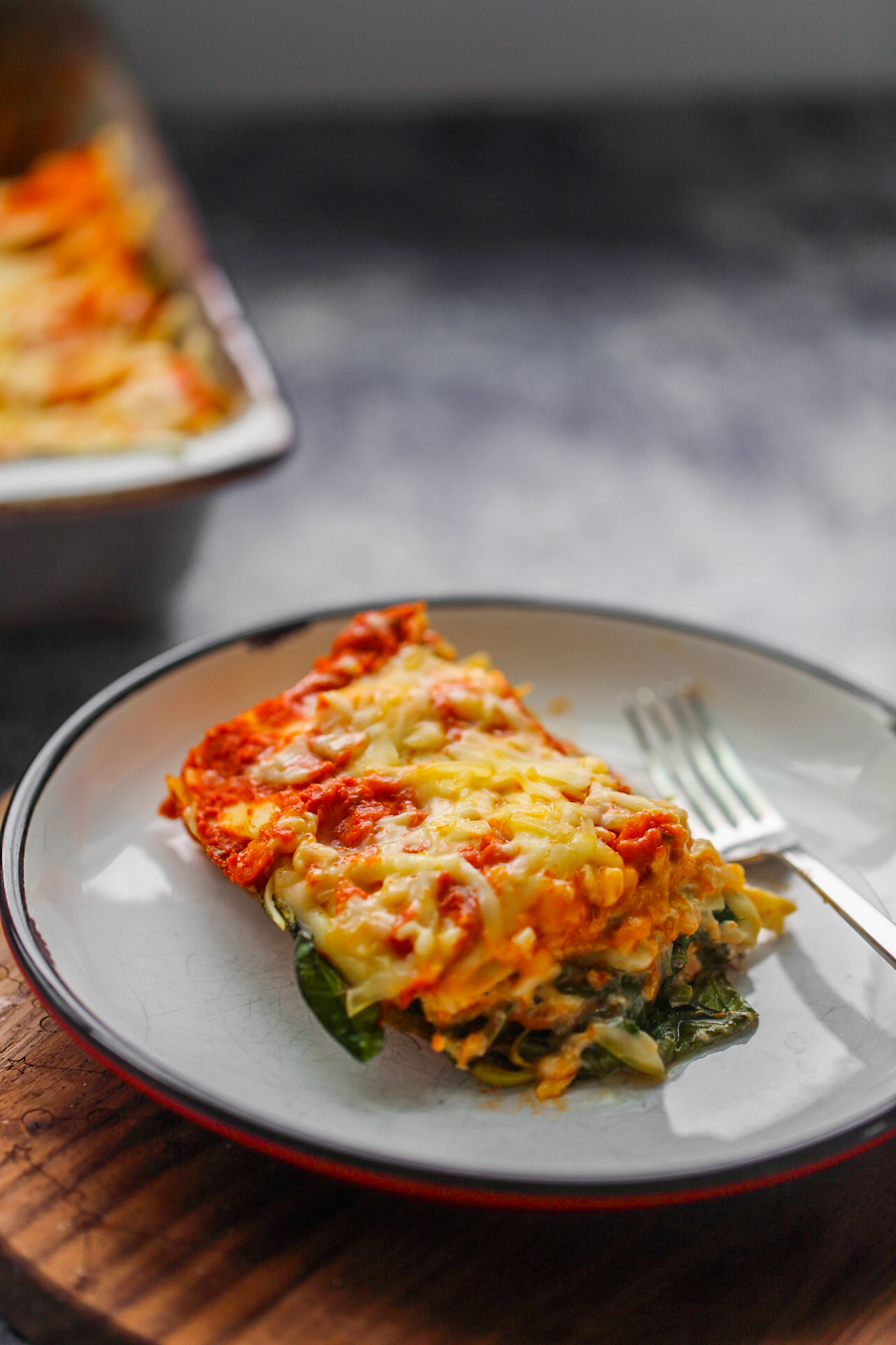 Should You Cook Veggies First?
YES! You could just toss raw mushrooms and spinach into the layers of lasagna, but they will shrink significantly when cooking – leading to less veggie-packed layers in the end. I definitely would skillet-cook your mushrooms first.
For the spinach, cooking is optional. I actually usually cook it first, but experimented with just layering in raw spinach this time and didn't like the results as much. Cooking spinach first means you can add a lot more of it to the layers – since spinach shrinks down SO MUCH when cooking.
This is also my practice for when I do spinach enchiladas.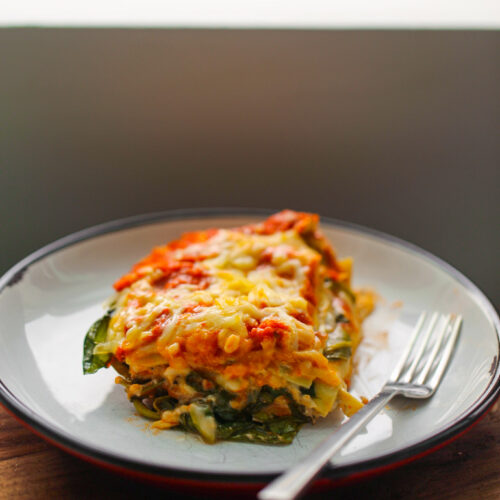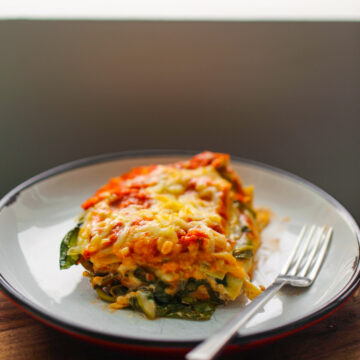 Mushroom Spinach Lasagna
This comfort food lasagna includes tender layers of mushrooms, garlic, spinach, tomato sauce and creamy cashew ricotta cheese. Vegan and dairy-free!
Print
Pin
Ingredients
½

cup

onion

,

chopped

4

cloves

garlic

,

chopped

3

cups

mushrooms

,

chopped

4

tablespoon

olive oil

,

extra virgin

2-4

oz

spinach

8

oz

vegan cheese

,

mozzarella shreds

20

oz

marinara sauce

½

cup

vegetable broth

2

cups

vegan ricotta cheese

,

DIY or store bought

12

lasagna noodles

,

no boil used
Instructions
Prep: Have your cashew ricotta cheese ready to go upon starting the prep for your lasagna. See recipe links in notes.

Preheat oven to 375 degrees.

In a large skillet, over high heat, warm the olive oil. Add the garlic and onions. Cook for 3-4 minutes to soften. Add in the mushrooms. Cook another 3-5 minutes to soften mushrooms. Remove from heat and set aside.

Start layering your lasagna: Add in a few spoonfuls of marinara sauce, then layer with 3 noodles. Top with a nice layer of ricotta cheese. Add a thin layer of the mushrooms over top. Then add a generous layer of marinara sauce over top that. Add a splash of ¼ cup of the veggie broth. Then repeat those steps, this time adding in a layer of spinach after the mushrooms. Finish your lasagna with a layer of noodles, marinara and vegan cheese shreds. Pour the remaining ¼ cup of veggie broth over top – letting it sink down on the sides of the lasagna. NOTE: It really doesn't matter what order you layer your ingredients except for the fact that you want marinara layering over top the noodles – always – to make sure they cook tenderly.

Cover lasagna with foil and place in the oven to bake at 375 for 45 minutes. Remove the foil for the last 5 minutes of cooking to allow the cheese to bubble and brown a bit.

Allow your lasagna to cool at least ten minutes before serving. A good twenty minutes is ideal to help keep the layers together. Store leftover, covered, in the fridge and reheat in the oven or microwave to serve. TIP: Reheat one slice at a time if you won't be eating the entire lasagna upon reheat.
nutrition estimate | per serving
Calories:
317
kcal
|
Carbohydrates:
35
g
|
Protein:
9
g
|
Fat:
16
g
|
Saturated Fat:
3
g
|
Sodium:
485
mg
|
Potassium:
442
mg
|
Fiber:
3
g
|
Sugar:
5
g
|
Vitamin A:
669
IU
|
Vitamin C:
6
mg
|
Calcium:
40
mg
|
Iron:
2
mg