*This post is sponsored by DOLE.
Simple salads are so important for maintaining healthy eating habits. Some days I love throwing a million ingredients to my salads, and other days recipes like this one today are my saving grace. Simple. Super flavorful. And healthy. And it doesn't get any better than actually craving a giant organic spinach salad.
Today's Candied Pecan Avocado Spinach Salad uses the new organic DOLE spinach salad mix. Sweet and salty candied pecans mingle with buttery avocado and maple-mustard dressed spinach with an accent of orange zest and black pepper. I'm in love with this dreamy and simple flavor combo. I like to wilt part of the spinach to give a more tender, flavor-infused texture to each bite. I hope you give it a try!
Dive into this delicious salad!…
Lightly wilted salad. I love the texture of soft spinach and perky raw spinach..

Gorgeous organic greens from DOLE..

So I actually developed this recipe a few months ago and have been dying to share it! I have actually made it more than a few times since then. One of my favorite salad flavor boosting tricks has always been 1) loads of avocado and 2) lightly candied nuts. The sticky sweet accent of nuts really works so well with greens. I love using walnuts or even pumpkin seeds – and pecans as I did today.
This recipe is part two of my celebration that DOLE now has an organic line of salad mixes. My first post: BBQ Chickpea Salad Wraps. Those are such an easy dinner solution for a busy weeknight.
The Line. DOLE's line of organic salad mixes include these varieties: Organic Spring Mix, Organic 50/50 Salad Mix, Organic Kale Salad Mix, Organic Super Spinach Salad Mix, Organic Baby Spinach and Arugula Salad Mix. Learn more here on DOLE.com.
The new organic line up..

Make it a Meal. While I actually think a giant bowl of this salad would be a pretty worthy meal all in itself, you might want to bump up the nutrient profile just a bit for a hearty dinner. I would add one of these to the mix..
* Tempeh bacon
* Salt and pepper tofu triangles
* Skillet chickpeas
* Popped Lentils
* Any other bean like a kidney bean or even a side of hummus
* A few scoops of hemp seeds
* A veggie burger patty on the side
DOLE's line of organic salad mixes are perfection. They have the most tender texture and robust and complex flavors. Salad blends are such an easy way to eat your leafy greens. DOLE's salad blends are ready to go, thoroughly washed and preservative free. The whole clamshell (around 6 cups of greens) contains around 40 calories so you can load up and devour every last leaf.
DOLE's organic leafy greens are an excellent source of vitamins A, C, K, folate, manganese and even iron!
The new goods! Organic salad mixes from DOLE..

*This post is sponsored by DOLE organic, but all opinions are my own.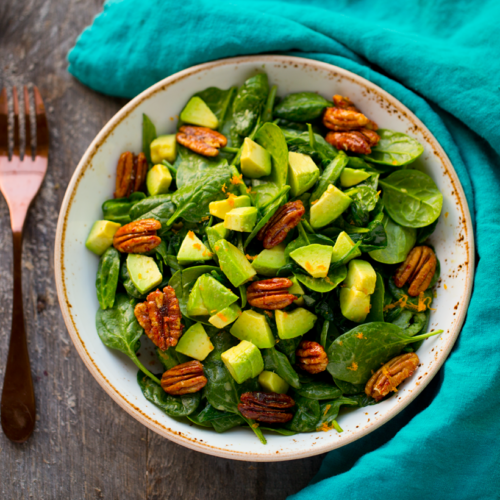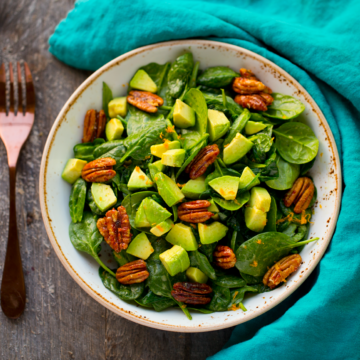 Candied Pecan Avocado Spinach Salad
This simple and flavorful organic spinach salad uses candied pecans and buttery avocado in each flavorful bite. 
Print
Pin
Ingredients
1 container DOLE organic spinach salad mix

1 cup raw pecans

2 tablespoon maple syrup

⅛ teaspoon smoky paprika

⅛ teaspoon sea salt

1 avocado, diced

1 teaspoon fresh orange zest

2 tablespoon maple mustard dressing

additional fresh black pepper to taste 
Instructions
First make your quick candied pecans. Warm a skillet over high heat. When the pan is how, add the pecans. Toast for 2 minutes, flipping halfway through. The pecans should warm up and lightly toast. When the two minutes is up, lower the heat to warm and add in the maple syrup, smoky paprika and sea salt. Toss well. Allow to sizzle in the pan for one more minute and then turn off heat. As the pecans cool, they will become sticky and "candied." Remove the pecans from the pan and set them aside in a bowl.

Optional step to "wilt" and soften some of the spinach… With the pecan pan still warm, turn the heat back to high. Add in half of the DOLE organic spinach. Cover the pan with a lid and allow the spinach to warm and lightly wilt for one minute. Turn off the heat and rub the spinach around in the pan a bit. The spinach should be very lightly wilted.

Add all the DOLE organic spinach to a large mixing bowl – both the wilted and fresh portions. Add the two tablespoons of the maple-mustard dressing. Add in half of the citrus zest, a scoop of the diced avocado and a pinch of black pepper. Toss well until the spinach is coated and soft.

Distribute the tossed spinach between two serving bowls. On top, add the remaining portion of diced avocado as well as the candied pecans. Also add the other ½ teaspoon of citrus zest and black pepper to taste.