Toasty and warm, melty vegan cheese in every bite, this Spinach-Stuffed Grilled Cheese, aka the "Popeye" grilled cheese, is just what you are craving in a decadent yet veggie-accented melty-cheese sandwich.
Spinach Stuffed. Melty Cheese. Buttery, toasty edges.
Buttery crispy edges of sourdough-rye bread, melty cheddar cheese, a hint of garlic, a slice of juicy yellow tomato and loads of cheezy spinach – this skillet sandwich is packed with flavor! Spinach is a perfect way to load up a grilled cheese with something other than just .. well… cheese.. Get the recipe…
Plus, a few of my favorite green things for St.Patricks Day…
I used So Delicious Cheddar Shreds and Daiya Provolone in this sandwich, but there are soooo many vegan cheeses I love. Browse my vegan cheese guide for more info.
Tomato.
My favorite thing about this sandwich is actually the yellow tomato! I added it at the last minute, just as an afterthought. But it turned out to be such a smart add for this sandwich because the yellow tomato looks similar to the cheddar cheese and actually made every bite feel way more cheesy. So basically, adding an orange, yellow or even red tomato can really boost the cheesiness of your grilled cheese sandwich. Give it a try and see if you agree.
Other greens you could use:
kale, arugula, chard… You could even use warmed sauerkraut or thinly sliced mushrooms.
Bread options.
I used a rye-sourdough from Whole Foods bakery. Anything hearty enough to hold up in a skilled will work. Something with some body, hearty grain density or crusty edges and chewiness is good.
The hint of garlic is a really nice touch! Thinly slice it and let it sizzle in the hot oil for a few seconds before adding the greens.
Wait, why did you use frozen spinach??
I am a huge fan of using frozen veggies when you can. They are super easy to store and can give you the joy of always having LOADS of veggies on hand. I also love that frozen veggies actually keep all that freshly-picked nutrients locked in! I like frozen spinach for this recipe because I think the chopped spinach texture works really well and it just fits beautifully with the creamy vegan cheese.
You can use fresh spinach too.
Yes, you could use fresh spinach, chopped kale or another leafy green. The sandwich will still be epic and amazing. I just love to showcase frozen veggie usage when possible. So often people say that it is "hard" to keep fresh veggies in their fridge, so they end up not eating as much. Well frozen veggies solves that. I always buy organic, but you can choose what works best for your budget.
Green Things...
These are a few of my favorite (green) things…..If you didn't sing that last line, a la The Sound of Music, let's just try again…
Ok, all together now.. These are a few of my fave-or-ite (green) things… La la la la..
Matcha
Ireland
Shamrock Breakfast Sandwich
Raw Kale Salads
Avocado Toast
Green Tea Frap
Green Dream Smoothie Bowl
Spinach + Artichoke Dip
Guacamole + Avocado Trees
Lasagna Verde
Green Smoothies
Shamrock Shakes
Green Dip
Spinach Biscuits
Green Sunshine Dip
Candied Pecan Avocado Spinach Salads
Avo-Coco Soup
TTLA
Spinach with Raisins
Enjoy this new fave green-stuffed thing! This Spinach-Stuffed "Popeye" Grilled Cheese Sandwich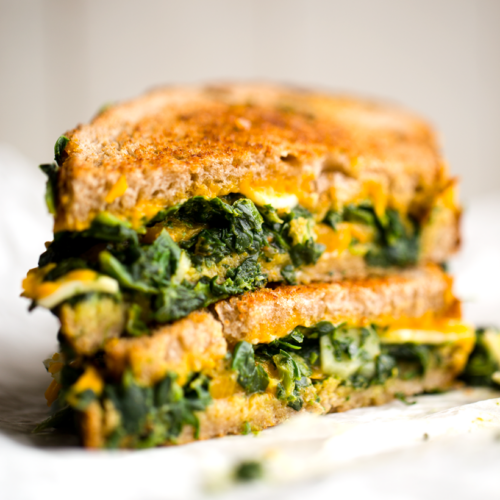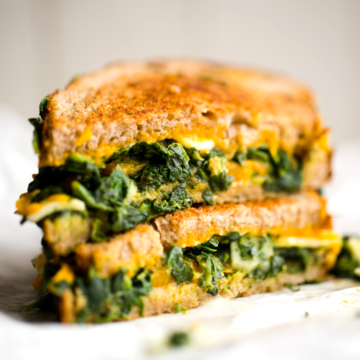 Popeye Grilled Cheese
This stuffed grilled cheese sandwich loads up spinach, vegan cheese and a juicy tomato. Crispy edges and full of cheesy flavor!
Print
Pin
Ingredients
2

large slices bread (rye-sourdough used)

¼

cup

vegan cheddar cheese shreds

optional: white vegan cheese (like gouda or provolone)

2

thick slices of yellow or orange tomato, organic

1

cup

frozen chopped spinach (or use 2 cups fresh spinach, chopped) – organic

1

clove garlic

2

Tbsp

nutritional yeast

1-2

tsp

vegan butter

extra virgin olive oil for pan

optional: red pepper flakes for heat
Instructions
Warm up an extra large skillet over high heat. I use a cast iron skillet. Add a drizzle of olive oil just to lightly coat the bottom of the pan.

Thinly slice the garlic clove and add to hot pan. Then add in the spinach. Take care to try to only use half of the pan for the spinach – keep the other half nice and clean for the sandwich. Using a wooden spoon or spatula, flip and toss the spinach until it is fully wilted or warmed. I like frozen spinach because it is already wilted down to size, fresh spinach can be a bit more tender and delicate in the pan. Sprinkle the nutritional yeast on top of the spinach then toss. When spinach is nice and warm, scoop it over to the far edge of the pan.

Rub all side of the bread in the vegan butter.

Place one slice of bread down on the hot, oiled skillet. Add the vegan cheese on top. I like to use the 'ice cube method' to melt my cheese. This method means I cover the pan with a lid and drop in one small ice cube. Then turn off heat for a minute while it works its magic. The hot steam from the ice will help melt the cheese. Life lid and try your best to not simply let the bread soak up the water in the pan. You want it to really cook off.

Turn heat back up to medium-high and scoop the hot spinach right onto the softened cheese. The hot skillet spinach should further melt the cheese. Add the tomato. Then add the top layer of bread. Smash down the sandwich a bit, with your spatula.

Very carefully flip the sandwich. Cook 1-2 minutes on this second side, just enough to toast the bread since the cheese should be fully melted by not.

Turn off stove and transfer the sandwich to a cutting board to slice and serve.
nutrition estimate | per serving
Calories:
2651
kcal
|
Carbohydrates:
486
g
|
Protein:
107
g
|
Fat:
32
g
|
Saturated Fat:
8
g
|
Polyunsaturated Fat:
9
g
|
Monounsaturated Fat:
5
g
|
Trans Fat:
1
g
|
Sodium:
5791
mg
|
Potassium:
1545
mg
|
Fiber:
25
g
|
Sugar:
42
g
|
Vitamin A:
3032
IU
|
Vitamin C:
10
mg
|
Calcium:
526
mg
|
Iron:
38
mg
Pin it for later..