Today's recipe is a classic side dish for spinach, so simple it barely needs a recipe. But sometimes, those are the BEST recipes to have in your mind. And ever since returning from traveling, I am pretty obsessed with this Spinach with Raisins dish, so here it goes..

Inspiration. While traveling the past two weeks, I was excited to across some excellent and inspiring spinach dishes. I think spinach has taken a backseat to its leafy green sibling, kale, in recent years, but in Europe I have found that it is quite plentiful and celebrated!
Some of the dishes I came across.. While in Barcelona, I found a bakery called Turris that made vegan spinach-stuffed pockets, with some pine nuts and raisins in there too. The pockets are made without eggs or dairy and baked up light and fluffy and rich in olive oil. Then while in Rome, I had the most amazing side of spinach at a pizzeria. It was basically a giant pile of wilted spinach with olive oil and salt, simple as can be, but it was so good and satisfying! Then on another day in Rome, we stumbled upon a vegan-friendly cafe called Crispy, and they had a round tart item, almost like a quiche of sorts, but with a flaky pastry crust. It turned out to be basically focaccia bread stuffed with yet again, the best wilted spinach, pine nuts and raisins. So of course, I came home craving spinach. And spinach paired with raisins is a classic perfect pairing that I now have a renewed craving for….
Serving suggestion: Serve alongside warm crusty bread spread with vegan cheese. This was Miyoko's Kitchen Sun-Dried Tomato Double Cream Cheese. Any vegan cheese would be lovely with this though. Especially a DIY baked cashew cheese, all warm from the oven!
I really liked the little bits of garlic in the spinach. They were sliced thinly enough so that they were cooked through and not too spicy, just more earthy.

I love the nutty accent of hazelnuts. Pine nuts are a more traditional option. Or you could go all in and use both like I did..
The lemon juice is optional, but adds a bright accent to all the earthy flavors.
Pine nuts can be pretty expensive, and actually hazelnuts can be too! So if needed, you could totally substitute with another nut or seed. Walnuts, pecans, pumpkin seeds, sliced almonds and more could work.
I am still dreaming of that tart I had in Barcelona. And actually, we went back to that bakery a few hours later and bought them again they were so good! And just to triple check for sharing on this post, I later double confirmed that the tarts were vegan and free of dairy and eggs. They are actually called "Panadó" of spinaches. Espinacas is spinach in Spanish. I went hunting for recipes online for the tart crust (because this recipe would make the perfect filling) but could only find a few in Spanish… I will let you know if I come up with something though.
Spinach Made Easy. The flavors of this spinach dish include garlic, a hint of optional lemon, olive oil, sweet raisins and nutty textures from hazelnuts or pine nuts or both. But really, the main two flavors are of the tender spinach paired with the sweet raisins. Then the nutty accents follow things up.
For the nuts, you could also try pecans or walnuts.
Eat Your Veggies. The cool thing about spinach is that is cooks down, "wilts," incredibly swiftly, like in a minute usually, so you never feel like you need to overcook it. You are really just wilting the leaves to achieve a tender texture and condensed quantity. One pound of leaves wilts down to a modest bowl-sized portion. So if you don't like giant salads or are not in the mood for a lot of chomping on your veggies, this wilted spinach packs a big veggie bang for a tiny amount of space on your plate.
Oh, and this dish tastes amazing too. Always important when dealing with a veggie that, for some reason, people notoriously think of as "yucky." Crazy talk! This stuff is delicious and so so healthy!..
Want to keep things crazy simple?? Cut down on all the ingredients and just use extra virgin olive oil + spinach + raisins, and maybe a nut toss-in too like the pine nuts. Those are the basic ingredients for this classic side dish. But I really loved adding in a few extras for the recipe shown above.
Enjoy! And eat your veggies! Ps. Love spinach? Try my Popeye Biscuits!..
Pin it for later..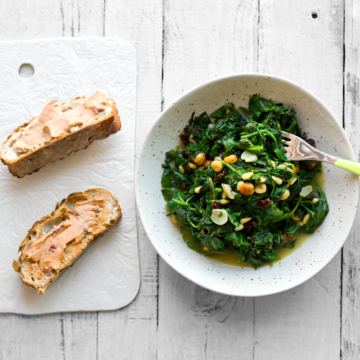 Spinach with Raisins, Pine Nuts
This simple spinach side dish is flavorful and packed with green veggie nutrients. Nutty accents with lemon and garlic.
Print
Pin
Ingredients
1 tablespoon extra virgin olive oil

1 lb organic spinach

2 cloves garlic, chopped

¼ cup raisins

2 tablespoon hazelnuts, chopped

2 tablespoon pine nuts

¼ teaspoon sea salt

Optional: pinch of black pepper to taste

Optional: 2 tablespoon lemon juice
Instructions
Over medium-high heat, warm a large soup pot. Add the oil and garlic. Stir in garlic for a minute.

Add in the raisins, optional lemon, pine nuts and chopped hazelnuts. Stir for about thirty seconds, allowing the oil to warm the nuts and soften the raisins a bit.

Reduce heat to low and add in the spinach. Using tongs of a large spoon, stir the leaves into the hot oil mixture, letting the hot liquid coat and wilt the leaves. Place a top on the pot for about thirty seconds to a minute, allowing the steam to further soften the leaves. Remove the lid and keep gently tossing the leaves until they are all wilted and greatly condensed. The nuts and raisins should be nicely folded into the leaves.

Plate the spinach and serve while warm.