disclosure: This post is sponsored by BELLA, but all opinions are my own.
Today I am sharing my recipe for Garlicky Zoodles with Chickpeas and Onions, aka Zoodles a la Kathy. I am also sharing an awesome appliance for DIY spiralizing – the first spiralizer I have tested that I really love. Get the recipe, my insight for loving your zoodles, and all about this machine..
Traditional pasta vibes going on here..

Warm Zoodle twirl.. (marinara-free version)

I did three versions of pasta zoodles in these photos – one without marinara, then one with all the goodies (chickpeas, onion, etc) and marinara added. Then another with just straight up zoodles and marinara, with a few accents.
Zoodles made easy, thanks to my BELLA Automatic Electric Spiralizer..
Spirals all fluffy and lovely..

Watch out for fallen spirals… they apparently double as cat toys.

My DIY Spiralizing Trials… Early in my blogging career, when spiralizing was just getting popular, I bought a hand-held kitchen tool that was supposed to scrape zucchini into noodles, aka zoodles. To my disappointment, it didn't really work. It was messy, took loads of time, and the peel could barely make it through the tiny scraper holes. "Oh well. At least I tried!" I thought to myself, and figured "spiralized meals" were recipes I would only experience in a restaurant.
Then a few years later, someone sent me a hand-crank spiralizer. Neat! I was so excited about it. However, this one was also disappointing. The veggies always seemed to fall off the prongs or get stuck in the blades – it just wasn't easy. But mostly, I was didn't like the process of needing to switch around sharp, scary blades every time I wanted a new noodle size. Anything that I get a little scared handling, like a mandolin, or cans not sliced with my safety can opener. No thank you. I do not need another finger cut like this one.
Needless to say, that hand-crank machine really turned me off to anything spiralized. And while I chatted with friends who seemed to be ok with their hand-rank machines, I just didn't love it at all. I like easy + super safe appliances.
Product comparison note: Just to be fair, there may be better hand crank machines or other spiralizer tools out there, other than the two I tested, but the ones I tried were nothing I would recommend to my readers.
Pretty much over the spiralizing thing, I received an email from BELLA.

BELLA emailed me. They asked if I was interested in testing out their new spiralizer machine! I sighed to myself, "Not another spiralizer… No thanks." Then I re-read the email. Automatic Electric Spiralizer. Hm. This was intriguing. I wrote BELLA telling them how I had a poor history with spiralizer tools, but that I also have a huge love of zoodles, curly beets and carrots, curly fry sweet potatoes and more. They were super understanding with my previous frustrations and assured me that this machine was very different!
The BELLA Automatic Electric Spiralizer arrived in the mail and I pulled it out of its box. Nothing to assemble or mess with. It was ready to go. The machine was sturdy, not heavy, but it had a nice weight to it – unlike my old hand-crank machine that felt way too light and flimsy for the sharp blades that it came with. This BELLA device looked lovely and felt safe. But would it work??
Still skeptical, I moved the machine to my counter and thumbed through the instructions booklet. I quickly realized how genius this machine was. The blades are built into the machine! You never have to handle them or change them out or store them in drawers in your kitchen. You simply rotate a small rotating knob that is numbered 1-4 to change the thickness of the noodles that are being spiralized. And when not in use, the machine has a safety cover to cover up the blades.
Ok, so this was good. But really, does this thing work?
I tested out the machine with a few green and yellow zucchinis. It worked! And it was fun standing back and watching the machine magically spin out curly veggie noodles in a flash. I felt a little like Lucy in the famous "I Love Lucy" conveyer belt chocolate scene. The noodles were coming out so fast, now I had to start cooking with these beauties! The prep part was so much easier than I had ever experienced with a spiralizer.
via GIPHY
Zoodles in a Flash: You just rinse your zucchini. Pat dry. Slice off the knobby end and a tiny tip from the other end. Slice the zucchini to be under six inches, if needed. Insert it onto the spiked prongs. Set your blade number by twisting into place. Lock things up and flip the switch to ON. And in seconds you have a giant pile of fluffy, fresh, lovely zoodles. Repeat until you have enough for your recipe. Literally takes you a few minutes and you are done with prep. Bonus: Clean up takes just a few minutes too.
Happy little machine, working hard while I stand back and watch.

For the first time, making zoodles was actually FUN.
A few different sizes..

Later that day, I bought a few more veggies to spiralize. Locked them in, flipped the switch and gathered bowls and bowls of colorful spiralized veggies.
To clean the BELLA automatic electric spiralizer, you simply remove the entire blade piece with a press of a button (it contains all four blades on a rotating piece) and rise it under water, scrubbing a bit if needed, with the cleaning brush that they provide you. Poke out any caught piece in the blade section. Pat or air dry the piece and place it back on the machine, cover with the safety cover and store wherever you'd like.
The machine it pretty enough to keep on your counter – if you use it enough to justify that precious space use! The machine is about the size of a long/double toaster.
Overall, I was so happy to be impressed with this machine! It is the first spiralizer I have used that I enjoyed using and actually worked well and felt dependable and sturdy. My love of zoodles was re-energized!
"Why Not Just Buy "Short Cut Chef" Spiralized Veggies From the Store?" Good question! My answer is that the DIY veggies are fresher, cheaper and more flavorful. Fresh is best, and that is very true when prepping delicate produce items.
Reasons why I love spiralizing at home with BELLA:

– Veggies are fresher, cheaper and tastier than store-spiralized options.
– Allows you to create more variety and higher volume at a lower price.
– You can customize the noodle thickness.
– Spiralizing with the BELLA machine is fun!
– Having a machine on hand allows you to get creative with ingredients to spiralize. Play with recipe ideas more freely.
– Kids will love watching fruits and veggies get spiralized and may be more excited to eat these healthy foods!
– The BELLA electric spiralizer is a fast, easy, dependable machine.
"But I do not like raw veggie noodles!…"
…This is a funny comment I hear because I actually used to "dislike" veggie noodles too because the RAW part never tasted good to me. But not because they are actually not good, really just because when I tasted them they were not prepared properly – freshly -they were dried out and lacking flavor. This is NOT the case with DIY noodles. They are tender, flavorful and have a lovely bright color to them. You see, any produce item that you slice into will oxidize and dry out pretty quickly. Leaving the color dull, flavor fading and texture drying. Would you want to eat an apple that was freshly sliced into or one that was sliced into the day before? That answer is pretty clear. So the same goes for zoodles and more. The RAW part tastes so much better when prepped at home.
And the other thing about that RAW part…
I found this surprising about "raw" zoodles as I was recipe testing: They do not have to be raw at all! That is such a stereotype.
I actually like them "lightly cooked" even more than I like them raw. So while zoodles have a stereotype for being a "raw food" – they are actually very versatile when steamed or lightly sauteed. And to me, they actually take on a more cooked pasta-like texture when cooked! You will be amazed at how similar to pasta these noodles taste when cooked and tossed with pasta-y ingredients like tomato sauce, veggies, spices, herbs and vegan cheeses too.
Warm and steamy! (See, zoodles, do not have to be raw.)

So, if you are a pasta lover like me and grew up eating bowls and bowls of pasta and find that pasta is a comfort food for you, zoodles are such a wonderful healthy substitute once in a while. I definitely still eat "traditional" grain pasta (wheat, rice and even bean-based varieties) but for me, this spiralized noodles offer up a superb veggie-based option for pasta night. Without sacrificing flavor at all. Zoodles actually have their own wonderful flavor that I adore.
Twirl them just like regular noodles..

The bottom line for pasta lovers: Subbing in zoodles in place of traditional grain pasta is a super way to eat more veggies. And love every second of it. The secret to cooking them in a delicious way is really to flavor your zoodles the exact same as you would your traditional cooked pasta. Add your fave sauce, add spices, bean balls, sauteed veggies, mushrooms, fresh tomatoes, pesto sauce, garlic, add whatever you love and watch the flavors marinate the zoodles and create a dish that tastes very familiar.
If you are a fan of zoodles and spiralized veggies, but have been unsatisfied with the machines on the market, I hope you check out the BELLA machine because it is a wonderful option for DIY spiralizing.
Marinara + zoodles + olives + vegan Parm + a few spices. Simple + delicious!

So many layers, so much flavor. I actually liked using a few different sized noodles for texture variation!..

Read more about the BELLA Automatic Electric Spiralizer on the BELLA website.
Product Details for the BELLA Automatic Electric Spiralizer:

– Creates healthy vegetable pasta or salads from zucchini, cucumber, carrots, potatoes, beets and more!
– 70-watt motor
– Rotating blade system
– 4 different blades: ribbons, linguini, spaghetti and fettuccini
– Accommodates vegetables up to 6" long
– Auto-stop feature stops once the spiralizing has been completed for hands-free operation
– Stainless steel accents
– Snap-on bowl that nests below the unit for easy storage
– BPA – Free and dishwasher safe parts
– 2-year limited warranty
– dimensions: 12.13″ x 5.91″ x 7.48″ (LxWxH)
– includes a cleaning brush + recipe book
Snag your own BELLA spiralizer over on Kohl's
Dive in!..

Marinara-free style..

Vegan Parm pairs so well with zoodles!..

Cat approved. Well, not really, but still..

disclosure: This is a sponsored post for the BELLA Automatic Electric Spiralizer, but all opinions are my own and I only shares sponsored reviews of products that pass my approval tests and I use + love in my own kitchen.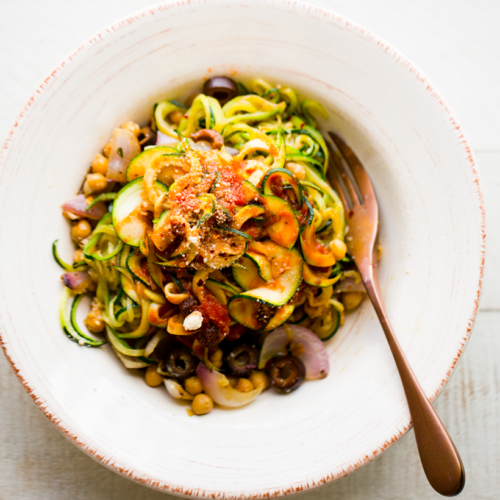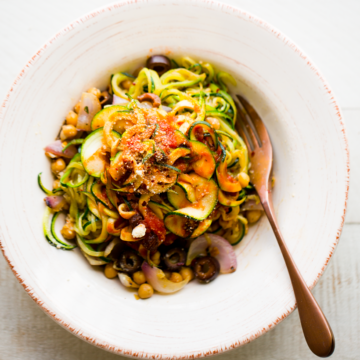 Garlicky Zoodles with Chickpeas and Onions
This flavorful zoodle dish is a meal in a bowl! With skillet chickpeas, olives, red onion, red pepper flakes for heat, EVOO and plenty of accents like vegan cheese, salt and pepper. Tomato sauce is optional for added tomato-y flavor.
Print
Pin
Ingredients
2 medium zucchinis – spiralized, using the BELLA Automatic Electric Spiralizer

2 cloves garlic, finely chopped

1 – 1 ½ tablespoon extra virgin olive oil

2 tablespoon black olives, sliced

1 small red onion, chopped

1 cup chickpeas, canned -drained/rinsed (use a full can if desired for a larger portion)

1 teaspoon red pepper flakes

¼ teaspoon sea salt

⅛ teaspoon black pepper

*seasonings can be added to taste

optional: 1 tablespoon fresh lemon juice or ½ cup marinara sauce

optional: 1-3 tablespoon vegan Parmesan cheese (or sub with 1 tablespoon nutritional yeast)
Instructions
Warm a skillet over high heat. Add the extra virgin olive oil.

Add the onion to the oil and saute for two minutes until edges start to brown.

Add in the garlic and chickpeas. Cover with lid. Shake pan around a bit to char all sides of the chickpeas. Some of them may pop with the high heat and oil.

Uncover lid and add in all your zoodles. Tip: If you do not want long strings that can tangle easily, cut your zoodles into about 5-6" sizes, roughly. Using a spatula or tongs, toss the zoodles in the hot pan. Add in the salt, pepper and red pepper flakes. Allow to warm in the hot pan for 1-3 minutes – depending on how tender and "cooked" you want your zoodles. Tip: Zoodles will continue 'cooking' a minute or two after removed from heat, so experiment with under-cooking them slightly.

Squeeze in the optional lemon juice or add the optional pasta sauce now. Also sprinkle in the black olives. Toss gently in the pan for one minute. Do not overcook noodles depending on how soft you want them. Tip: I like to warm the sauce a bit in the microwave before adding, so that it doesn't need any 'cooking' time in the pan.

Remove from heat. Sprinkle vegan Parmesan and/or nutritional yeast over top the zoodle mixture. Toss gently.

Transfer the zoodles to serving plate(s). Top with additional vegan cheese and red pepper flakes. Freshly chopped parsley or fresh basil or fresh lemon zest would also be a nice touch. Serve warm!
nutrition estimate | per serving