On the eleventh day of Vegan Treats, my true love gave to me, eleven Cornballs Popping,
Ten Muffins rising,
Nine Snowflakes Dancing,
Eight Snowman Crispies,
Seven Flutes of Cinnamon,
Six Soy Nogs swirling,
Five Gol-den Fuyus,
Four Coconut Snowballs,
Three French Toasts,
Two Cups of Cocoa,
and a North Pole Peppermint Chai (just for me.)
Popcorn Balls Made by Hand. Literally. I must confess, I know nothing about candy making, sugar temperatures and 'candying' anything. So creating a sticky solution to mold and mend these balls of popcorn was all an experiment for me. But to my surprise, it worked! These Sticky Sweet Popcorn Balls are fun to make and fun to eat. 100% vegan and filled with good holiday add-ins like dried currents, cinnamon and maple syrup. Kids will love getting 'sticky' to make these. And shhhh, but there is a heaping sprinkle of flax seed meal in there too. Get popping…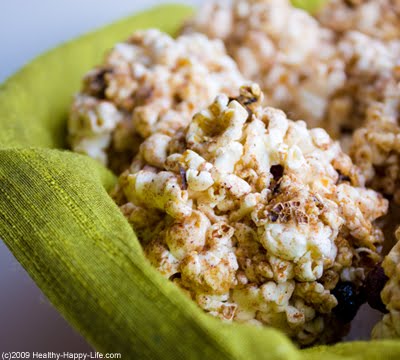 Warning: Sticky Fingers Ahead. I have one warning for this recipe: you will get sticky. These balls are not molded by some handy-dandy popcorn ball maker, nope. They are made by your own two hands (and a sturdy plastic baggy). I mean, what do you use to make a snowball outside? I made-to-order snowball making device? Nope. Your hands! So get sticky and have some holiday fun.

No Candy Thermometer Needed. I am of the candy-thermometer-less crowd. Candy making and 'sugar heating' is to my knowledge, an exact science. I know this. Thus, not having really any experience in this area of cooking, I don't really know why this recipe worked. But it did, so yippee for my 'sugar experiment'. After placing the formed balls in the fridge overnight they were perfectly sturdy. I was shocked, and pleased. So if you want to go all scientific on me with a candy thermometer and heat the sugar to just the right temp, go ahead, but thank goodness for me, no thermometer required.
Sticky Sweet Popcorn Balls
vegan, makes 8-10 medium balls
*double this recipe if you want to make bigger balls for a lot of folks
7 cups air popped popcorn, lightly salted (fat-free)
2 tablespoon vegan buttery spread
⅓ cup maple syrup
¼ teaspoon salt
½ teaspoon cinnamon
¼ teaspoon nutmeg
1 dash cayenne
2 tablespoon sugar, evaporated cane juice crystals
1 teaspoon apple cider vinegar
2 tablespoon water
1 tablespoon soy creamer
¼ cup blueberry flax seed meal
handful of dried holiday fruit: cranberries, pomegranates, currents
*I used Trader Joe's Super Pomegranate and Cranberry blend
optional: seeds, nuts, spice add-ins
Directions:
1. Make your air-popped popcorn. You can pop the corn in oil if you wish, but air-popped will work just fine. About 7 cups is good. Sprinkle with a dash of salt. Set aside to cool. If you are doing microwaved popcorn, you will need about 1 ½ bags.
2. In a soup pan over medium heat add all your syrup ingredients: water, buttery spread, maple syrup, spices, salt, vinegar and sugar. Melt ingredients. (Leave your soy creamer out during this part.)
3. Bring your syrup to a boil. Stir constantly and boil for 90 seconds or so.
4. Remove pan from heat, stir your 1 tablespoon of cold soy creamer. Transfer your syrup to a small glass bowl and place in fridge for 20 minutes to cool and thicken.
5. In 20 minutes, your syrup should have cooled down and become like a nice sticky consistency that is a bit thicker than honey. You can now pour about ¼ cup of your syrup over you cooled popcorn. Toss well!
6. Next, fold in your dried fruit, flax seed meal, and any additional fold-ins and the flax seed meal. You can dash in a few extra spices if you'd like too. Continue drizzling syrup over your corn until you have used about ½ cup of syrup. Continue tossing well. You want the corn the get moist, but not soggy.
7. Next, grab your ball-makers, aka your little helpers, and a nice plastic sandwich baggie for each ball-maker.
8. Scoop about ¾ cup of popcorn mixture into each plastic baggie, shake it all into one corner of the baggie. Squeeze down like a pastry bag. Then simply use your hands on the outside of the bag to firmly mold the popcorn into a ball. Squeeze hard. It's OK to crunch some of the corn. You may need to squeeze and hold for a few seconds to get the stickiness activated. (That was my technique anyways).
9. Carefully remove the ball from the bag and place on a wax-paper lined plate. Continue this process until all your corn is used.
10. You can drizzle a bit of the extra syrup over top your corn balls. Then cover them with plastic wrap and place them in the fridge for 2 hours to harden and chill. Overnight is best.
11. Serve cool and store in plastic baggies in the fridge. Too much exposure to air will turn the popcorn stale.