I took a stroll on the beach this morning after an appointment, matcha from Urth Cafe in hand, sunnies on. The air was crisp and salty and the sunshine warm and soft. It was a nice way to pause in the middle of a work day. I always feel really thankful that I can take breaks when I need to with my job. But despite the 'beach break' perk, blogging isn't fool proof.
There are a lot of days when I feel isolated and crave water cooler office banter, loud obnoxious and lovable co-workers and a steady paycheck. But something unexplainable calls me to this work. This lifestyle. The unpredictability of it all. The freedom, yet lack of security. It feels like backpacking through Europe. Some days you get a sunrise view of the Eiffel Tower, latte in hand. And other days you lose your passport, are wearing the same clothes for three days and have to take a ten hour overnight train ride without a meal to be found. (Ok, so I have never actually backpacked through Europe, but I did see Wild and Under the Tuscan Sun and have been to Europe, so close enough. Insert appropriate emoji here.)
After my beach break, I was home and hungry, so I whipped up these Strawberry Avocado Summer Rolls that I have been dreaming of for a while. They are so light and springy, yet satisfying and protein-filled. I adore the combination of strawberries and avocado. I added some savory-salty flavor by adding coconut bacon! This was my first time making it too.
These make a delicious easy lunch or even a light raw-ish dinner. I use brown rice paper wraps and mung bean noodles too. Get the recipe!..
The goodies..

Coconut bacon!..

Coconut Bacon. This was my first time making it. And I loved it!! I have had it in restaurants before, but somehow it tastes better freshly made. Less soggy, more crispy and aromatic. The flavor is intoxicating – in a dreamy, tropical island, night out, crunchy, sweet, delicious way. All that in a little coconut flake.
(It's Wednesday, but I wrote this Monday, fyi…)

Mondays are a good day for me to play in the kitchen. Otherwise I get bogged down with emails, catching up on social media from the weekend and all the busy work that pops up at the start of the week. Plus, cooking on a Monday sets a nice tone for the rest of the week, reminding me that I have the power create delicious, easy and healthy meals in my own kitchen all week long. Takeout and processed meals can seem appealing on a busy night, and sure I splurge at least once a week, usually, but homemade meals – especially when loaded with seasonal produce – are so good for the mind, body and soul.
This recipe is BUSY WEEK approved.
You can whip up a giant plate of these summer rolls in under thirty minutes – easy. And if you want to get creative, you can add even more ingredients. Tofu, tempeh, other veggies and fruit, pickled ginger, rice, quinoa, beans, sauerkraut or kimchi and so much more!
Hope you love these as much as I do!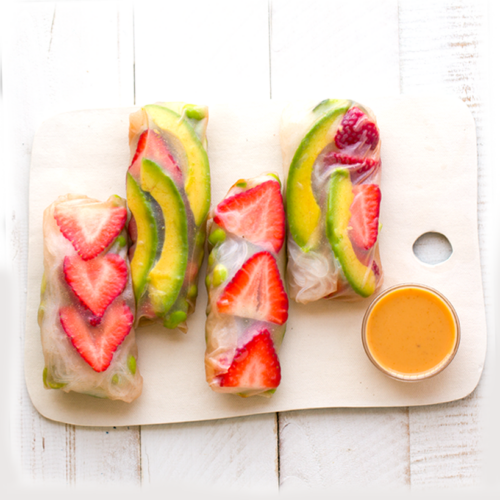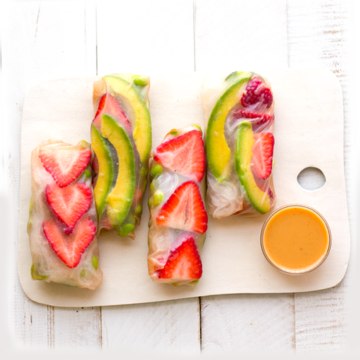 Strawberry Avocado Summer Rolls
These light and springy, yet satisfying summer rolls are filled with strawberries, avocado and more. 
Print
Pin
Ingredients
9 brown rice paper rolls

A rimmed baking dish filled with very warm water 
Filling:
1 avocado, sliced and tossed in lemon or lime juice

1 cup mung bean noodles

1 cup shelled edamame, warmed

1 ½ cups organic strawberry slices

1 cup cucumber slices

optional coconut bacon

Serve with: homemade peanut sauce
Coconut Bacon:
1 ½ cups of large cup coconut shreds

1 ½ tablespoon maple syrup

1 tablespoon liquid aminos or tamari

pinch of smoky paprika (after cooked)
Instructions
Prep all your filling ingredients. For the mung bean noodles, boil them for about 4-5 minutes, then rinse in cold water and drain well.

With all your ingredients prepped, begin filling your rolls. Soak one wrap in the warm water for about ten seconds, or until moist and slippery. Then transfer that wrap to some parchment paper and begin filling with goodies.

For each wrap: 3 strawberry slices, 2-3 avocado slices, 1 tablespoon edamame, 2 tablespoon noodles, 1 tablespoon coconut bacon or cucumber slices.

Roll up the wrap and place on another piece of parchment to dry out a bit. Continue until all the rolls are filled. Serve right away or cover and store in the fridge until ready to serve.

Coconut Bacon: Warm oven to 350 degrees. Toss the coconut with the maple and tamari/aminos. Cover a baking sheet in parchment paper and add the coconut in a flat layer across the pan. Cook at 350 degrees for 10-15 minutes or until the edges start to brown up. Cook less time for softer bacon and longer for crispier and darker bacon. Remove from oven and cool for a few minutes in pan before using or storing. Serve with my DIY peanut sauce.