This Strawberry Satsuma Smoothie is my go-to morning sip right now. It is creamy, brightly flavored and energizing. Delicious orange-banana flavor is accented by sweet strawberry.
Morning Sip. This pink smoothie is perfect paired with a sunrise or early morning sunshine glow.
Vitamin (C)itrus. And the best part is that this smoothie provides a healthy boost of vitamin C, which is something we can all appreciate during the colder months.
And if you are devouring Christmas cookies in swift fashion, this is a nice little break from that. Hope you enjoy this smoothie just as much as I do..
I am pretty obsessed with satsumas this time of year. Those tiny, easy-to-peel spheres of citrus that you can find at grocery stores and farmer's markets, usually from about late October through December. Sometimes longer perhaps. The have their leaves in tact, usually, and look so pretty piled up in a fruit bowl. They also remind me of being a kid! I remember I used to get so excited that the oranges at the grocery store had real leaves on them! Just like I once got waaaaay too excited the first time my mom bought carrots from the store — with the stems still on! It was like being a bunny rabbit.
Anywayyyyyyssss… That was a strange tangent. But really, back to satsumas. Aka, mandarins or you could also group them in a similar family as tangerines. Satsumas are awesome to have on hand in December. They offer up a sweet, hydrating, vitamin-C rich snack and they are generally available at reasonable prices.
A satsuma tip: the smaller satsumas tend to be a bit sweeter and bolder in flavor than the larger ones. Go for the tiny satsumas and mandarins!
Also cool, you can usually find some unique varieties and smaller sizes from farmer's markets.
So, this smoothie!.. Cashews for body and creaminess, strawberries for that pretty color and a hint of summertime, creamy bananas for body and sweetness — and bananas and citrus pair SO well together. I also added in a pinch of sea salt and cayenne. Those are optional, but add a nice contrast to all the sweet and bright flavors. And last, but not least, those satsumas! I usually add in two larger fruits, or three smaller ones.
Pink + Banana-Citrus. The first round of testing for this smoothie included a much leavier helping of frozen berries, and less banana. But I ended up changing it because I just LOVE the combo of bright fresh orange and banana. The strawberries do not overwhelm that flavor, they really just accent it and add a subtle frostiness.
Blending Tip: Blend the first part of the smoothie (with the cashews and satsumas) very well. This will smooth out the fiber in the citrus and any chunks from the nuts. You want silky smooth before adding in the frozen ingredients.
Flavor Tips: To maximize the BOLD flavor of this, make sure your frozen banana is very ripe. Also, to bolden the flavor, you could reduce the non-dairy milk to ¼ or even less if your satsumas are juicy enough! Less liquid, more FRUIT will maximize the flavor of this smoothie, rather than water it down.
Cashew substitutes? Try hemp seeds, pumpkin seeds, another nut like walnuts or a nut butter. Cashew butter, almond butter.. Sun butter would also work!
ps. Working on my Dubrovnik travel post! So many photos I love. And a little trivia… if you know the answer, leave it in the comments! What GOT shooting location am I standing in? Hint: I feel like I need a glass of wine in here!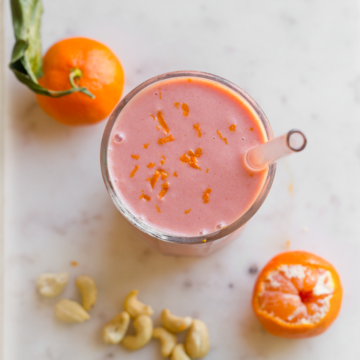 Strawberry Satsuma Smoothie
This sweet and simple smoothie combines the bright flavor of fall and winter citrus with sweet strawberries. Cayenne adds a subtly spicy accent and bananas and non-dairy yogurt make things thick and creamy. 
Print
Pin
Ingredients
¼ – ⅓ cup non-dairy milk, plain

⅓ cup non-dairy yogurt, vanilla or plain

1 tablespoon raw cashews

2 medium satsumas, peeled (Use 3 if smaller sized)

¾ cup frozen strawberries, organic

1 large frozen banana (or 1 ½ small)

pinch of cayenne

pinch of sea salt

Optional: a few ice cubes, only use if you need a frostier texture…

pinch of satsuma zest, blend in and also use as garnish on top of the smoothie!
Instructions
Add the cashews, yogurt, milk and satsumas to a blender. Blend from low to high until this mixture becomes smooth.

Add in the frozen strawberries, banana, cayenne, salt and ice. Blend from low to high until thick, smooth and frosty.

Pour into serving glasses and serve. Optional: Add a pinch of citrus zest on top.