These vegan Stuffed Peanut Butter Cup Cookies are super fudgy and rich with peanut butter cup flavor in every bite. Rich chocolate cookies have peanut butter blended into the batter, and for a bonus surprise you can stuff a peanut butter cup in the center of the cookie, or you can chop cups into pieces and fold into the batter, your choice! I like the sweet surprise of the stuffed cookies, but the melty cup pieces also look very inviting and delicious.
Get baking this month with this irresistible dessert recipe!..
Vegan Peanut Butter Cups. These cookies are perfect for using up any Halloween-month vegan peanut butter cups you may have on hand. I love the cups by Justin's, Unreal and Newman's – all have vegan options.
You can also DIY some peanut or almond butter cups by using my recipe + video for Almond Butter Cups, here.
Folded in PB cups..

PB cup-stuffed…

About these cookies. The cookies are so fudgy. They remind me of brownies in that way. They are a tiny bit crumbly, but not in a way that makes them less appealing. I think the crumbliness comes from the fact that I used a whole wheat flour as well as the applesauce as the only egg replacer. If you want a denser, less crumbly cookie, try subbing with an all purpose gluten-containing flour or you could switch out the applesauce for ½ cup of flax eggs. But I posted the recipe as is, because I really loved everything about them! Super satisfying and exactly the flavor I was going for.
Sea salt on top is a very nice touch. I used a small grain pink salt, but even better would be a kosher salt or fleur de sel – something with a large coarse grain.

Peanut Butter Consistency. My peanut butter was nice and soft because it was a new container. If your peanut butter seems a bit hard, dried out or crumbly, keep that in mind as a modification you may need to make by adding in 1 teaspoon of vegetable oil (like coconut oil) to stir with the peanut butter to fully soften it. Some nut butters can really dry out over time and consistency across brands varies too.
How to stuff a cookie. I loved the stuffed version of these cookies. The process is easy.
1. Spoon a little less than a golf ball size of cookie dough – these cookies will be on the large side.
2. Wrap the dough around the mini peanut butter cup. I used Justin's dark chocolate cups for these. Pat the cookie into a ball and place on the baking sheet. The size after adding the pb cup should be about the size of a golf ball. If you want smaller cookies, you can chop the pb cup to a smaller piece for wrapping.
Tip: If your dough feels a bit too warm to handle right after beating, place the bowl into the fridge for ten minutes to firm up and chill a bit. This will allow for easier handling as you wrap the dough around the pb cup to "stuff" the cookie.


Other things to stuff inside?? You could totally play around with vegan stuffings for these cookies! Try a vegan Oreo or a mini vegan chocolate chip cookie inside these chocolate cookies. OR another vegan chocolate candy. You could even stuff a bunch of different fillings into the cookies and have it be a surprise which filling you (or your guests) get.
Happy October from my fave little all black kitty..

And me, in B&W…

Hanging around the cookie photoshoot like a pro..

Because these cookies are brownie-colored, dark brown/black, they are really fun for a Halloween party. OR bake them up as you watch your fave spooky-season movies like Hocus Pocus, Nightmare Before Christmas or Scream.
Happy October + happy cookie baking!

*Nutrition Note: nutrition info above is for the cookies without the peanut butter cups added, since brands and amount you use will vary.
Oh and never forget your fave Halloween costumes. This was one of my fave a few years ago when I went as Allison from Hocus Pocus. MrWhite joined in as Binx and my husband wore a purple sweatshirt with classic rips in the collar a la Max..
disclosure: This post contains affiliate links for Amazon. Thank you for your support.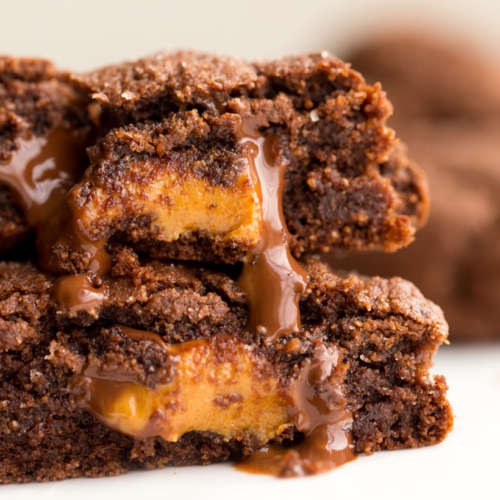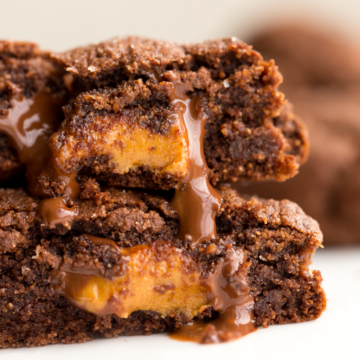 Stuffed Peanut Butter Cup Cookies
These vegan Stuffed Peanut Butter Cup Cookies are rich and fudgy with peanut butter and chocolate flavor in every bite. Use your fave minin peanut butter cups for stuffing or chopping.
Print
Pin
Ingredients
Wet:
½ cup brown sugar

¼ cup vegan butter

2 tablespoon peanut butter, softened

1 teaspoon vanilla extract

½ cup applesauce
Dry:
2 teaspoon baking powder

1 cup whole wheat flour*
Fold or Stuff in:
9-10 vegan peanut butter cups, dark chocolate

sprinkle on top: ½ teaspoon coarse sea salt (fleur de sel is my favorite)

* (or sub with 1 cup + 1 tablespoon white all purpose flour or gf flour blend)
Instructions
Preheat oven to 350 degrees. All parchment paper or oil to a baking sheet.

Add all the wet ingredients to a large mixing bowl. Beat with a hand or stand mixer until well-combined.

Add the dry ingredients. Beat well until a fluffy, thick dough forms. 

Chopped Cup Cookies: Fold in chopped peanut butter cups. Stuffed Cookies: Wrap a ball of dough around each peanut butter cup, covering it on all sides. They end cookie will be about the size of a golf ball if using Justin's mini cups like me. Sizes will vary based on the vegan peanut butter cup that you use. If desired, press down slightly on the tops of the cookies to help them flatten a bit.

Sprinkle the salt over top the cookies.

Bake at 350 degrees for about 15 minutes. Cooking time will vary based on the sizes of your cookies.

Cool for at least 15 minutes before serving. If served right away they will be gooey and melty, extra fudgy.
nutrition estimate | per serving
Calories:
212
kcal
|
Carbohydrates:
27
g
|
Protein:
5.5
g
|
Fat:
11
g
|
Fiber:
4
g