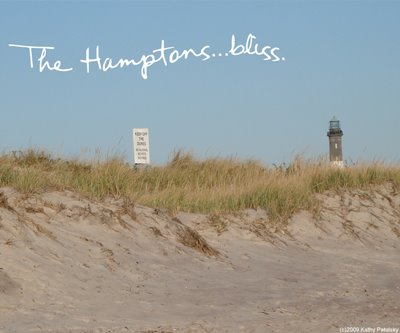 If you're a reality TV fan like me, you've probably seen enough of BRAVO TV's Real Housewives of NYC to be familiar with the Hamptons. However, you may think that the only people who deserve a weekend at the Hamptons are the rich, famous or connected. Well think again. About 80 miles east of NYC lies a summertime playground that anyone with a little sense of adventure must explore. And FYI, the Hamptons are indeed an ideal destination to achieve wellness bliss. And thanks to Vital Juice, you can achieve your blissful itinerary in a stress-free way. How? Click ahead to find out, and see a few of my Hamptons photos…
Vital Juice's Guide. VJ has just published a 2009 Hamptons Survival Guide. Check it out here. It's awesome. Here are a few of my wellness-inspired highlights from their guide:
*Head to Physique 57 for a $37 class inspired by ballerina moves. Kelly Ripa supposedly loves it.
*For only $35 you can try Rebecca Kordecki's boot camp at one of the hottest hotels in the Hampton's: The Surf Lodge.
*$125 buys you 90 minutes of surf lessons at the Flying Point Surf School.
*Need some yummy healthy farm-grown eats? Try Sag Harbor Farmers' Market, Community Farmers Market at Hayground School or the East Hampton Farmers' Market. See details in the VJ PDF guide.
* Yummy eats include: Annie's Organic Café and Market or juicy Naam (Venus with Watermelon? Yes please.)
*And more healthy eats can be found at Joni's or Babette's. Yum and yum.
Check out VJ's 2009 Guide to the Hampton's for details on these summer fun ideas above.

How do I get there? The number one problem that travelers have when it comes to the Hampton's is getting there ! You can train it from Penn Station via the LIRR. Cost is around $29-$40 round trip. (Although tickets can sell out fast on a busy weekend.) You can take your own car (if you have one), you can private car it (LimoRes per say) or you can take the Hampton Jitney bus. All routes take you to the same place…the fabulous Hamptons!
Where to Stay? Honestly, I'm not an expert in this area. I have a few friends on Long Island so accommodations has never been a problem for me. However, there are a handful of overnight options in and around the Hamptons. And if you want to stay at the Surf Lodge, like Leo DiCaprio and Jerry Seinfeld, I highly recommend a well in advance reservation. Good Luck!
Vital Juice's 2009 Hampton's Survival Guide.
Here are a few of my Hamptons Photos…