Come August, we tend to get a bit worried about the fact that fall looms and our blissful, sun-drenched, firefly-speckled, starry night, rainbow-sunset, sweet daydream-filled summer season adventures will soon be ending.
Well before you put your beach umbrella back in storage, lock up the pool toys and cram your bikini into the back of your underwear drawer, have no fear, we actually have until September 23rd until fall is "officially" here. That leaves you with exactly fifty days to embrace summertime. So I am giving you a recipe for each one of those days – each found in my book Healthy Happy Vegan Kitchen.
For this post I flipped through every page of my over 220 recipes and plucked out my top 50 favorite summer-perfect recipes. So grab your copy of HHVK and put these recipes on your "Must Make Before Summer Ends" list!
Plus, some cool cookbook award news and I do a quick video chatting about my fave summer breakfast recipes from the book, complete with plenty of kitty cat cameos. Yes, you heard me right. Kitty. Cat. Cameos. Must see YouTube-ing.
First. This guide is perfect if you already own HHVK. You can grab your book off your shelf and get started with this list. However, if you do not own HHVK yet…
1. What are you waiting for? Five stars on Amazon, rave reviews and loads of fans are onto something very delicious.
And 2. Browse below, get inspired and then hop over to Amazon, B&N, Herbivore, IndieBound or your nearest in person bookstore to pick up a copy and instantly be stamped into the HHVK fan club, with a huge smile of gratitude coming from yours truly.
3. HHVK was just nominated for a 2015 Veggie Award! So that is pretty darn cool too. (My blog and other site Finding Vegan also received nominations and would be thrilled to receive your vote. Prizes are involved. And one of them is a Vitamix. 'Nuff said.
4. HHVK summer breakfast highlights and those kitty cameos in my latest video…
Now onto this mega list! Please let me know your HHVK faves in the comments or any recipes you would love me to make and feature with photos on my blog, Instagram or Youtube.
Top 50 Summer Recipes from Healthy Happy Vegan Kitchen
summer mornings
1. Strawberry Pancakes (pages 37-39)
Fresh strawberries are at their best in summertime! So whip up some oat-flour, buckwheat or all purpose flour pancakes using my pancake guide + recipes. You can also change things up to include peaches, blueberries and more!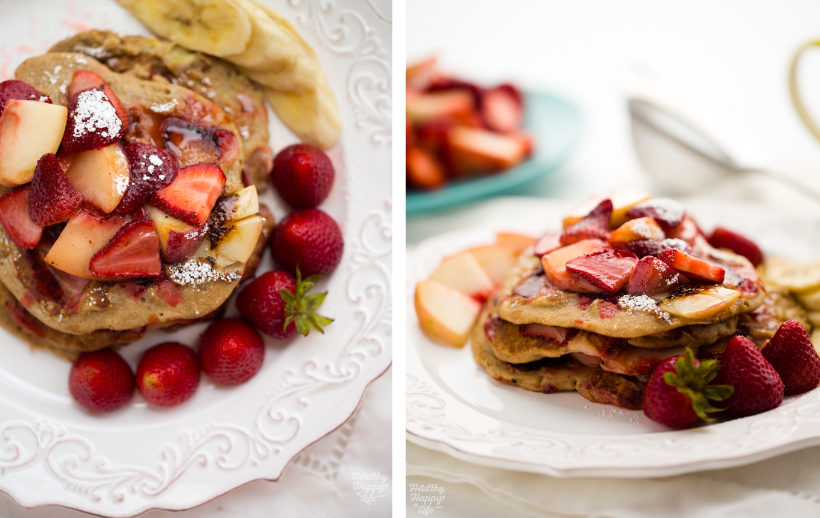 2. Double Chocolate Strawberry Waffles with coconut whip (page 42)
For a treat-yourself, chocolate-infused breakfast, try these chocolate waffles topped with loads of fresh summer strawberries! But don't worry, the waffles are not overly sweet, just rich and perfectly chocolatey. Remember chocolate is rich in antioxidants! Waffle lovers who love fruit-infused waffles should try my gluten-free blueberry orange peel waffles on page 44. And check out the oatmeal version of chocolate + strawberries on page 54!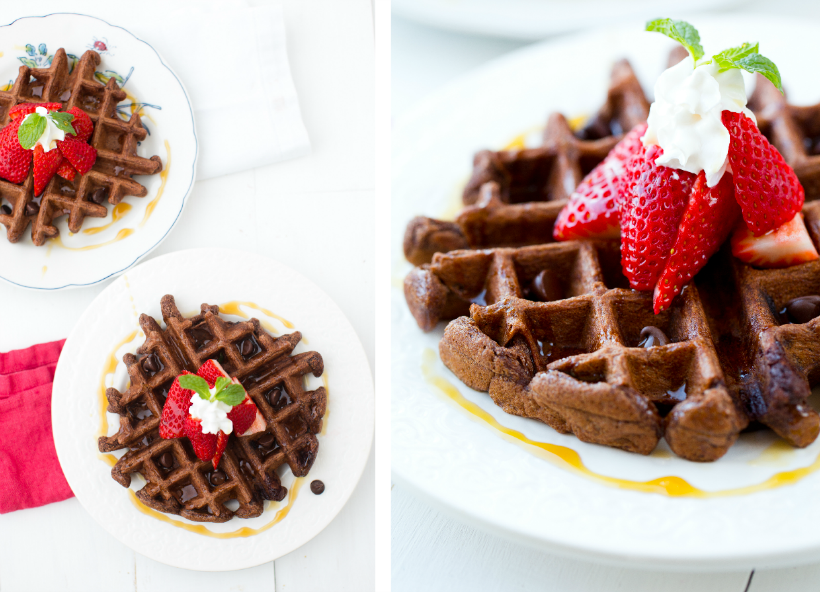 3. Chop 'n Toss Rainbow Fruit Salad (page 47)
I LOVE making a big, beautiful fruit salad in summertime when fresh fruit is in abundance. You can even modify the ingredients a bit and use the fruit that you have on hand. For example, switch out the chopped apple for some sliced peaches or apricots. Switch out the red grapes for cherries or plums.
4. Pink Lemonade or Chia Seed Pudding Parfaits. (page 50-51)
This sweet and sassy parfait is loaded with protein and is fun to assemble! The pink pudding color comes from blending fresh summer strawberries intot the mixture. You can get kids involved in this recipe by letting them layer their pretty in pink parfaits however they's like!
You can also put a chia seed spin on your summer parfait. Chia seed pudding is rich in healthy fats, protein, fiber and is super easy to make!
5. South Beach Acai Smoothie Bowl (page 52)
I adore this smoothie bowl on a warm summer morning or afternoon. The rich purple acai blends up into a frosty, chocolate-y berry flavor. Top that with goodies and dive in spoon first. You will feel like you are lounging on a beach in Miami.
6. Smoky Tempeh Bacon (page 62)
Such a great go-to ingredient for SO many summer recipes. I make a big batch of tempeh bacon, then eat it for 1-3 days. You can add it to salads, wraps, sandwiches or serve alongside tofu scramble in the morning. The flavor is smoky, maple, tamari, salty-sweet protein-filled heaven!
You can do thick or thin tempeh-bacon. loaded with savory-smoky-sweet flavor!..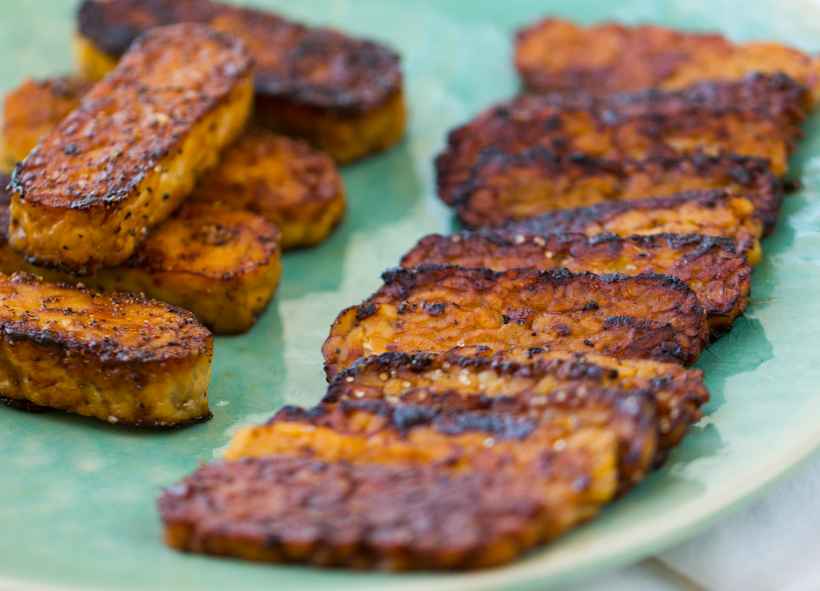 go-to snack
7. Power-Up Baked Almond Protein Bars + No-Bake Bars (page 69-71)
Heading out on a hike or a roadtrip? Whip up a batch of vegan protein bars to nibble. These homemade bars taste so much better than anything you will find that has been sitting on a store shelf for weeks or months.
summer baking
8. Coconut Oil Blueberry Muffins (page 76)
I have made these muffins about four times already this summer, using fresh summer blueberries. You can use fresh room temp berries or frozen summer berries. These muffins are so so delicious, fluffy and moist, totally cozy and satisfying. I like to add an EXTRA scoop of berries to make them bursting with blueberries in every bite.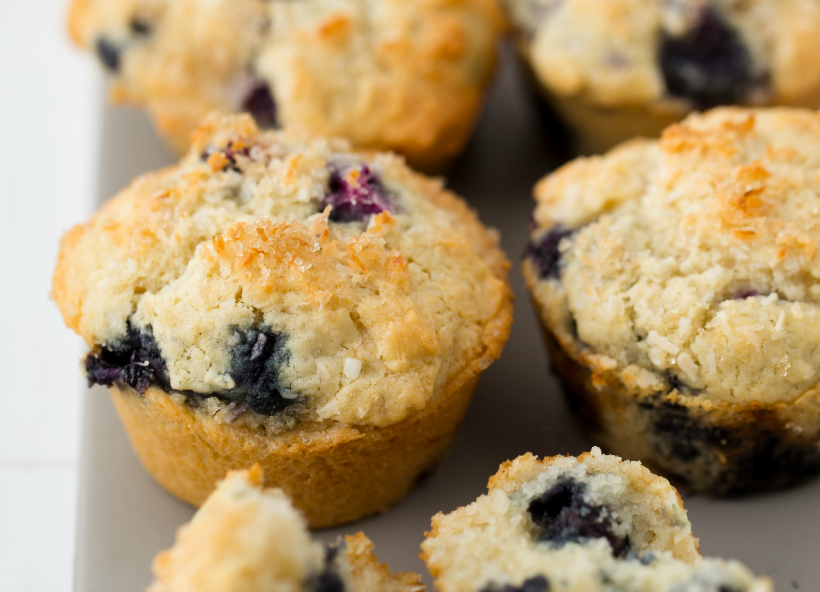 9. Ginger Peach Strawberry Spelt Muffins (page 80)
This muffin flavor is so cravable! Luscious summertime peaches and strawberries bake into blissful flavors in these ginger-infused muffins. This is also delicious as a loaf bread!
picnic-approved sandwiches
10. The Californian Sandwich (page 90)
Think sunshine, beachy breezes and ocean waves as you whip up this totally California-style sandwich. Sprouts, avocado and hummus lead these delicious flavors. I serve mine on toasted sprouted grain bread alongside some rustic blue corn tortilla chips or a tall refreshing lemonade-iced tea.
11. Big Beautiful Kale Wrap (page 97)
Eat your greens! Via this flavorful giant kale-loaded wrap. The dressing infuses the fluffy kale leaves with so much flavor. I toss in some tempeh bacon bits and slather on a bit of hummus too!
12. Curried Quinoa Pitas (page 102)
Fluffy quinoa, fresh mint, golden raisins, cashews, orange peel and loads of veggies infuse these amazing meal-approved warm pita sandwiches.
13. Dad's Toasted BLT (page 108)
Simple and perfect, just like summertime. This is an easy, fan favorite recipe for a quick summer lunch or picnic outing. Smoky-sweet tempeh bacon is layered with juicy summertime tomatoes and fluffy crisp lettuce leaves – a few other ingredients to accent. And bonus, Dad will love this one! Mom-approved too. Ok, everyone-approved!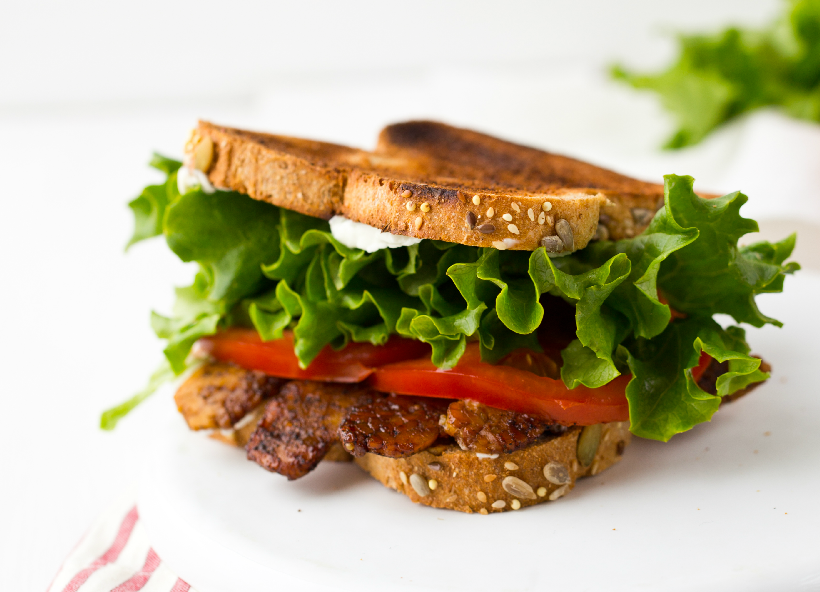 14. Vegan Tuna Salad Sandwiches (page 112)
This is one of my all-time favorite go-to lunch recipes. It turns simple canned chickpeas into a delicious crunchy-creamy salad that is a vegan version of something like a tuna salad. This recipe is loaded with fiber and protein. All you need is this recipe and a few slices of toasted bread for a perfect summertime meal.
veggie burger bash
15. BBQ Peanut Veggie Burgers (page 118)
Satisfy your BBQ and veggie burger craving all in one swoop with these flavorful, hearty veggie burgers.
16. Sweet Potato Veggie Burgers with Avocado (page 120-122)
I certainly put this burger on the cover of my book for good reason! It is one of my favorite recipes and I ALWAYS enjoy this meal – especially on a warm and lively summer night when everyone is "burger season" crazed. This veggie burger is a family-approved favorite. This recipe was popular on my blog, but for my book I refined the recipe a bit, added a veggie burger tips page and added all the nutritional info (just like all the recipes in my book!)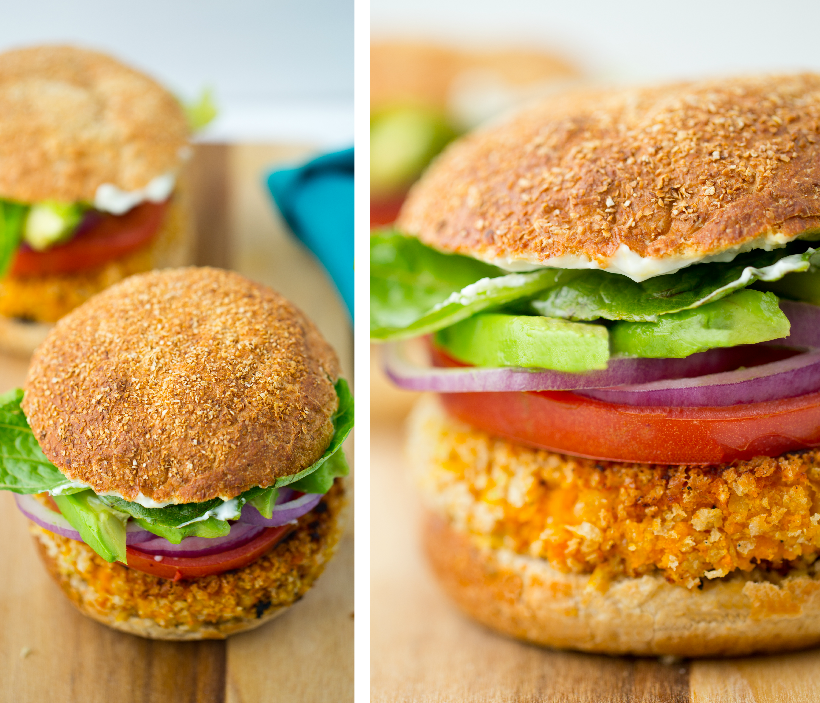 17. Southern Burgers: Black-Eyed Pea + Collard Greens (page 123)
These sassy veggie burgers are a delicious mixture of nutty black eyed peas, sweet potatoes, finely chopped collard greens (super healthy greens!) and spices and seasonings. I love topping these burgers with my summer slaw for a crunchy-sweet-zesty salad accent!
summer sides and starters
18. Spicy-Sweet Curried Carrot Slaw (page 137)
This carrot slaw salad is just as it sounds, sweet and spicy with accents of curry, lemon, tahini,maple and sweet raisins. A few other secret ingredients as well. I love making a big batch of this carrot salad because it tastes delicious when eaten right away or as next-day leftovers. So much flavor!
19. Summer Sides: Potato and Slaw (page 140-141)
Both of these side salads are perfect for a summer meal. Creamy, lively potato salad and zesty-sweet summer slaw made using cabbage. I adore bothe these summer recipes. Classics gone vegan!
20. Feisty Corn Cake Bean Balls on Tomato Moons (page 148)
Sweet summer corn pairs with creamy white beans, spices and savory flavors, all alongside fresh summer tomatoes. I love serving these corn balls as a summertime appetizer or alongside a big summer salad.
amazing summer salads
21. 5-Step Raw Kale Salad (page 153-155)
A must for any season, but perfect for summer! These lively, flavor-infused kale greens and veggies are my go-to way to serve healthy kale.
22. Maple-Mustard Raw Chard Salad (page 157)
I adore this salad! Bold mustard flavors pair with sweet maple and ribbons of sweet, chopped chard. Perfect side green salad for summer. Or use this as a base for making an entree salad.
23. Farmhouse Ranch Chickpea Salad (page 158)
Creamy vegan ranch, nutty chickpeas and sweet summer peaches. You will LOVE this!
24. It's Always Summer Salad (page 160)
This light and lovely summer salad is bursting with sunshine-filled flavors: corn, chopped bell pepper, zesty radish and a lively spicy-sweet lemon dressing. Make a BIG bowl of this colorful blend.
25. Strawberry-Avocado Mache (page 162)
Yes yes and yes. This salad is a must try for summer. Fresh berries and buttery avocado are a dreamy combination. Bursting with antioxidants, healthy fats and like all lively raw salads – super hydrating too!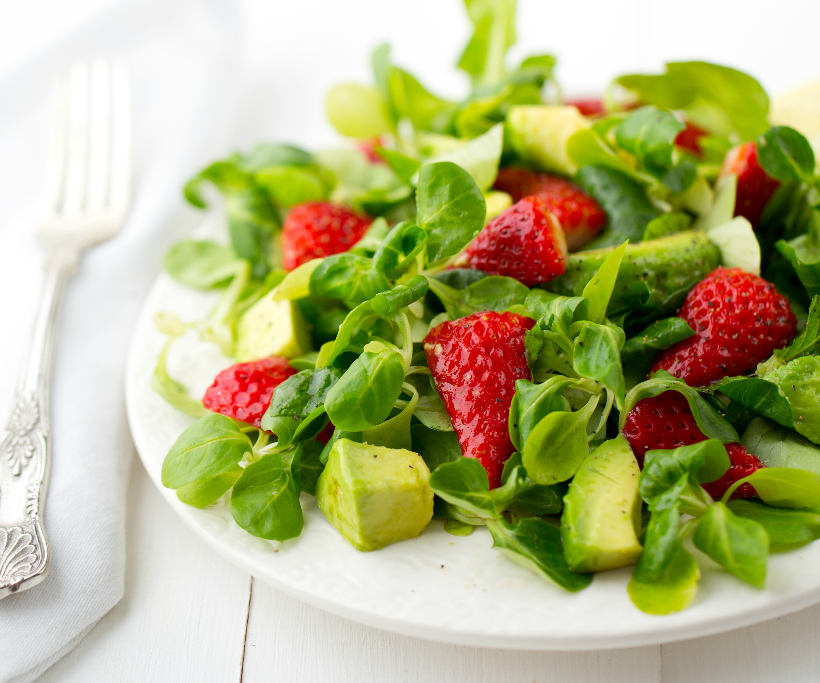 26. Chilled Peanut Kale Salad (page 165)
Fridge-ready kale salad! Stock your fridge with this sweet-peanut kale salad that kinda taste like you are eating a treat. Yes, really!
27. Tofu-Feta Watermelon Basil Salad (page 167)
Talk about refreshing and healthy and delicious. This salad has it all. It is a vegan spin on a traditional watermelon-feta-basil chilled salad.
28. Mango-Avocado-Mac Arugula Salad (page 168)
This salad. A must try. Rich in antioxidants, fiber, leafy green goodness, healthy fats and so much flavor. Spicy arugula, sweet juicy mango, buttery avocado, salty-nutty-tropicl nuts. Perfection.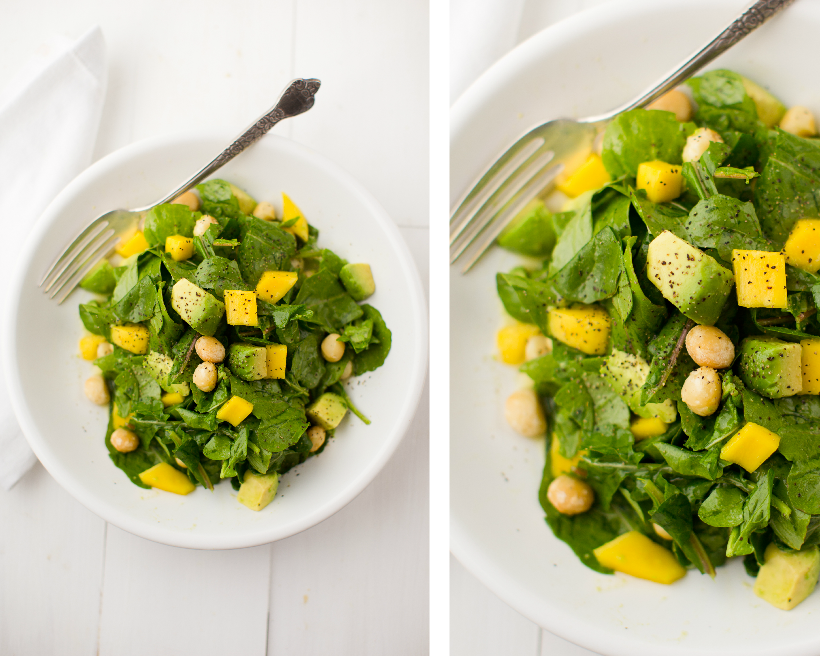 29. Summer Caesar with no-honey mustard dressing (page 173)
My vegan spin on a summertime Caesar salad! This is an entree salad with protein, whole grains, loads of greens, citrus and an amazing dressing.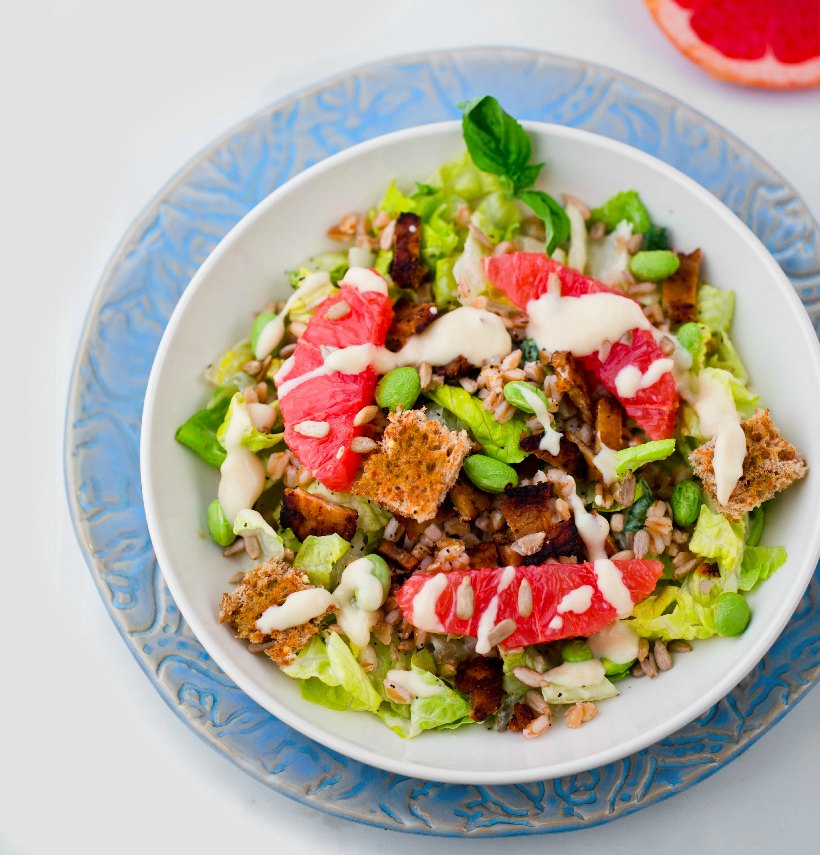 30. Blueberry Farro Spinach Salad (page 174)
Fresh summer blueberries top delicious, superfood chopped spinach all alongside clusters of my candied almonds. So good!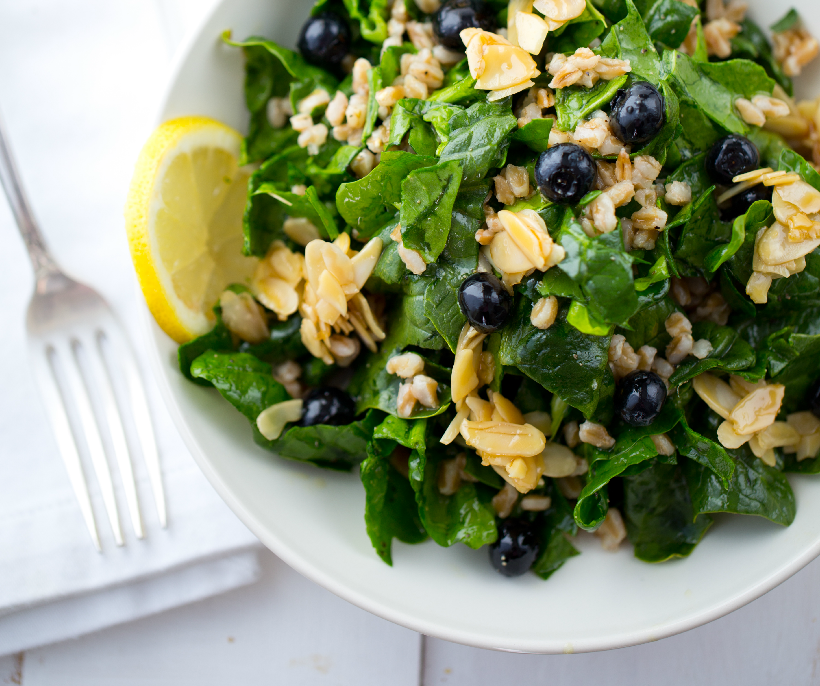 31. Salad Dressing Galore! (page 176-183)
I share 14 salad dressing recipes! These dressings are your go-to flavor infusions for all your easy summer salad needs. Seriously, you will never want to buy bottled again after seeing how easy these recipes are.
summer bowls
32. Pesto Chickpea Bowl with summer tomatoes (pg 186)
Go on, buy way too many tomatoes at the farmer's market because this recipe embraces them! Tomatoes, homemade pesto and loads of chickpeas create a meal bowl that is fitting for summertime! Tomatoes and pesto… truly a perfect match.
33. Greek Bowl (page 188)
This bowl is really great for summertime because is contains cooling cucumbers, lively lemon juice, fluffy quinoa tabouli and loads of chilled tofu-feta. And that tahini-lemon-maple sauce on top. Swoon. LOVE this meal-approved bowl. Plus I share my how-to guide for cooking fluffy quinoa!
party dip
34. Sunny Guacamole (page 199)
A go-to summertime dip recipe for sure. And my version has a zesty, lively lemon summer spin on it!
summer movie night
35. Coconut Oil Popcorn (page 213)
Summertime movie nights need amazing popcorn! My recipe includes the most amazing aromas as your popcorn pop, pop, pops. Tropical, buttery virgin coconut oil, and spicy-sweet flavor accents. This is my go-to popcorn recipe. Make a BIG batch and store in little baggies for grab-n-go snacks.
summer entrees
36. Guacamole and Corn Cake Lettuce Cups (page 215)
My delicious sweet-moist corn cake is scooped alongside fresh summertime guacamole, and served in a crisp lettuce leaf. Love these as an appetizer or light dinner.
37. Favorite Mac 'n Cheese with variations! (page 224)
Stovetop perfection, I love serving easy vegan Mac and Cheese in the summertime. Plus, I include a few of my favorite flavor and ingredient variations.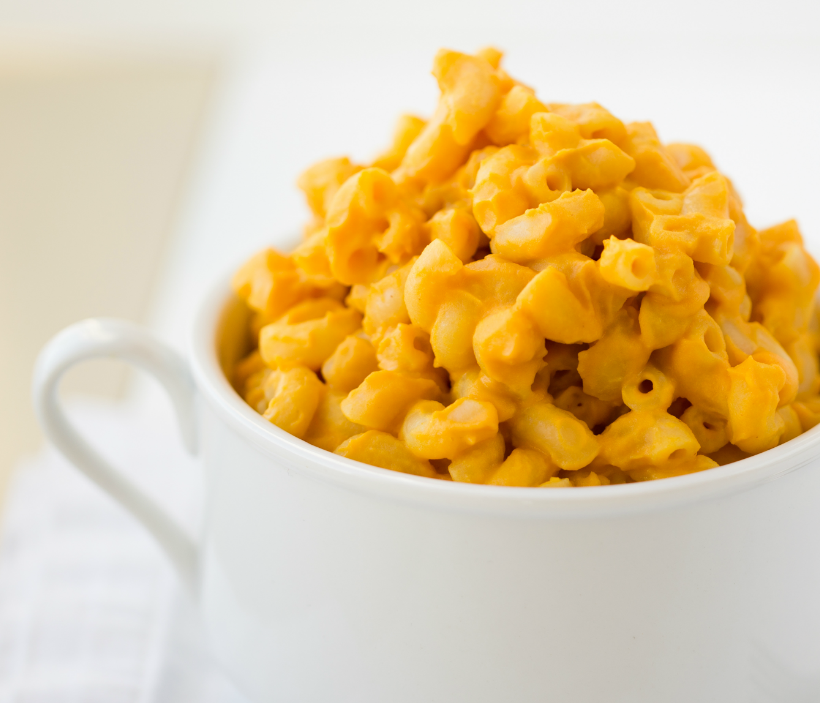 38. Lemon-Pepper Fettuccine Alfredo (page 233)
This is my favorite pasta to serve in the summertime because it is comfort food, yet still lively with black pepper and lemon zest flavors bursting through each fork-twirled pasta bite.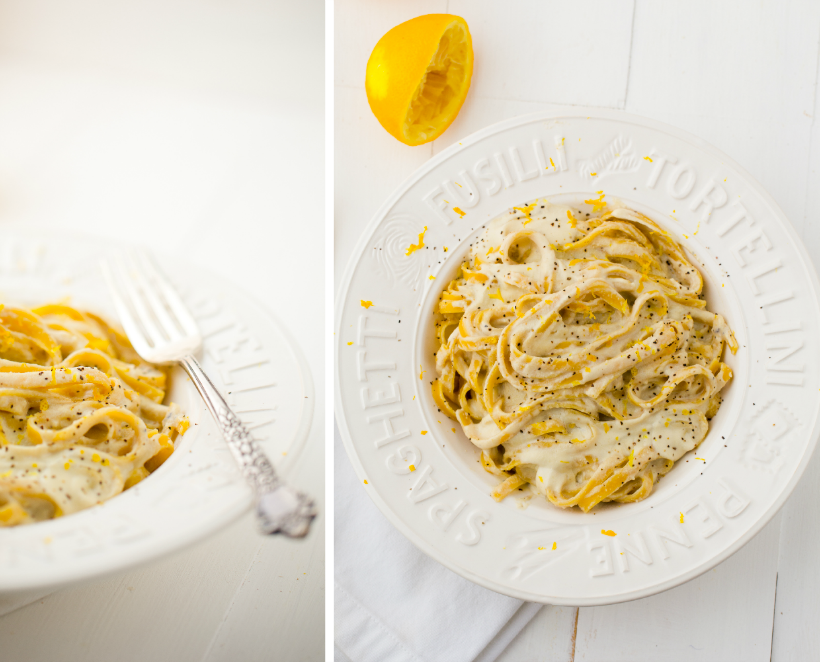 39. Mushroom Fajita Tacos with homemade corn tortillas (page 235)
I make these a lot in summertime! Tacos are a go-to meal for our family. And I adore the flavors I added to this recipe. Plus, you will be amazed at how easy it is to make delicious homemade corn tortillas.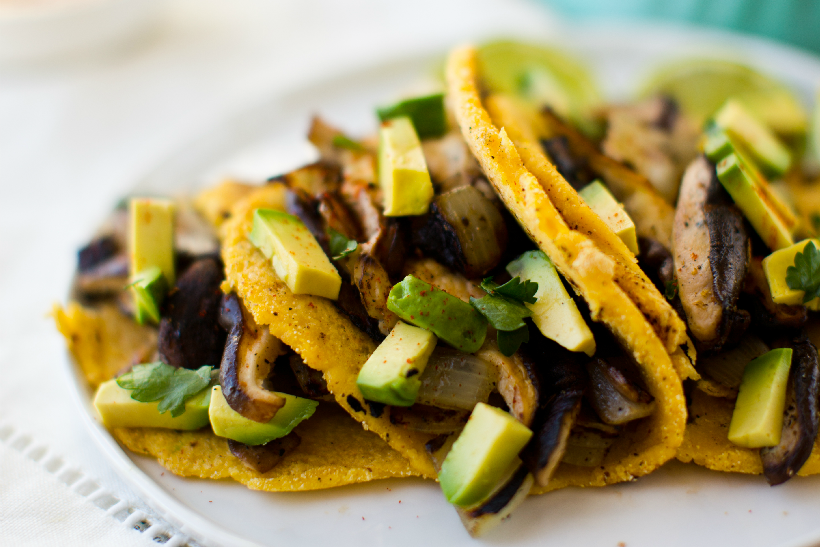 40. Roasted Veggie Farro Salad (page 238)
Use your favorite summertime veggies (squash and more!) to make a big batch of this farro salad. I make a big batch ahead of time and store in the fridge to serve all week long. Though it is so good it usually only lasts a few days! Delicious and healthy for a light snack or nibble too! If you have never tried farro, this is a great way to discover how wonderful the flavor and texture it. You could also sub with brown rice, millet or another grain of choice.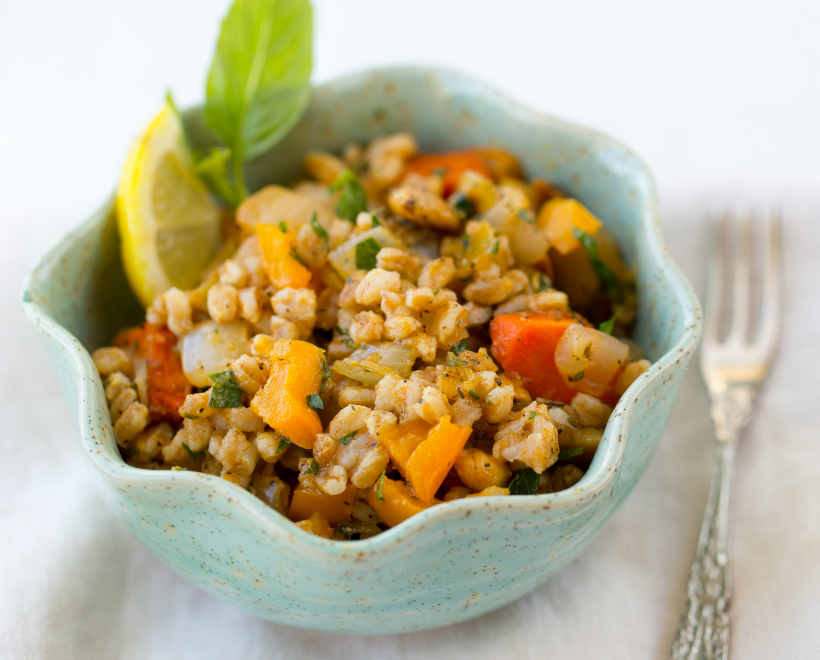 41. Spicy Peanut Soba Noodles with veggies (page 248)
There is something about this spicy-sweet peanut sauce and these fluffy soba noodles, laced with veggies that is perfect for serving in summertime. This is one of my fave recipes in the book!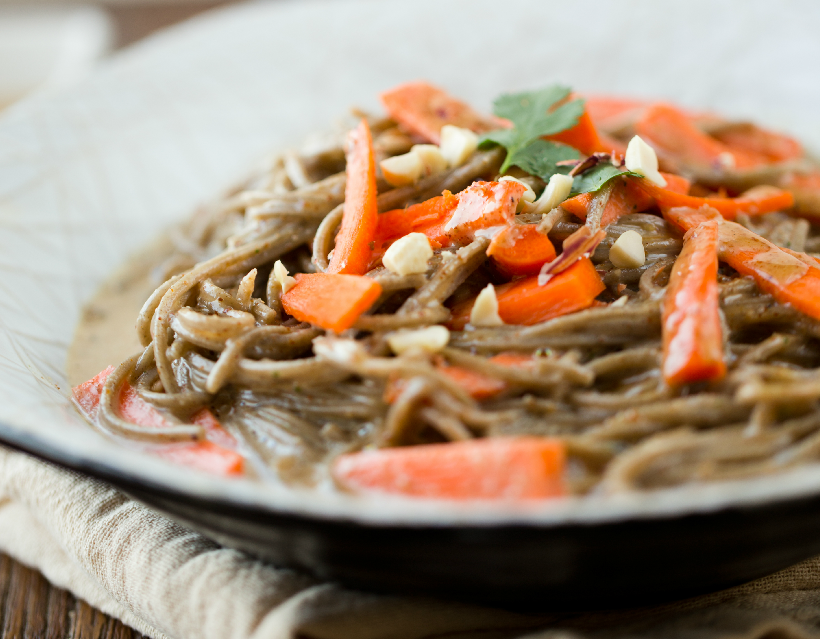 summer soup
42. Creamy Cauliflower-Potato Soup with turmeric ginger and coconut milk (page 267)
I do not make loads of hot soups in summer, but this is one I do crave. These spices and creamy cauliflower and potato base are soothing, yet energizing. I love cauliflower in summertime, so this is a great way to serve it. Love this soup as a light lunch or a starter before a big entree salad.
A turmeric spin on this soup in the upp right corner here..
summertime sweet treat desserts
43. Feel-Good Gluten-Free Carrot Cake (page 280)
Load up on crunchy carrots to make this amazing feel-good dessert! Totally in love with this recipe.
44. Trail Trekker Oat Cookies (page 285)
The perfect hearty nibble cookie! Bring these on a hike, a picnic or nibble them as an afternoon or bedtime snack. They are loaded with whole grains, nuts, tropical coconut and an accent of dark chocolate. I think that coconut adds a tropical island, summertime feel too. Present a platter of these at any summer party and watch the compliments roll in.
45. White Chocolate Macadamia Nut Cookies (page 288)
Tropical salty-crunchy-buttery macadamia nuts lead the vanilla bean and white chocolate infused flavor profile of these chewy amazing cookies.
46. Gluten-Free Almond Butter Jam Thumbprint Cookies (page 293)
Have some amazing summertime jam on hand? Make these cookies! You can even use several flavors of summer jam (peach, plum, cherry, strawberry…) to make a platter of rainbow-colored summertime cookies.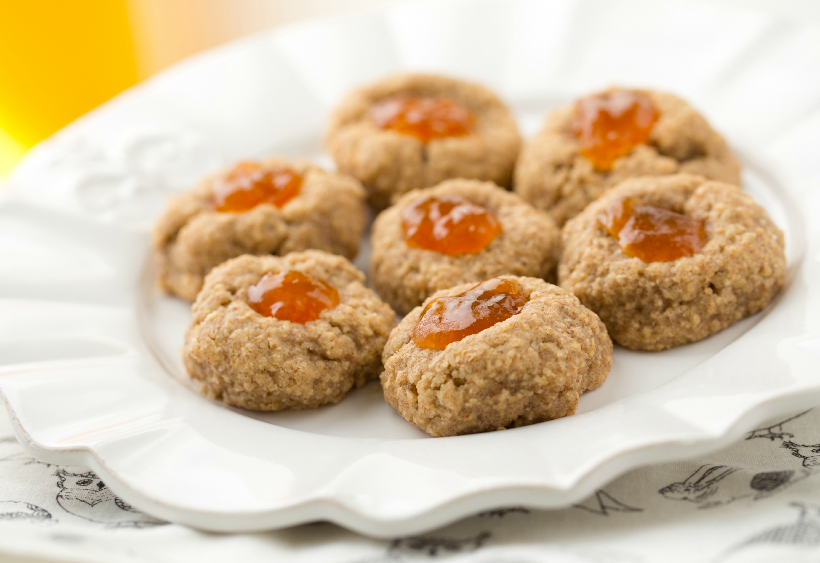 47. Summer Berry Pie with homemade crust (page 299-302)
Summer berries or cherries are just begging to be made into a homemade pie. This is your go-to recipe!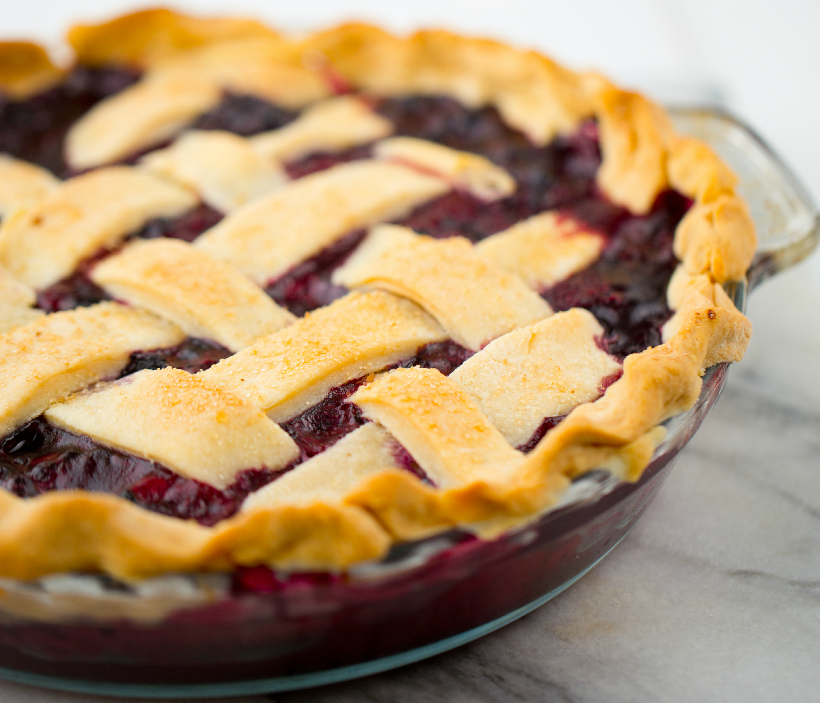 48. Chocolate-Peanut-Banana Snowstorm (page 319)
Banana ice cream on fleek! (That is the first and only time I will use the word fleek, but it just felt right.) This is my go-to all-banana ice cream dessert recipe.
48.5 Coconut Whip! (page 304)
Add it to everything! Cool and creamy and so good when paired with strawberries.
summer smoothies
49. Fave Summer Smoothies! (pages 330-333)
Even though I have a separate smoothie book filled with 365 vegan smoothie recipes, I had to add in a handful of my favorite recipes! These are all summer-perfection. Blends include my watermelon frosty, go-to green glow smoothie, golden wellness shake and of course my fave matcha shake!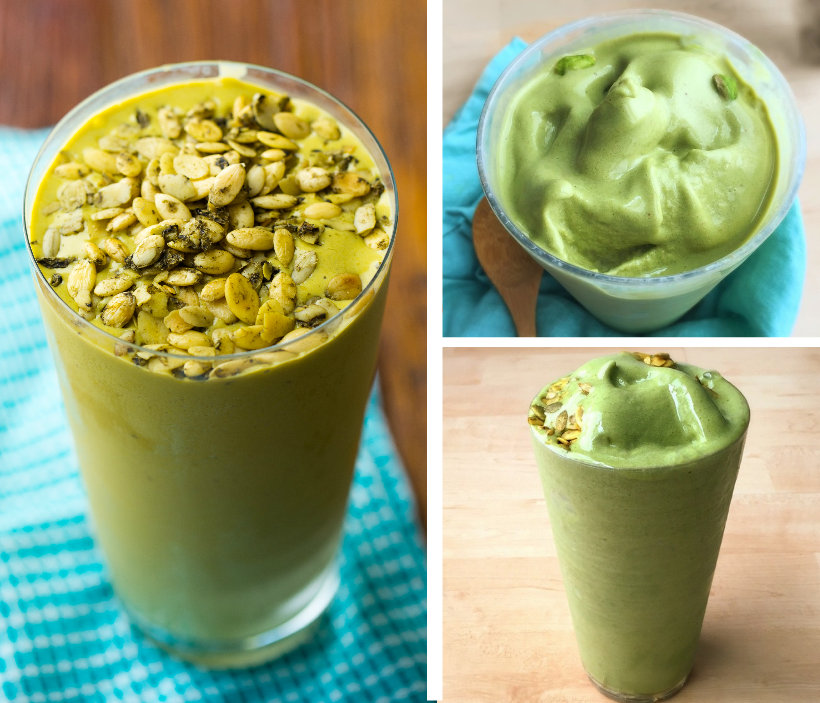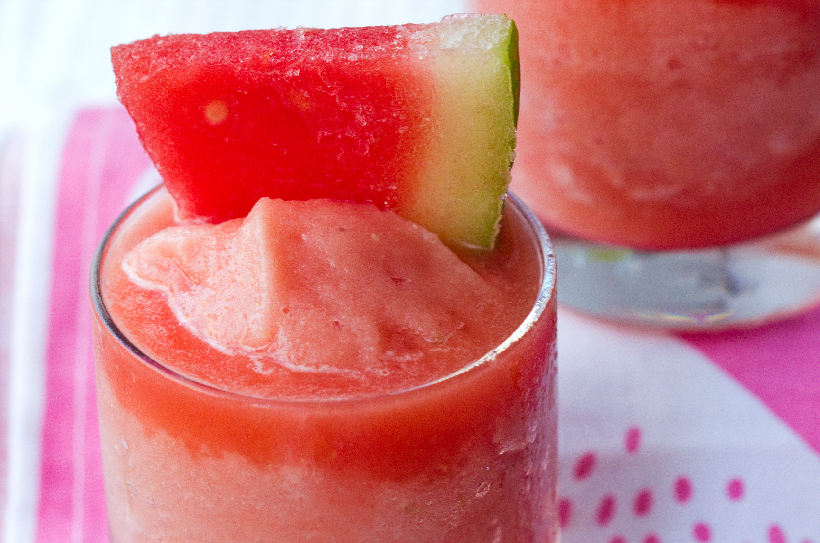 schools out for summer
50. For the Kids! (pages 339-244)
These kid-focused recipes are found in the last chapter of my book. Summertime-approved eats include: Fruity Rainbow Wraps, Magic Chia Seed Pudding, "I Know My Alphabet" Tomato Soup with vegan cheddar-apple logs and super fun strawberry-almond butter sandwich sushi. Oh, and of course the always yummy, "Ladybugs on a Log" recipe.
Whew! That was fun. Well I hope that gives you a bit of guidance for what to make this summer from my book Healthy Happy Vegan Kitchen!
I am loving all the HHVK Instagram photos you guys are sharing, so when you make a recipe from HHVK be sure to mention me or tag #HealthyHappyVeganKitchen so I can check it out. @KathyPatalsky on Instagram.
Happy summer lovelies!
ps. Bookless? Snag you copy of HHVK today! In bookstores or online…
Amazon USA
Buy on Barnes & Noble
Amazon Canada
Indiebound