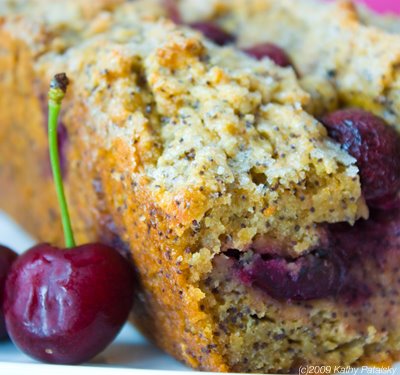 This sweet loaf bread, it's like a tea cake, has sweet tart fresh cherries and punchy blue poppy seeds. Add some orange zest and love and you have a healthy happy winner…
Sweet Cherry Bread. I've already discussed cherries. And yes, they are worth the price for a special treat. So now lets get a little creative before those $8 a pound cherries go bad, and make a yummy tea cake loaf. I take my favorite bread lemon-poppy seed and twist it up a few orange zesty degrees. And did you know that poppy seeds are high in calcium. Just another bonus to this healthy treat that tastes like summer brunch.
Sweet Orange Cherry Poppy seed Loaf
vegan
1 ¼ cups Spelt or Wheat Flour
½ cup vegan sugar
2 tablespoon agave syrup
⅓ cup plain soy milk
¼ cup plain soy yogurt
¼ cup poppy seeds
1 ½ tablespoon baking powder
¼ cup canola or coconut oil
1 teaspoon Xantham Gum
1 teaspoon vanilla extract
1 cup fresh cherries, pitted, halved and quartered
2 tablespoon pulpy orange juice, fresh
1 ½ tablespoon orange zest
1 tsp. salt
1 teaspoon cinnamon
To make:
Preheat oven to 350 degrees.
Combine soy milk, oil, agave syrup, sugar, poppy seeds, vanilla extract and orange juice in a large bowl.
In a separate bowl, combine flour, baking powder, xantham gum, salt, orange zest and cinnamon.
Stir dry ingredients into liquid ingredients.
Stir until you have a well blended thick batter.
Fold in the cherries.
Pour into a greased loaf pan.
Top with a few leftover cherries.
Sprinkle with sugar.
Bake at 350 degrees for 40 minutes.
Test doneness with a toothpick.
Serve warm or store at room temp for a few days.
Freeze slices for prolonged tea cake enjoyment.