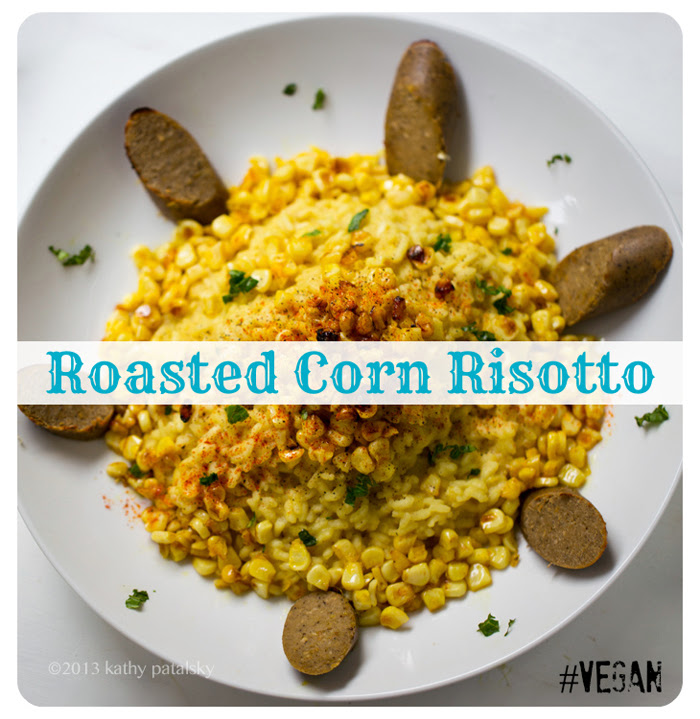 This Sweet Roasted Corn Risotto is warm, creamy and dreamy with "cheezy" accents in each golden risotto bite. The silky, nutty rice is topped with a pile of steamy, buttery, sweet roasted summer corn. A pinch of freshly chopped parsley, dash of cayenne on top. I added some vegan "Beer Brat" slices to the plate as well, for extra protein. This simple-ingredient recipe tastes elegant, fancy yet farm-fresh and inspired for summer. Grab some arborio rice and an ear or fresh summer corn and whip up this wonderful dish. Oh and try to save some leftover for my newest obsession recipe!..
Sweet Corn. Sweet summer corn becomes even sweeter when you roast it in the oven and it supplies the perfect compliment to the nutty, velvet-y, creamy risotto rice. This combination reminds me a bit of southern grits. Sweet corn flavor with a creamy nutty base. This is comfort food meets elegant eats wrapped up in a simple ingrdient summer dish.
Meditate with Risotto. Risotto is a very soothing dish to prepare because you really do spend a good 10-15 minutes hovered over the pan of risotto, stirring continuously with a wooden spoon. But the act of stirring and adding splashes of liquid is pretty mindless so it leaves a nice space in your day to meditate and allow your mind to rest. No cell phones blinking or notifications splashing in your view. Just steamy, creamy rice simmering before you as you drag your spoon across the pan, spreading the expanding creamy risotto rice, watching it slowly crawl through the pan space, soaking in liquid, expanding and thickening with each stir of your spoon.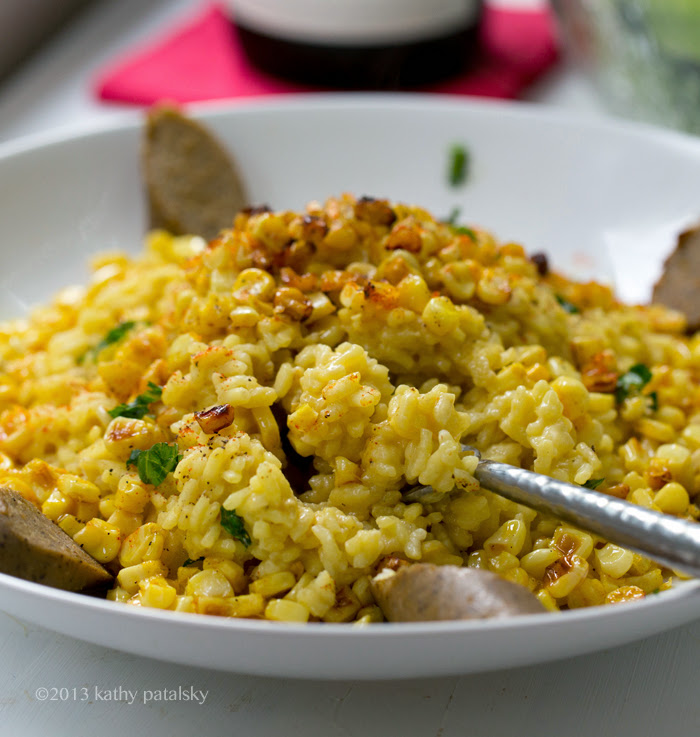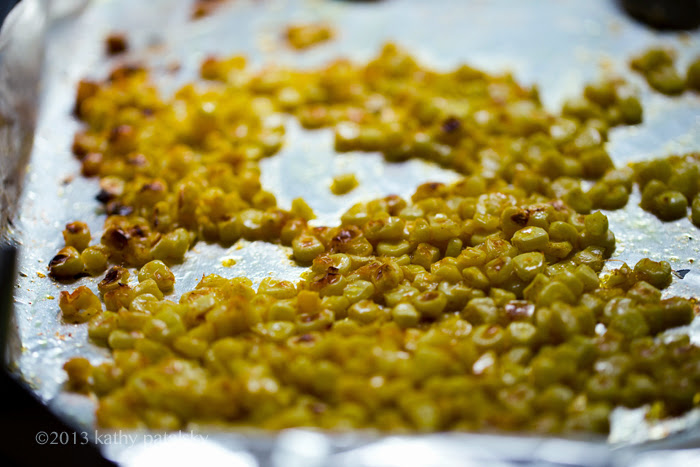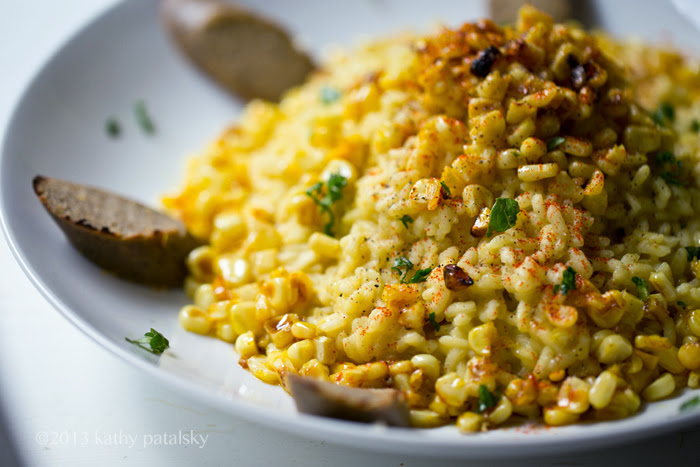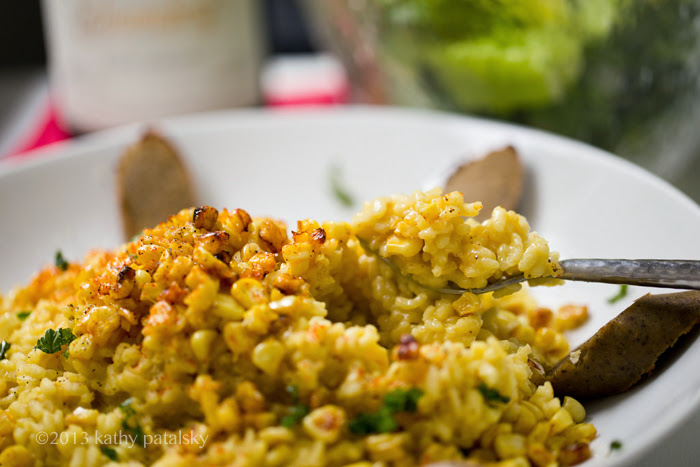 Save those leftovers! Next day risotto tastes great. But even better: arancini. Aka, fried risotto balls. I will share my recipe in a few days. You do not want to miss these amazing, crispy golden balls of bliss. This was my first taste of arancini and now I see what all the fuss is about! Basically .. if I EVER open up a restaurant I am going to have arancini on the menu. Hm, or maybe a smoothie + arancini food truck. Yum!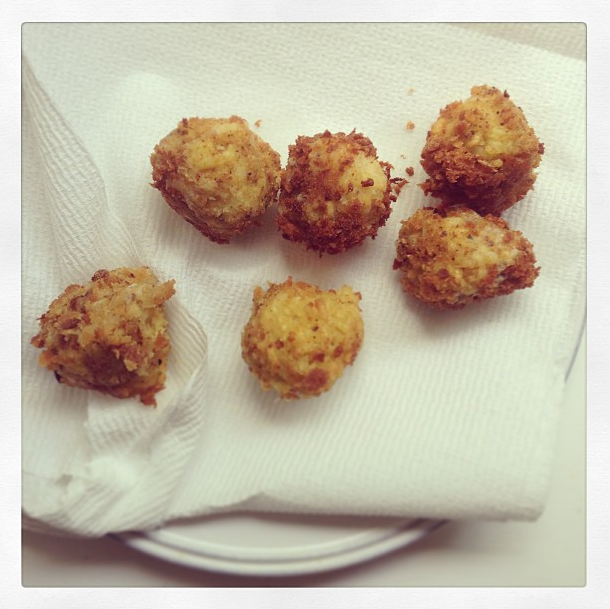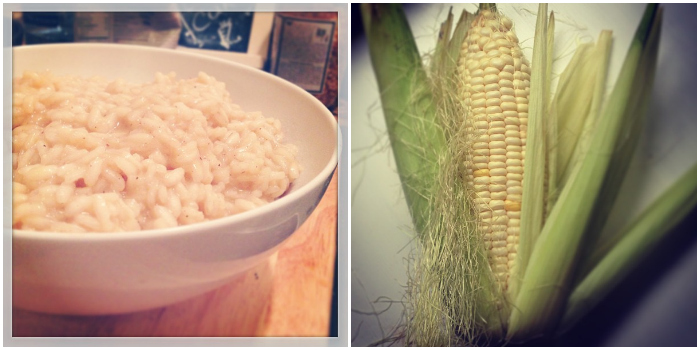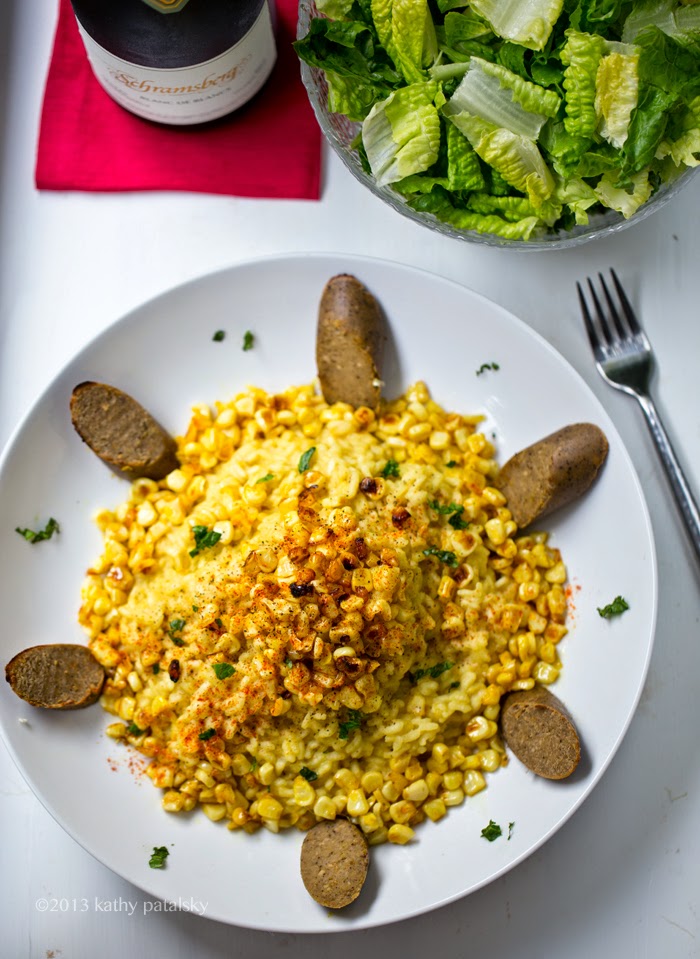 Sweet Roasted Corn Risotto
vegan, serves 2-3 (save some for leftovers for arancini!)
risotto:
1 cup arborio rice
4-5 cups vegetable broth (or water .. add additional salt if using water)
pinch of salt
¼-1/2 cup nutritional yeast
dash of black pepper
corn:
1 ear of corn, kernels sliced off
1 tablespoon sunflower oil
generous seasoning: I used chili salt and some pepper
garnish: chopped parsley & cayenne + black pepper
Accent: Tofurkey Vegan "Beer Brats" sliced + baked in oven alongside corn (optional)
Directions:
1. Preheat oven to 400 degrees.
2. Slice the kernels off your corn and toss them in the sunflower oil. Add the oiled kernels to a greased baking sheet. Season on top of the kernels.
3. Place the corn in the oven and bake for about ten minutes. Then turn oven to broil and broil for another 2-3 minutes – watching closely so the kernels do not burn (or start popping! As one of mine did.) When the kernels start to blacken around a few edges, turn heat off and let them sit in the hot oven while you prepare your risotto. **If adding "Beer Brats" you can slice and bake in the oven alongside the corn.
4. Add the rice and 3 cups of veggie broth to a boil in a large saute pan or medium soup pot. Once boiling, stir a lot for a minute and then reduce heat to medium and continue simmering/low boil.
5. Using a wooden spoon, stir continuously during most of the risotto process. You will spend a good 1o minutes hovering over your rice, but enjoy that meditation time as you prepare your meal. After the liquid is absorbed, you can add more broth (or water) in ⅓ cup portions. Keep adding liquid and stirring. The rice will get soft and velvety. At some point towards the end, add the spices and nutritional yeast. Do a taste test and keep adding liquid if you want the texture to be softer – or stop when you like the texture. You may add more or less liquid to the rice depending on your tastes. I like my rice soft, personally.
6. When the rice is ready, you can fold in a small scoop of corn.
7. To plate, add the risotto to a shallow bowl and top with plenty of roasted corn. Add some parsley and cayenne as desired. Add optional vegan "Beer Brat" slices to plate as desired.
Notes: You could add ½ cup chopped onion to the rice as it is cooking. Or some other veggies you'd like to add. For a silkier texture, you could add in 1 cup of plain/unsweetened soy milk in place of veggie broth during the simmering of the rice. Or serve the risotto with some soy creamer or soy milk over top – just a splash.
Fried. Risotto. Balls. Be sure to come back this week for my AMAZING arancini recipe! (Even better than the risotto if you crave a snack that is ridiculously amazing .. even if fried.)