If you're looking for an elegant, festive, and 100% vegan "twist-on-pumpkin-pie" dessert this Thanksgiving, I suggest you give my Swirled Cheesecake Pumpkin Pie a whirl. I tested and tweeked this recipe more than a handful of times, so I can assure you it will deliver on all its swirled, cheesy, pumpkin-goodness promises. Watch out Cheesecake Factory, this vegan slice will give you quite the dessert smackdown. Get my recipe…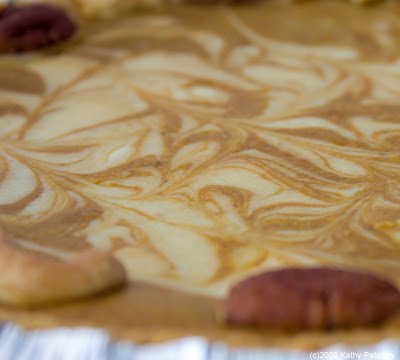 Nuts Make it Better. The final ingredient addition I made to really put this recipe over the top was the raw cashew and Brazil nuts. I blended them into the white cheesecake cream and they added heaps of texture, body, flavor and fiber/nutrients. It's amazing what a few raw nuts can do to a dessert.
No Silken Tofu. You might notice that unlike other vegan cheesecake recipes, I do not add any tofu. I tried a few versions with silken tofu and I never liked the texture as much as I love this texture. Ultra dense and creamy. The tofu lightened everything up a bit, but in the end I chose to go with just my cream cheese and plenty of raw nuts as the 'body' of my filling.

Leftover Filling. You will have a bit of leftover filling for this recipe. But that is an easy fix. I was glad to be able to create a few mini raw desserts from the excess filling. I simply poured the filling into a few dessert cups and added a few additional raw nuts and my own crushed grahams. You can even add melted chocolate chunks if you'd like to create a chocolate swirl. Place these extra desserts in the fridge for your guests who may want to try this pie 'raw'. Or just keep them for your own little private, VIP, Chefs-only after-party. The trick is that the dessert cup filling doesn't 'need' to be baked – it will actually firm up quite nicely in the fridge all on its own. However, definitely bake the pie to get that thick rich cheesecake texture.

Serving Suggestion: Rice Whip Cream on top…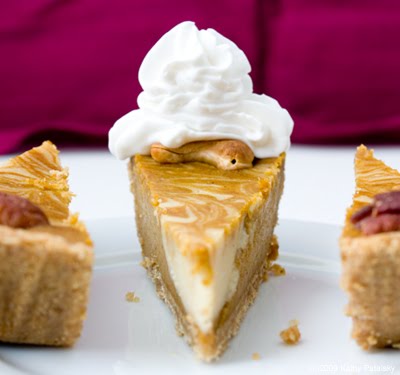 Onto the recipe…
Swirled Cheesecake Pumpkin Pie
vegan, makes 1 pie with leftover filling
1 pack vanilla vegan pudding
*Dr. Oetker brand
1 ½ cup soy milk
¼ cup soy creamer
3 tablespoon arrowroot powder (or cornstarch)
dash of salt
2 tablespoon Vegenaise
¼ cup vegan sugar (evaporated cane juice)
1 ½ containers soy cream cheese (about 12 oz.)
½ cup raw cashews
½ cup raw Brazil nuts
1 teaspoon cinnamon spice blend (cinnamon, nutmeg, cloves)
1 dash cayenne
1 can organic pumpkin puree (16 oz.)
2 tablespoon maple syrup
1 teaspoon apple cider vinegar
One pre-made vegan graham crust
*I used Wholly Wholesome brand
*You can also make yourself with crushed grahams and a tablespoon vegan buttery spread.
Garnish: Mixed whole nuts (cashew, pecan and/or Brazil)
*one toothpick for swirling design effect.
Directions:
1. Gather ingredients. Pre-heat oven to 350 degrees. Place a small pot on stove top. Turn heat to med-high. Add: soy milk, soy creamer, pudding mix and salt. Stir briskly until pudding mix is well-dissolved in pan.
2. Next, carefully stir in the arrowroot powder. Try not to let it clump.
3. The mixture should be thickening and reducing by now. Continue stirring briskly so that it does not burn. You may want to turn the heat down to medium. Now add in the cream cheese, Vegenaise and sugar. Stir until the cream cheese is melted into the mixture and the filling is bubbling and thickened.
4. Remove from heat and pour into a blender. Let cool for a few seconds and proceed blending with extreme caution. *hot liquids tend to steam and can explode in a blender* Begin blending. Add in chopped cashews and chopped Brazil nuts and blend until perfectly smooth. This white mixture is your Vanilla Nut Cream portion of your filling.
5. Pour about 8 ounces of the white filling out into a separate container. (I just use an empty cream cheese container. Set aside.
6. To the blender, add in the maple syrup, apple cider vinegar, pumpkin puree, cinnamon spice blend and cayenne. (the one dash of cayenne adds a bit of mellow heat, but you can remove if you are sensitive to spiciness.) Blend until smooth.
7. Pour the pumpkin blended mix into your crust. Fill about ¾ of the way to the top of the crust. (Leave room for the white filling.)
8. Next pour in the entire side container of the Vanilla Nut Cream white filling mix. Pour directly into the center of the pie and allow to disperse in a center-based circle. By placing the white in the center of the pie-you will ensure that their first bit is of that white creamy cheesecake-then they will move onto more pumpkin as they eat. Take your toothpick and start making swirls in the pie until it looks pretty and gently swirled. Over swirling will create a clumpy look so stop when it looks right. (This process is my preference, you can pour and swirl as you like though. Creativity encouraged!)
9. Lastly, add a few whole cashews and pecans to the ring of the crust. I alternated nut varieties.
10. If you have leftover filling you can either bake in separate oven-safe mini cups (you could use muffin tins) or simply pour into dessert cups and place in fridge to harden as a "raw" version of this dessert. (If you do raw 'extra cups', be sure and use shallow cups so that the filling hardens properly.) Place in the oven to bake at 375 for 35 minutes.
11. Remove from oven and allow to cool for a few minutes before transferring to fridge to cool for at least a few hours.
12. Serve chilled. Add some cool creamy rice whip on top.