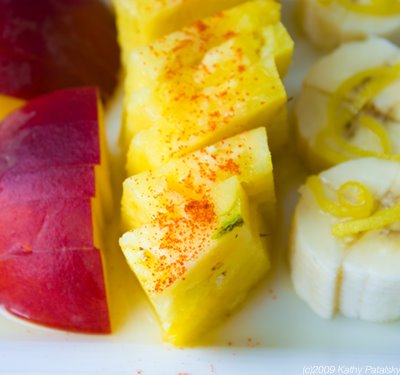 The Sun is breaking through the clouds, and I want a taste of that yellow glow! Juicy tart peaches cut into tender triangles, buttery bananas with dainty lemon zest and aromatic fresh cut pineapple dashed with some cayenne. And it's all drizzled in a special dressing to enhance the flavors and protect from fruit oxidation. Taste the sun, before you head out to go play, picnic, romp, frolic, dance, laugh and sing in it. No time for a vacation? Take a fruit-cation with this recipe…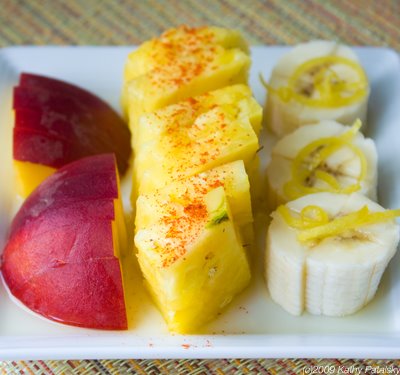 This is a light and energizing fruit salad that is perfect in the morning before heading out into the sun…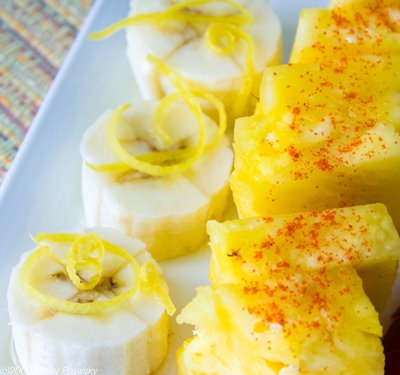 Golden Pineapple. Fresh cut pineapple is rich in the enzyme bromelain. Great for replenishing your digestive enzymes in the morning.

Sweet Banana. Bananas are high in potassium and easily digested. They are gentle on the stomach and can be calming to the stomach lining.
Yellow Peaches. Peaches are high in vitamin A and low in calories. One peach has around 38 calories. Sweet and tart, peaches are a prized summertime fruit to brighten your morning.
Here's the recipe…
"Taste the Sun..Then Play in it" Fruit Salad
vegan, serves 2
½ fresh cut pineapple, sliced into thin chunks
1 peach, sliced into thin triangles
1 banana, sliced into thick cubes
Dressing:
3 tablespoon lemon juice
1 tablespoon apple cider vinegar
2 tsp. maple or agave syrup
Garnish:
dash of cayenne-on pineapple
lemon zest strips-on banana
To Make:
Slice fruit. Trim all 'pins' off of pineapple.
Zest the lemon.
Juice 3 tablespoon of lemon juice.
Arrange sliced fruit on two plates in rows.
Whisk dressing ingredients in a small bowl.
Drizzle dressing over top of fruit.
Dash cayenne on pineapple.
Lay zest on banana.
Optionals: dash of cinnamon, mint garnish.