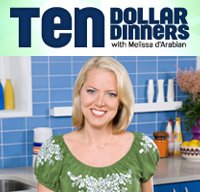 Ten dollar dinners, is it? A sign of the times for sure. It looks like "Melissa's Kitchen Survival Guide" got the boot and "Ten Dollar Dinners" is in! This Sunday, the winner of The Next Food Network Star, Melissa d'Arabian will premiere her brand new show. Wow one week to produce a new show. Impressive. Will you watch? Will I watch? Find out why I think $10 Dinners, Anthony Bourdain AND Sandra Lee are super smart…

I'll watch on Sunday. I am incredibly curious to see how she turns out. However, whether or not I will become a true Melissa fan remains to be seen. It takes an awesome foodie show to win me over.
Why $10 Dinners is Super Smart. Food Network producers are smart. If you look at the line-up of FN shows, there is really only one stay-at-home-mom type personality whose primary focus is on making meals easy and economical: Sandra Lee. Rachel Ray used to claim that niche in her travel food show "$40 a Day." Loved that show, by the way. But $40 is out, $10 for dinner is in. Other FN personalities Ina Garten, Giada and even Bobby are not really concerned with economics. Ina gleefully jets around her Hampton's neighborhood buying the best of the best. And Giada films her show from her gorgeous California beachside mansion. Both posh, dreamy lives anyone can envy. I adore both those shows, but it's gotta be enough to make the average mom go a little nuts. Who wants to watch Ina sip champagne from mini-bottles at a garden party while you scrub spilled Cheerios and Play-Doh off your new Gap t-shirt. The stressed-at-home mom audience needs a food network gal-pal who has been there. Melissa is the answer.

Sandra Lee vs. Tony Bourdain. There is of course, Semi-Homemade Cooking, with Sandra Lee. She is the FN's answer to economical cooking. But she hasn't been receiving the best press lately. You'll know this if you read Anthony Bourdain's "A Drive by Shooting" blog post. Sandra Lee has to be tough as nails to take Tony's consistent bashing of her infamous Kwanza Cake episode. (YouTube-able.) Then she actually approached him at the Julie and Julia premiere in NYC. Just call her no-fear-Sandy. And in the end, Sandra somehow has the restraint to resist dishing a few painful punches back in Tony's smirking face. I'm sure she could find more than a few ways to heckle Tony. All in good fun of course. They are both just playing the game of 'celeb-foodie-star'. Tony is the smart mouth, bar-hopping kid in the back of the classroom scoring straight A's while building his spitball collection. And Sandra is the Stepford Wife gone modern who believes the right table setting can save any dinner party-and don't forget the hot pink napkin holders! They both know how to work it. I mean, there's no such thing as bad press, right?
So yes I'll watch. Back to Melissa. I'm anxious to see her new show. Instant stardom can be tricky. But just look at previous Next Food Network Star winner Guy Fieri. He is rocking his new found fame by simply being himself-a dive bar, hole-in-the-wall retro diner loving cruiser from Nor-Cal.
So if Melissa can pull off $10 meals that are healthy, delicious and family-friendly, I will be nothing but impressed. I just really hope she lays off the flavor accents of 'butter and cream' as she showed in her finale pilot show recipe, and sticks to healthy.
Check out Food Network's "Ten Dollar Dinners"
Tune in: Premieres Sunday, August 9, at 12:30pm/11:30c