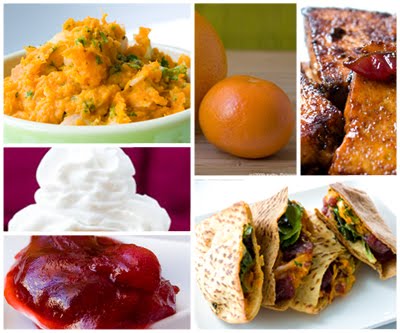 So your Thanksgiving feast was a hit and now you're fine tuned recipes are sitting lonely in your fridge, just begging for some post-party attention. Here are ten of my favorite Thanksgiving Leftovers ideas and recipes. I love a good 'after party'…
"What do I do with my Thanksgiving leftovers?" Simply zapping them in the microwave is such a bore.

Here are ten vegan Thanksgiving leftovers recipes and ideas…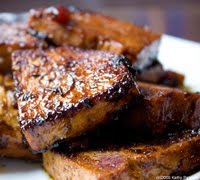 1. Cranberry-Soy Sauce Tofu
I posted this delicious recipe this morning. I actually used this tofu recipe as my main protein for my Thanksgiving feast, but it makes a perfect after-party leftovers dish as well. Cooking the cranberry sauce tones down the sweet-tartness a bit and the mellow flavor is perfect for your worn-out after-party palate.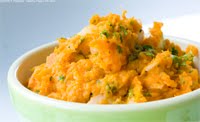 2. Sweet Potato Mash
Leftover sweet potatoes? Yes! Make my famous sweet potato mash. You'll add in some garlic hummus (maybe from a leftover appetizer dip) and some chopped parsley (also maybe a leftover.) This mash is a perfect snazified side dish, or you can use it in my Sweet Potato Pockets recipe below…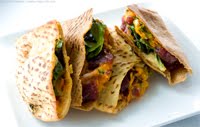 3. Sweet 'n Sassy Sweet Potato Pockets
I love this recipe. I used to make it every year for Thanksgiving, but now it has become an after party leftovers favorite. It utilizes a few of your leftovers: sweet potatoes, leftover veggies and cranberry sauce.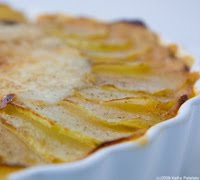 4. Spicy Potato Soup
If you're like me and have a lot of leftover potatoes (mashed, au gratin or even baked, you can easily blend them into a spicy, creamy potato soup. Simply blend in a high speed blender with a bit of veggie broth, soy milk and/or creamer, a few added spices and a side of leftover crusty rolls and you have an amazing potato soup perfect for these cooler fall nights. I like to add black pepper, cayenne and fresh ginger for "soup-er" spiciness!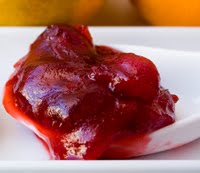 5. Cranberry Sauce Muffins
Mornings are no place for stuffing and leftover tofu, but grab a warm zesty cranberry muffin and everything will be OK. Hot chai on the side and you are set. Simply make your favorite muffin recipe and fold in about a ½ cup of cranberry sauce as the last step. You can even fold in some chopped pecans for texture and added flavor.
6. Gravy Smothered Seitan
Seitan tastes delicious marinated in a creamy brown or wine sauce. So why not utilize the leftover veggie gravy you may have and bake up some warm seitan. Simply smother the seitan in your leftover gravy and marinate for as long as you can (overnight is best.) Then transfer to the oven and bake for 20 minutes. Or you can saute on the stovetop if you'd like.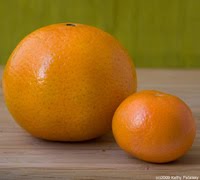 7. Leftover Tangerine Juice
This is a refreshing idea as yes it tastes really yummy. And it's super healthy. Take your leftover tangerines and leftover parsley and juice them (juicer required) into a delicious parsley-tangerine morning juice. What a great way to wake up your palate and hydrate in the AM.
8. Tofurky and Mustard
Though I haven't made a Tofurky for a few years, I remember how much I loved the combination of leftover Tofurky and mustard. Mustard is not exactly a Thanksgiving Day condiment, but the day after, whip out the rustic, spicy or dijon mustard for a delicious sandwich: Tofurky, mustard and maybe a few fresh arugula greens. Grind in some black pepper too.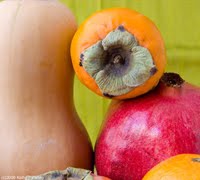 9. Centerpiece Fruit Salad
Fuyu persimmons, satsuma tangerines, bosc pears, pomegranates and honeycrisp apples made up my fruit bowl on Thanksgiving. It just looked so pretty. Pretty enough to eat! Now that the feast is over, you can certainly made a delicious fall fruit salad from your festive and decorative leftover fruit.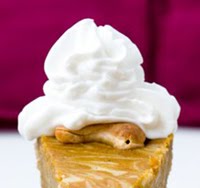 10. Creative cocoa with Rice Whip
You may have some leftover rice whip (even if the perfect pumpkin cheesecake pie has been gobbled up). So why not make some crafty creative cocoa and top it with creamy cool rice whip. Spicy cocoa? Add cayenne. Fall cocoa? Add cinnamon and pumpkin pie spice. Vanilla cocoa? Add some vanilla sugar sprinkles or a tinge of vanilla extract. Dark cocoa? Add some melted dark chocolate chunks. Rice whip on cocoa is a festive dessert treat for these cold seasonal nights.