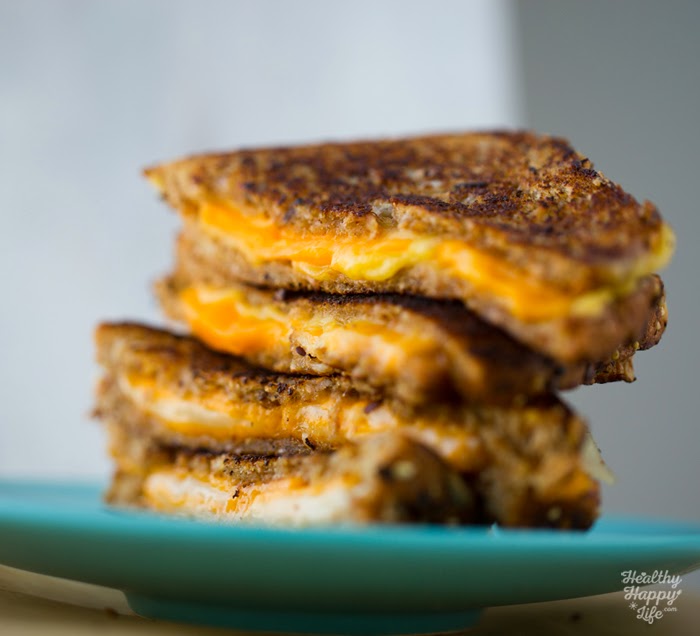 This is not your everyday, kinda-cheezy-but-still-mostly-healthy, vegan grilled cheese sandwich. This vegan grilled cheese with toasty, buttery layers of bread hugging melty, swirling American and provolone cheeses is a grilled-cheese-sandwich-lover's kind of sandwich. Your nutritional conscience might be wagging its finger at you, but I promise that after your first bite of this toasty bliss, you will not care. Get my recipe and WATCH me make it in a how-to video! Plus, see what movie inspired this post! … AND enter a giveaway to win a HUGE sampler pack of the vegan cheese I used..
(Enter giveaway at bottom of post!)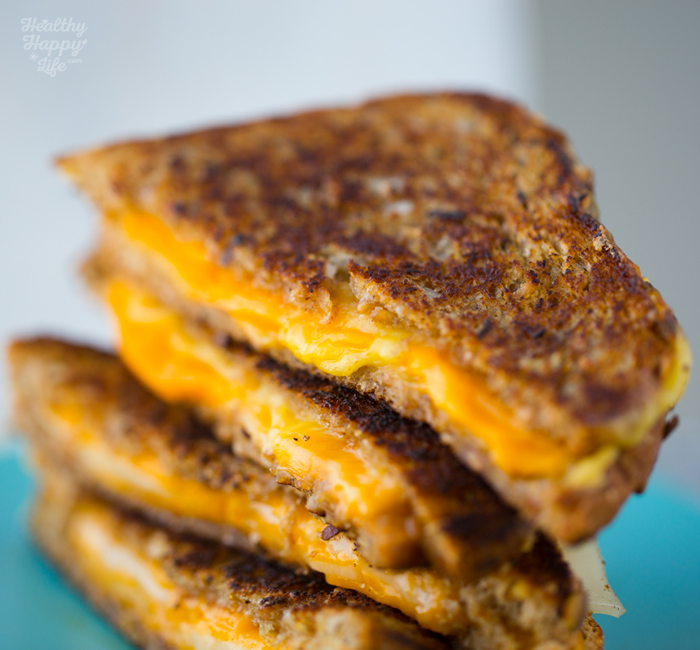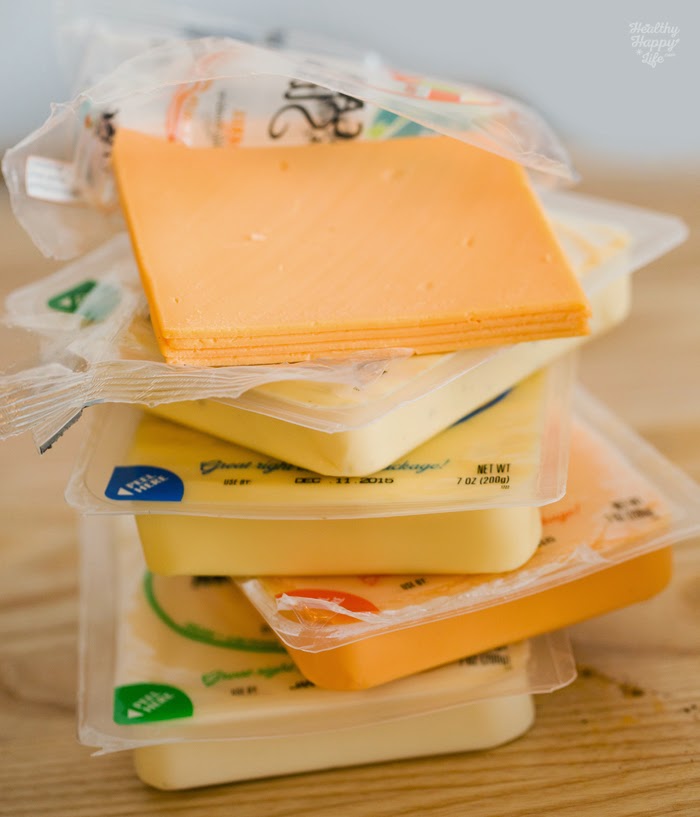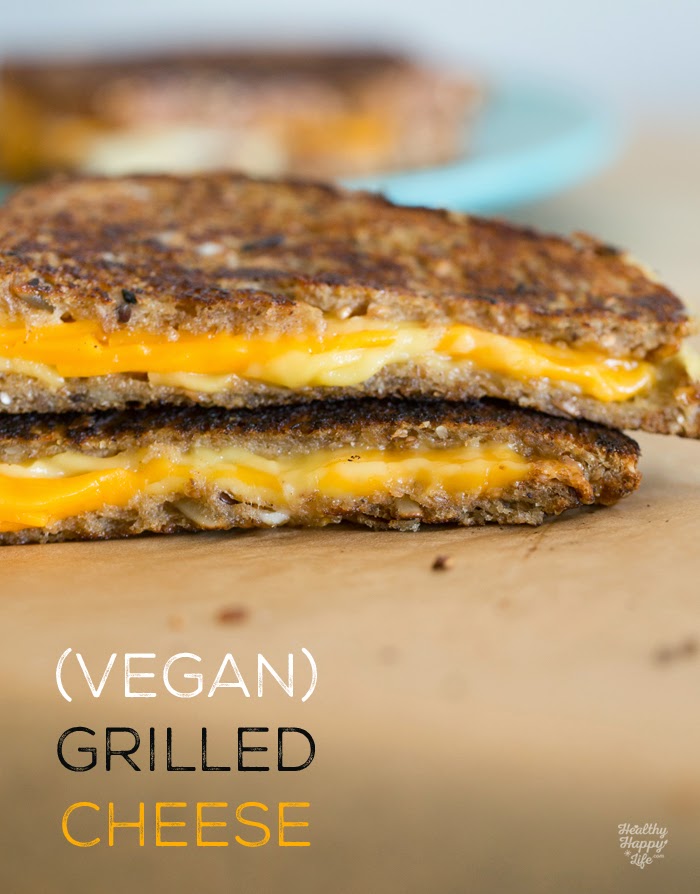 No no no. Every time I go to make a vegan grilled cheese sandwich, the nutritionally aware side of my cooking conscience whispers into my ear, "You are not going to put THAT much cheese on it are you? And vegan butter? Vegenaise too? You just need a little cheese! It is so flavorful dontcha know? Oh my." (Yes, my nutritional conscience looks like Alice from The Brady Bunch and talks with a sweet Minnesota accent. 1950's housewife smirk on her face.)
And after all my internal fussing, I always end up making a cheezy sandwich that has a reasonable amount of cheese and oil on it. Well, enter the movie Chef and I knew I needed to go full throttle on my toasty, melty, amazing veganized grilled cheese sandwich.
Bedbound Netflix Report. For the last four days I have been stuck in bed. Last week I had surgery on a torn meniscus in my knee. So all weekend long I basically stayed in bed, elevated my thickly bandaged knee and, watched loads and loads of Netflix. I watched the documentary Virunga, by Leonardo DiCaprio's production company, which was simply amazing. Must watch.
And I also watched the movie Chef which is about a professional chef who goes through a series of negative restaurant events and eventually opens up the food truck. I kept hearing from friends about the "grilled cheese" scene. And it delivered! This movie is full of food porn style shots, though obviously none of them are very vegan. The opening scene with the pig was completely fast forwarded through. Ugh. BUT the film was fantastic overall. Perfect for this food porn culture we live in. Dustin Hoffman, Scarlett Johansson, Sophia Vergara and Robert Downey Jr – and more. And that grilled cheese scene!
..Well, I KNEW I had to veganize that scene and that sandwich.
I also loved John Leguizamo as Martin in Chef! I loved him so much, I was inspired to re-watch Romeo + Juliet. (1996, with Leo and Claire!) John as Tybalt was just SO good – especially the opening scene. The fight scene choreography is stunning. And little Leo is adorable. And that soundtrack was amazing. A re-watch movie for sure! Also on Netflix 😉 Anyways! Back to food…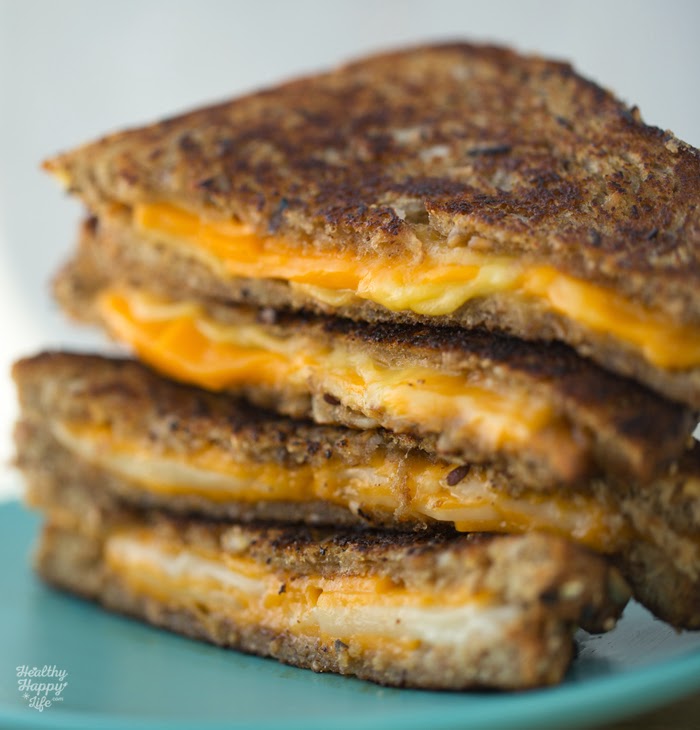 Chef Grilled Cheese. In the grilled cheese scene, the chef uses two thick slices of bread, loada of butter, and even mayonnaise – all spread throughout the cooking process to really add buttery, crispy flavor and texture to the bread. And of course he uses a variety of flavors of dairy cheese – and lots of it. Well I never have added vegan mayo to my grilled cheese recipes, but it absolutely gives it a sort of "diner" "home-style" "decadent" flavor accent.
Screw nutritional info, if you really want a decadent, rich, melty-OMG kind of vegan grilled cheese sandwich, use my recipe below.
And for a lighter version, yes you can ABSOLUTELY use less vegan butter and vegan mayo and cheese and maybe pile some veggies on the inside of the sandwich.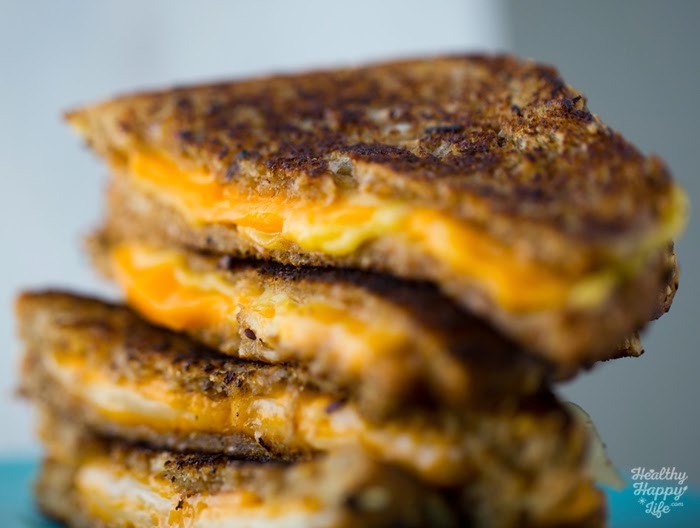 What Vegan Cheese Melts? I usually use Daiya when I want melty cheese. But I was sent a big pack of Follow Your Heart's new cheese slices and used the for these sandwiches. I was hugely surprised when the cheese melted very well and had amazing flavor. Daiya is still the most melty vegan cheese I have found (well, not counting Teese which is more of a liquid when it melts) .. but Follow Your Heart brings another option for sure!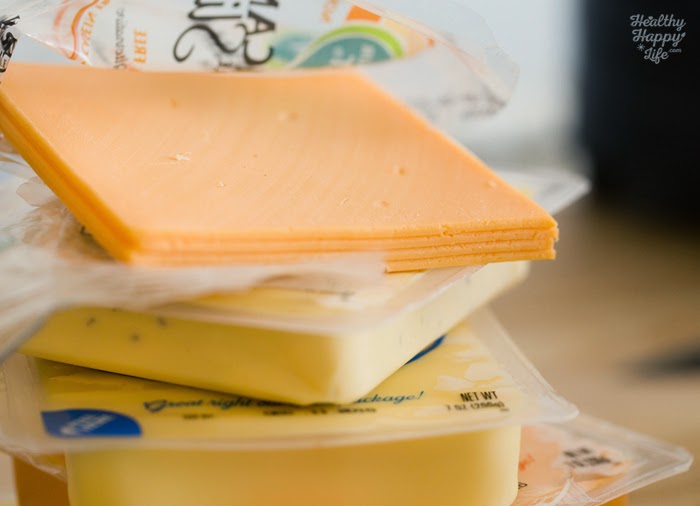 ps. I am SO SO SO excited because in the next few weeks I am working on a BIG vegan cheese guide for you guys. In the same vein as my matcha guide and protein powder guide. So stay tuned for that!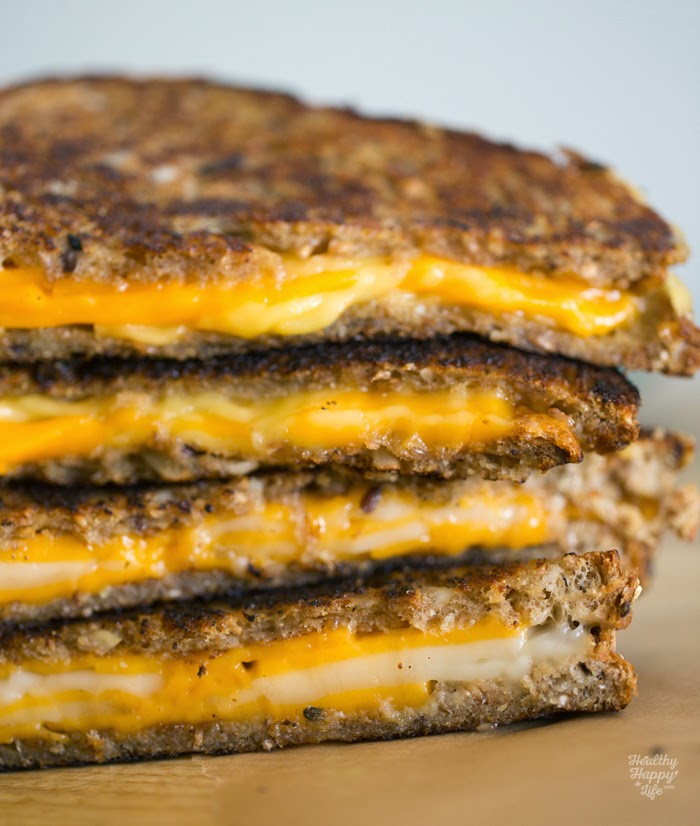 And watch Chef! It is a fun flick. It makes me want a food truck!
Super Cheezy Vegan Grilled Cheese Sandwich
By Kathy Patalsky
Published 03/24/2015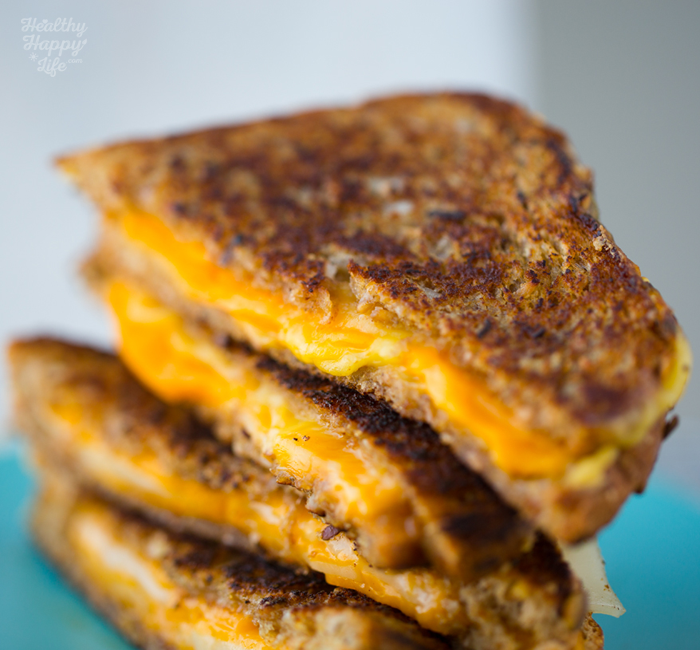 This is a super melty and decadent version of a vegan grilled cheese sandwich.
Ingredients
2 slices of bread, thicker and crustier varieties work best
2-3 slices of vegan cheese (orange and white mixed varieties)
1-2 teaspoon vegan mayo, Vegenaise
1-2 teaspoon vegan butter, like Earth Balance
*adjust ingredients based on how large your bread slices are -and how rich you want your sandwich
Instructions
Warm a skillet over medium heat.
Butter the bread and place in warm skillet butter side down. After a minute, flip bread. Add torn bits of the cheese on the bread. The up side of the bread will be warm since you just flipped in on your skillet.
Flip one slice of bread on the other to close the sandwich. Press and flip, press and flip, using a large spatula.
Spread vegan mayo on both sides of the sandwich, again flipping the sandwich.
Optional: use a heavy pot lid or another "press" tool to press down on the sandwich in the pan, this helps seal in the heat to melt the cheese.
When sandwich edges are browned and cheese looks melted, remove from pan. Allow sandwich to rest for a minute before slicing. Slice and serve.
Yield: 1 sandwich
Prep Time: 00 hrs. 02 mins.
Cook time: 00 hrs. 05 mins.
Total time: 7 mins.
Tags: vegan,cheese,grilled cheese,sandwich,lunch,kids,easy