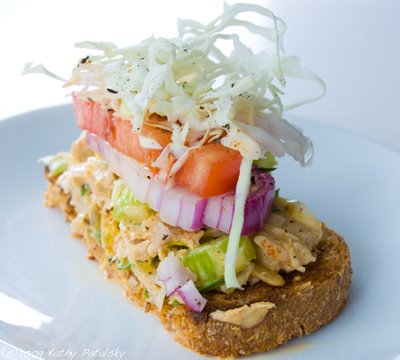 Looking for a few perfect for summertime sandwich recipes to help you beat the heat? Sandwiches are the perfect summer meal because they require little or no cooking, you can tote them just about anywhere (like to the beach or a hilltop picnic) and they are super easy to customize! Perfect for a backyard barbecue. All my recipes on the list are vegan, healthy and delicious. Check them out…
Nothing like a few yummy photos to get you excited about the sandwich list below….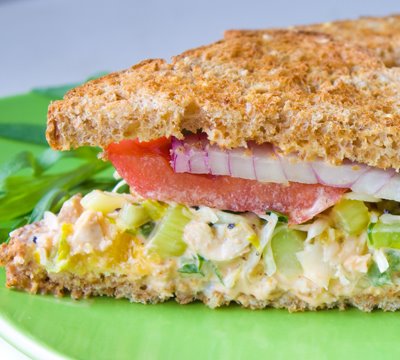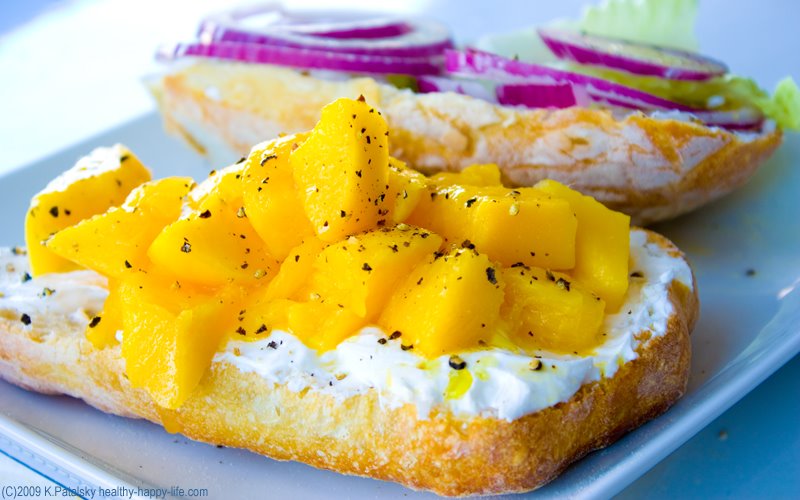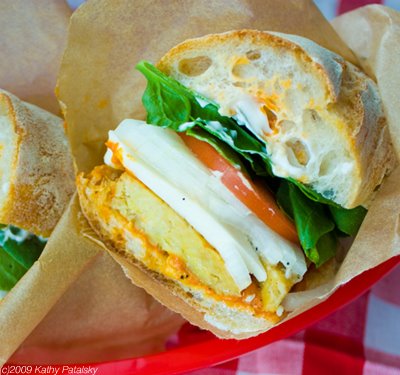 Top Ten Summer Sandwich Recipes
*Click on the links below for the full recipe as well as plenty of yummy photos of each of the sandwiches…
1. Healthier Club Sandwich: Built for Two!
So big it's built for two! With vegan tempeh bacon and three layers of multi-grain soft toasted bread. This twist on the classic club will leave your tummy growling!
2. Mango Cream Crusty
This open faced crusty sandwich, a signature of mine, is so pretty that it's hard to eat it! But once you take a bite you will be in creamy mango bliss. The crisp ciabatta bread combines with cool vegan cream cheese and sweet juicy tart mangoes is the perfect combo. The added red onion gives it a zesty kick. Heavenly.
3. Picnic Perfect Chickenless Salad Sandwich
Chicken Salad sandwiches are a favorite of many. But now there is a meatless option that tastes amazing! Tarragon and creamy Vegenaise help boost the flavor of "chickenless" chicken strips. This is a satisfyingly decadent bite that will please salad-sandwich lovers! You can even do this sandwich open faced to lighten it up a bit! (shown in top image)
4. Pesto Mango Pita
This is a recipe that accidentally came together when I had some leftover pesto from my Lasagna Verde. But the result is a unique and yummy combination that tastes like you are eating the sunshine of Italy and the Tropics combined! Spicy green pesto meets creamy juicy mango with a sweet Vidalia onion to send you to sandwich dreamland.
5. Farmhouse Jack Tempeh Sandwich
Classic crowd pleaser with a vegan twist:vegan Jack cheese and tempeh. Super portable and super simple. You can't go wrong with this fresh from the farm tasting sandwich.
6. Fuyu Cream Crusty: Sub summer fruit
This was a knockout hit sandwich for me in the winter when persimmons or fuyu's were in season. My simple advice: substitute summer fruit. Peaches, apricot, plums or even strawberries. Oh my, my mouth is watering just thinking about a "summer berry" cream crusty!
7. Vegan BBQ Sandwich: in 5 minutes
Check out this vegan barbecue shredded style sandwich. It uses Trader Joe's pre-packaged BBQ shredded pouch. So fast and yummy. Perfect to please a big hungry crowd in a snap.
8. TMT Pita
Blows the BLT out of the water! This pita stuffed full of smoky tempeh, mache lettuce (very healthy green), and a thick summer tomato is the perfect summer sandwich. Light yet high in protein, super healthy too.
9. Peachy Cream Sandwich
Sliced peaches, cream cheese and some crisp greens. Untraditional yes, but a delicious way to add some fruit to your food.
10. Savory Brunch Melty Muffin
Breakfast sandwiches watch out. You've just been demoted to inadequate because of the presence of this brunch muffin! Fresh herbs, smoky tempeh bacon and vegan cheese and layered between a whole wheat English muffin. So perfect for brunch, even better for a brunch picnic!
Check out more vegan sandwich recipes here. Sandwiches!