The summer sun is staring to boil. Heat and humidity are creeping up into the air at each morning sunrise. Working (and playing) in the muggy summer heat can leave you feeling a bit worn out. So I suggest you revive yourself with a cold, creamy, frosty, fresh and fruity smoothie or juice. Here are my top ten summer smoothie and juice recipes….
Top Ten Summer Smoothie's and Juices
*Click link for complete recipe and images
1. Tropical Pink Cashew Smoothie
This bright pink power smoothie blends up tart and refreshing with a sweet tropical raspberry flavor. The cashew juice and coconut water ice cubes are hydrating and refreshing. The frozen raspberries add a nice boost of fiber, flavor and pink color!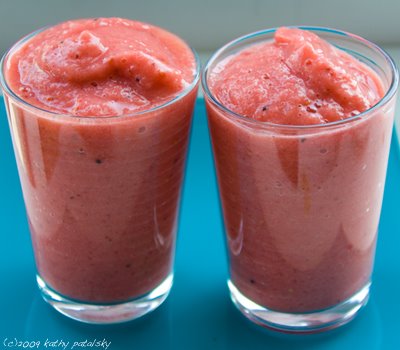 2. Fresh Peach Hemp Protein Smoothie
This smoothie is divine for any peach lover. It blends up thick and creamy with a sweet summer flavor of fresh peaches. Hemp milk adds a excellent boost of veg*n protein and nutrition. It also adds a nice nutty flavor.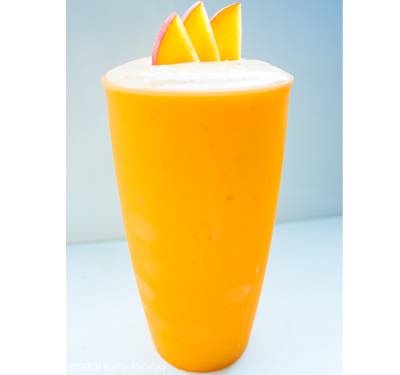 3. Fresh Ginger, Raw Banana Smoothie
This smoothie or frozen juice blends up thin, light and incredibly zesty. The ginger gives it a strong warm flavor. But the creamy raw banana calms the juice. Drink this beverage if your tummy is feeling a bit nauseas or if your body is feeling less-than-stellar.
4. Organic Raspberry Kiwi Acai Smoothie
What a looker this all-organic, bright purple smoothie is! It's dotted with tiny raspberry seeds and has a dark purple glow. The fresh kiwi is sweet and zing-y! The soy milk provides a protein-rich creaminess and the acai does the same. There is even antioxidant-rich blueberries and a dab of zesty ginger blended in. This smoothie is awesome!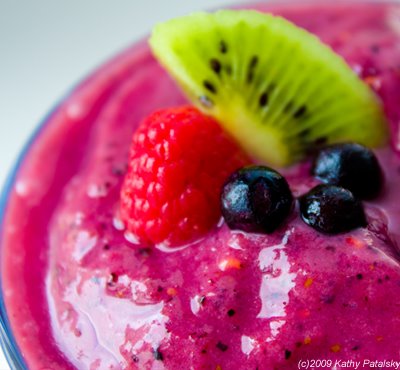 5. Frozen Coconut Water
This is by far the easiest beverage to revive yourself during the hot summer months. Simply freeze, slush and enjoy! But believe me, coconut water is the ultimite replenishing beverage. One serving contains 16 times more potassium that your average sports beverage. And even more potassium than a banana. Potassium is an important electrolyte to keep you feeling hydrated and energized!
6. Wild Blueberry Kick-Start Smoothie
What do you get when you add a bit of spicy cayenne to a wild blueberry smoothie? This kick0start smoothie that will bring anyone to their feet on a groggy morning.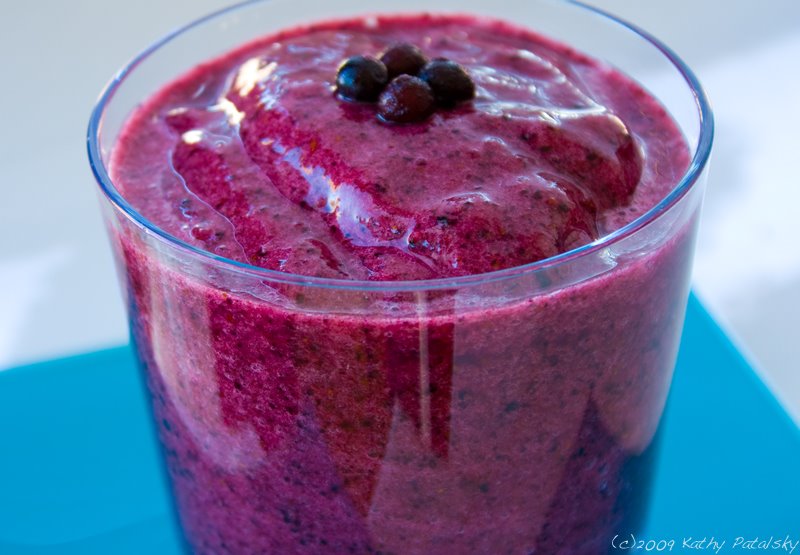 7. Banana Pineapple Super Enzyme Smoothie
I love this tropical pineapple flavored smoothie. It contains fresh fruit enzymes that will help your body restore itself. Allergies? Well plenty of studies have shown that fresh fruit enzymes like bromelain found in pineapples can actually help clear up mucas and congestion causing phlegm. Added cayenne also gives your nose a wake-up call! This bright yellow smoothie is super!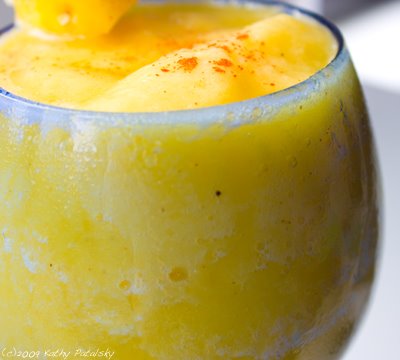 8. Chai-Berry Short-Cup. Dessert Smoothie.
This silky strawberry-chai flavored smoothie will remind you of a strawberry-short cake. It's light and fluffy and big on sweet strawberry flavor. And trust me, a sprinkling of flaked coconut on top is better than a big pile of whipped cream. I use Bolthouse Farms Vanilla Chai Protein Beverage. I'm addicted to that drink. And this dessert-any-time-of-the-day smoothie. Divine!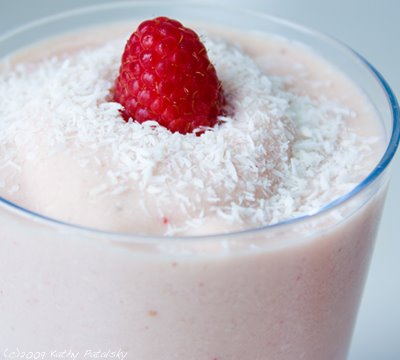 9. Yellow Fruity Frothy
Awesome beverage idea. First you freshly juice fruit ingredients, then you add them to a blender/Vitamix with a few more ingredients to blend up a light frothy juice blend. This juice is perfect for breakfast, and pairs well wth any healthy breakfast food. Frothy and Almond Butter Banana toast? Yes please!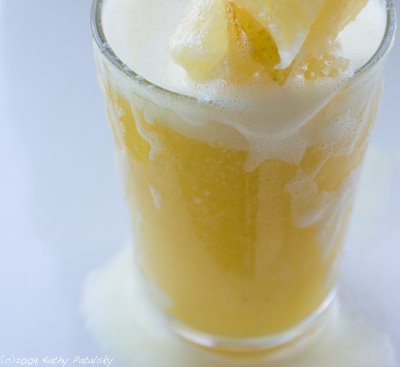 10. Peach Papaya Smoothie
Light and Dreamy. Sweet and Creamy. That's my catch-phrase for this smoothie. It's one of my favorite smoothies on the list. I caould drink this everyday! (And sometimes it feels like I do!) The peach yogurt is awesome to boost probiotic health and makes the smoothie nice and creamy. You can even add in some coconut flakes for a bit of tropical texture.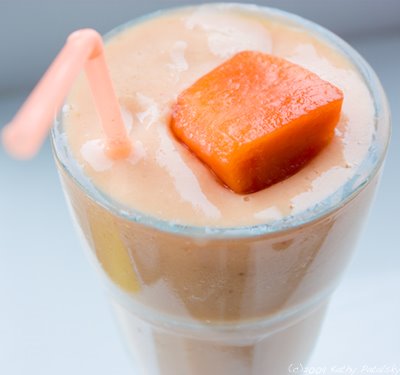 20 Smoothie Tips: And here are 20 of my best smoothie tips to make sure your smoothies turn out perfect and PRO!
More Smoothies, Juices and Drink Recipes here.
*disclosure: This post contains a Vitamix affiliate link. Ready to buy the best blender ever? Get free shipping by using my link!