Kathy's Top Ten Fave Vegan Pizza Spots: NYC
*ranked list, #1 is the best
Find out the #1 winner below…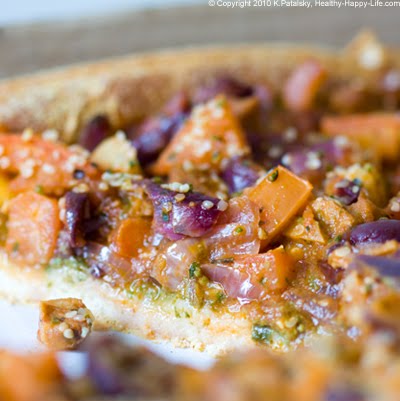 10. Piola
Why: I fell in love with Piola while in Washington DC. And this worldwide pizza chain delivers a great pie to both traditional and vegan guests. Vegans, simply order the marinara pizza, add some toppings and enjoy! I also love their bruschetta and salads.
Neighborhood: Greenwich Village
48 East 12th Street
(between Broadway & University Pl)
New York, NY 10003
(212) 777-7781
www.piola.it
9. Lil' Frankies
Why: I discovered Lil Frankies on a late Saturday night. We were pizza-hunting at 1am and heard good things about this spot. Sure enough, late night pizza seekers will be pleased by this super-chill restaurant/bar. Nothing mind-blowing, but a good late night (no cheese for vegans) pie.
Neighborhood: East Village
19 1st Ave
(between 2nd St & Extra Pl)
New York, NY 10003
(212) 420-4900
www.lilfrankies.com
8. John's on Bleeker
Why: Honestly, I wasn't terribly pleased with the service at John's – I got the "no cheese on your pizza?" look from the waiter. However, this place is legendary and is a neighborhood crowd-pleaser for locals and tourists alike. Note, they don't deliver, so you must be ready to sit down or take your pie to-go. I ordered a cheese-free veggie pizza – I was loving the crust and sauce and veggies – so I feel compelled enough to give it a spot on my list. Vegan tourists, feel free to give it a shot if John's is on your foodie-NYC list.
278 Bleeker St
(between 6th and 7th ave)
http://www.johnsbrickovenpizza.com/
7. Slice
Why: I love Slice. A lot. They have a ton on vegan and even gluten-free options. They offer Daiya cheese, which is a huge vegan trend lately. I'm not a Slice regular simply because I had one late night pie that was pretty stingy on the toppings and the pizza was kinda toppled around during the delivery process. Plus they are kinda expensive once you add the vegan cheese, special crust, extra toppings etc. Don't get me wrong, I love, and often recommend Slice to vegan pizza lovers – but it will take a great experience next time I go to make me a true regular.
Neighborhood: West Village
535 Hudson St
(between Charles St & 10th St)
Manhattan, NY 10014
(212) 929-2920
*also and UES location
http://www.sliceperfect.com/
6. Otto
Why: Because I adore Mario Batali. Because I love coming here with my stroller-touting sister and her young kids on a weekend afternoon: kid-friendly, yet still chic. Because the experience is gourmet and casual all at once. Because they deliver if need be. Because sometimes I want a simple top-notch cheeseless pie that's light and enjoyable. And because the chewy crisp crust is lovely. Otto is a fun restaurant – and yes the pizza is doable and delicious for the cheese-free crowd.
Neighborhood: Greenwich Village
1 5th Ave
(between 8th St & Washington Mews)
New York, NY 10003
(212) 995-9559
www.ottopizzeria.com
5. L'asso
Why: Because sometimes your just not in the mood to wait for a table at Lombardi's – and most of the locals are eating pizza at L'asso anyways – it's one block down Mott street from Lombardi's. They have awesome salads, sangria and the waitstaff is friendly/laid-back. This dimly-lit corner restaurant has a nice chill atmosphere. Super casual. But don't do L'asso for delivery – the thin crust pizza gets a bit soft. Fresh out of the pizza oven it is hot, crisp and pizza perfect. And if you missed it, L'asso did a Throwdown with Bobby Flay…I forget who won, though it was probably Bobby. He always wins!
Neighborhood: Nolita
192 Mott St
(between Kenmare St & Spring St)
New York, NY 10012
(212) 219-2353
www.lassonyc.com
4. Lombardi's
Why: Because everyone, tourist or not, vegan or not, should try Lombardi's at least once. Vegans, get your pizza cheese-free with a plentiful round of various veggie toppings: roasted peppers, onions, mushrooms, spinach, olives…they have very high quality ingredients. Also order a fresh crisp Italian salad – no cheese, oil/vinegar as dressing. Try the sangria, it is refreshing (and powerful!)
Neighborhood: Nolita
32 Spring St
(between Mott St & Mulberry St)
New York, NY 10012
(212) 941-7994
www.firstpizza.com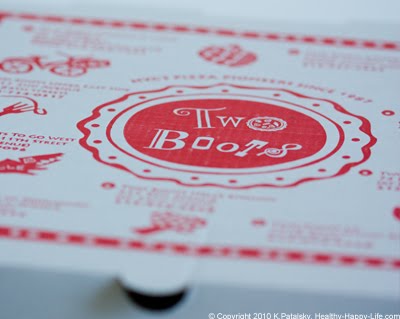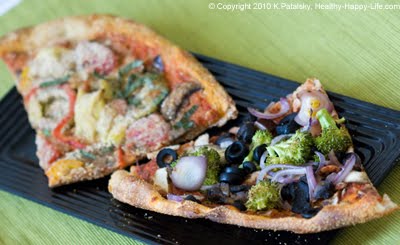 3. Two Boots
Why: I love Two Boots! I'm used to simply ordering a cheese-free pie from Two Boots with tons of fresh veggies. Love their spicy herbed sauce and cornmeal-heavy thin crisp crust. And the best news is that they just came out with a vegan whole wheat crust pie: the Mrs Peel! Roasted veggies, breadcrumbs, it's quite tasty. They've mastered delivery – and with so many locations (even some outside NYC) it's a must-try. Note: Two Boots would probably tie for second place with Pala on my list, but because the quality can sometimes vary by hour/day and location, I've stuck it at spot #3. Plus their garden salad needs a makeover.
*multiple locations all over NYC*
http://www.twoboots.com/
Pala Pizza with Daiya Cheese: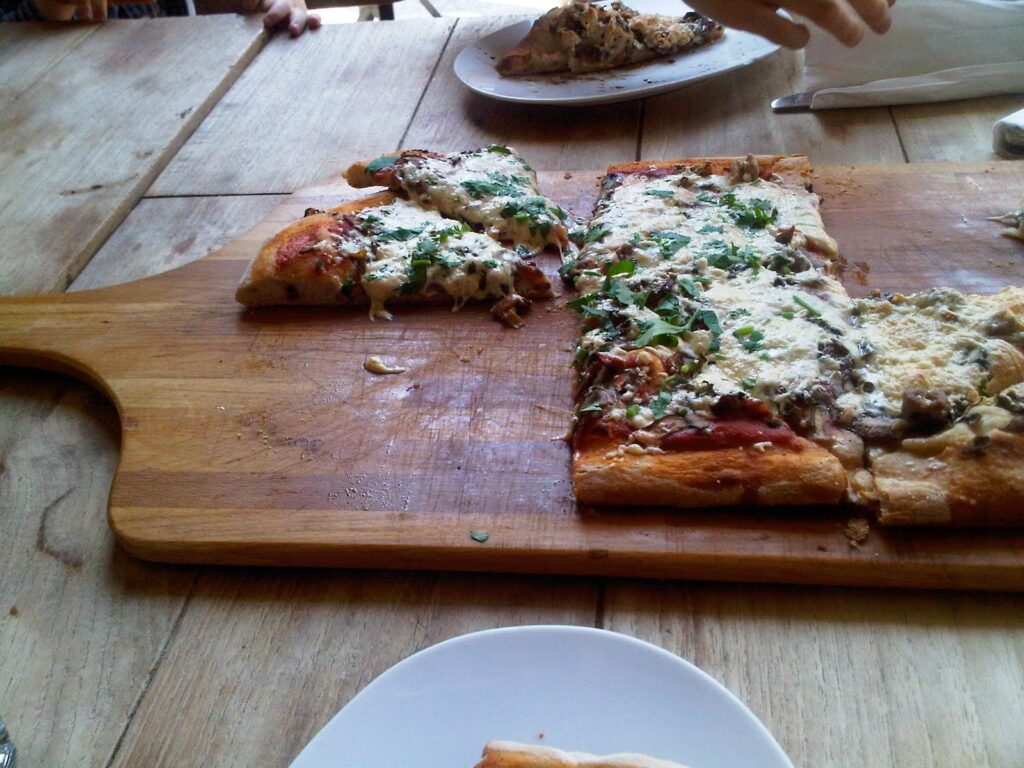 2. Pala Pizza
Why: Pala is a funny place. The first time my husband and i attempted ordering from them, we were given a big "you can't change toppings" lecture from the guy on the phone and thus we never ordered from them again – for about a year – even though they were just a few blocks away from us. Then right before we moved, we were sitting on boxes for a week ordering mostly pizza – and decided to give the *banned* Pala another shot. And oh-my-goodness was I pleased with my Daiya cheese, mushroom, fresh basil, garlic pie. The best vegan (with cheese!) pizza I had eaten in a while. I ordered a spelt crust and it bubbled up into chewy, bubbly bliss. Best Daiya cheese pizza I had ever had. They even have vegan desserts and delicious vegan salads. Cool breezy spot to dine-in if you don't mind the noisy traffic and buses of Houston street.
Neighborhood: Lower East Side
198 Allen St.
(between Stanton St & Houston St)
New York, NY 10002
(212) 614-7252
www.palapizza.com
Drumroll please, my number one pick…

Viva Herbal Pizza: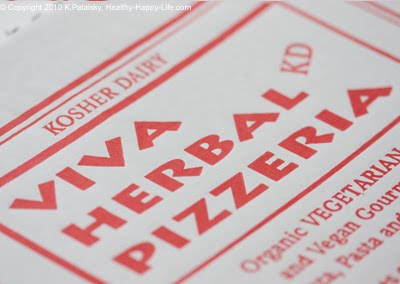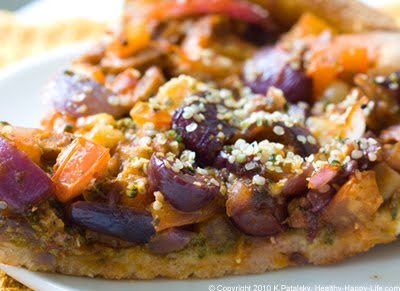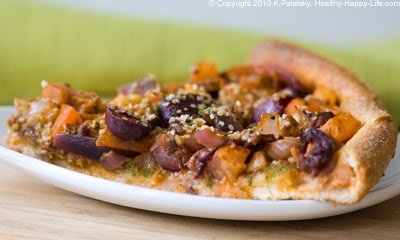 1. Viva Herbal Pizzeria
Why: No Daiya cheese needed for vegan pizza bliss. No "no cheese please" requests will be spoken. No funny looks from the counter guy (just a super friendly and seemingly one-man-show). No boring topping on a sauced pie as the only vegan option. Viva Herbal is vegan pizza on a whole other level compared to the rest of this list. Crust options include spelt, whole wheat, cornmeal and traditional. Topping options include exotic choices like tofu marinated in miso, seitan, hemp seeds, hemp oil, tempeh, shiitake shrooms, maitake shrooms, soy sausage, vegan pesto and more!
But this isn't simply hippie-pizza folks – it's amazing pizza! Flavor-party in your mouth. My favorite pizza ever is the vegan Canja Pizza on a spelt crust: diced onions, tomato and garlic marinated in hemp oil, roasted hempseeds, hempnuts, hemp basil pesto, calamata olives, tempeh, roasted garlic. It's amazing and incredibly unique. I also love the Zen pizza and my husband adores the super spicy Mexicali pizza.
If you are in NYC, Viva Herbal pizza (for a slice or a whole pie) is a must try. And it's even right across the street from another NYC fave of mine: Liquiteria. And bonus: the desserts at Viva are amazing! Not exactly health-food, but the Peanut Butter Pie will give you a "is this really vegan?" moment.
Neighborhood: East Village
179 2nd Ave
(between 11th St & 12th St)
New York, NY 10003
(212) 420-8801
Can't forget this vegan Peanut Butter Pie Dessert at Viva Herbal…

Now check out even MORE PHOTOS of yummy of vegan pizza from Viva Herbal and Two Boots. And my list of buzzed pizza spots I have yet to try…