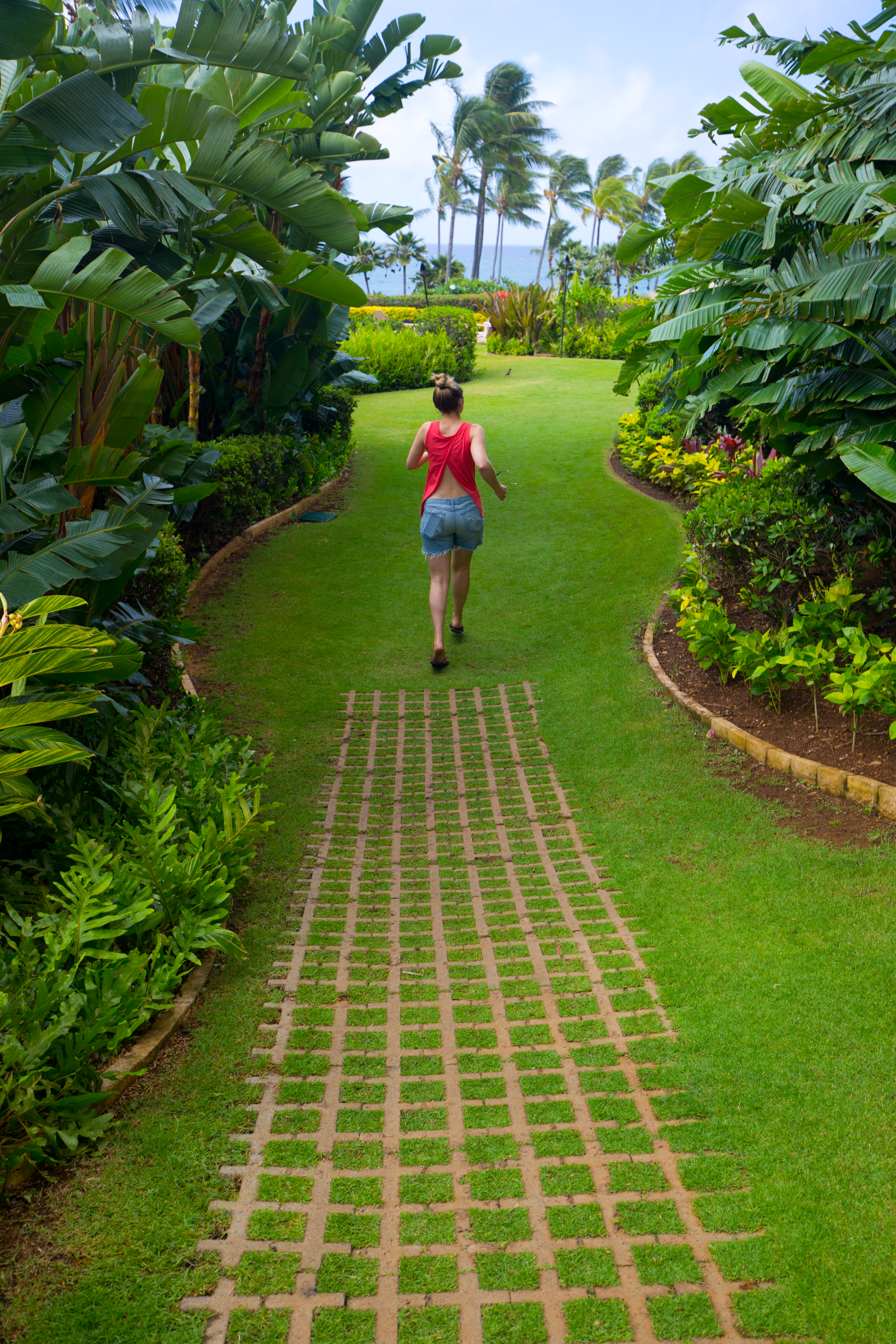 We celebrated our tenth wedding anniversary trip on the magical island of Kauai, Hawaii. Travel feature time! Today I want to share my trip with you! If you are dreaming of Kauai (some day) or are planning a trip soon, here are plenty of pics, inspirations and tips! Plus, plenty of vegan dining options…
Welcome to Kauai!..
Kauai: The soft, fluffy Hawaiian breezes, the dark black and red cliffs that crumble into the clear aqua and foamy white coastline — those roaring white and crystal green waves crashing on soft sand and lush palm tree sway high above. The twinkle of mist through rainbows at sunrise. The fairy-like flowers dotting the paths. The tall trees creating tunnels and passageways and "movie-quality" scenery everywhere. The farms, the tiny food trucks and shaved ice stands. The cute, quirky shops and rushing waterfalls around every corner on your hiking trail. The expansive resorts with gorgeous pools and beautiful beaches. The happy families dotting the shores, and the playful sea turtles that dance in the waves just steps from where your feet are sinking into wet, white sand.
First some intro pics, then all the details..

Photography side note.. I kinda messed up and only brought one lens on this trip. So every photo was taken with my wide angle lens: Canon EF 16-35mm. The lens is GREAT for scenic shots, but for people it kinda isn't so great because it very easily distorts objects in the shot. So sometimes the people on the edges of the frame will look crazy distorted. Boo. Anyways, I loved this lens for capturing wide landscapes though!
Must do in Kauai: find a rainbow..

And watch some cliff jumpers…
Near Queen's Bath. These kids are crazyyyy. And pretty brave. And talented. But mostly crazyyy. Wow, they did this all day long..
Also, just so ya know.. The locals (human and animal) are very friendly in Kauai..
Hello Mr Turtle, lovely to meet you!

Animal lover warning.. There are cute wild roosters everywhere. You will probably say "hello little rooster!" to all of them like I did..

The best thing to do in Kauai is to make like a sea turtle and play in the waves..
Salt Pond Beach..

And you are literally surrounded by gorgeous beaches, coves and glistening shoreline..
Random beach on the side of the road, on our way to Princeville..

Queen's Bath day! This was our first day on the island. Such a fun little hike and beautiful scenery..
Jurassic Park vibes all day long..

Pretty. Scenic point in Princeville, facing inland..

My fave little beach was Poipu Beach just down the street from the Hyatt. See all those lumps beneath the water, that is a family of sea turtles that everyone was checking out!..

Sea turtle ahead!..

Hyatt Kauai at night..

Hyatt Salt Water Lagoon. Loved where we stayed..

My Trip. On the flight from Los Angeles to Lihue, Kauai I watched two Harry Potter movies. I am finally catching up on the series … meaning I have never watched them! Anyways, watching movies about magical lands and wizards and lovely, eye-popping things was a fitting transition from LA to the blissfully magical island of Kauai.
And update, yes, I have since finished allllll the HP movies and love them. When am I going to Harry Potter Land at Universal Hollywood? Soon.
What I Knew About Kauai Before I Landed:

* It is basically Jurassic Park. All those island shots of the green cliffs and jungle cinematography — that's Kauai.
* Many Pirates of the Caribbean scenes were filmed there.
* It is very green and one of the wettest places on earth, so expect rain.
* It is less "developed" than Maui.
* My mom is obsessed with it and has always called it her favorite island.
* It is supposed to be more "romantic" and "dreamy" and "magical" according to people who love it.
* Possibly less "night life" and city-ish things to do. Earlier to bed, earlier to rise?
* There are more outdoors activities: hiking, beaches, waterfalls, ziplines, helicopter tours, ATV-ing, kayaking..
So, was I right about all those things? Yup, pretty much. The Jurassic Park feeling is with you around every jungle-looking turn, the beaches are cinematic, the coastline is breathtaking, the outdoor options are endless, the small-town feel is there and the magical thing is real.
But not everything was spot on. For one, it barely rained in the spots we were in. Most of the rain was at night or early morning, so we missed it. Or we would drive through rain storms for like ten minutes, then be out of them again in perfect weather. Odd!
A Few Things I Learned:

* There are wild roosters and chickens and birds in general everywhere! The roosters are gorgeous with their red and white and black speckled feathers, tall perky tails and cute faces. They wander around beaches, along the road and in and out of random parking lots. They are adorable and I love them.
* It feels very "slow life" and developed at the same time. Less traffic is wonderful, but there are also plenty of modern things: Starbucks, Juice bars, Kauai Juice Co, vegan menus, loads of fancy or casual dining options, luxurious spas and modern hotels with everything you could every want on a beach vacation.
* The "magical" part is more powerful than I realized!..
I really thought that when people talked about Kauai being magical I thought they means "peaceful" and "quiet." But the truth is, it really isn't as quiet as I thought! This island has so much energy in a super calming, peaceful way. If I use the word magical one more time you are probably going to whack me in the head with a palm frond, but I can't help it. Kauai is magical.
Here is some more practical advice for your next visit to Kauai! (I cannot wait to visit again one day!!)
Hotels:
* Grand Hyatt Kauai. This is where we stayed. The first night I wasn't sure if I was impressed, mostly because it was dark out, I couldn't see the ocean and I realized our room didn't have a bathtub. But after some vegan sushi at Stevenson's Library, peppermint hot tea, and a giant salad (complete with Garden Greens grown right here at the resort) I was feeling a bit better.
After a good sleep on the super comfy bed, I awoke to a rainbow and the beautiful view from our room overlooking the pools and ocean. Oh my gosh you guys, the pool system at the resort in INSANE. The best I have ever experienced. There is a giant salt water lagoon (and I do mean giant), a long waterfall-speckled lazy river, a calm adults-only pool, another giant pool that a lot of the kids enjoyed and a lovely waterslide. I basically floated back and forth in the lazy river the entire time with a few visits to the lagoon. There is a poolside bar and a cafe too. The afe serves fresh papaya, a vegan burger, an amazing green salad that is vegan is you omit the cheese, and super yummy poolside hummus. I got it served with half pita and half veggie sticks.
We also dined at Tidepools which is a fancier restaurant near the pool, perched right on top of the giant Koi ponds. Gorgeous setting! And the food was delicious. I had the grilled tofu entree with shiitake buckwheat noodles and veggies.
My facial at the Anara spa was lovely, though I will admit that the spa was a bit basic – especially on a really hot and humid day. The locker rooms and waiting relaxation areas are all outdoors so I was baking while I waited for my facial. The outdoor lava rock showers are really wonderful though! And my facial was superb.
So overall I ADORE this hotel and I would absolutely return again and again. Also, there were kids and families everywhere, but because the resort is so large and the pools so vast, it still felt really romantic and "quiet" in its own way. So many places to explore. The fire pits, the beach paths and hammocks, the lobby area with birds and trees, the shops and even two gorgeous tennis courts I wish we had time to use!
We chose to upgrade to an ocean front room and it was worth it! I love looking out the window to see both the pools and the crashing waves.
View from lower lobby at Hyatt Kauai..

* St Regis Princeville. This hotel is on the opposite side of the island in Princeville. We drove around the area for a full day when we went to Queen's Bath and it is lovely! The hotel looks gorgeous, although I don't think they have as many pools. I cannot speak to the rooms or spa ect, but I can only guess that they are gorgeous.
* Sheraton. For all you Starwoods points people. The Sheraton is just down the road from the Hyatt. Personally, I noticed that the pools are much smaller (from looking at them on Google Maps, but I didn't actually visit the resort. A few of my friends stayed there and loved it though!
There are a bunch of little condo-villages and smaller hotels, but those are the three biggies I know about.

Dining:
I am going to go by meal!..

Breakfast:
Hyatt Breakfast Buffet: Most days we just went down to the breakfast buffet at the Hyatt. It was wonderful with loads of vegan options. Not cheap by any means, but if you are hungry, it is well worth it. Here is what I had: giant plates of papaya and pineapple. Fresh orange, guava, passionfruit and pineapple juices. Steel cut oatmeal with soy milk, coconut-almond butter, salted pepitas, raisins, banana and sunflower seeds. Peppermint hot tea with lemon. And back again for seconds of the papaya and pineapple. The buffet is $35 per person. One morning we tried "creating our own breakfast" at the juice bar and grocery store and I swear, everything a la carte came out to around $50, so not a huge difference from the buffet!
Load up on fresh papaya, pineapple and juices..

Living Foods Gourmet Market – Poipu/Koloa: Just down the road from the Hyatt was this small natural-ish food store with prepared salads and foods, a coffee bar and loads of snacks and goodies. I loved their vegan smoothies! I tried the acai bowl (get it with the gluten free granola on the side), the Green Goddess smoothie and the Acai smoothie. My husband loved their almond milk cappuccino. They also served breakfast items like fresh fruit and a bunch of non-vegan options.
Kauai Juice Co – Kuhio Hwy: If you just need something really light for breakfast you can plan ahead and stock up on Kauai Juice Company juices – then place them in your hotel room fridge and have them for breakfast, maybe along with some macadamia nuts or a bagel or fresh fruit. I loved the Rainbow Unicorn Juice and also the gingersnap shots are really spicy and yummy!
Lunch:
On most days, we snacked and nibbled all day long until dinner, because we were eating such hearty breakfasts. We snacked on fresh fruit, sweet potato and taro chips, macadamia nuts, smoothies and juices from carts and stands and nut butter packets too.
Hale Nalu – at the Hyatt: The casual dining spot by the pool, outdoor poolside seating or you can bring the food back to your lounge chairs. I had the hummus with veggie sticks and pita (yum!), and the Seasonal Salad without the cheese. That salad was SO good! It had strawberries, pepitas, avocado, sprouts and garden greens grown right at the resort! So good. I can't believe I didn't get a chance to try the vegan burger, but I bet it is amazing.
Princeville Juice Truck: Ok, I suck because I forget the name of this one, but there is a cute food truck right across the street from Postcards Cafe. We wanted to go to postcards, but they are only open for dinner. So instead we got light eats at the food truck. Taro hummus and chips and giant smoothies. Really yummy! The truck was right across the street from the shaved ice stand..
Living Foods Market – Poipu/Koloa: One day we got a bunch of prepared foods to go. The vegan options were plentiful: sesame noodles, raw kale salad, quinoa with chickpeas and a bunch more..
Dinner:
Da Crack – Koloa: In a random parking lot, just a tiny walk-up hole-in-the-wall spot with super fresh and yummy food. Vegan friendly! Be prepared to wait in a line and hang out waiting for your food. We were there on a busy Friday and waited about 45 minutes. I had the bowl with corn tortillas on the side. Beans, rice, salsa, guacamole, cabbage – simple but fresh – exactly what I craved! Great money saver since the prices are low!..
Standing in line for an hour, waiting for cheap, delicious, vegan-friendly Mexican food on a Friday night, in a parking lot = worth it…

Our to-go Da Crack feast, eaten poolside at our hotel, after dark..

TidePools at the Hyatt: LOVED this meal. It was our "fanciest" dinner. Even though I was still wearing flipflops, a cotton dress, a messy bun and no makeup except from some lip gloss. I had the grilled tofu with soba noodles and veggies. The setting in grass-roof palapas right on top of the Koi ponds is beautiful. You can hear the ocean waves and see the echo of colors in the sky at sunset.
Tidepools at night..

Tidepools tofu with shiitake soba..

Merrimans – Koloa: We had salads and pizza one night here. Merrimans is a super lively spot. It is in the same shopping center as the Living Foods Market. There are a handful of popular restaurants there including The Dolphin (sushi) and a few others. I had an excellent salad and we had the "vegan" pizza (yes, the menu calls it the vegan) on a gluten free crust. The crust is thin and crispy and really flavorful. I loved this meal! We sat outside and could hear live music all around us as the sun set and the sky turned purple.
Pizza was so good!..

Stevenson's Library at the Hyatt: I had a giant salad and vegan sushi here onmy first night. It was SO good. really fresh and flavorful. Notes: the miso soup is not vegetarian, just so you know. And you have to ask for a "vegetable roll" to get one with lots of goodies in it. All they have on the menu is a cucumber one which is really small. My roll was huge and wrapped in white soy wrapper which was interesting! There was a live lounge singer and the bar was lively and packed. They stop serving sushi at 9:00pm, so get there in time!
So those were the dining highlights! But the BEST food on the island is the fresh fruit. I could seriously live off of pineapple and papaya and be happy.
Things To Do:

* Helicopter Tour! Ha. Ha. This is my just kidding thing to do because we signed up for Blue Hawaiian Helicopter Tours twice and both times our tour was cancelled due to rain. Boooooooo. But it looks amazing and the workers there were super helpful and great. Next time!! I am dying to see the coastline and island crater from the skies!
* Queen's Bath: I was obsessed with hiking to this highly Instagrammed spot. It is a giant bathtub-like pons made from ocean water, right on the cliffs of the ocean up in Princeville. The hike is pretty easy to get there, a bit muddy and steep at a few spots, but nothing a fit person couldn't handle. To get the the actual bath part you have to climb down a rocky cliff. Then into the bath. It isn't too bad. But be warned that the Queen's Bath can be VERY dangerous depending on how the tides are and what season it is. Once I got in the pool I only stayed for about ten minutes because I was so paranoid about the ocean waves that kept crashing in! Some of the local kids come to this area to show off their cliff-jumping skills. It is incredible to watch and also like, what-are-they-thinking?? Scary! Gorgeous spot. Note: There are only about ten or so real parking spaces at the top of the hiking trail. Some people double park other people, it is odd. We actually had someone double park us, but luckily could squeeze out at an odd angle. If you are staying nearby, try walking or taking a shuttle.
Queen's Bath warnings…

* Salt Pond Beach – Eleele: This was a gorgeous swimmable beach in Eleele, just about twenty minutes away from the Hyatt. It was really beautiful with palm trees and crystal waters. There is a lot of beach, so you can really spread out. There are restrooms too. There are salt ponds located right behind the beach — actually fun fact: Salt Pond beach is the last traditional site still in use in Hawaii, where the Polynesians used to make salt long ago. The salt-making site is sacred to Hawaiians and private property. Loved this beach!
Salt Pond Beach. Gentle waves and warm water..

* Poipu State Beach – Poipu: This is a strip of beach just a few minutes away from the Hyatt. This was actually my favorite beach .. even though the waves were too rough to really swim in. The reason who I loved it is because there were green sea turtles playing in the crashing waves!! A whole family of them. Little babies and larger sea turtles. They were literally inches away from my feet, just playing in the waves. What a beautiful site to see those creatures in the wild.
This was my fave little cove of a beach, off the side of the road in Poipu. Found on the Kauai Beaches App!.. (ps. note the arm distortion from the wide angle lens. Weird, but awesome for selfies!)

* Nā Pali Coast by Helicopter or Boat Tours: Our first helicopter tour was cancelled due to rain. Then we were going to do a boat tour of the Nā Pali Coast, but decided to try one last time for a helicopter tour. Unfortunately, that tour was cancelled too so we didn't get out boat or sky view! I was super bummed about this because I really wanted to play my Jurassic Park music while drifting or soaring by that coast line. You can only access most of the Nā Pali Coast by sea or air, so if those don't work out you are out of luck! And just FYI, the boat tours are long. Starting at 4 hours, and some of them last all day, like 7-8 hours. So if you don't like sailing for that many hours, you might want to reconsider. And many of the boats do "barefoot" sails where they make you leave your shoes at the dock.
* Tunnel of Trees: You want to drive through these trees at least once, maybe a few times! They are magical. Yup, there is that word again. They reminded me of when we were in Northern Ireland and drove through the "King's Road" from Game of Thrones, only this was Kauai style!
Tunnel of Trees..

Wailua Falls – from the parking lot view: Not gonna lie. This felt pretty underwhelming. You basically drive up a very windy road to a parking lot that overlooks the gorgeous falls. It was pretty, but I would much rather have hiked or kayaked to the falls. Standing in the parking lot felt weird. Kind of like stepping out of your car to see the Grand Canyon and then hopping back into your car. I am torn as to whether I would advise taking an hour out of your day or more to see these falls. If you are a sucker for giant waterfalls, then go for it. If you can hike/kayak to see them, even better!
* Get the Kauai Beaches App! This was how I discovered some of the cute little beaches nearby!
So those are my main highlights that I can think of right now. There was so much packed into this trip that is is hard to really wrap it all up in one post.
All I can say to close is this: Kauai is beautiful. If you have been to Maui and think "nothing is better than Maui" – give in and try Kauai. It is a really nice change of pace from Maui, yet still everything you love about Hawaii. If you have never been to Hawaii at all, I would probably advise going to Maui first, just because it has a wider range of things to do and see and is a bit more tourist-friendly. But seriously, I don't even like saying that because both Kauai and Maui off SO MUCH.
As for hotels, I highly recommend the Grand Hyatt Kauai. If you love a good lazy river and little nooks and crannies around every corner at a BIG HUGE resort, then this place is for you. I would come back here in a heartbeat.
I am so sad to not be in Kauai anymore!! But until next time….
Have you been to Kauai? What were your fave spots??
Those palms and that soft Hawaiian islands breeze..

See all those lumps beneath the waves.. a family of sea turtles! (Poipu beach)

Cute food trucks..

Koi ponds around the Tidepools restaurant at Hyatt Kauai..

Sea turtle body surfing..

My Sea Dogs shoes by Bzees were soooo perfect for this trip!

My goal: soak in that ocean "tub." I was so proud of myself when I climbed down the cliffs and splashed into that salty water!..

More Hawaii/Kauai Links:

Another great Kauai guide is by my friend Jordan: Part 1 Part 2
And check out my review of The Fairmont Resort and Spa on Maui
*affiliate disclosure: this is not a sponsored post, but does contain one affiliate link to the camera lens on Amazon.