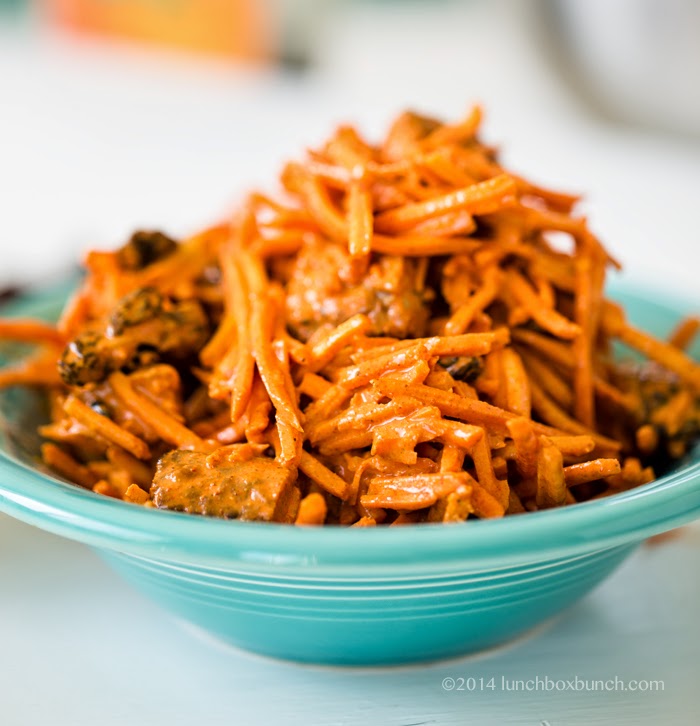 This easy Turmeric-Curried Golden Carrot Slaw is my go-to carrot salad for summer. This is a recipe I have shared before, but this time I infuse a superfood boost to the sassy, sweet flavors. The familiar pairing of crunchy carrots and sweet juicy raisins is one everyone will enjoy. Creamy tahini keeps things rich and amazing while also keeping things dairy-free. Grab this recipe and whip it up in a flash! Plus get 11 more turmeric-infused vegan recipes..

reminder. Do not forget to enter my Blendtec Giveaway + check out my Blendtec review! And maybe make some coco-cinna-maple almond butter while your are at it.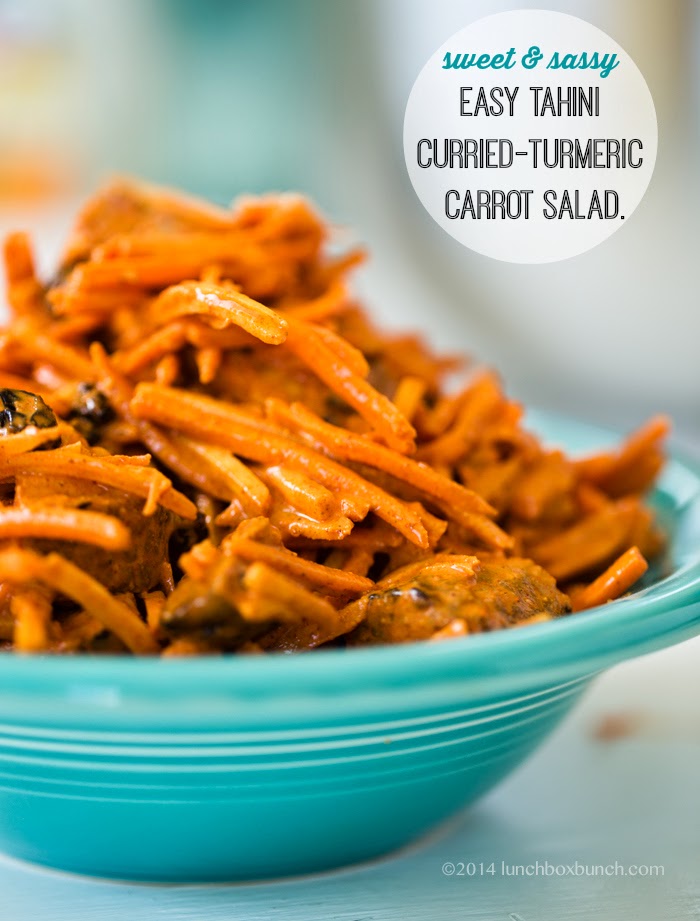 Summer Salad. This salad uses crunchy, sweet, vitamin A rich carrots as the main ingredient, and also adds a double boost of golden color by adding curry powder and superfood turmeric. I made it my 2014 resolution to add more turmeric to my life and I think I am doing pretty good so far! I have turmeric in my Trinity smoothie at least 3-4 times a week, and I add my fave Ojio
brand of turmeric to just about everything savory. I have finally embraced turmeric in a big way. Bring on the anti-infammatory goodness.
"Curcumin, which has powerful antioxidant and anti-inflammatory properties, is the most active constituent of turmeric." – DrWeil
In Dr Neal Barnard's Power Foods for the Brain
book – which I ADORE – he uses turmeric often in recipes and calls it one of the spices that may help protect your brain.
This is the only turmeric I use now. It is the BEST…
Are you adding more turmeric to your summer? This salad is one easy place to start! Plus the bold golden color is so fun for sunny days. And here are a few more turmeric-infused recipes..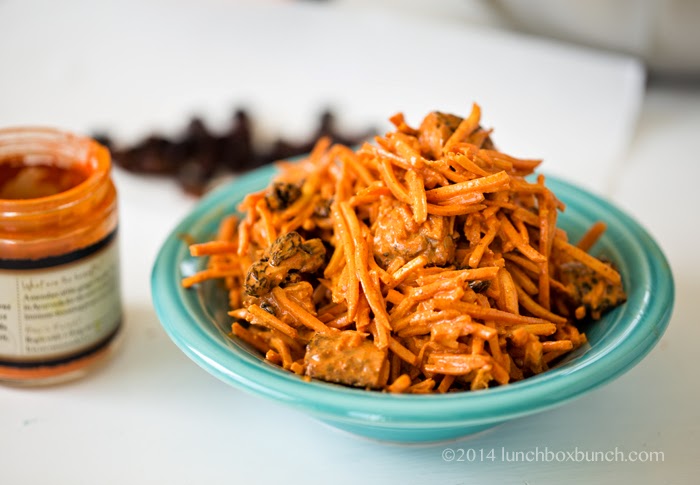 11 turmeric-infused recipes to try: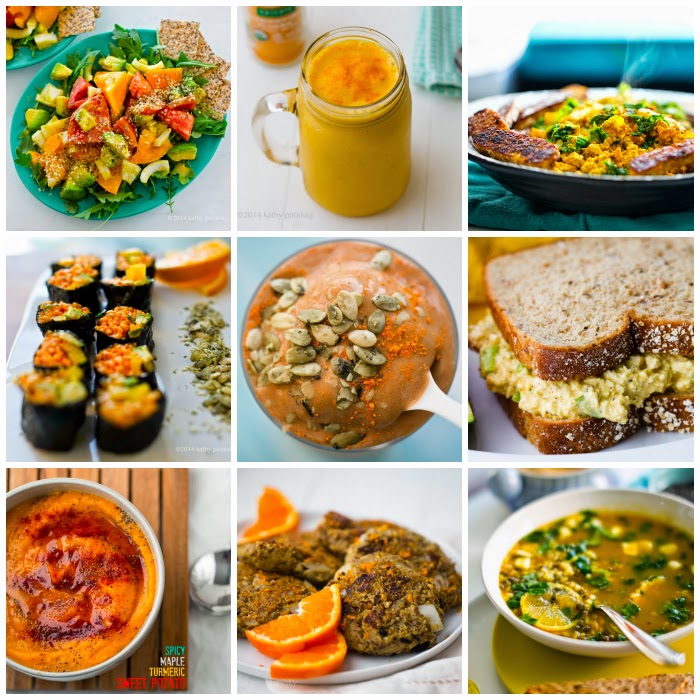 1. Golden Wellness Smoothie
2. Turmeric-infused Tofu Scramble
3. Trinity Smoothie with turmeric
4. Lentil-Cashew Cakes with Turmeric
5. Marinated Summertime Tomato Salad
6. Creamy Roasted Soups – Carrot or Sweet Potato – with turmeric
7. Golden Avocado Sushi with Turmeric Rice
8. Tofu-"Egg" Salad Sandwich
9. Lifting Lemon Garlic Rice Soup
10. Marinated Golden Fennel Salad
11. The Vegan Cobb Salad with turmeric-tossed hearts of palm "eggs"
Add Protein! If you want to add a protein boost to this flavorful salad, I have found that maple-tamari tempeh or tofu cubes are perfect. You can fold them right into the salad or add them over top to serve.
Add tofu to make it a meal.. from this post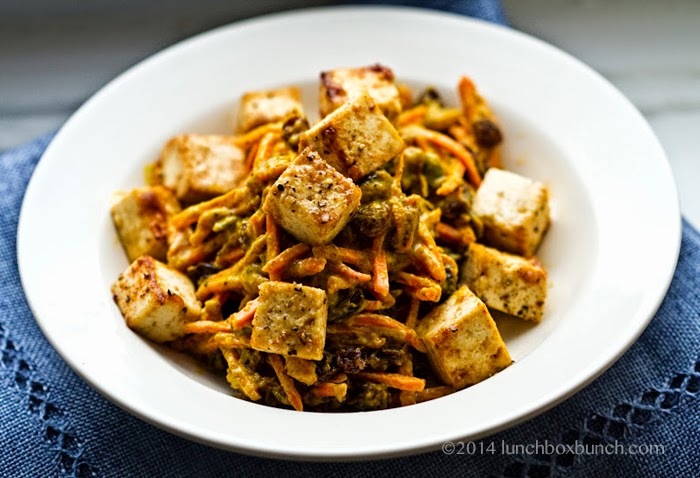 Or tempeh..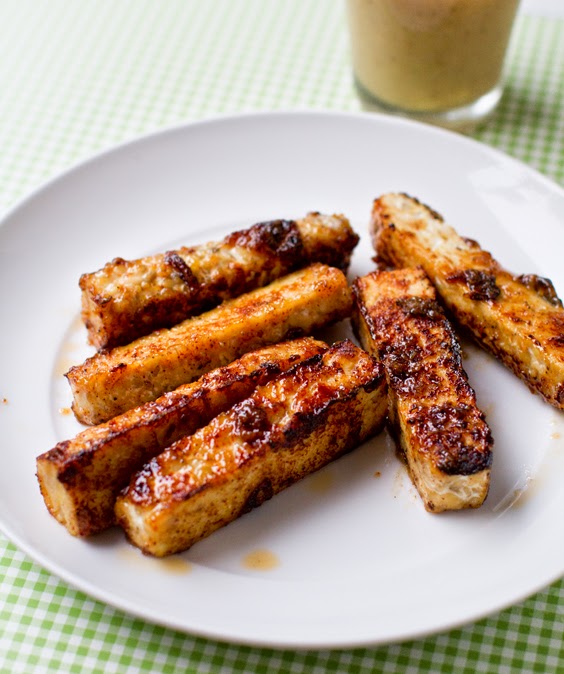 Optional – Tofu or Tempeh How-to: Add 1 cup tofu or tempeh cubes to a bowl. Add 2 teaspoon tamari, a few drops of liquid smoke (optional) and 2 teaspoon maple syrup (grade B). Let the cubes sit for about 5 minutes to absorb the flavors. Heat a saute pan over medium-high heat, add a drizzle or oil (sunflower, safflower or EVOO) then when the oil is hot, add the cubes plus any excess marinade. Add a pinch of black pepper over top. Saute, tossing cubes in oil and liquids, for about 2-3 minutes or until the edges are crispy and browned and liquid has been absorbed. Serve warm.
Turmeric-Curried Golden Carrot Slaw
By Kathy Patalsky
Published 06/18/2014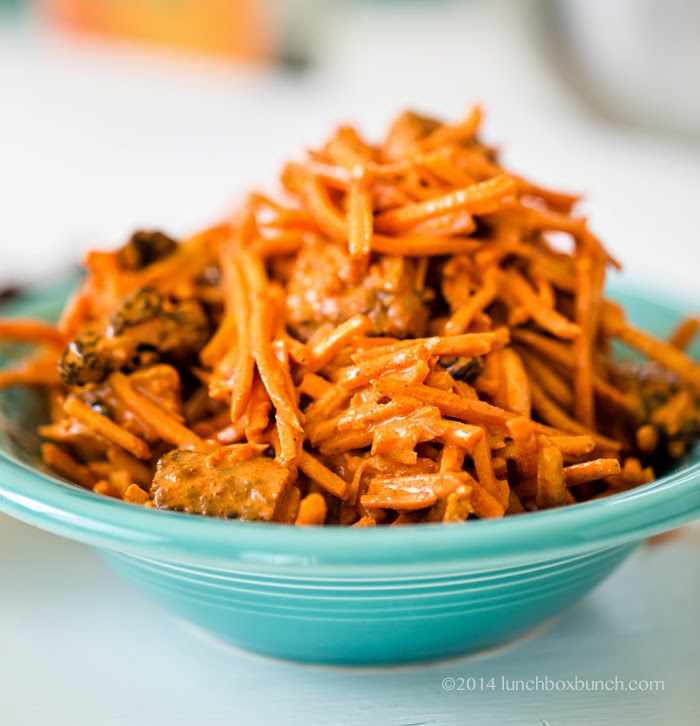 Crunchy carrots meet sweet raisins and a flavorful creamy tahini-turmeric sauce with some sassy and sweet flavor.
Ingredients
1 ½ cups carrots (shredded, chopped or julienned)
1 ½ tablespoon grade B maple syrup
2-3 tablespoon tahini
½ cup organic raisins
1 teaspoon sweet curry powder
½ – 1 teaspoon turmeric powder (Ojio brand used)
¼ cup lemon juice or 2 tablespoon apple cider vinegar
pinch of salt and pepper to taste
optional: ¼ cup seeds (pumpkin, hemp or sunflower – raw is my preference)
optional: add sauteed tempeh or tofu cubes over top
Instructions
Add all the ingredients to a large mixing bowl.
Toss salad for 2-3 minutes until the carrots become infused with the liquid ingredients and the spices disperse and dissolve into the dressing. Taste test and adjust seasonings and ingredients to taste.
Eat right away for crunchy texture, or place in the fridge to chill for at least an hour for a softer more marinated flavor.
Yield: 2 cups
Prep Time: 00 hrs. 15 mins.
Cook time: 00 hrs. 00 mins.
Total time: 15 mins.
Tags: salad,carrots,slaw,turmeric,tahini,summer,easy,vegan