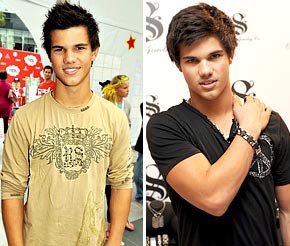 Twilight's Taylor Lautner Packs on 26 Lbs., Nears Weight Goal:
So just what does it take to gain 26 pounds of 'pure muscle' ?

"Besides hitting the gym, 'I'm trying to eat as much as possible,' he said. 'Basically I'm supposed to eat everything I can and try to keep it lean. Lean meats and veggies.'"
Girls want to lose it, guys want to gain it. Most of the time anyways. But the interesting thing is that in both cases eating healthfully and maintaining a proper exercise routine are key! Read more about this fitness-friendly Twilight star…It was announced earlier this month that Lautner will return following weeks of questions about whether he could effectively portray his werewolf character (who grows a foot taller and looks 25 years old in the sequel). Most fans overwhelmingly wanted Lautner back.
Lautner told Us the support of Twilight has been "crazy."
"It's blown up into something we had no idea," he said, "so it's really exciting. I'm so thrilled to be a part of something like this."
New Moon begins shooting later this year.
Twilight's Taylor Lautner Adds 26 lbs of Muscle, for Sequel:
Read the complete post at US Magazine, Taylor Lautner.