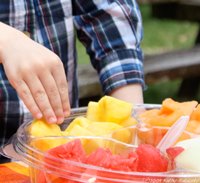 Twitter co-founder Biz Stone has a passion for more than 140 character tweets. He is a strong supporter of vegetarian school lunch options for kids. In fact, he is lobbying Congress to add vegetarian lunch options to schools, reports the Huffington Post. Click ahead for my thoughts and to see a video of a celeb-kid lobbying for vegetarian friendly options in her school…

All Kids Gotta Eat. As a former child who used to reject meat options at school, I found myself eating all the fruit, veggies, chips and other 'junk food' veggie snacks around. Wow, what a difference it would've made if I were offered some brown rice and veggie bean tacos, a pizza with natural whole grain crust and all fresh organic veggies on top or even a yummy tofu lasagna instead of the mystery beef lasagna I remember. Kids are going to eat. And if you forget about their individual needs and food restrictions, they just might fill up on foods that are much worse than smart schools could offer. And yes, veggie options are healthy for all kids-not just the vegetarians…
Extreme Measures. I recently spoke with a Pennsylvania middle school teacher who said that they do not allow ANY outside food in schools. None. They are trying to implement a wellness food program and outside food is simply not allowed. She wanted to do a lesson on foods from around the world, but was prevented to do so because of the strict school laws. I am very supportive of school wellness programs, but sometimes common sense interventions should be allowed. If a teacher wants to discuss foods and cultures in a lesson plan, I think they should get a green light. Food is culture, is society, is life and is part of learning about the world around us.
visit www.healthyschoollunches.org for more on this cause.