On the second day of Vegan Treats, my true love gave to me, Two Cups of Cocoa.
And a North Pole Peppermint Chai (just for me!)…
Cocoa Recipe (for two), but don't forget to follow the serving instructions…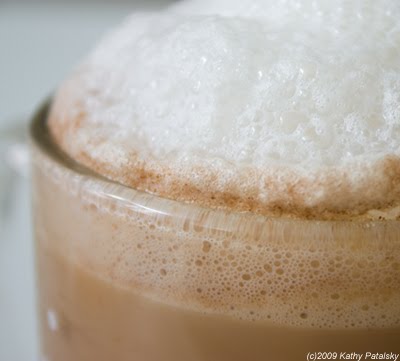 Two Cups of Frothy Hot Preferably-Packet-Free Cocoa: a must for the holiday season. However, there are specific serving instructions that must be obeyed:

Serving Instructions: Serve near twinkling lights, a warm fire, a snowy window scape view, while listening to holiday music, near presents or while wrapping presents, after a snowball fight, while writing holiday cards, while making your list and checking it twice, while finishing up pesky desk work so you can head out to holiday shop, after ice skating, sledding or skiing, before taking a long winter's nap or under the mistletoe. Sip and snuggle. Snuggling is required when sharing two mugs of cocoa for two….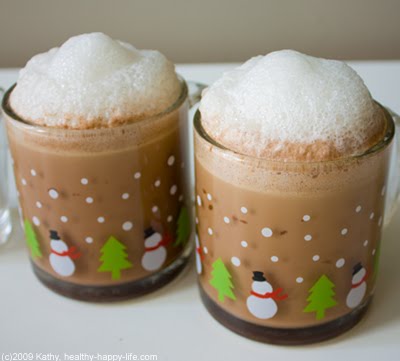 Two Cups of Cocoa
vegan, recipe for one mug each
In Each Mug Add:
⅔ cup soy milk
*I like Soy Dream brand for beverage recipes.
⅓ cup water
very small pinch of salt
1 tablespoon + 1 teaspoon of organic cocoa powder (unsweetened)
sweetener to taste (options below)
½ teaspoon cinnamon spice blend powder
*my blend has cinnamon, nutmeg, Madagascar cloves
optional: 1 dash spicy cayenne for heat
Frothy Foam:
1 cup soy milk
2 tablespoon soy creamer
optional: vanilla sugar powder
*note: higher cream ratio, creamier froth.
Sweetener Options:
2-4 teaspoon vegan fine sugar
3-4 teaspoon agave syrup
2 teaspoon sugar/2 teaspoon agave
(you can also use a stevia-based sweetener if that is your preference)
Optional: 1 shot of espresso or ¼ cup of black coffee for a "mocha-cocoa"
Directions:
1. Add the water and soy milk to each mug. Will be 1 cup of liquid total. Pinch the very very small amount of salt in each glass. Microwave on high for about 75 seconds (or until liquid starts to bubble with heat.)
2. When the liquid is steaming hot, add in the cocoa powder-a little at a time while stirring briskly, to avoid clumps.
3. Stir in the sweetener and spices. Add in a shot of espresso if you are making a mocha.
4. In a separate glass mug add the frothy foam ingredients. Heat to about 60 degrees in the microwave. About 40 seconds for my micro. Using an aerolatte wand milk frother, froth the milk until it is nice and foamy. You can also use a steam-foamer or other kitchen gadget you may own. If you do not have a foamer, simply heat the milk and stir it very briskly for about 30 seconds.
5. Add the foam to the top of the cocoa mugs. Fill to the brim with white foam. Add in vegan marshmallows or rice whip on top, as you desire.

Serving Instructions: See above list of required locations, destinations, modifications, allocations, instructions and venue's for proper cocoa drinking for two.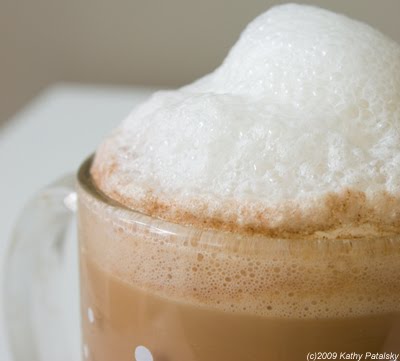 …you can also serve this cocoa with the delicious cookie recipe that will be unveiled on the Fourth Day of Vegan Treats or even the yummy recipe awaiting you on tomorrow's Third Day of Vegan Treats…stay tuned!