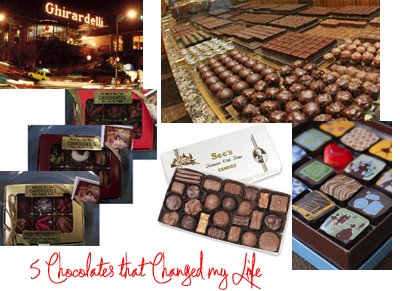 There are a few things we can all count on as we meander through life: Noisy streets at midnight on New Years, laundry day, presents on your birthday and a sweet aroma when you smell the soft petals of a rose.
…and in my life I can always count on chocolate on Valentine's Day.

So in honor of Valentine's Day, here are the top five chocolate brands that place marked and in many ways, changed my life. A few brands full of nostalgic memories and a few with a taste I can't live without….
And don't forget that dark chocolate is one of those "superfoods" I love to rave about. Longevity.com reports:
Heart Health Benefits of Dark Chocolate:
-Dark chocolate is good for your heart. A small bar of it everyday can help keep your heart and cardiovascular system running well. Two heart health benefits of dark chocolate are:
-Lower Blood Pressure: Studies have shown that consuming a small bar of dark chocolate everyday can reduce blood pressure in individuals with high blood pressure.
Lower Cholesterol: Dark chocolate has also been shown to reduce LDL cholesterol (the bad cholesterol) by up to 10 percent.

Click forward for my FIVE CHOCOLATE BRANDS… list…


Five Chocolates that Changed my Life

5. The Regional Childhood Favorite: See's
Memories and nostalgia. Growing up in California, the gotta-get-it brand of mainstream chocolate was See's. And every Valentine's Day my parents would "surprise" my sister and I with a beautiful heart-shaped box of chocolates. A sweet simple gesture, but it always made me feel giddy to break into a brand new box of V-Day chocolates. I was a bit odd. I'd bite into every singe piece and figure out what was what. I hated the dark ones with pink or white cream. So when I found one, I'd shuffle it off to my mom. She always thanked me for the half-eaten chocolate. My favorite piece of chocolate in the box? Those crunchy milk-chocolate covered toffee bites. Every region of the country has some regional favorite. I asked around, and a Pennsylvania-area regional favorite is Betsy Ann chocolates. Do you have a regional favorite?
4. The First "Worldly" Taste: Ghirardelli Chocolates
In the summers when my family would travel the 1.5 hour car trip from Santa Cruz to San Francisco for a walk on Fisherman's Wharf, a trolley ride and a nice dinner out overlooking the bay, my sister and I would always request a trip to Ghirardelli's Chocolate Shoppe in where else, Ghirardelli Square. There is an amazing ice cream shoppe with a Hot Fudge Sundae to die for. As a teenager, who still had the world to discover, I thought Ghirardelli was the tops. The best. Ghirardelli is amazing. But I had never been outside the USA…..
3. The Best of the Best, I Have Lived: La Maison Du Chocolat
In my college years I took a dream trip to Paris with my soon-to-be husband. That trip changed my life and so did the chocolate. We stumbled into a little chocolate shop that had more red-carpet, silver-spoon, white glove flair than any Michelin starred restaurant. The shop was dressed up like a Cartier or Tiffany Jewelery store. Low hanging lights, glossy glass display windows containing a plethora of amazing chocolates and confections. We had to decide on a few items and I ended up spending more than a lot on some chocolate. Something I rarely do. The best of the best? The dark chocolate chocolate-whole almond "brittle"-looking bars. There are La Maison's all over the world. I suggest you visit one, try a piece and experience world-class chocolate.
2. Going Raw: Pure Delights Raw Cacao
After moving to NYC, I discovered Organic Avenue. A gem of a store with raw, vegan, wellness-inspired goods, books and treats like raw chocolate. I get my fresh coconut water here. One day my husband and I tried the Pure Delights Raw Cacao. It comes in a tiny box of six chocolates, each decorated with a nut or dried berry such as cashews, pecans or goji berries. The box of six is only $12.50, which is so incredibly worth it. These raw and vegan chocolates blew me away. It made me realize that 100% "good stuff" chocolate can really taste amazing. I wish I could eat one of these chocolates everyday.
1. NYC Chocolatier Mecca: MarieBelle
Moving to NYC I noticed that this is a chocolatier mecca. Chocolatier shops are everywhere, there is Jacques Torres, Bespoke, Richart Design et Chocolat, Neuhaus Chocolatier, Teuscher
, Kee's Chocolates, Martine's Chocolates and my favorite in the south-west end of Soho? Mariebelle. The Mariebelle original truffle chocolates are painted with cute little designs and all set in the beautiful crafted Mariebelle boxes. Flavors like peanut butter, champagne, Aztec, coconut and espresso – these all natural flavors are bold and rich. Also of note: the hot chocolate (all dark chocolate) is the best I have ever purchased to make at home. Aztec flavor-yum. The branding of Mariebelle simply makes me happy. The pin-up girls from the 50's large bars of chocolate are adorable. The old fashioned tea tins. Oh and the chocolate makes me swoon.
I cannot wait to see what journey I go on and what city I land in to add the next chocolate-marker to my life.

What are your top chocolate brands that changed your life??
LINKS:
MARIEBELLE
LA MAISON DU CHOCOLAT
GHIRARDELLI
PURE DELIGHTS RAW CACAO
SEE'S
BETSY ANN
JACQUES TORRES