Big, beautiful entree salads are one of my favorite meals for summertime. And this Vegan BBQ 'Chicken' Chopped Salad is the perfect combination of healthy meets delicious.
30 Min Meals – Or Less! If you prep some of the ingredients (like the quinoa and sweet potato) ahead of time, you can have this salad on your table in under twenty minutes — just about the time it takes to BBQ-bake the vegan protein and assemble your salads. Grab a fork!..
In a tossed salad mood? Toss everything together and serve!..
Latest.. Thank you again for the warm response I have received from my latest personal post about sensitivity. Since I posted I have actually felt better about MYSELF in my sensitive space of me. It helps to know that others have the same challenges, thoughts and struggles.
Yoga Saturdays. For example, over the weekend I went to an awesome yoga/HIIT fitness class taught by my friend (and forever woman crush) miss Sophie Jaffe, aka @PhilosophieMama. She is one of the most inspiring ladies out there in the world of wellness. She is a mom, friend, business owner and forever hustler. She works hard, lives openly (emotions, story, journey and all) and is compassionate to others. I am so inspired by her, as I talked about in this post.
Lately when I take yoga classes, and we wind down to the part where we quiet our minds, I get emotional. It is such a gift to be at peace in the moment. And sometimes I can't help but react to the swirling music in the background, the pulsing energy in my body and the nurturing words from whoever might be leading your yoga practice that day – especially when it is a friend! And just for a moment, tears come. Tears that feel neither happy or sad. I can smile, laugh, ache and just feel through them.
What do you do when you cry in public? Now normally, I would cringe in my chest, tighten my eyelids and yell at myself DO NOT CRY right now. Because, duh, in a few seconds we will be up, moving around and socializing a bit. Red eyes and damp cheeks might inspire questions, right? But on this Saturday I said, screw it. And just didn't care. This is good. This is ok. This is what is happening with me right now for whatever reason. So thank YOU for bringing that out in me. Confirming to me that it is ok. We all need that reassurance sometimes. Even the strongest of souls.
Like I said in my last post,
"..no one should ever feel ashamed of their tears. Their quietness. Their joy. Their silliness. Or any part of themselves that makes them human."
There could a million tiny reasons going on in your world that make you more sensitive than usual. Sure, you could pause and analyze them all. Or you could just accept the now. And love it. And move on.
So anyways, thank you to everyone who read the post. I am loving the comments so much!!
Oh… and in case you are curious, this is how I felt the next day after Sophie's class…
The morning after a @PhilosophieMama HIIT + yoga class 😹 Hurts so good though 💪🏻 #FaveYogaTeacherEver 🙌🏻💗 pic.twitter.com/qKFg3OfwdJ— Kathy Patalsky (@lunchboxbunch) July 10, 2016
Today's recipe is so good! I discovered how easy it was to BBQ bake Beyond Meat's vegan "chicken" product and swiftly turned that into a go-to salad recipe. I love this product because it is one of the very rare 'fake meat' products that 1) is gluten free – no seitan and 2) doesn't actually remind me of meat. I know it is supposed to be "chicken" but to me, it just tastes and looks like a pea-protein sort of tofu .. if that makes any sense. So I don't feel weird eating it.
Chipotle Creamy Dressing can be drizzled on top.. (optional — the BBQ sauce adds a lot of flavor on its own!)
If you do not like Beyond Meat products because of the realistic 'meaty' taste or texture, you can easily substitute with any of the following:
* firm tofu cubes
* tempeh cubes
* chickpeas
* white beans
* lentils
* broccoli (17g of protein in one bunch!)
Or just stick with all the other toppings and drizzle some warm BBQ sauce over top!
I love to serve this salad with a side of gluten-free toast and hummus.
Enjoy it!..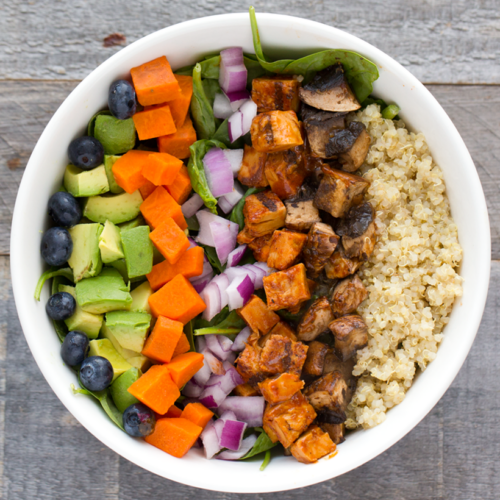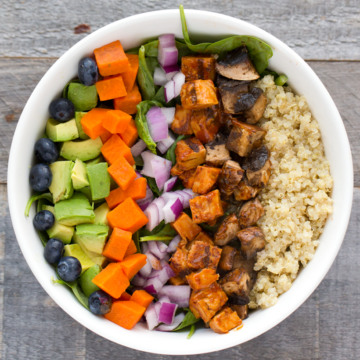 Vegan BBQ 'Chicken' Chopped Salad
This is a go-to entree salad, packed with protein from BBQ vegan chicken. Or try beans or tempeh or tofu. Also in there: quinoa, avocado and sweet potato.
Print
Pin
Ingredients
⅓ cup vegan barbecue sauce – add more or less if desired

2 cups Beyond Meat "Beyond Chicken" Strips (or sub with tofu, tempeh or cooked chickpeas)

1 portobello mushroom, stem removed and cubed

¼ cup veggie broth

2 cups cooked quinoa

1 medium sweet potato, diced (roasted or steamed to cook)

½ large avocado, diced

4 cups baby spinach, roughly chopped

½ cup red onion, finely chopped

2 tablespoon organic blueberries

½ lemon, juiced — for spinach

Dressing of choice – to taste (creamy chipotle used)
Creamy Chipotle Dressing:
⅓ cup Vegenaise (vegan mayo)

⅛ teaspoon chipotle powder

sweet: 1 teaspoon maple syrup or sweet BBQ sauce

1 tablespoon lemon juice
Instructions
Preheat oven to 400 degrees.

Toss vegan protein (Beyond meat used) and cubed portobello with BBQ sauce. Pour into an oven-safe dish. Add the veggie broth. Cover with foil. Bake at 400 degrees for 15-20 minutes.

Once the BBQ vegan chicken is ready, and you have all your components, you can start plating the salads. Toss the baby spinach in the lemon juice. Add spinach to serving bowls. On top add the quinoa, avocado, BBQ vegan chicken, onion, sweet potato and blueberries.

Whisk together the creamy chipotle dressing. Drizzle on top of the salad. I like to serve this salad with a side of toast with hummus.