This is one of my favorite go-to meals or snacks. A vegan quesadilla. I love these Vegan Bean and Cheese Quesadillas because they are filling and savory and you can get creative with the veggies that you add to them. I love to load in the beans and add as many veggies as I can. The cheese acts as a perfect rich and savory accent.
These take only about 15-20 minutes to make and are a huge crowd pleaser because quesadillas are such a familiar food. To make this recipe a meal I like to add a side salad or a side of Mexican rice, soup or skillet plantains. And guacamole or diced avocado is always welcome. Hope you and your family love this recipe for the new year!….
Vegan cheese. Curious about which vegan cheese taste the best? Check out my vegan cheese guide.
A few other quesadilla recipes I love..

* Cheeseless Quesadilla
* Maple Pumpkin Vegan Quesadilla
* Sweet Potato Hummus Shiitake Bacon Vegan Quesadilla
* Avo-dilla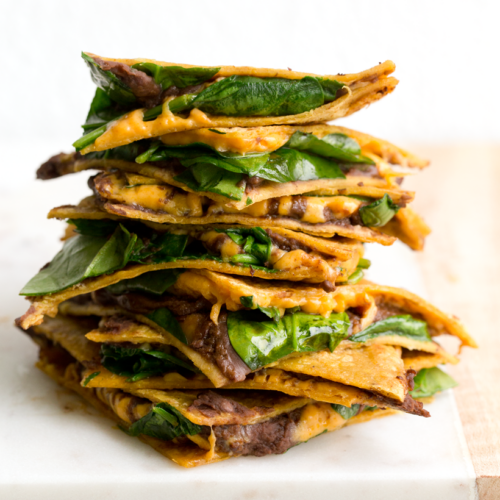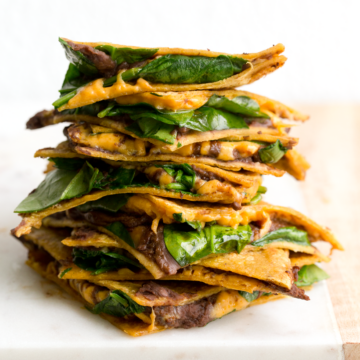 Vegan Bean and Cheese Quesadillas
This super easy entree is delicious and filling. Black beans melt with vegan cheese, spinach and avocado garnish.
Print
Pin
Ingredients
4 corn or flour tortillas

½ cup refried beans (black or pinto)

2-4 tablespoon vegan cheese, any flavor

1 cup spinach

½ avocado, diced

side: salsa or hot sauce

2 teaspoon extra virgin olive oil

ice cube

optional: seasonings like smoky paprika, nutritional yeast, black pepper and sea salt
Instructions
Warm a skillet over high heat. Add 1-2 teaspoon olive oil.

Spread the beans on one tortilla and add to the skillet. Sprinkle the cheese on top. Then add spinach to taste. Optional: Add a sprinkle of smoky paprika, nutritional yeast or pepper and salt to taste. Add top tortilla.

Add the ice cube to the pan. Cover pan with lid. Allow the steam from the ice to melt the cheese.

Cook 2-3 minutes on each side. Remove from pan. Cool for 5 minutes. Then slice and serve. Serve with chopped avocado and salsa or hot sauce.