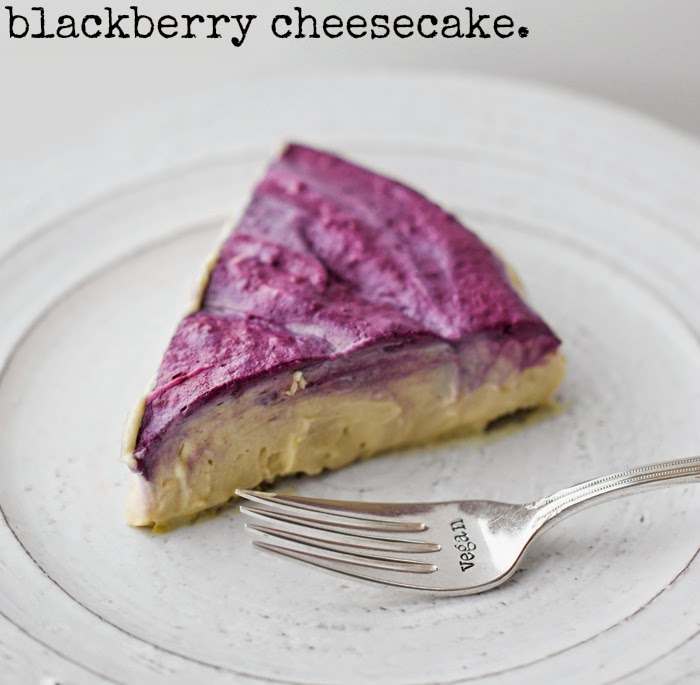 I was craving vegan blueberry cheesecake, but somehow ended up with this silky Blackberry Cheesecake with a hint of sweet orange citrus. And that turned out to be quite a delicious tweak in my plans. This easy cashew cheesecake with sweet-tart, deep vibrant purple blackberry accents makes a wonderful no-bake, dairy-free dessert!..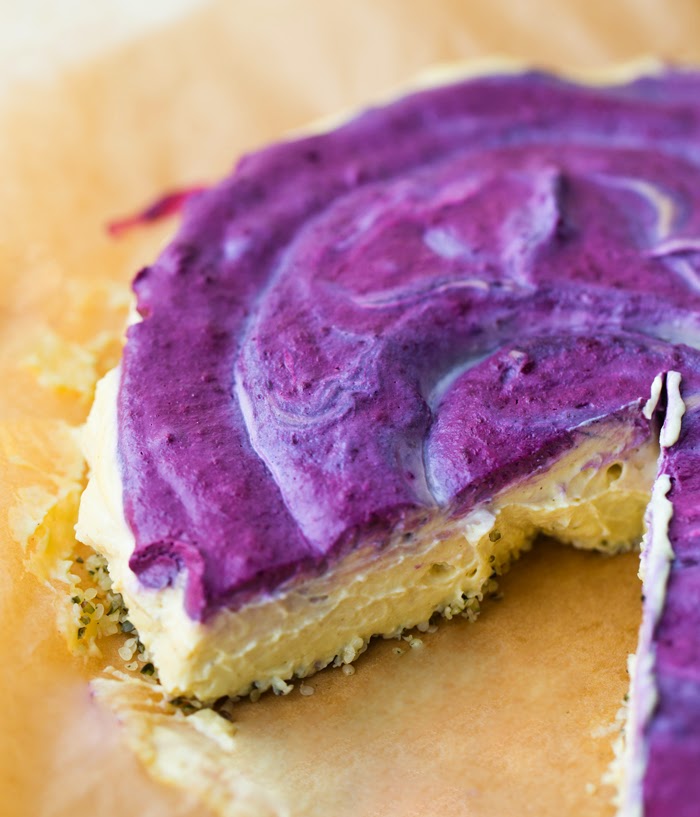 Had some fun this week shooting a video with Sophie from The Philosophie (you know the powder I always rave about to add to my smoothies) and Tarashaun from Blender Babes! Check out my behind-the-scenes video I stitched together. The videos we filmed will be posted to the Blender Babes YouTube channel in the next few months — I will let you know when!
Cheesecake. I adore vegan cheesecake. Silky, smooth cashew and coconut oil filling is just so decadent and delicious. If you have never tried making a vegan cheesecake – now is your chance! And there are soooo many variations once you do a basic cashew filling. Chocolate. Lemon. Matcha. Peanut butter. Cherry. And more. For the base, I use this basic filling:

my basic vegan cheesecake:
16 ounces raw unsoaked cashews (about 3 ½ cups) –> soak in salted water overnight
½ cup virgin coconut oil, melted
½ cup maple syrup, grade B
½ teaspoon salt
⅓ cup lemon juice (or another citrus — today I used whole mandarin oranges)
vanilla bean or 1 teaspoon extract, optional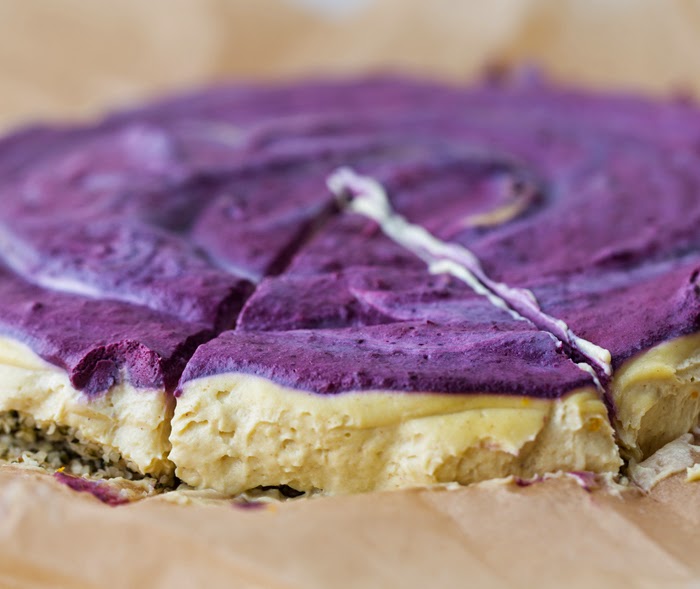 Crust. I was in a hurry so I just sprinkled some hemp seeds on the bottom of my pan and called it a day. If you want to add a crust, try processing half Medjool dates and half walnuts for an easy crust that you simply press into the pan.
Firmness. I admit this cheesecake came out a bit stickier and softer than I usually like. But it still tastes amazing. I blame a bit too much liquid on the softness.. As I was pouring the cashews in the blender I noticed some water from the bowl that I did not drain enough, and it poured into the blender with the other ingredients. That excess water slightly watered down my finished product.
How to avoid excess water: You simply make sure your soaked cashews are good and DRY when adding them to the blender. Drain very well and pat dry if needed. Problem solved!

Cashew Cheesecake Rocks. Cashews have a slightly sweet natural nutty flavor, like white velvet. So blended up they taste like heaven.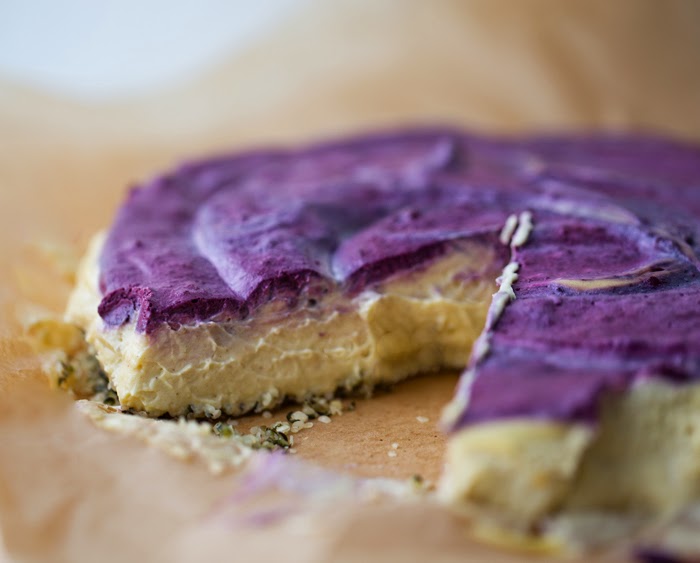 Vegan Blackberry Cheesecake
By Kathy PatalskyPublished 02/25/2015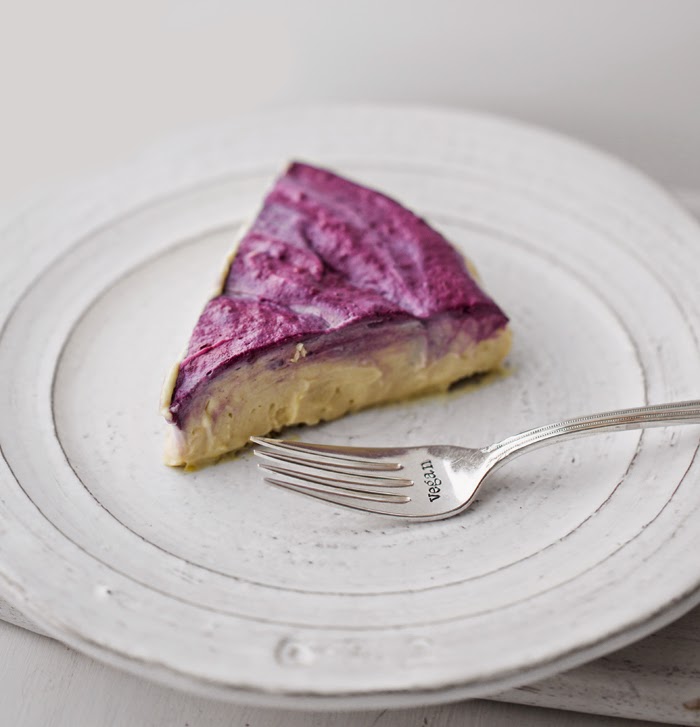 Creamy cashew cheesecake with a layer of rich blackberry cream on top. Citrus essences throughout.
Ingredients
16oz cashews, soaked overnight
½ cup virgin coconut oil, melted
½ cup maple syrup or agave syrup
½ teaspoon salt
2 tangerines or mandarin oranges – peeled, plus a pinch of zest — alternative: use ½ cup juice of either orange or lemon (lemon will make for a sweet-tart flavor)
blackberry layer:
½ cup of the cashew puree
¼ cup virgin coconut oil, melted
1 ½ cups blackberries (fresh or frozen and thawed)
⅓ cup non-dairy milk, room temperature (optional to thin our puree if desired)
crust: I used a simple "non-crust" of ⅓ cup hemp seeds sprinkled over the parchment paper
Instructions
Soak the cashews overnight in salted water. Drain water. Rinse in fresh water then drain again. Drain and dry cashews very well. You can even squeeze the drained cashews with a paper towel to remove some excess water. Water will "water down" your cheesecake.
Add the cashews, coconut oil, sweetener, salt and citrus to a high speed blender. Blend from low to high until silky smooth.
Line a 8-9″ round cake pan with parchment paper. Rub coconut oil on the parchment paper for extra greasing power. Sprinkle the hemp seeds on the bottom of the lined cake pan.
Pour the cashew filling in the pan, reserving ½ cup of the puree in the blender. Smooth filling.
To that same blender add the blackberry layer ingredients. Blend from low to high until smooth and creamy. It will be less thick than the cashew mixture, but this is ok.
Pour the blackberry mixture over top the cheesecake, swirling it into the cheesecake filling a bit. Smooth top.
Place cheesecake in the fridge to chill at least four hours — overnight is best before serving. For extra firming just before serving, place in the freezer for 10 minutes.
For a firmer cheesecake, you can add another ¼ cup coconut oil.
Yield: 1 cheesecakePrep Time: 00 hrs. 20 mins. Total time: 20 mins. Tags: dessert,cheesecake,blackberries,raw,cashews,vegan