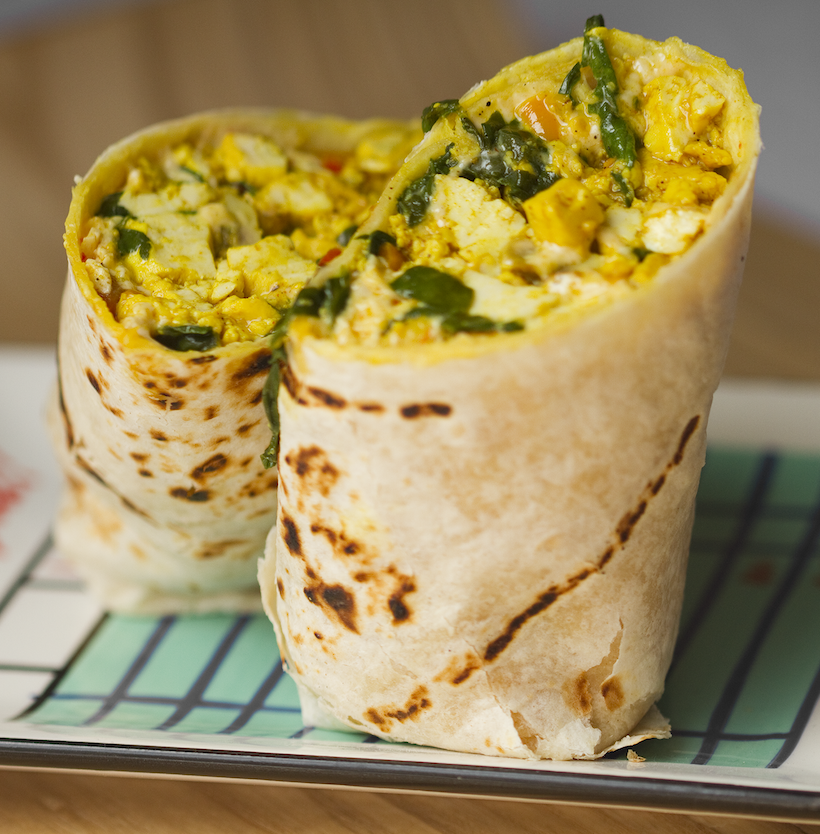 This Vegan Breakfast Burrito is all you need in the morning. I'll attribute that to the inclusion of plenty of pepperjack cheese from Daiya. Any vegan cheese can be used though…
Daiya Pepperjack..
New. I'm a sucker for new products. A new flavor of coconut water, a new flavor of soy ice cream, new this, new that – I'll buy it just to try it. And sometimes a new flavor can be quite disappointing. Leaving you spending money on something only to find out you don't like the "new" version! Example, those plastic bottled coconut water flavors (pomberry and such) – tried them all – and I've learned that I like coconut water "as is" – no new flavors needed. But Daiya flavors…
Luckily, with the new Daiya Cheese pepperjack flavor I was quite pleased. So yummy! In fact, Pepperjack my new fave Daiya flavor.
Breakfast Burrito. Then this morning I did the best breakfast burrito I have ever had. Dive in…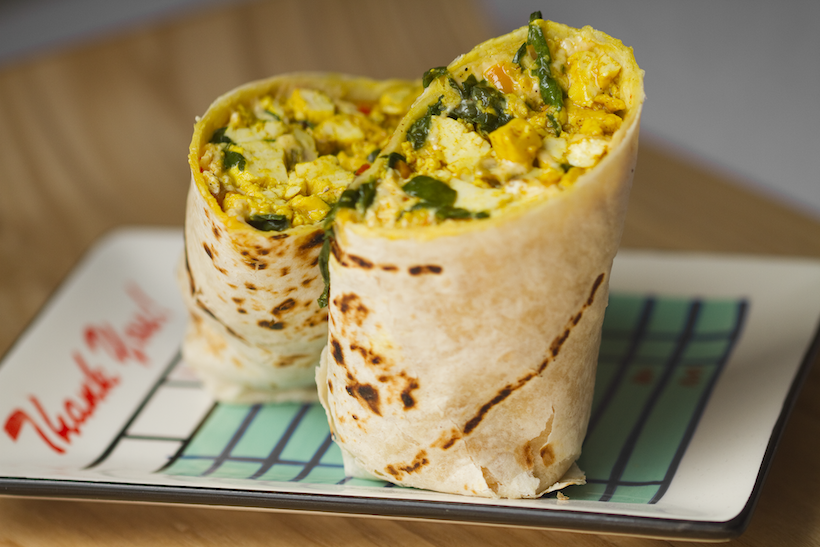 Vegan Breakfast Burrito
By Kathy PatalskyPublished 06/22/2013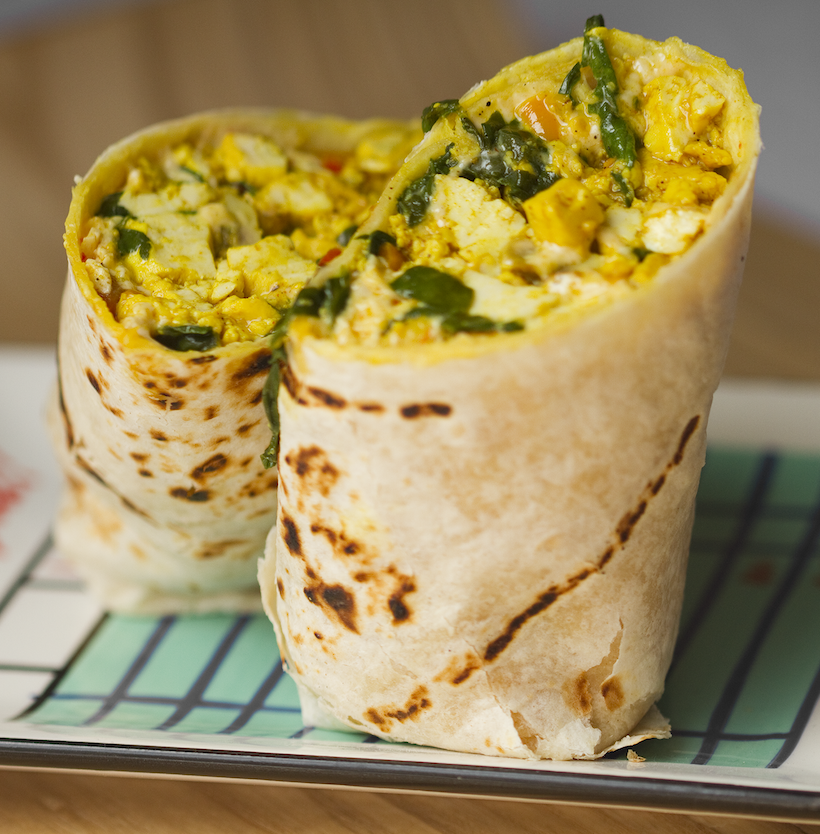 This savory breakfast is a satisfying way to start your day. Protein-loaded.
Ingredients
1 tablespoon vegan butter
1 tablespoon tamari
¾ cup bell pepper, chopped
1 cup mushrooms, sliced
14oz firm tofu
½ – ¾ teaspoon turmeric
1 clove garlic, chopped
1-4 tablespoon nutritional yeast
salt and pepper to taste
cayenne or hot sauce to taste
Fold in:
1-2 cups spinach, chopped
¼ – ½ cup vegan cheese shreds
Also: large flour tortillas, warmed
Instructions
Add the vegan butter to a warmed skillet over high heat.
Add the mushrooms, bell pepper and garlic. Saute for two minutes. Add in the tofu, tamari, turmeric, nutritional yeast and a pinch of salt and pepper.
Saute for 2-5 minutes until the tofu is fluffy and all the moisture is absorbed.
Fold in the cheese and spinach. turn off heat. Add more salt and pepper and optional hot sauce or cayenne – to taste.
Load scramble into the warmed tortillas and fold up burritos. Slice and serve with optional hot sauce.
Yield: 2 burritosPrep Time: 00 hrs. 10 mins. Cook time: 00 hrs. 10 mins. Total time: 20 mins. Tags: breakfast,tofu,burrito,vegan,cheese,brunch,entree,