These Vegan Breakfast Sandwiches with "eggy" tofu, smashed avocado, melty vegan cheddar cheese and more are a favorite in our house. The pan-fried tofu, yellow-tinted, has a signature spongy texture that mimics a scrambled egg – only lighter and fluffier even!
I added some vegan cheddar for a boost of flavor, tempeh bacon for smoky-sweetness and a smashed avocado because – well – everything is better with avocado.
These fully loaded vegan breakfast sandwiches are a worthy way to start or end your day. Breakfast-any-time-of-day sort of fare. I love these on a sprouted grain English muffin, but classic white or wheat flour works too. And my fave secret ingredient for any breakfast sandwich is a slathering of sweet fruit jam. Strawberry, apricot or whatever you can find in your fridge. Hope you love these as much as we do!..
Fuel a crowd.

Savory and smoky and sweet fresh flavors.

Vegan breakfast handhelds.

A few things this Monday…
First off, on a pop culture note, of course the Game of Thrones season 7 finale last night was crazy-goodness. Loved it! I cannot believe we have to wait, what? Like 18 months for new episodes? I guess the anticipation will be incredible. Cannot wait.
But on a more serious note, I am watching the Houston news stories pop up online all day and it has me with such a heavy heart. I hate seeing people and animals suffer like this. Some of the footage and stories captured are just incredible. Like the hawk that sought refuge in a cab driver's car and wouldn't leave. Or a man who found a lonely wandering dog, who hopped into his truck at a gas station, and via Twitter reunited the pup with his worried owner. Animal rescue stories of all sorts. Heroic locals with boats and big cars rescuing those in need. And so many tragic stories as well. And so many more stories I am sure we will never hear about and maybe cannot even imagine. I feel so sad for everyone in the Houston area, and a few bloggers I know out there. I am thinking of you all and sending as much love as I can. I also did the "text to donate" thing. IF you text HARVEY to 90999 you will automatically donate $10 to the Red Cross. I feel like that is just the least I can do, and just about the price of a lunch entree, so..
Also, the US Open also started today! It is my favorite sporting event to watch on TV. When my husband and I lived in NYC we always went at least once each year. The night matches are my favorite. So I get to play tennis in the background while doing my work for the next few weeks.
What else? I guess it is Monday too, and everything seems more busy on a Monday.
So ya, today feels busy. But thank goodness for some reliable work to be done. Editing photos, approving FindingVegan submissions, social media upkeep and writing this post. Matcha mug on my desk. Afternoon smoothie. Cats rubbing past my ankles for treats. Warm sunbeams outside. Workdays, even a Monday, despite all the "bad press" they get compared to weekends, can really be so grounding and lovely.
And when things get busy, it is important to fuel up with protein-rich, veggie-rich meals. Especially for breakfast! Or 'second breakfast' or late lunch or brunch or an early or late dinner. So many meals these days! And this vegan breakfast sandwich is lovely any time of day. When I first made these, I actually had one for dinner alongside a vegan ranch-tossed green salad. I put an extra slab of the tofu over top my salad.
"Eggy" Tofu. Tofu is such a great sub for eggs. Both in baking and for things like scrambles and sandwiches like this. It is fluffy and has a similar texture all around. Now the tricky part is turning bland tofu into something flavorful and resembling "egg." Here is what I did for these slabs..
– Turmeric for color. A little goes a long way!
– Black salt for seasoning and it adds a sort of eggy flavor. Regular pink or kosher salt will work too.
– EVOO for pan-cooking the tofu.
– Sprinkle of nutritional yeast for flavor. (optional)
– Black pepper for flavor.
– Tamari is another option for "salting" your tofu. But it will darken the color a bit.
You could also do a tofu scramble of sorts, in large-ish chunks, and add those to your breakfast sandwich.
Turmeric Yellow. You can be very casual about how you add the turmeric – adding it in the pan and sloshing the tofu all around to obtain a yellow-y color. OR you can be very intentional about it and dissolve the turmeric in some oil or water, and soak the tofu before hand — allowing the yellow color to marinate the tofu a bit more.
Other breakfast sandwich toppings:

– Avocado mash because it adds richness and flavor and everything goes so well with avocado.
– Sliced tomato for color and another layer of fresh flavor.
– Tempeh bacon for smoky-sweetness.
– Fresh basil for an herb accent! I loved this with the tomato too.
– Strawberry jam for a bold sweet breakfast-y flavor. It also helps to soften the inside of one of the English muffins.
– Vegan cheddar cheese. I used Daiya, but there are a bunch of great brands out there. Vegan Cheese Review.
"Eggy" tofu Slabs. I love the texture because it really is fluffy life an egg..

Layering the sandwiches..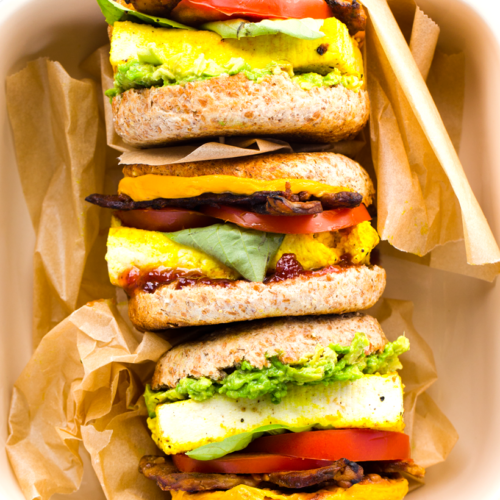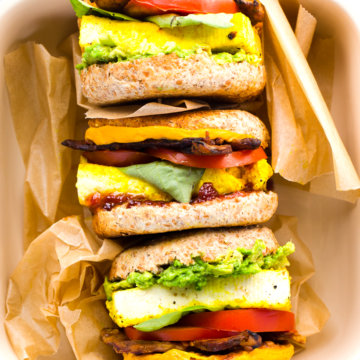 Vegan Breakfast Sandwiches with "Eggy" Tofu
These flavorful vegan breakfast sandwiches have savory, sweet and hearty flavors using tempeh bacon, "eggy" tofu, fresh basil and tomato and avocado and a hint of sweet jam. Perfect for your "breakfast-y" mood, any time of day!
Print
Pin
Ingredients
Eggy Tofu:
1 block of tofu, sliced into 4-5 slabs

black salt to taste (or any salt you have on hand) — or a splash of tamari

½ teaspoon turmeric

sprinkle of nutritional yeast to taste (optional)

1-2 teaspoon maple syrup (optional)

3-4 teaspoon extra virgin olive oil (split between the tofu and tempeh skillets)

black pepper to taste
Other Sandwich Ingredients:
4 English muffins

4 teaspoon strawberry jam

1 avocado, mashed

4 slices vegan cheddar cheese

handful for fresh basil leaves (optional)

4 slices fresh tomato

5-10 slices of tempeh bacon 
Instructions
Tempeh Bacon: Add 1-2 teaspoon of EVOO to a skillet, follow instructions here. Or you can buy pre-marinated tempeh strips and do a quick sauté in the pan to warm them up. Remove the tempeh from the pan and set aside.

Tofu: Slice the tofu and using a few paper (or cloth kitchen) towels, press the tofu (delicately squeezing it with the paper towels) to remove any excess liquid. Warm a skillet over high heat. Add the EVOO. When the pan is hot, you can add the tofu. Sprinkle the tofu with the turmeric and a pinch of the black salt. Flip the tofu slabs so that they evenly absorb the turmeric powder which will be mingling with the oil in the pan. Cover the pan with a lid, turn heat to medium, and allow to cook for two minutes. This will fluff up the tofu a bit. Flip the tofu again, checking for browned edges. When the tofu feels fluffy and the edges start to brown, it is done. Salt and pepper to taste. Set the pan aside, allowing the tofu to stay warm. Tip: IF you want very melted cheese, add a slice of cheese over top the tofu a few minutes before turning off the heat.

Toast your English muffins.

Spread jam on one side of the muffin. Add the avocado mash to the other. Layer on the tofu, tempeh, cheese (if not yet added), fresh tomato and basil and anything else you want to add like onion or a few leaves of spinach.