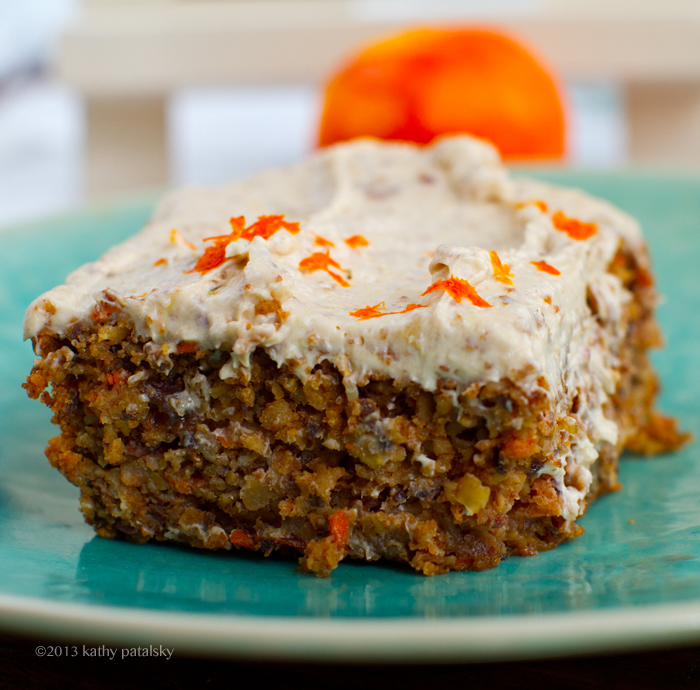 This recipe for Vegan Carrot Cake with Cream Cheese Frosting started out as something called a "Carrot Cake Breakfast Bake" Simply because the ingredients are reminiscent of a sort of baked carrot cake oatmeal. But after one bite of this moist and rustic treat I realized it was totally dessert-approved and could easily rival traditional frosted carrot cake. And the best part: this cake is free of refined flour and there is no powdered sugar in the cream cheese frosting.
Flavors. Nutty walnuts, thick bits of sweet carrot, spices, orange zest, tender sweet organic raisins and that cream cheese frosting on top is everything you want from a carrot cake frosting .. minus the animal products. Try my recipe and you will be enjoying this healthy-delicious, easy carrot cake in a flash!..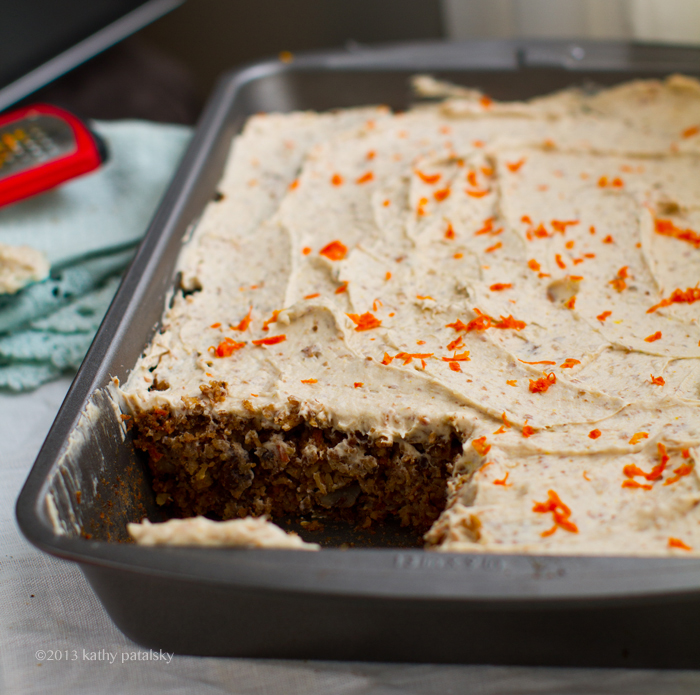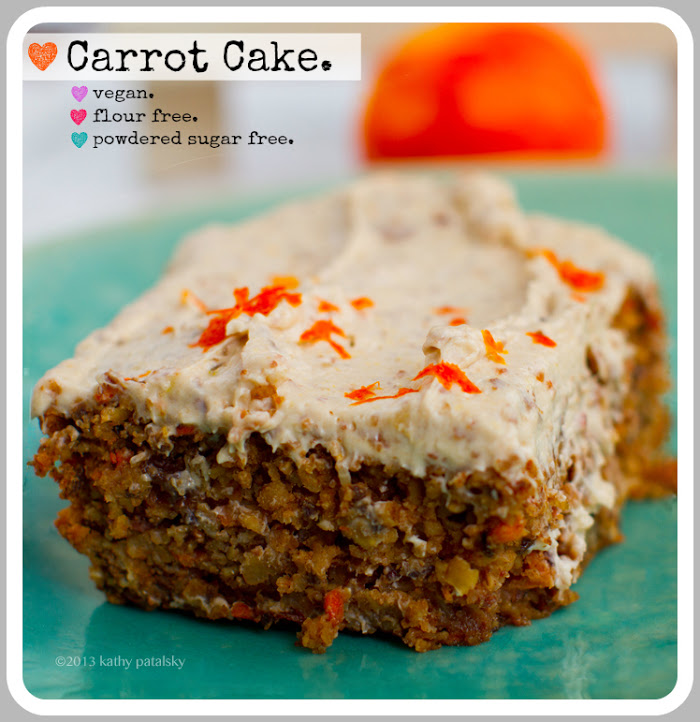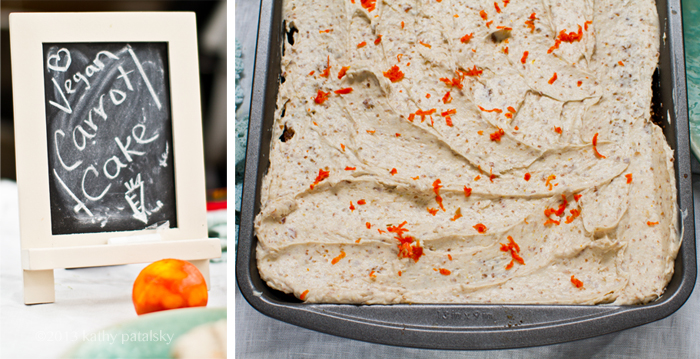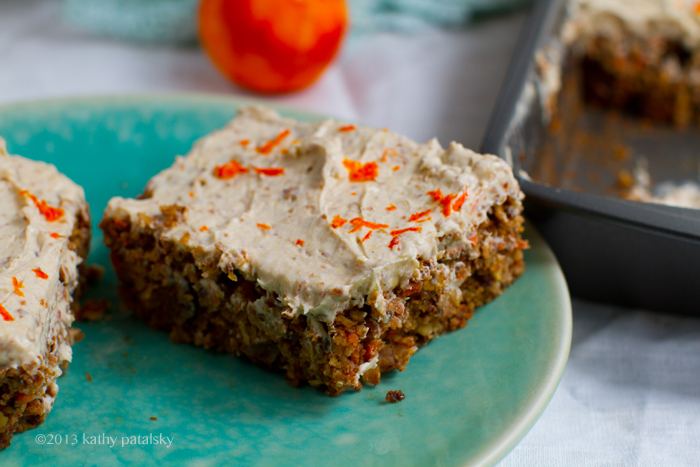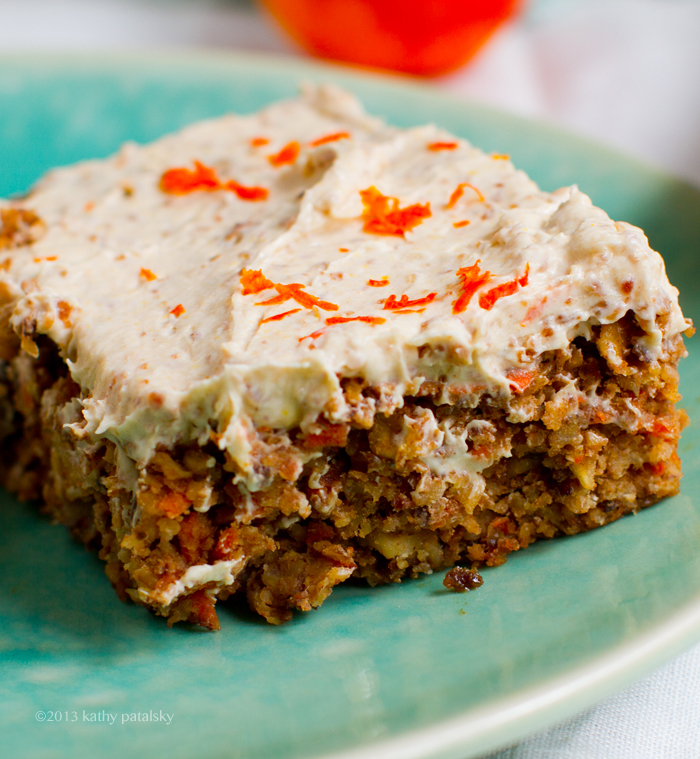 Share this cake with someone you love!..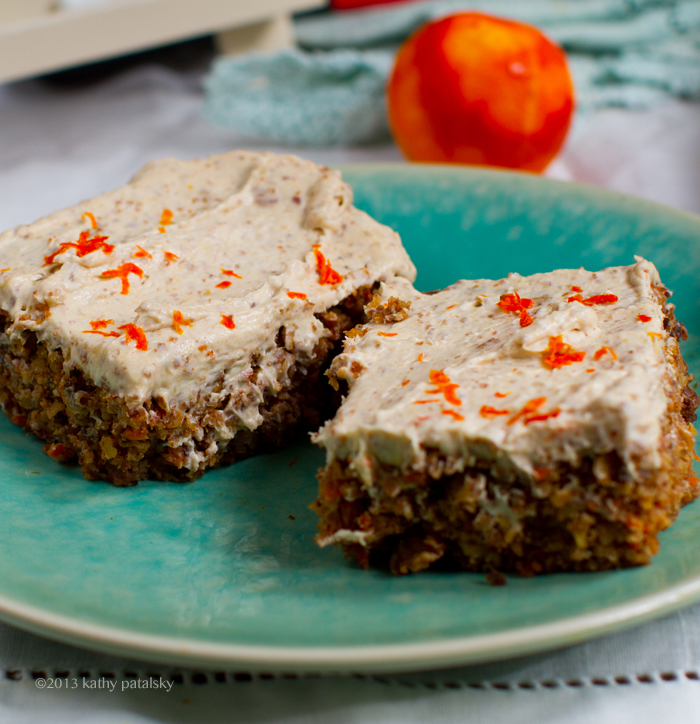 Flour free. I have been using homemade oat flour in a few recipes lately – like these Fresh Blueberry Muffins, and I love it. Instead of using "flour" I simply take whole rolled oats and process them for 1-2 minutes in my Vitamix (or food processor) and in seconds, I have silky, rustic oat flour. I keep it kinda textured so there are still a few whole oats in the mix.
Gluten-Free Carrot Cake. This recipe uses homemade oat flour made by processing whole rolled oats in my Vitamix.
Powdered Sugar Free. This date-sweetened frosting is so creamy, sticky, fluffy and delicious. I was a bit afraid that the dates would turn the frosting brown, but instead it turned a textured caramel color that is actually kinda gorgeous.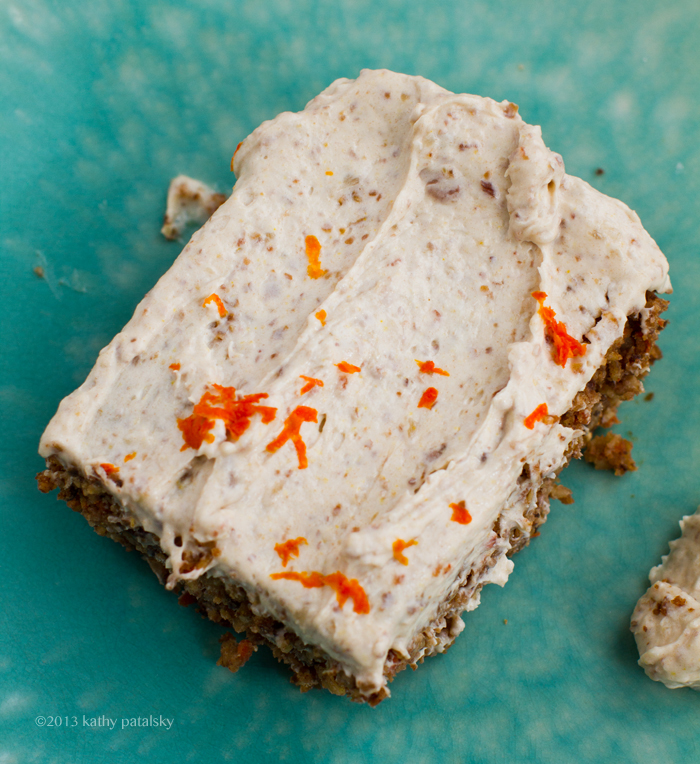 Vegan Carrot Cake with Cream Cheese Frosting
By Kathy PatalskyPublished 05/06/2013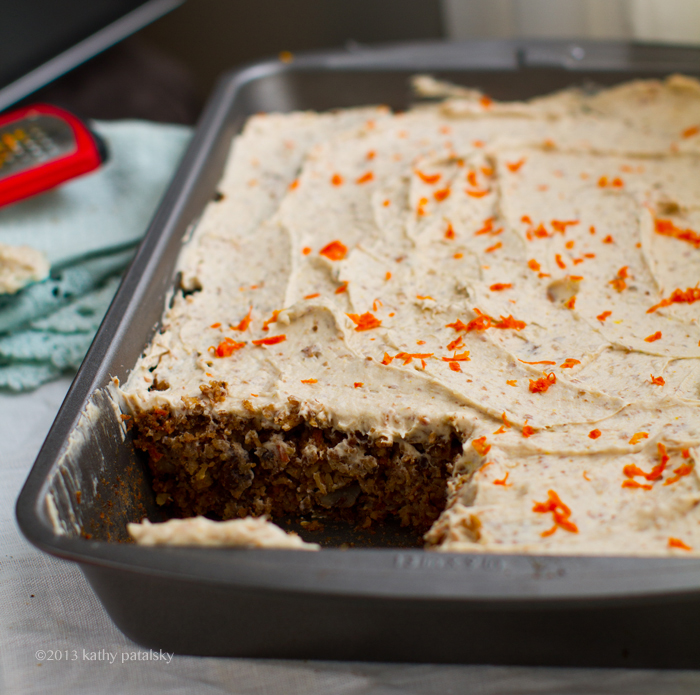 Moist and nutty-sweet carrot cake bursting with rustic carrot flavor. A healthy date-sweetened cream cheese frosting on top.
Ingredients
Cake:
dry:
3 ½ cups oat flour (I used homemade from rolled oats, processed in my Vitamix)
3 tablespoon ground flax seed (chia seeds can also be used)
1 teaspoon cinnamon
1 tablespoon baking powder
½ teaspoon salt
pinch of cayenne (optional)
wet:
2 ½ cups non-dairy milk
¼ cup orange juice, freshly squeezed is best + a pinch of orange zest
¼ cup vegan buttery spread or virgin coconut oil, melted
1 ½ cups vegan sugar (raw turbino or coconut sugar are options – maple or agave could also be subbed)
1 teaspoon vanilla extract
fold into cake batter:
⅓ cup raw walnuts, chopped
⅓ cup raisins (or sub chopped dried apricots)
2 ½ cups grated carrots
Cream Cheese Frosting:
8oz. vegan cream cheese
4oz. vegan buttery spread
1 ½ cups pitted Medjool dates
½ teaspoon vanilla extract (optional)
Cake Topping: fresh orange zest
Instructions
Preheat the oven to 350 degrees and grease your cake pan with vegan butter, parchment paper or oil spray – set aside.
Prep: Process your oats into flour, process your flax seeds and finely chop your shredded carrots. Easy tip: I actually used a bag of pre-shredded carrots, stuck them in my Vitamix for 1 minute to process them into a "finely chopped" state. Easy! You can also shred your own carrots.
In a large mixing bowl, add all the dry ingredients, toss well.
Add the wet ingredients into the dry bowl and fold.
Fold in the carrots, nuts and raisins. Your "batter" will be VERY textured and thick. Not like a typical smooth cake batter.
Pour the batter into the cake pan, smooth down with a spatula and bake at 350 degrees for 40 minutes – or until the edges brown and start to pull away from the pan. (You could also make these into muffins, or layer cakes!)
While the cake is baking, you can add all your frosting ingredients to a food processor or Vitamix. Process until smooth. Using a spatula, scoop the frosting into a small bowl and place in the fridge to chill.
Allow cake to fully cool before spreading frosting. Frost + add fresh orange zest on top. Serve chilled. Store in the fridge, covered. This cake will stay good for up to one week. If it begins to dry up a bit you can microwave a few seconds before serving to re-soften.
Yield: pan size: 13″ x 9″ (one cake)Prep Time: 00 hrs. 15 mins. Cook time: 00 hrs. 40 mins. Total time: 55 mins. Tags: cake,carrot cake,dessert,carrots,vegan,gluten free,dates,healthy,snack,walnuts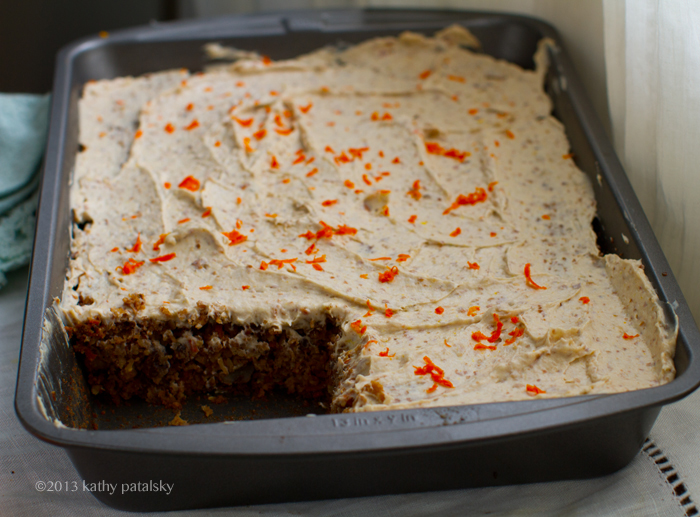 A Vitamix is a good idea for this recipe. Buy one here with free shipping!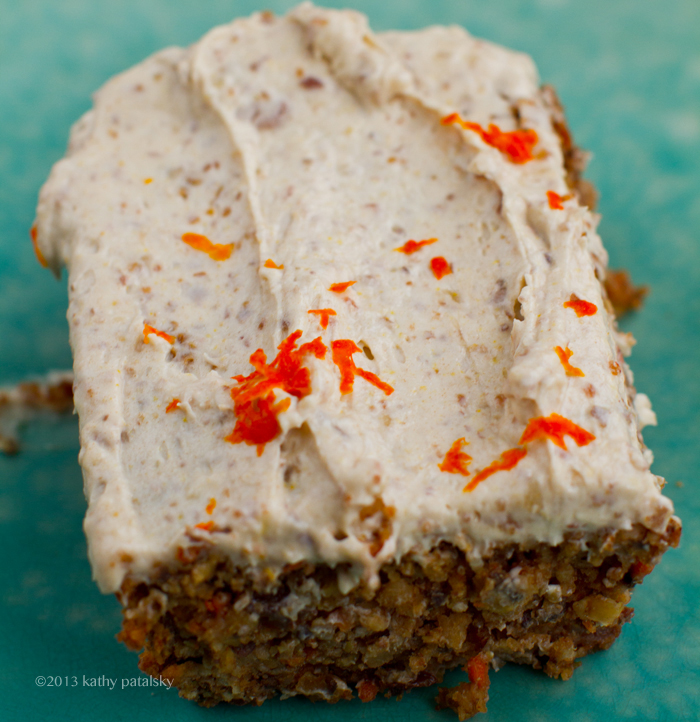 Disclosure: I am a Vitamix affiliate and any links to their products are via my affiliate account.