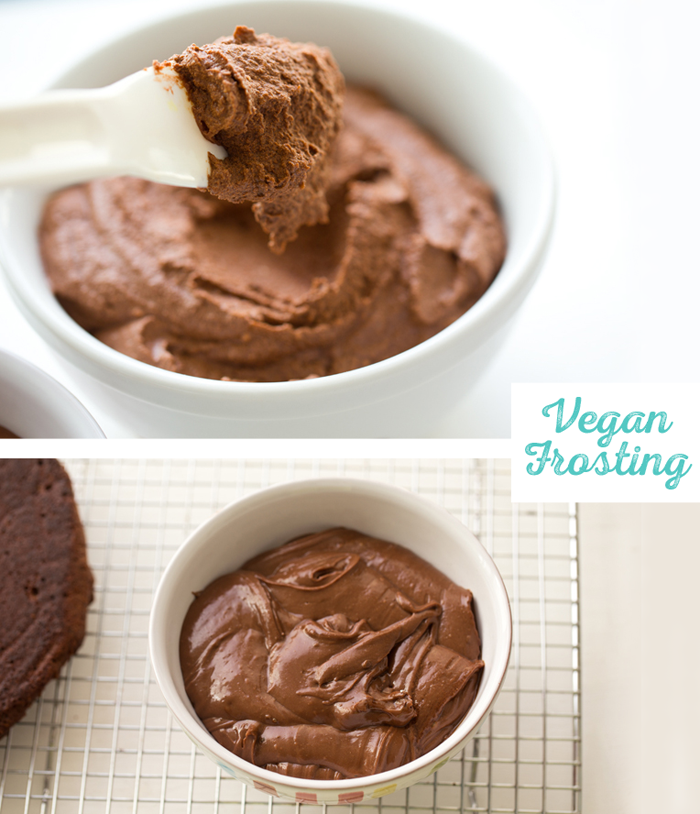 Two vegan chocolate frosting recipes to share with you! One is a fudge frosting made using melted chocolate, the other is a fluffy buttercream frosting using cocoa powder and generous amounts of vegan butter..
Get my Chocolate Layer Cake recipe here.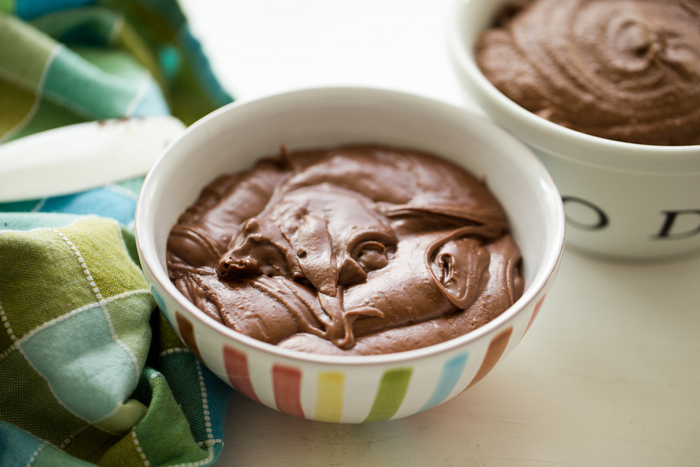 Fudge frosting..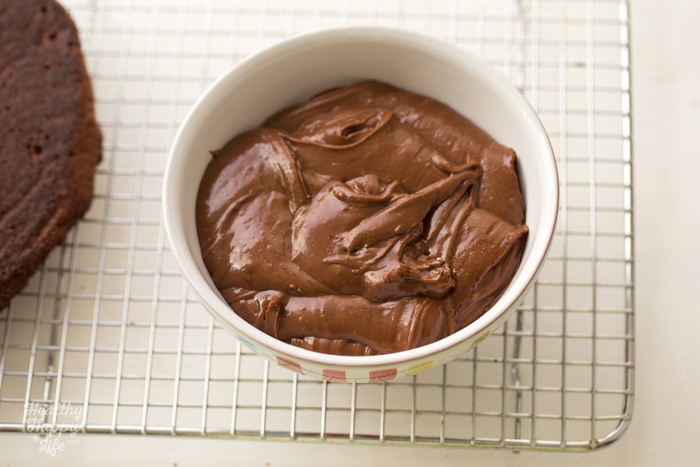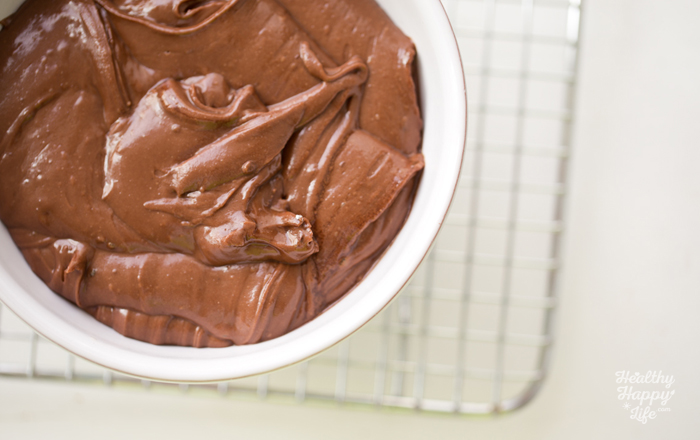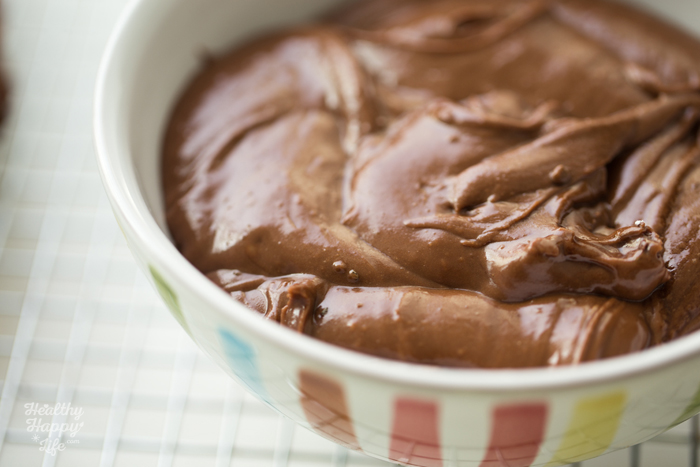 Buttercream frosting, fluffy..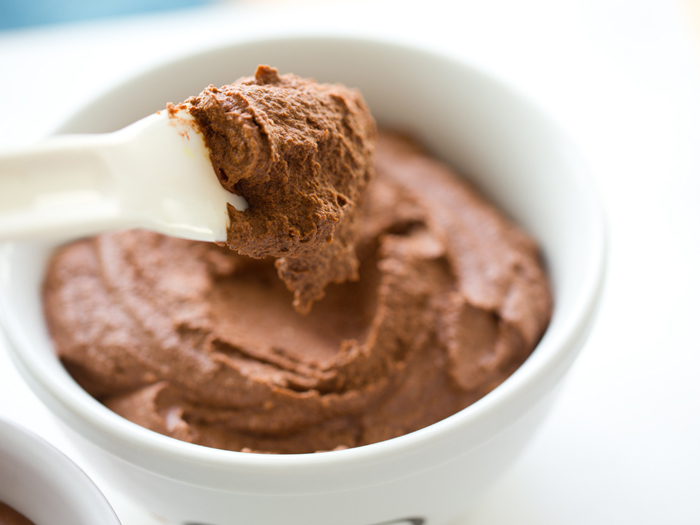 After beating the frosting, fridge time helps to firm it back up a bit..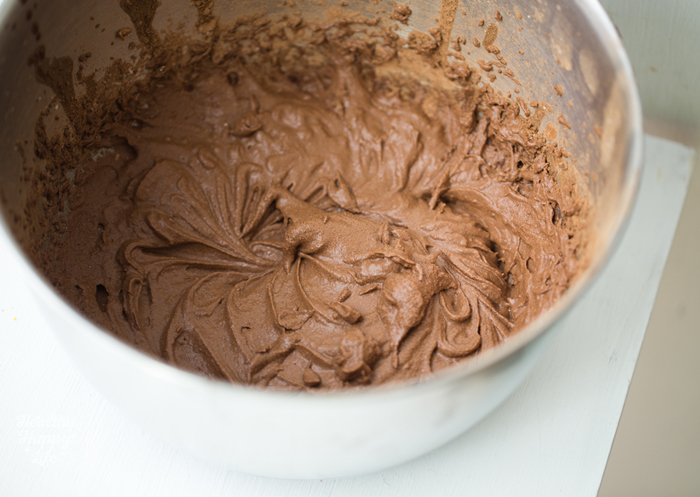 Frost that cake! (I admit my bottom cake was a TINY bit warm when frosting so the frosting was a bit melty. Make sure to completely cool those cakes first!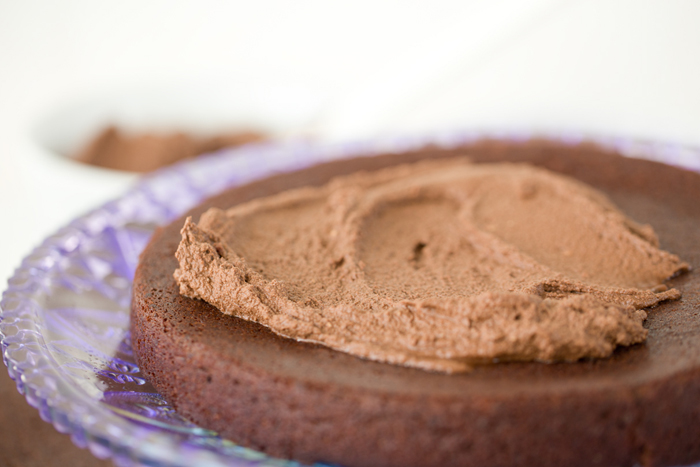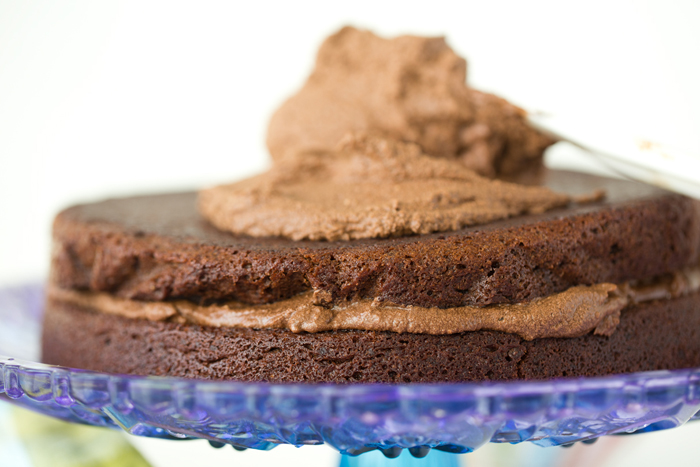 You can see how I used two frostings in the center .. silky and fluffy differences. (left in center is fudge, right in center is buttercream)..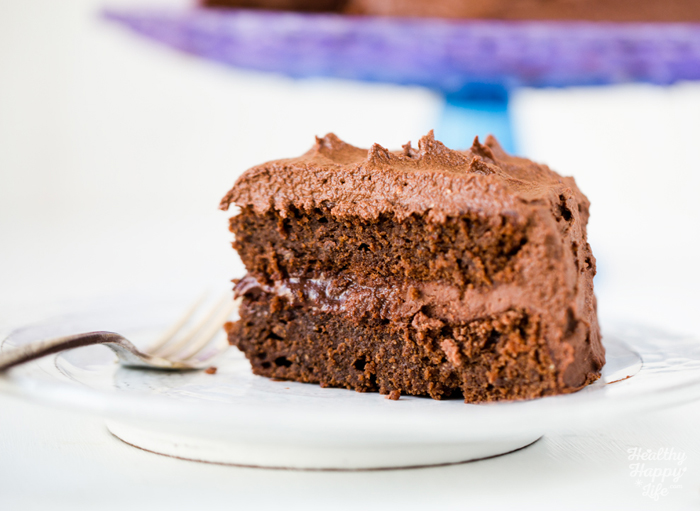 For my chocolate cake I made two varieties and added a bit of both to the cake.
Is Powdered Sugar Vegan-Friendly? Yes! My tip is to always buy organic because "bone char" – the ingredient that would make it no vegan, is not certified organic so organic sugar is always vegan. You can also check the labels. Most vegan sugars I see at Whole Foods lately are actually labeled "vegan" on the back of the bag.
And yes, there are ways to make amazing frostings without using so much refined sugar, but for these recipes I was trying to veganize a few classics, so I went all in with using powdered sugar. Definitely not an everyday dessert, but for birthdays, special occasions or just a special treat baking day – these frostings deliver!! And so does the cake!
Some important differences:
Vegan Chocolate Fudge Frosting:
– Made using melted chocolate.
– No vegan butter needed, just chocolate and coconut oil as the base.
– Less fluffy, more dense, thick.
– Super silky and smooth.
– Very rich.
– When it chills it gets hard like fudge.
– Needs to be softened to room temperature in order to easily frost a cake or cupcakes.
– Perfect if you are out of cocoa powder and only have chocolate bars or chips.
Vegan Chocolate Buttercream Frosting:
– Made using cocoa powder.
– All vegan butter as the 'fat' base
– Super fluffy and creamy, but not as silky as using melted chocolate.
– Perfect for a fluffy-looking frosting.
– Not a dense and rich as a fudge frosting.
– You have to be careful making this frosting, more attention needs to be paid to sifting the powdered sugar and cocoa to avoid clumps.
– Softer coming straight from the fridge, than the fudge frosting. Spreads well.
My preference is probably the fluffy buttercream frosting, but I really do love the silkiness of the fudge frosting too. Both are lovely!
Vegan Chocolate Buttercream Frosting
By Kathy Patalsky
Published 05/26/2015http://2.bp.blogspot.com/-Z1LjDybZKRU/VWaDYeXplDI/AAAAAAABDoI/nThrSMZPzLQ/s814/700-frost-2015_05_25_chocolate-cake_9999_14vegan-chocolate-layer-cake1212700%252520copy_edited-1.png" style="border-width: 0px; height: 140px; width: 140px;" />
Fluffy and rich, this chocolate buttercream is a lovely frosting for cakes and cupcakes.
Ingredients
1 cup cocoa powder, unsweetened (sifted)
1 ¼ sticks of vegan butter (softened)
3 ½ cups powdered sugar, organic (sifted)
½ cup non-dairy milk (room temperature)
1 teaspoon vanilla extract
Instructions
Add the butter, milk, vanilla extract and cocoa powder to a large mixing bowl and using a spoon or your beaters, start mashing them together until the liquids thicken with the fluffy cocoa. Turn beater on low and beat until smooth.
Add in the powdered sugar one cup at a time and beat until fluffy. Do not overbeat the frosting to avoid melting the vegan butter too much.
Yield: frosts 1 8″ layer cake
Prep Time: 00 hrs. 10 mins.
Total time: 10 mins.
Tags: chocolate,vegan,frosting,chocolate buttercream,vegan butter,dessert,how-to
Fudge version:
Ingredients:
3 ounces unsweetened bittersweet or semisweet chocolate, melted
⅓ cup warm non-dairy milk
⅓ cup virgin coconut oil, softened
½ teaspoon vanilla extract
2 ½ cups powdered sugar
Directions: Beat chocolate with coconut oil, vanilla and milk. Add powdered sugar and beat until silky smooth.
For both frostings: Store in the fridge until ready to use. The fudge frosting will need at least 15-20 minutes to come to room temperature. The buttercream only needs about 5 minutes to soften a bit.
Frosting bliss..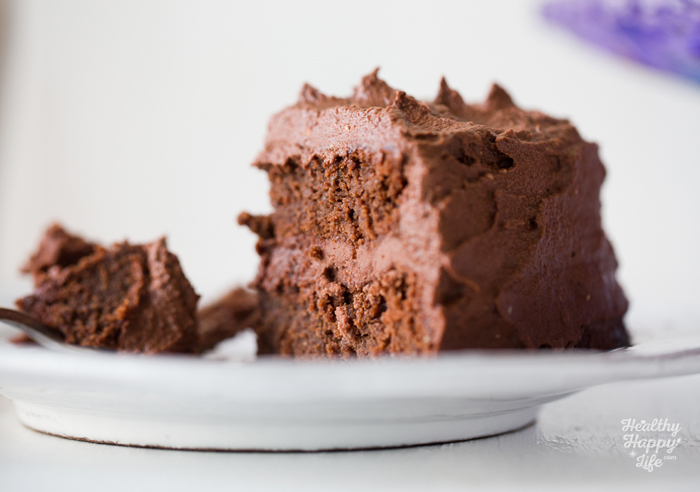 Get my Chocolate Layer Cake recipe here.