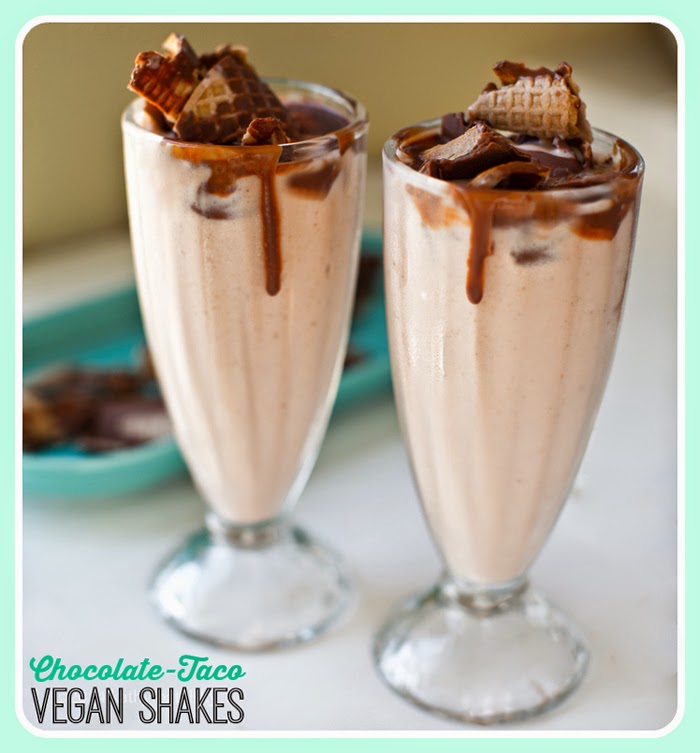 I may have raved about the Klondike bars of my youth in this recipe, but the truth is I had another ice cream treat that was at the true top of my list. The Choco Taco. I remember diving my arm into a freezer box at a neighborhood store and pulling out that shiny silver wrapped treat. Thin layers of sweet taco-shell-shaped waffle cone filled with vanilla ice cream, swirls of chocolate and crunchy peanuts rolling around in the chocolate coating drizzled into a shell over top. I loved those things. Well lets have some veganized fun today and enjoy a healthy-delicious childhood inspired treat:
My Chocolate Taco Shakes! (Video included)
What is it? This is a duo of frosty bliss shakes, drizzled in chocolate coconut sauce that forms a silky shell, plenty of chocolate drenched "sweet taco" pieces on top. Flavor accents of vanilla, nut butter, banana and CHOCOLATE..
This Peanut-Chocolate-Taco Shake is not only sweet and delicious – it is also rather healthy! You will feel like you are indulging, but once you check out the ingredients you will feel super good about your decision to join in the chocolate taco fun.
My Chocolate Taco Shake. Frosty frozen watermelon blends with frozen banana, non-dairy milk and a spoonful of peanut butter. Then this peanut butter shake is topped with a dark chocolate coconut coating and garnished with a generous amount of chocolate taco bits made using vegan sugar cones I found at Whole Foods. These are gluten free too! (Brand: Let's Do Organic)
And to ease you into this easy healthy-dessert recipe, I have a video with the steps..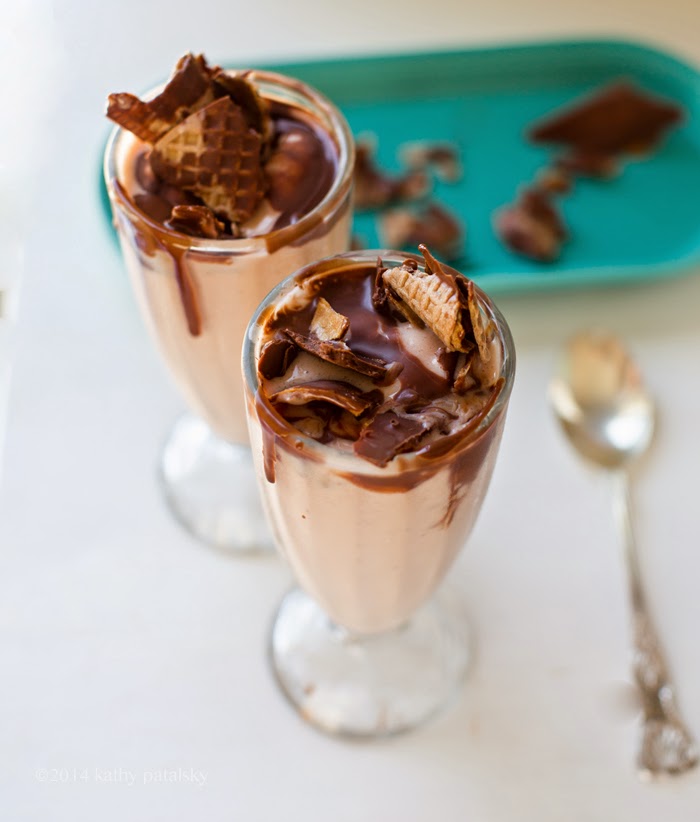 Chocolate Taco Shakes
By Kathy PatalskyPublished 06/06/2014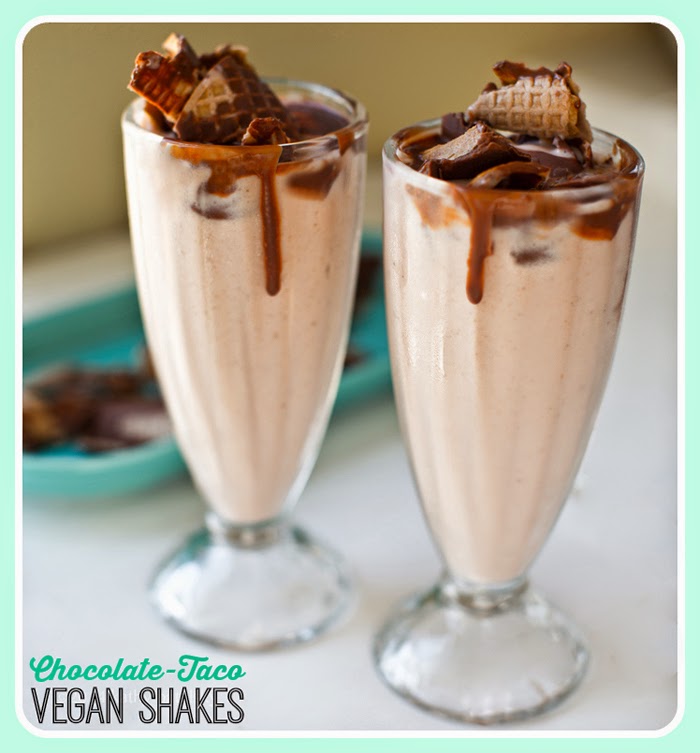 Frosty healthy-delicious peanut-banana shakes with crispy chocolate taco bits on top! A taste of childhood, gone vegan!
Ingredients
2 frozen bananas
1 ½ frozen watermelon (or more frzn banana)
¾ – 1 cup non-dairy milk
pinch of vanilla bean powder or ⅛ teaspoon real vanilla bean extract
1 heaping spoonful peanut butter (or almond)
1 vegan sugar ice cream cone, crushed into bits
⅓ cup dark chocolate chips (vegan)
1 heaping tablespoon virgin coconut oil
Instructions
Combine chocolate chips and oil in a small bowl. Microwave for 30-60 seconds and stir briskly until silky. Alternative method: melt on your stovetop.
Crush the cone bits and lay out some parchment paper on a platter.
Dip the cone bits in the chocolate and lay them on the parchment paper. Or the fast messy method, simply drizzle the chocolate over top the bits and break them apart when they cool.
Place the cone bits in the freezer for 1-2 minutes until the chocolate hardens up.
Add the banana, watermelon, non-dairy milk, vanilla, nut butter to a blender and blend from low to high until frosty and smooth. Use as little vegan milk as possible to blend to achieve the thickest shake-like texture.
Pour the shakes. Drizzle generous amounts of the leftover chocolate sauce on the shake and into the glass. Garnish with the chocolate covered cone bits on top. Yes you will have leftover cone bits, but they are delicious for nibbling alongside your shake or store them in the freezer and save them for later.
Yield: 2 shakesPrep Time: 00 hrs. 10 mins. Total time: 10 mins. Tags: ice cream,shake,vegan,dessert,chocolate taco,chocolate,easy