These were our Saturday night in. Vegan Walnut Brownies are always a good idea. They bake up swiftly and pack a big chocolate punch. They also pair perfectly with a scoop of vanilla vegan ice cream or even some sliced strawberries and coconut whip. Or drizzle some warmed peanut butter on top. Or just spoon dive right into the dish!
These brownies are rich and chewy and fluffy and just what you need when a chocolate craving hits. I also love that they keep very well in the fridge for a few days. You can even wrap the brownies and store in the freezer. I plan on chopping up my leftovers and folding them into some chocolate ice cream for some DIY Brownie Fudge ice cream! Get today's brownie recipe!…
I mean. Chocolate swoon…

I have to say that I love cold brownies, but these were even better warmed up. Super rich and fluffy, with chewy chocolate edges. And those chocolate chunks, all gooey and dreamy..

Hi there. (ps. You guys know chocolate is rich in antioxidants, right? Boom.)

Cat intrusion. I mean it was only perfect that MrWhite, a big fuzzy brownie if I ever saw one, decided to sprawl himself right next to the brownie photoshoot..
I looooove brownies. I actually used to hate them as a teenager, but I have since realized that this was because all the "brownie box" mixes are extremely sweet and rich, and I just don't like my brownies too sweet. I like to let the chocolate really lead the flavor profile, with a nice subtle sweetness mixed in. And for added sweetness I like to add in chocolate chips or chunks, which I did with this recipe.
I also added in a half of an avocado! This added a boost of decadence and richness while also adding in a tiny bit of fiber and some healthy fats. I am curious to see what would happen if I sub all the vegan butter with avocado! I bet these would be amazing like that. You would just need to add a pinch more salt to properly sub for the salty vegan butter.
So, my perfect Saturday night in? Maybe a vegan pizza, yummy big bowl salad and these Brownies ready for dessert, freshly baked to make the whole house smell amazing. Maybe a movie or a music shuffle dance party, either works for me. PJs required, no makeup allowed, face masks for a bonus. Ys, I am absolutely, secretly a sixteen year-old. *Face palm* Don't worry, I try to balance the Saturday night's in with fancy date nights out! All things in moderation, right?
And just in case you love browsing brownies, and who doesn't.. Here are a few more of my brownie recipes:
– Peanut Butter Blondie and Smores Brownies
– Everything Brownies (gluten-free)
– Peanut Butter Buckwheat Sweet Potato Brownies (these might be my fave creative recipe… love the sweet potato add in!)
– Fudgy Swirl Peanut Butter Black Bean Brownies

– Jason Wrobel's amazing RAW Brownie recipe… omg SO GOOD
– Peppermint Brownie Shake for the win..
Happy brownie baking!

disclosure: This post contains one Amazon affiliate link.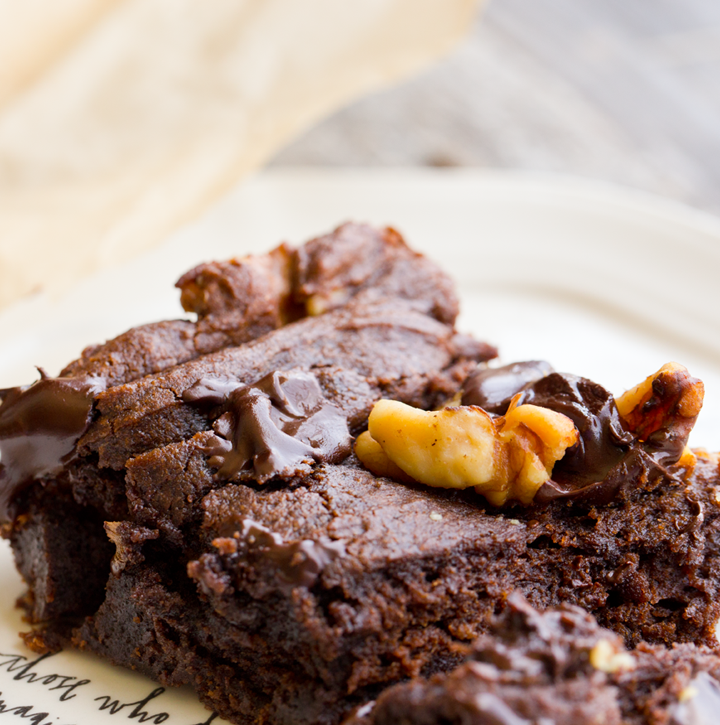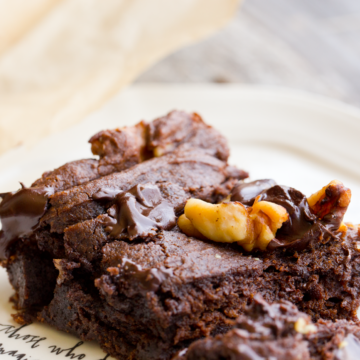 Vegan Walnut Brownies
These rich and chewy vegan brownies contain studs of crunchy walnuts. Chocolate bliss flavor in every bite. Gluten-free friendly.
Print
Pin
Ingredients
Other Wet:
1 stick vegan butter, softened

1 cup coconut sugar

½ medium avocado

½ teaspoon vanilla extract
Dry:
⅔ cup flour (all purpose or gluten-free)

½ cup unsweetened cocoa powder

½ teaspoon salt

1 teaspoon baking powder (For fluffier, cake-like brownies, add another teaspoon in)
Fold in:
1 cup raw walnuts, chopped

1 cup vegan chocolate chunks (optional)

fleur de sel on top (optional)
Instructions
Preheat oven to 350 degrees. Line an 8 or 9 inch square baking dish with parchment paper, or grease well with vegan butter.

Whisk together the vegan egg, warm water and the egg substitute product. I used Follow Your Heart's Vegan Egg this time around, but another egg replacer like a flax egg or even silken tofu can work as well. Just be sure to use about ¾ – 1 cup egg replacer liquid total, about two eggs-worth.

Pour the vegan egg mixture into a large mixing bowl. Add in the other wet ingredients: vegan butter, avocado, sugar and vanilla. Beat until smooth, using a hand or stand mixer.

Add the dry ingredients: cocoa powder, baking powder, salt and flour. A gluten-containing flour will allow for the fluffiest brownies, but you could also use a gluten-free flour if needed. Beat until smooth.

Fold in the walnuts. And optional chocolate chunks.

Pour the brownie mixture into the baking dish. Smooth out.

Bake at 350 for about 22-25 minutes, or until the edges begin to pull away from the dish and darken, and the middle of the brownies feel firm to touch, and sturdy when gently pressing down with your hand. Note: For chewier brownies, bake for an additional 3-5 minutes.

Sprinkle with optional fleur de sel. Allow to cool at least twenty minutes before removing the parchment paper and slicing and serving.