Today I am sharing a fan fave recipe, and when I say 'fan' I actually mean, husband. This Vegan Dijon Chickn Sandwich with Cheese and Avocado has loads of "classic food memories" appeal, all mixed into a totally vegan and even gluten-free recipe.
And this sandwich can be whipped up in just about fifteen minutes. So technically, maybe this is fast food.
When you want to shoot with a black background, but don't have a black foam board… use your speaker of course!..
This Sandwich. Spicy dijon mustard meets caramelized onions and vegan provolone cheese and vegan chick'n. Fluffy green lettuce and a slathering of smoky vegan mayo. I had this for dinner tonight with a side of sweet potato soup. So good!
I tried really hard to come up with a creative name for this recipe but nothing came to me. So Vegan Dijon Chickn Sandwich with Cheese and Avocado it is. And though I hate using the word "chicken" in any of my recipe titles, I still do it. I guess it is my way of bringing in people who might not otherwise have a connection to this dish. I mean, I could call it "Vegan Dijon Protein Sandwich" but it loses a lot of context in a way. Tricky.
But really, enough with the vegan titles worrying. "Fake meat is bad," etc. If vegan products are named after meats, then so be it. It helps people transition or play around a bit with vegan meals by easily being able to sub plant proteins in for animal based ones. No one wants to live without their favorite recipes, so boom! We have a vegan "meat" for that! I guess, that's my attitude these days.
Now if you are really interested in this topic, you can read my article from five years ago: Fake Meat: Defending of Defeating the Point? And btw, in the article my husband still ate meat! He has transitioned slowly to a mostly plant-based diet, with some fish and non-vegan baked goods. I mean, Starbucks really needs to make a vegan banana bread, yes?
If you don't like the "vegan chickn" part of this sandwich, then switch it up! Easy. Use some smoky maple tempeh (yum!) or skillet tofu or a homemade veggie burger.
Enjoy this one it is soooo flavorful and delicious!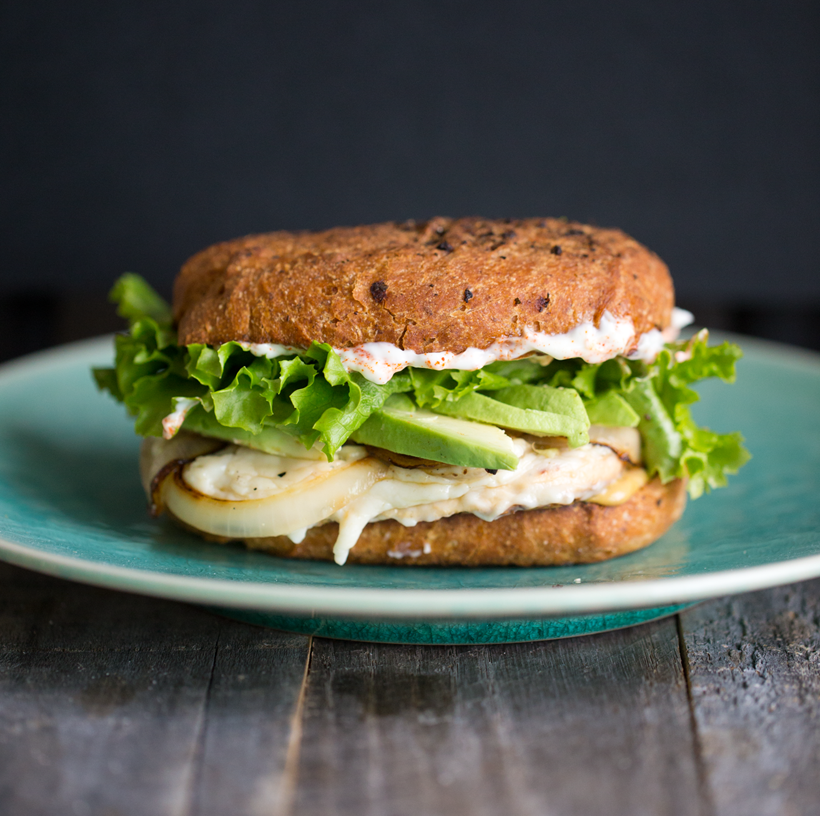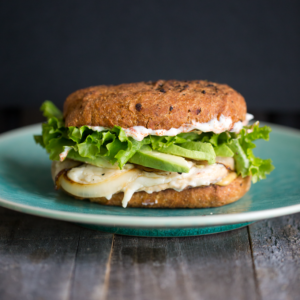 Vegan Dijon Chickn Sandwich with Cheese and Avocado
This super flavorful vegan sandwich has melty cheese, spicy Dijon, creamy vegan mayo and buttery avocado. Rich in protein too!
Print
Pin
Ingredients
1 vegan chickn scallopini – or similar (I used Gardein, but you can sub with tempeh, tofu or a veggie burger)

1 vegan bun or sandwich roll (I used a gluten-free ciabatta roll from Rising Hearts Bakery)

1 slice of vegan cheese (I prefer a white cheese for this sandwich. I used Daiya Provolone slices.)

2 teaspoon Dijon mustard

2 teaspoon vegan mayo

pinch of smoky paprika

2 curly romaine or green leaf lettuce leaves

2 thick slices of onion

1 teaspoon extra virgin olive oil

½ avocado, sliced
Instructions
Warm a skillet over high heat. Add the extra virgin olive oil.

Add one ice cube to the skillet, then cover the pan with the lid again. Lower the heat to medium, just until the cube melts. Then turn off heat and allow the pan to sit for a few minutes. At the end of this time the cheese should be fully melted and the onions soft and browned on the edges.

Now the easy part! Assembly. Toast your bread and slather mustard on one side and vegan mayo on the other. Sprinkle the smoky paprika over top the mayo. Remove the lid from your skillet and use a spatula to transfer the chicken to the bottom side of the roll or bun. Add the onions over top that. Then add avocado and lettuce over top and finally close with the top layer of bread.