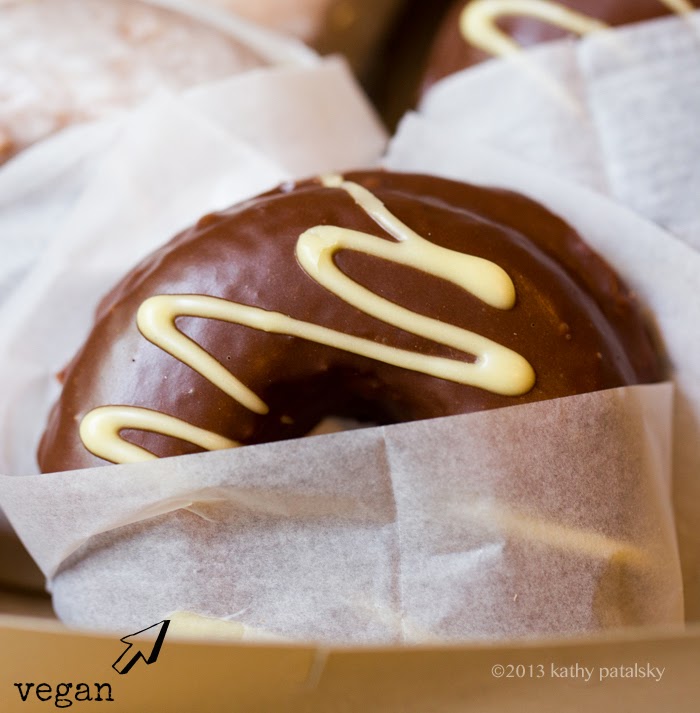 I'm convinced. Every town needs a good vegan donut shop.
Vegan donuts (doughnuts?) are one of the coolest dessert discoveries I have made as a plant-based eater. I first discovered some at Babycakes NYC. Then just a few weeks ago I stumbled upon Fōnuts in West Hollywood. I still need to make it out to Ronald's Donuts in Las Vegas and the famous Voodoo Donuts in Portland. But for right now I'm swooning over these amazing little circles of bliss. Seriously, I used to be a donut-lover as a kid and these vegan versions are better than anything I have ever tasted – my husband agreed!
Check out Fōnuts and get a few vegan donut recipes + my reasoning on why donuts are a healthy part of my life 🙂 ..
Fōnuts: Opened by pastry chef Waylynn Lucas and Nancy Truman. "Fōnuts. As in faux-nuts. As in doughnuts that aren't fried, but baked." — ""I'm using different methods of steaming and baking at high heat to replicate the light and fluffy texture of a doughnut — without frying," Lucas says. Some will be wheat-free and vegan, some more indulgent. Some sweet, some savory. Some with traditional flavors, some more cutting-edge. Lucas mentions a fōnut topped with olive oil powder instead of powdered sugar. " – LA Times blog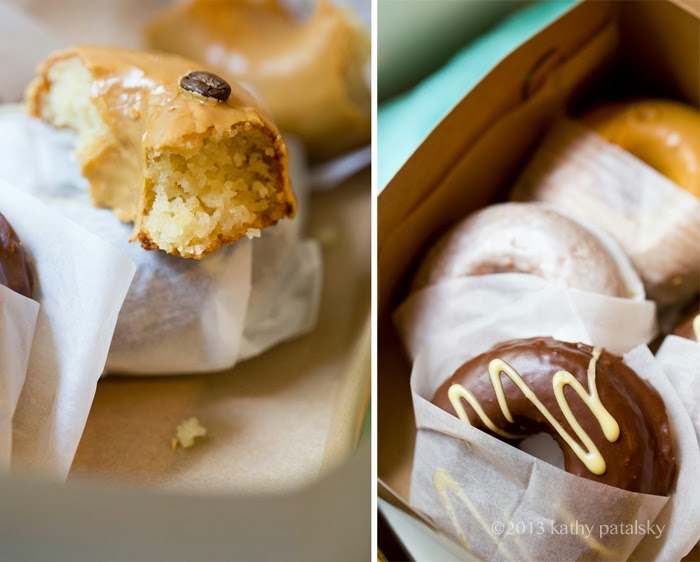 I say: "Donuts are a Healthy Part of Life." Let me explain this somewhat silly-sounding statement. You guys know it, I am a pretty healthy eater. And when I think of "donuts" my mind darts right away to a pink-frosted round, plump cake donut with rainbow sprinkles on top, cradled in the fuzzy orange fingers of Homer Simpson. His drooling mouth hanging wide open, his eyes glossed over and a cartoon thought bubble above his head saying "Mmmmm, Donuts."
Just as Homer stuffs the pink-frosted treat in his mouth I cringe. Donuts and health do not mix. Le sigh. Or do they?
I used to shun donuts. But I was wrong. Donuts totally go along with my healthy vegan diet. Yup. Ever since I realized that delicious (I mean DELICIOUS – ordinary vegan donuts need not apply) vegan donuts existed, I knew that these special high-calorie treats could go in my "sometimes" food file. Back in my twenties I would cringe at donut chomping, but I've seen the glossy, maple-glazed light. Now (as a mature, wise old 32 year-old) I realize that "decadent treats" are not only easy to fit in my diet but necessary! Nutritionally unnecessary desserts have a place in my life. And I like that.
Fōnuts Review. First off, the actual shop is adorable and smells like vanilla-scented heaven. They have coffee + donuts + an adorable vintage stovetop that holds all the goodies like sweetener and napkins for coffee. Not all the flavors are vegan, but that's ok because when I was there they had three vegan flavors which was enough for me. I would suggest getting a half dozen. They come in a cute white box with a yellow ribbon and they actually keep in the fridge pretty well for a few days. Just warm a few seconds in the microwave. (But obviously fresh tastes best!)
Taste. These uber-moist frosted donuts are so fresh-tasting and have a cake-y texture but at the same time they melt in your mouth. The flavor is bold and cravable. Nothing tastes artificial. My favorite flavor was the Vanilla Latte with its maple-bar like flavor and accent of espresso. I also loved those frosted lemon donuts and the chocolate coconut donut was super rich and tasted like dessert. We paired our donuts with some steamy soy lattes and then collapsed into post-donut-eating bliss for a movie on the couch with a snoozing sunbeam kitty by our side.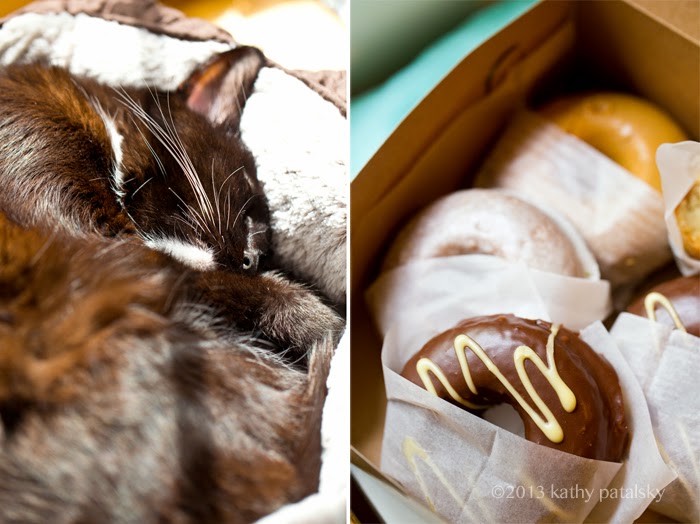 Perfect weekend morning if you ask me.
Vegan Donut Recipes. Oh and if you are deprived of a donut shop in your town, do not worry, you can make your own! -> find over 100 recipes in a pretty Vegan Donut Recipe Gallery on FindingVegan.com (recipes from your favorite bloggers!)
(Vegan) Fōnuts…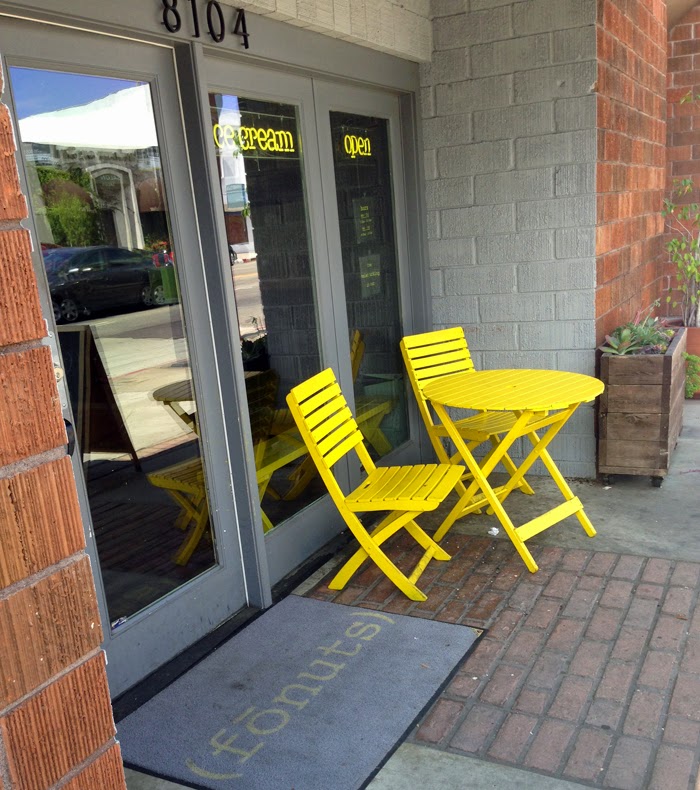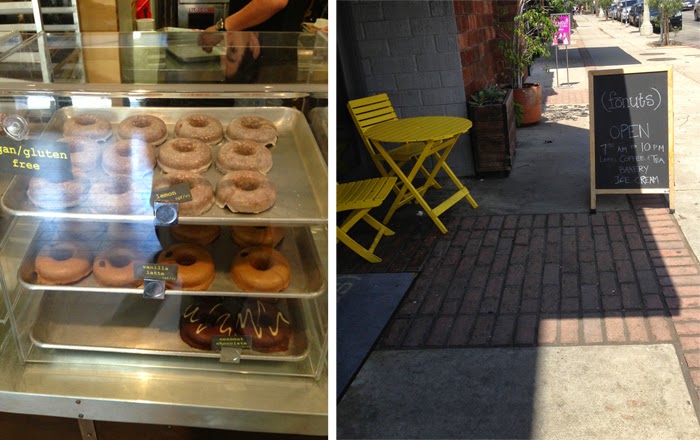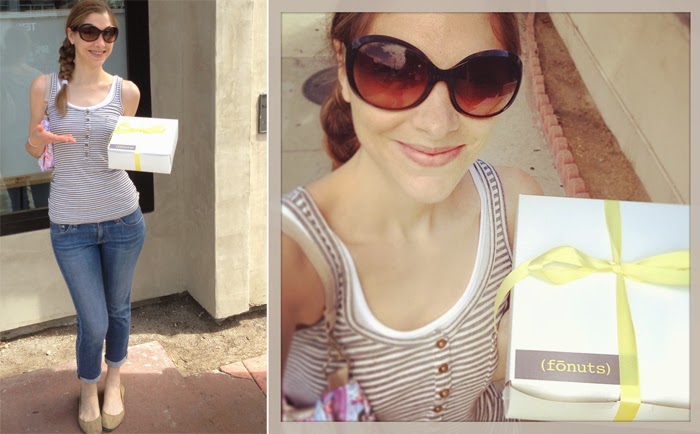 Had to sneak a peek in the car..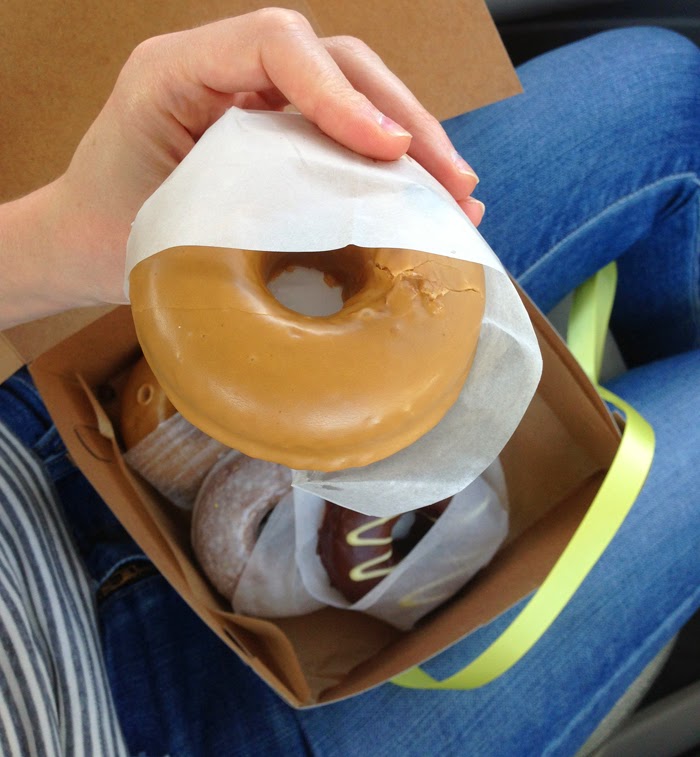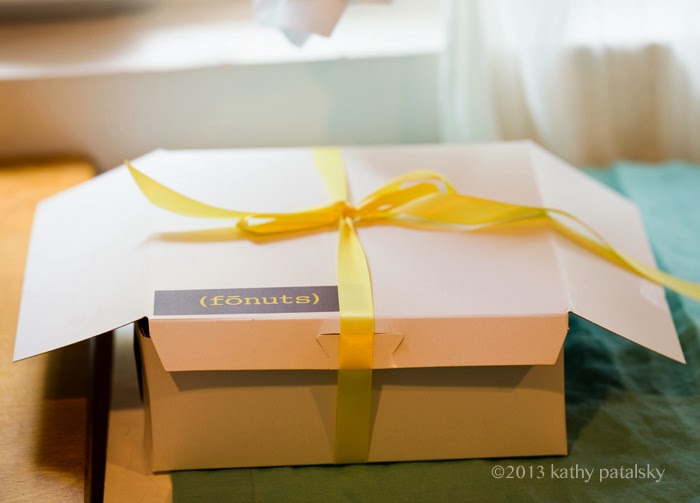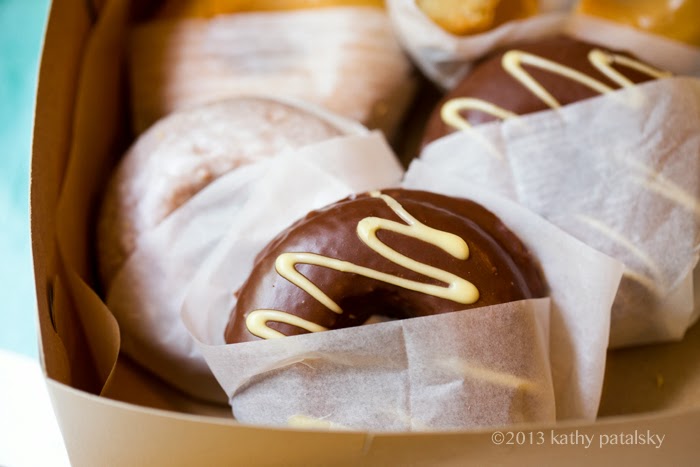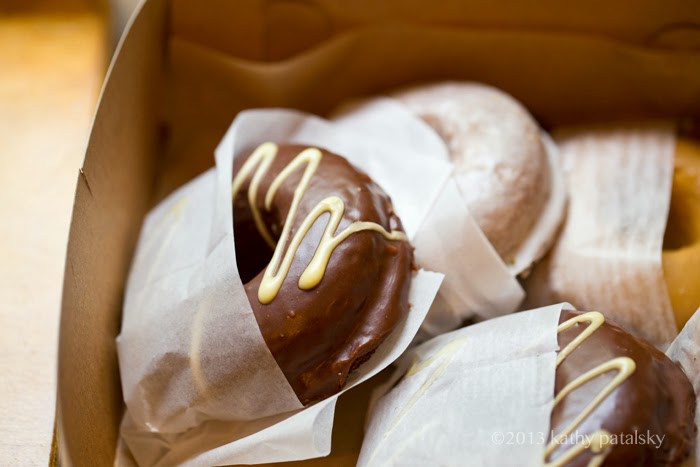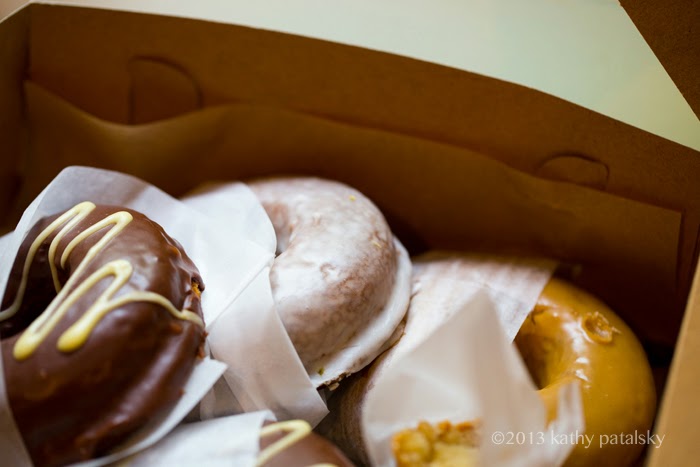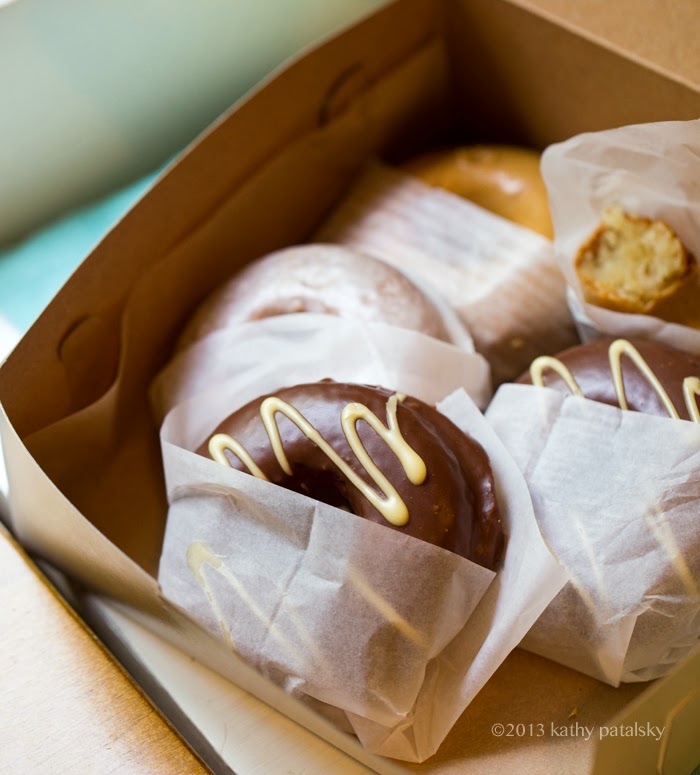 The aroma of these Fōnuts would put any human (or kitty cat) at ease..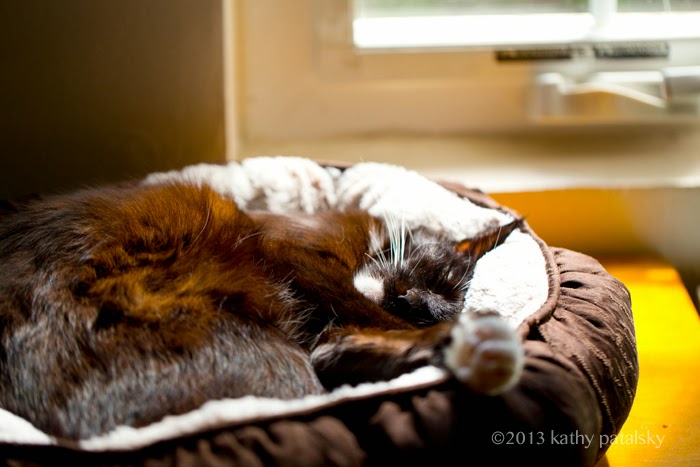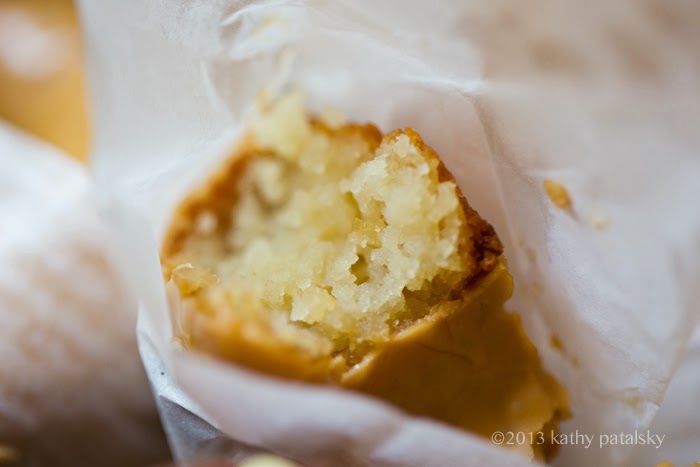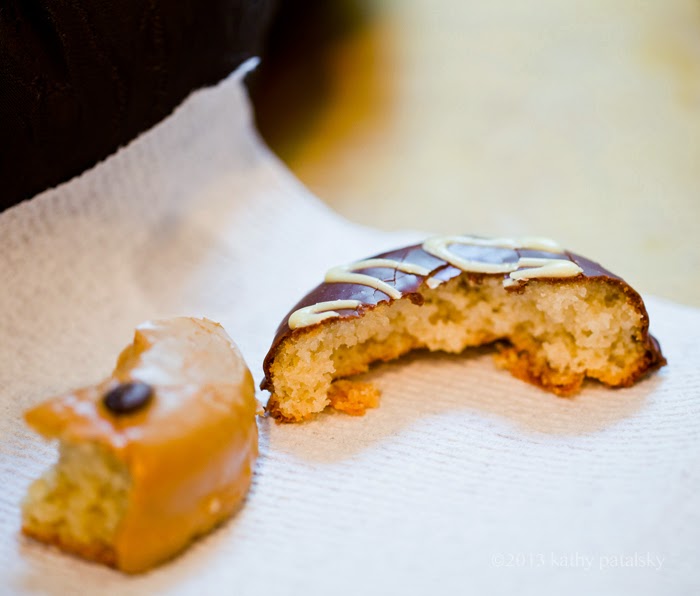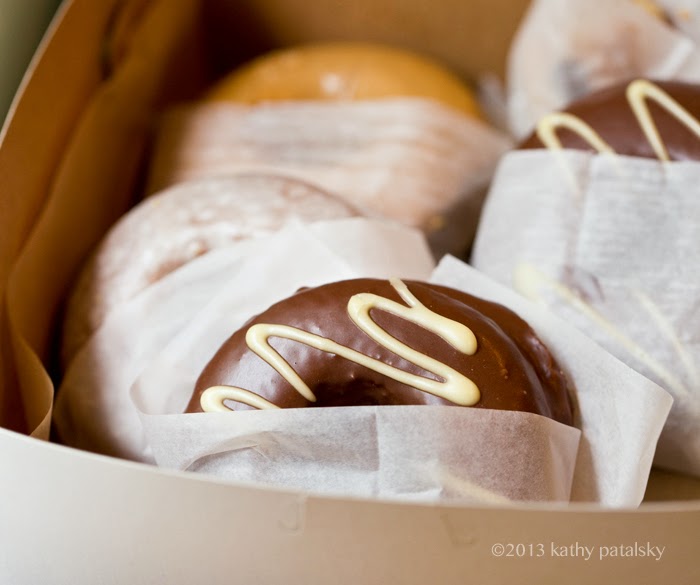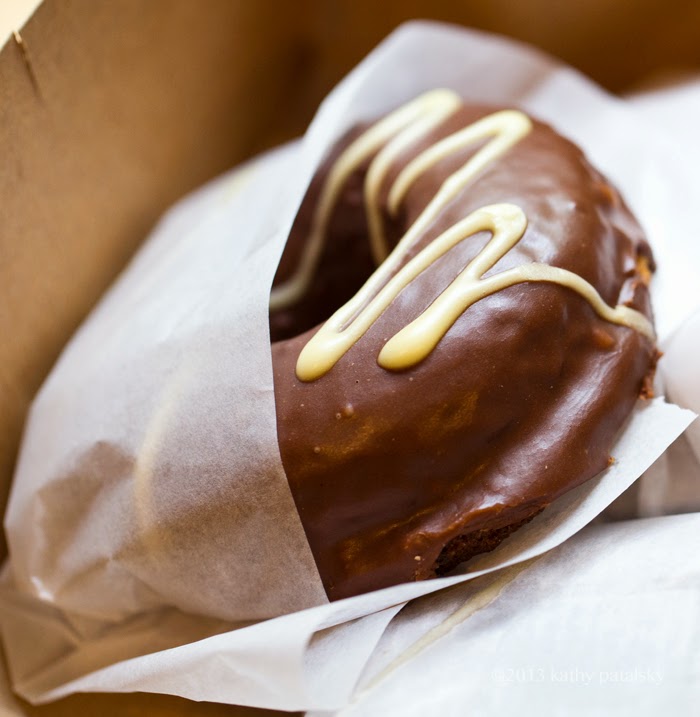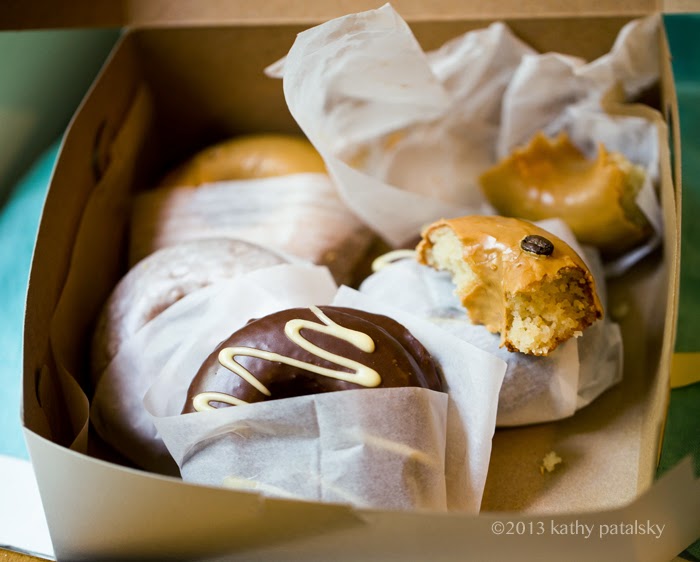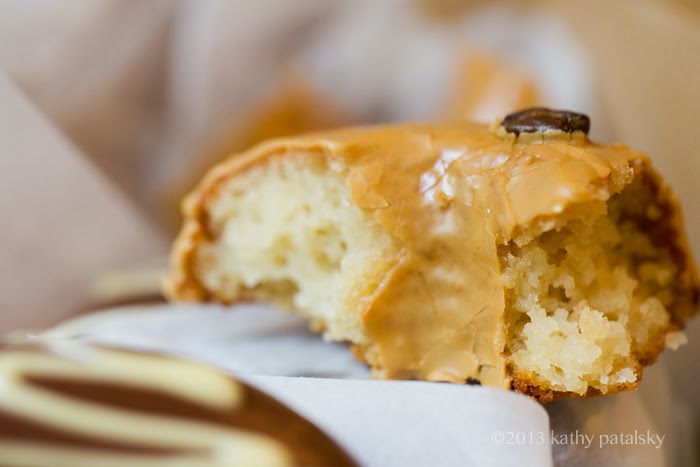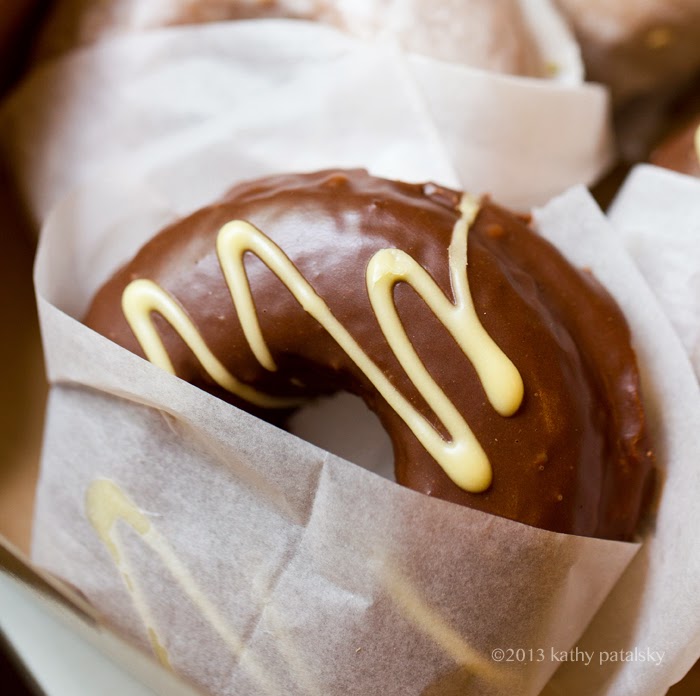 Want to visit Fonuts:
8104 W 3rd St
Los Angeles, CA 90048
Neighborhood: Mid-City West
(323) 592-3075
fonuts.com
Homemade Donuts: If you are now craving some vegan donuts but your town is deprived of a vegan-friendly donut shop, here are a few great recipes from the vegan bloggers who have submitted to my other website Finding Vegan:
* German Chocolate Donuts by Better with Veggies
* Vanilla Donuts + Wild blueberry Lemon Glaze by Alimentageuse
* Baked Carrot Cake Donuts by Baking the Law
* Glazed Maple Rhubarb Donuts by Pickles n Honey
* Lemon Lavender Donuts by Fragrant Vanilla Cake
* Zesty Lime Donuts with Coconut Frosting by Season 2 Season Eating
* Basic Vanilla Donut Recipe by Killer Bunnies Inc
* Vegan Donut Party by the Socially Awkward Vegan
* Glazed Chocolate-y Donuts by The Sweet and Savory Life
Or find over 100 recipes in a pretty VEGAN DONUT GALLERY on FindingVegan.com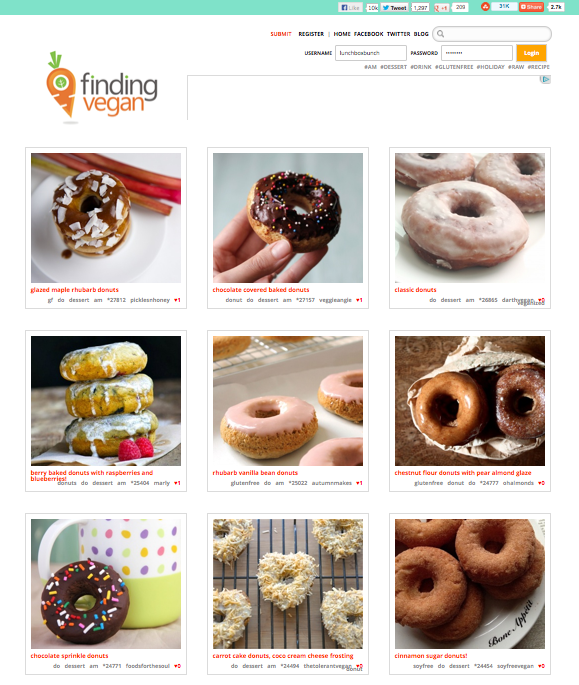 Purr/Snoring going on here that I had to dart my camera lens over to and capture..