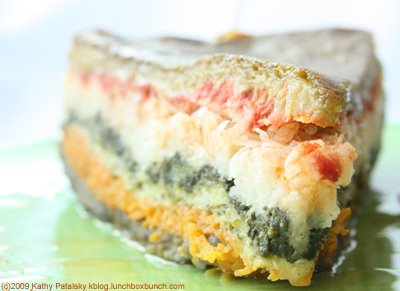 Quiche is one of those foods I kinda miss as a vegan. (Good vegan quiche is so hard to find.) Until now!
NEW! At Le Pain Quotidien: When I saw the delightful addition of a six veggie quiche on Le Pain's menu, I got so excited I almost spit out my soy latte. A traditional quiche is usually very high in saturated fat and calories due to the cheese, cream, butter and egg ingredients. But this vegan quiche has only 370 calories!
Menu Description: Seasonal vegetables with tofu on a gluten-free buckwheat crust. Vegan. 370 calories.

Keep reading for more photos, my layer-by-layer bite analysis and discover two more new vegan specials on the Le Pain menu….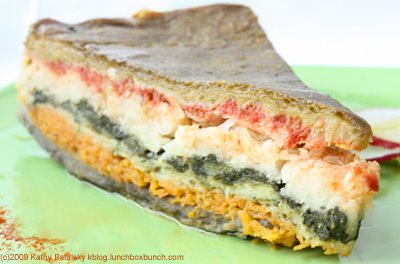 Layer-by-layer bite analysis:
Buckwheat crust, moist
Red Tomatoes, bright
Pickled cabbage, tangy
Spinach, tender
Zucchini, zesty
Shredded carrots, sweet
Tinge of moist tofu somewhere in there. But wait, what is that sixth vegetable?!
Aarrgh! Anyone know???
Six Vegetable Quiche Last Word: To be honest, this is more like a very elegant and complex Shepard's pie, than a quiche. But without the potatoes. The buckwheat crust is so tender it melts in your mouth, and the veggies are flavorful and palate pleasing. Though I can barely find the tofu ingredient, I am assuming it is in there. So don't be fooled into thinking this will be tofu-eggy in consistency. It is moist, tender and casserole-esc.
…and I LOVE it.
NEW VEGAN SPECIALS AT LE PAIN

1. Six Vegetable Quiche
2. Organic Acai Tonic (I tried this and it is more like an acai spritzer. Very light and refreshing)
3. Organic Green Tea and Pistachio "Kiss" (I have not tried this, but it looks like a little mouse cake. Yum.)
PS. Le Pain has one of my favorite on the go vegan soups too!