Chocolate-Dipped Ice Cream Cones with chocolate sprinkles, dipped by you. Ricemellow Creme, aka vegan marshmallow "fluff" creme. Vegan sprinkles, chocolate and rainbow colored. Organic ice cream cones. Yes!
Ice Cream Social. No more cowering in the corner during an ice cream party. Not only can you indulge in swoonable soy/hemp/coconut "ice cream" – but now you can have all the ice cream party toppings and goodies to go with it! I've discovered all sorts of ice cream accessories that deliciously fit my vegan diet. From sprinkles to cones to caramel sauce – I've got your ice cream wishes covered.
Plus, get my easy chocolate-dipped cone recipe. Enjoy this ice cream weather!..
Vegan Ice Cream Goodies:

Suzanne's Ricemellow:

Hand-Dipped Cone:

The Basics: Vegan Ice Cream. Before we get to the goodies, lets go over the basics. My fave store bought vegan ice cream brands can be found in detail in #4 of this post. In short, my fave brands are Coconut Bliss, Living Harvest Tempt and Turtle Island So and Soy Delicious. Details in the link.
STOGO Vegan Ice Cream:

And if you are really lucky, you may have a specialty vegan ice cream shop in your town like I do. STOGO and Lula's in NYC are the best! And Nice Cream in LA is awesome too.
Now onto the ice cream accessories, aka the goodies!!
Vegan Ricemellow Creme by Suzanne's
I saw this in Whole Foods last weekend for just under $5 a tub (it's a big tub!) and I just had to buy it. I was never a huge "Fluff" fan – but visions of marshmallow swirled homemade soycream kept popping into my head – so I bought it.
Vegan Smores Ice Cream Sandwich Recipe Here!
Taste Test: Tastes just like classic "Fluff" marshmallow creme – only it's less dense and silky. It is more airy. Almost a meringue-like airiness. Sticky sweet. Fluffy, sweet, sinfully dreamy.
Uses: Swirl into your fave vegan ice cream – add to a fluff/nut butter dessert panini, make easy vegan smores…or eat it by the spoonful for a sugar rush – if you're into that sort of thing.

Nutrition: Simple ingredients: Brown rice syrup, soy protein, natural gums and natural flavors. 100% vegan, no added artificial flavors or preservatives. 40 calories in 2 Tbsp. fat free. Gluten free.
Not-Much-Nutrition. Obviously all these goodies are 'sometimes' treat foods. Don't start downing Ricemellow Creme by the spoonful for breakfast kids!
Fluff newbie? What is "Fluff"? If you've never seen it. Here: Fluff – and Marshmallow Ice Cream Topping Pics. I remember using both these products as a kid. Ricemellow is the vegan 'somewhat healthier' version of these classics.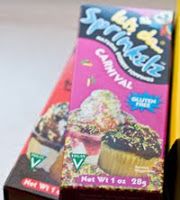 Vegan Sprinkles (Sprinkelz) by Let's do….Organic Sprinkelz.
I've been buying these vegan sprinkles for a while and I love them. My husband loves the chocolate flavor – I prefer the rainbow. They taste better than traditional sprinkles in my humble opinion.
Uses: Topping for ice cream, cupcakes, cookies and more. I use them to make hand-dipped ice cream cones with sprinkles.
Nutrition: Ingredients (rainbow) – organic evaporated cane juice, organic corn malt syrup, water, natural colors. 15 calories in 1 tsp. fat free.
Let's Do…Organic brand also does my favorite vegan ice cream cones.
All these items can be found at Whole Foods Market.
Other Vegan Ice Cream Toppings I like:
Vegan Rice Whip by Soyatoo! – just like Whipped Cream from a can, only vegan.
Vegan Raw Chocolate Spread by Love Street Living Foods. (saw this spread in VegNews! love it..)
Merry Maraschino Cherries – by Tillen Farms.
Vegan Caramel Sauce or Chocolate Sauce by Cocoa V in NYC
Dipped-Cones Recipe. Now onto the recipe for chocolate-dipped cones. I must confess that this recipe and the cones in the photos were not my doing. My husband (who loves his dipped cones – even more than the ice cream) came up with this recipe. It is super easy and you will have hardened delicious cones in just under 15 minutes.
Chocolate Dipped Sugar Cones with Chocolate Sprinkles
vegan, makes 4 cones
4 sugar ice cream cones (plain cones can be used as well)
½ cup vegan chocolate chips
2 tablespoon oil (canola or olive oil will work just fine)
pinch of sugar crystals
pinch of sea salt
4 tablespoon chocolate Sprinkelz (you can use rainbow too)
Directions:
1. Place the chocolate chips, oil and salt in a microwavable container. Microwave on high for 1 minute.
2. Remove from microwave and briskly stir chocolate around until it is a smooth, cream, melted liquid.
3. Grab your cone and a spoon and dip/drizzle chocolate sauce over the outside and interior of the cone. Be generous with your spoonfuls – you want a nice thick layer of chocolate.
4. Sprinkle the Sprinkelz over top the cone (hold cone over container so the wayward sprinkles can be re-sprinkled).
5. Repeat with all 4 cones. Place cones point-side up on wax paper or a non-stick dish (greased plastic or glass works too) and place in the freezer for 10 minutes. The chocolate will harden quite quickly. You can store the excess cones in the freezer until ready to be used.
Just hardened cones:

6. Enjoy! And you don't even need ice cream to enjoy these cones…says my husband who likes to crunch on them plainly. 🙂
Suzanne's Ricemellow Creme: