One of my favorite vegan-friendly neighborhoods in New York City is the lower east side, LES. Whenever I get the chance, I stroll through the gritty, cobblestone streets, peruse the quaint shops and get some tasty treats. ..that like totally rhymed.
Here is my vegan tour of the LES – I'll let you in on a few of my favorite vegan-friendly spots . Where to eat, where to drink and where to meet the cutest shop-kitties around..
There's a lot to discover on the vegan-friendly lower east side. Vegan cupcakes, music, fashion, drinks, and even adorable kitties in vegan shoe boxes (more on this in #2!)..
My Hood. It's true what they say about NYC. When you live here, you tend to stick to your own hood. Months will pass where I won't visit the upper west or east sides. Or Tribeca. Or sadly, even Central Park! But that is why it is pretty much essential to force yourself to get out of your own neighborhood and visit some fave spots.
And if you are an NYC tourist – well you definitely have an excuse to spread out and see all this town has to offer. Including the LES.
For a few years I lived right in the heart of the lower east side neighborhood. So I was spoiled: Babycakes at least once a week, soy chai from Teany, MooShoes perusing whenever I pleased. And of course now that we moved to a new neighborhood, I miss having easy access to those spots. So next time you are in NYC I hope you will check out my lower east side faves and think of me.
Kathy's Vegan Faves: Lower East Side, NYC
Babycakes…

1) Babycakes NYC – 248 Broome st.
Not too long ago, Babycakes was a neighborhood hidden-gem bakery which catered to the allergy-conscious, vegan crowd. Their signature pink-frosted cupcakes were the envy of all. One visit to Babycakes and you'll fall in love. The charming, cheery, perky staff, the retro vibe, the scent of vanilla wafting through the air. My first taste of Babycakes left me a forever fan.
Erin McKenna, the mastermind behind the Babaycakes brand, has in the past few years, built a Babycakes empire! She opened a shop in Los Angeles and now… wait for it, Walt Disney World! How cool is that? If you visit the LES, Babycakes is a must-stop spot. My favorites: the Cinnamon Toastie bread, any cupcake, the chocolate chip cookies and those jam-slathered biscuits. I also love their adorable apparel and mugs. Also yummy, those uber-creative baked doughnuts. Amazing. Pop into Babycakes for an instant mood booster.
My Related Babycakes Posts:
Babycakes review, vintage post
Erin Mckenna's Veggie Girl Power Interview
Babycakes Vegan Doughnuts, review
Top 5 Babycakes Baking Ingredient Secrets
Blueberry Frosted Banana Cupcakes
Easy Stroll from Moo Shoes to Babycakes..

Moo Shoes Boots…

Moo Shoes. Can you spot the "guard cat" – so cute!..

2) Moo Shoes NYC – 78 Orchard St.
Just around the corner from Babycakes is the vegan shoe Mecca – Moo Shoes. Every shoe in the store is 100% animal product free. So shop your heart out – you'll feel good doing it.
Vegan Fashion Dilemma: a constant topic of conversation between my vegan friends and I is "should I wear my old leather boots??" Well I've basically come to the conclusion that I will wear my leather/wool apparel and shoes until they are worn out. Although yesterday when I strutted into Moo Shoes wearing a pair of old gritty leather Ugg boots I felt incredibly guilty. Ugh, I think I am purposefully wearing out my leather boots so I have an excuse to 100% veganize my wardrobe!
I am veganizing my wardrobe one shopping trip at a time. For an early birthday treat, I picked up a sleek pair of Earth brand boots. Perfect for wet weather. I love them. I wore them home and stuck those dirty leather boots in a bag. I left my boot box at the store. It happily found a very grateful, furry owner..
Kitty in a box.

Bonus reason to visit Moo Shoes: those adorable resident kitties!! Another kitty shot..
Teany Lunch…

3) Teany – 90 Rivington st.
Teany is an adorable little cafe on Rivington st. – north of Delancey st. Yes it used to be owned – and made famous by the musician Moby – but to be honest I'm not sure what part he plays in the current running of the shop. Not that it even matters because I go there for the food and drinks! Super yummy soy lattes and chai, a tea list that will leave any tea-fanatic wide eyed and giddy, drool-worthy vegan desserts and sensational vegan sandwiches. I love the BLT (Tempeh bacon, lettuce, tomato, Vegenaise). I usually take my food to go because it can be hard to snag a table in the tiny, er teany shop.
My Review, Teany
4) Fashion and Music Scene!
OK, so I'm really not a fashionista. But if I had a larger "fashion budget" I'd surely spend a lot of it at on the LES. There are several fashion shops that have eco-friendly wear. The best part of shopping is perusing and finding your own fashion treasures.
And if you a music lover you can pretty much stroll down Ludlow street on any Fri/Sat night and find a well-sized, energized crowd. Cakeshop, Living Room and Arlene's Grocery are just a few spots that get packed.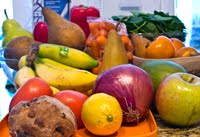 5) Essex Market – 120 Essex st.
Indoor produce market with a few tiny cafes/food vendors. The prices at Essex are stunningly cheap. I remember buying 5 ripe fuyu persimmons for $1 once. Essex is an energetic indoor produce market and you should leave there with at least a few vegan goodies in your bag. Interesting stroll, if anything.
$20 at Essex Market – Produce Lovers Dream
6) Earth Matters – 177 Ludlow st.
My go-to natural health foods grocery store when I lived on the LES was Earth Matters. Yes they are a tad higher priced than say Whole Foods just down Houston Street – but if you are in a rush and looking to nibble on some yummy vegan eats with the locals – this is your spot.
Earth Matters has fabulous fresh juices, smoothies, salads, soups and sandwiches. They usually have a few seats up front to 'dine-in' and in the summer they open the windows wide so it's like a cute open-air cafe. Pay at the register and take your tray to a table. Plus if you are into star-sightings I have seen a few celebs there (Moby (twice), Janeane Garofalo and more.)
7) September Wines – 100 Stanton (at Ludlow)
I love this charming wine shop. It's right down the street from Earth Matters on the corner of Stanton and Ludlow. They have special labels for biodynamic and organic wines. And the staff is super helpful and friendly. I honestly don't think we ever had a 'bad' wine from them! You can easily score a really fantastic bottle for under $20.
8) Laboratorio Del Gelato – 188 Ludlow st.
Super new spot for this awesome brand (they used to be way down the block in a tiny shoebox-sized place). Recently moved. This new location has clear-view-window-walls – and it's huge. Watch them work. Yes they have non-vegan gelato, but don't worry, they have a plethora of awesome vegan-friendly sorbets – sorbettos. Must-try during the warm seasons here in NYC. Heck, I'll eat their sorbet on a cold January day. Maybe.
This new shop is also right across the street from the world-famous Katz's restaurant (although the only thing vegan/worthy at Katz's is the sauerkraut and pickles.)
Nuts & Fruit from Russ's..

9) Russ & Daughters – 179 East Houston St.
I know Russ's is a seafood spot – known for their smoked salmon. But hidden secret: all their amazing vegan goodies! Here's what I get from them: tofu scallion or veggie cream cheese, bagels and bialies, dried blueberries and strawberries, premium nuts and nut/fruit mixes, fresh squeezed OJ, yummy unsweetened tea – plus they have fabulous teas, crackers, mustard, jams and olive oils. One stop shop for a *vegan* picnic.
The only big downside: the place reeks of fish. But trust me, the vegan goodies are worth it. Just go in on a non-crowded day so you can get in and out in a flash. The staff is super nice. Oh, and Pure Food and Wine's Sarma's dad's Baltic Rye Bread is sold there too! Love that.
..there are a few sunny (in the warm months) benches around the corner by American Apparel if you want to eat your vegan bagel, drinks or snacks ASAP.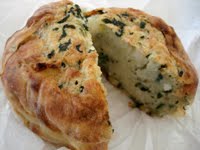 10) Knish Place! Yonah Schimmels – 137 East Houston
Yonah's shop has been there since 1910! Amazing potato knishes. Actually, I had never had a knish before I went here. Sweet Potato is my favorite. Spinach and mushroom are yummy too.
11) Movies at Sunshine! – 143 East Houston st.
You might get tired strolling the LES. So why not pop up to Houston street to check out an indie flick at Landmark Sunshine Cinemas. Coolest movie theater on the LES. Well, it's really the only movie theater. But I love it. They have super fun midnight movies on the weekends. Think Raiders of the Lost Ark, Labyrinth and Muppets Take Manhattan at midnight. Fun.
12) Tien Garden – 170 Allen st.
Just added this one (can't believe I almost forgot my fave LES spot for mushroom noodle soup!) – it's an awesome Asian vegan cafe with amazing soups, entrees and sandwiches. Cozy to eat-in or yummy for delivery.
Other Spots Nearby:
*Caravan of Dreams is a few blocks north of Houston. And a further walk away is Counter. Both 100% vegan-friendly spots. You can also visit Pala Pizza a few blocks west. They serve vegan Daiya-cheese topped pizza that is off the charts amazing. You can also seek out Liquiteria, Stogo Ice Cream and Viva Herbal Pizza a nice walk north. And of course if you are just looking to grocery shop, Whole Foods is right at Bowery and Houston st. If you want a cheap, casual (average but interesting) modified-to-be-vegan burrito head over to San Loco on Stanton St. The sangria is intense – and cheap. For more upscale eats, you can certainly head to Stanton Social. They aren't terribly vegan-appearing – but tell your waiter your issues and they usually deliver. If you are looking for a super fun spot to grab drinks, try Macondo up at 157 Houston st. I adore their white and red sangrias. But the menu is not terribly vegan-friendly, so don't go here if you are wanting munchies too. And is you head north-east you can find Lula's for vegan ice cream sundaes. And the uber-fabulous Dirt Candy is north in the East Village as well. Lost of options for vegans in the LES vicinity – and I'm sure I am forgetting a few!
If you have any vegan-friendly spots to add in the LES area – please leave them in the comments!
Happy LES exploring!!!
I'll leave you with a Babycakes craving…