There are two holiday-ish ice cream flavors that I get really excited aboutPeppermint Stick, with sticky bits of candy cane — and Pumpkin, pure and perfect, rich and creamy, spiced and cozy like Pumpkin Pie. So today, Vegan Pumpkin Ice Cream is on the menu. With an optional serving suggestion of Pumpkin Cookie Ice Cream Sandwiches!..
Churn and scoop these fluffy layers of gold…
The creamiest texture. So good!..

Pumpkin ice cream.
I mean, pie who?…
Pumpkin Ice Cream. This flavor is divine! Not too sweet. Just enough pumpkin pie spice to keep things interesting. A hint of vanilla. A hint of salt to contrast the mild pumpkin and sweet maple.
If you want to win extra credit from the teacher, aka me, hop over to this recipe and whip up some of my Pumpkin Cookies, and use them to make the most amazing pumpkin ice cream cookie sandwiches ever.
Cookie ice cream sandwich anyone? Yes please!

Vegan Ice Cream. I absolutely love making vegan ice cream at home. And while I adore blender ice cream using frozen bananas, machine-churned ice cream using cashew and coconut bases is decadently dreamy.
Churn Talk. This ice cream machine is actually the second one I have owned. I owned a similar one, about fifteen years ago, when I was trying to give up dairy and fro-yo was my weakness. I wanted to make DIY vegan ice cream but had no idea where to find good recipes. There were not blogs back then. Or at least nothing like today. I found recipes from magazines, cookbooks — but mostly my own experimentation. "Pure imagination." To quote Willy Wonka. (And I hope you sang that when you read it. Pure imagination…)
I hated my old machine for one reason. The recipe booklet. I was SO discouraged by the recipe ideas that came with the machine! They all used heavy cream or milk and refined sugar as ingredients, and only sorbets (loaded with refined sugar) for dairy free options.
And sadly, the booklet that comes with the machine today STILL has ZERO innovative, dairy-free ice cream options. Crazy!
Psst, Cuisinart if you are listening, can you please add some vegan ice cream recipes? Coconut, cashew..
Ice Cream Journey… So as time passed, and I went totally vegan, soy ice cream became a thing. But, honestly the first vegan ice cream options didn't taste very good, mostly texture wise. Then almond-based. And coconut milk and now DIY cashew! And finally, today, vegan ice cream ROCKS. Vegan ice cream doesn't have to be flavorless, textureless and awful. Today's recipe is just one example of that!
Ice cream makers, I'm a fan! I usually store mine away in a cabinet, and just leave the container in my freezer, fully frozen whenever I need it. I snagged mine on Amazon for around forty bucks.
So this recipe is absolutely a machine recipe, but let me know if you know how to have success without a machine – maybe with a food processor? Or another method? Curious!
Enjoy and happy fall! Yay Halloween vibes!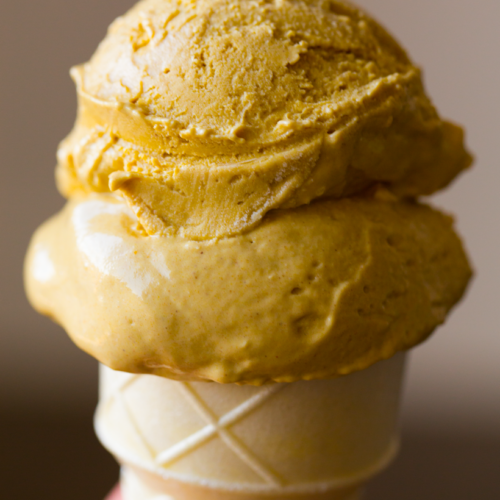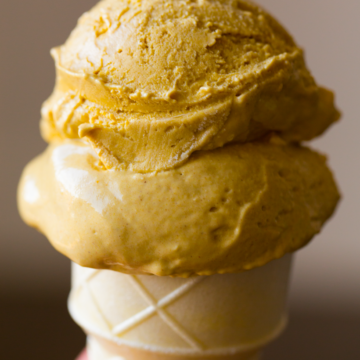 Vegan Pumpkin Ice Cream
This rich and creamy pumpkin ice cream is made using cashews. It has hints of vanilla, maple and pumpkin pie spice! Vegan and so amazingly delicious!
Print
Pin
Ingredients
2 cups raw cashews

1 cup pumpkin puree, unsweetened

¼ cup maple syrup

2 cups non-dairy milk, plain (soy is creamiest option – almond works too though)

1 teaspoon vanilla extract

½ teaspoon sea salt

2 teaspoon pumpkin pie spice

Tools: high speed blender and an ice cream maker
Instructions
Prep: At least 5 hours before starting, soak your cashews in hot water. Soak for at least 5 hours, overnight is optimal. Ice Cream Machine Note: Your ice cream maker container has to be completely frozen – so if it is not already in your freezer, place it in the freezer the day before you make the ice cream.

When ready to start the recipe, drain water from soaked cashews, rinse them a few times too. Add to a high speed blender.

Add all the remaining ingredients to the blender. Blend from low to high until silky smooth.

Start your ice cream maker and pour the mixture into the machine. Allow to churn for at least 20 minutes,or until it begins to firm up into soft peaks. Turn off machine when done and transfer to a freezer-friendly container like a bread loaf pan.

Freeze the ice cream just until it is firm enough to scoop — usually 10-30 minutes. Scoop and serve! Store leftover ice cream, covered, in the freezer.

For cookie ice cream sandwiches: chill your cookies for a few hours before using. Then scoop ice cream onto one cookie (the smooth side) and top with another cookie. Smush the two layers together to create a sandwich. Chill in freezer or consume right away.
nutrition estimate | per serving
Calories:
265
kcal
|
Carbohydrates:
24
g
|
Protein:
8
g
|
Fat:
17
g
|
Fiber:
3
g