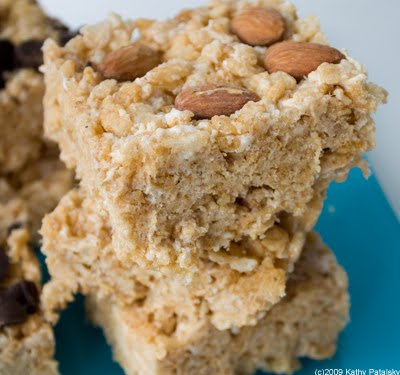 It's been many years since I've indulged in a rice crispy treat, until now! With my discovery of Dandies Air-Puffed Vegan Marshmallows, I was free to experiment with a new recipe. My end result: "Just Dandy" Rice Crispy Treats. They are vegan and gluten free. And you won't believe how delicious they taste. Here's my recipe…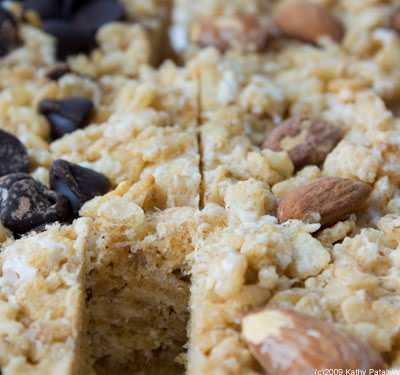 "Just Dandy" Rice Crispy Treats
vegan, gluten free, makes 12-15 squares
5 ½ cups crispy brown rice cereal
*I used Erewhon brand cereal
2 tablespoon vegan buttery spread
2 tablespoon Almond Butter (salted, creamy)
1 bag Dandies Vegan Marshmallows (about 3 heaping cups)
½ teaspoon salt
optional: chocolate chips and/or almonds
Directions:
1. Place buttery spread and almond butter in a sauce pan on med-high. Melt.
2. Add Dandies marshmallows. Stir constantly until marshmallows are about half melted.
3. Reduce heat and add crispy rice cereal. Fold it into heated mixture until cereal is well coated and becomes thick.
4. Transfer mixture into a greased casserole dish. Pat down firmly until flat.
5. Sprinkle with a pinch of salt. Add chocolate chips or almonds to top if you'd like.
6. Stick in the fridge until hard, usually about 1-2 hours. Slice into squares!
Wrap in plastic and store in fridge.