Craving: Vegan Shoes for Summer. Even after I went vegan with my diet, it took me a while to absorb the fact that 'vegan' can mean more than what is on your dinner plate.
Embracing fashion that is animal product free seems like the right choice for any animal lover. But I'll admit, finding vegan fashion is not always easy. But it's getting easier! So when I recently needed some new casual shoes, I was thrilled to find more than a few stylish and fun options. Let me share my fave finds with you.
Craving High Vegan Fashion? Don't worry green fashionistas, in this post you'll also find my list of web links to high-fashion, celeb-embraced, vegan shoe designers. Designers like Stella M and Elizabeth Olsen are perfect for all you ECO-savvy, runway-oogling ladies out there who want more than comfy and cute summer shoes.
Here are my top five fave vegan shoes/brands for the summer season. I'm in love with my number one pick…
———————–
I confess. I have leather shoes in my closet and sometimes I wear them. But the past few years, I've been gladly re-stocking my closet piece by piece with green, animal-product-free fashion that makes me feel good (and look smart).
Vegan, Beyond Food. You may order the veggie burger and comb each ingredient on food labels, checking for animal products – but do you know what products in your office, car, bathroom, living room and closet are animal product free? There aren't ingredient labels on couches, right? But body products and fashion tags are another story. Just the other day I noticed gelatin on the list of ingredients in my hand soap (those tiny moisture beads were the culprit). Be a smart shopper and read those labels – it's always a good idea to know exactly what is going in (and on) your body.
Vegan Fashion is In. Thank goodness vegan fashion has become quite modern and chic thanks to ECO-savvy designers like Stella McCartney and Olsen Haus, fashion trendsetters like Chloe Jo from Girlie Girl Army and ECO-savvy models like Summer Rayne Oakes. And even guys can get in on the green fashion trends with The Discerning Brute.
Vegan Shoes. But for me, the biggest challenge was with my footwear….
Craving New Shoes???…

Before my list, here are a few more ECO Shoe Links…:
Are you a High Fashion-ECO-ista? Here are some other super fashion-forward brands with sexy vegan heels and cute summer sandals…
*Olsen Haus – Pure amazingness for the vegan shoe-aholics who crave high fashion.
*Stella McCartney – High celeb-loving fashion that stomps out the competition in the pages of Vogue – and on the fashion week runways. Amazing.
*Beyond Skin – UK brand with some sleek, sexy shoes – vegan bridal shoes too!
*Mink Shoes – Super California-fashion-forward line of shoes to keep your feet looking fantasticly Paris Hilton-ish. Pretty!
*Neuaura Shoes – Sassy chic shoes to peruse at affordable fashionista prices.
*Ekovaruhuset – Scandinavian company with a drool-worthy store on Ludlow st in NYC. ECO fashion galore.
*Kailia – ECO-Vegan shoes that scream fashionista..
*Vionnet Boutique – OK, so not really shoes, but for some amazing cruelty-free fashion in lala land – check them out.
#TotallyAffordable: I recently saw an article about Payless Shoes teaming up with Zac and Zoe for a green vegan shoe line. So if you are into Payless. Check out these Payless green fashion styles at very affordable prices.
Want more info on animal products in fashion? Happy Cow has a quickie run-down.
Vegan Shoes: Summer Styles for Everyone – My Top Five Brands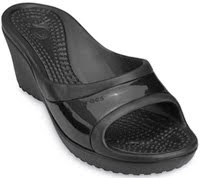 5. Crocs.
OK, OK another confession. In my own mind, I hate Crocs. I vowed I would never ever buy a pair simply because they were kinda grubby looking and who wants to look like Mario Batali anyways?? I would say, cool for Chefs in a kitchen, but not street wear!
Well I did my research after cruising by the new glamorous Crocs store in SoHo NYC – and guess what? Crocs are kinda really cool! OK, so again, I've never tried on a pair. But the vegan styles I found online definitely perked my interest. Note: Not all Crocs are vegan. Stick with the croslight single molded shoes for vegan-friendly feet. Reasonable prices too. My faves were the $39.99 Alice Work (below) and the Sately (right)…
Crocs Alice Work: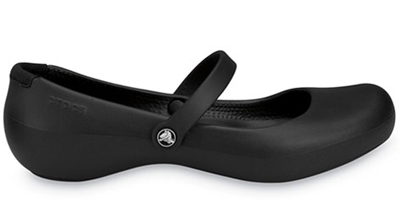 4. Simple.
Simple shoes are shoes for a happy planet. They strive to create sustainable shoes that respect the earth – and your feet. They have a nice selection of casual vegan shoes. I liked their flippee flip flip shoes as well as these super jazzy canvas ballet style shoes (totally teen approved): Carousel Leopard. Reasonable prices for high quality casuals. Prices $30-$55 range.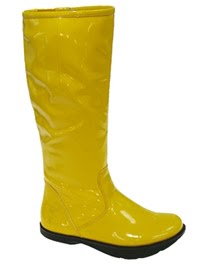 3. Earth.
I bought a comfy pair of Earth shoes a few weeks ago at Moo Shoes and I love them. Super light and they have something called negative heel technology that makes you basically walk differently, better. They claim you burn more calories as well, but I didn't realize that until after my purchase. (I think I burn enough calories trekking through NYC everyday thank you!)
While at Moo Shoes, I also saw these bright shiny yellow Earth rain boots and I fell in love. Super light and they are so eye catching. If you want the perfect vegan rain boot – here it is. Heck, wear them on a sunny day. Sidenotes: 1) Not all Earth shoes are vegan. So be peruse the vegan styles only. 2) Sadly, the shoes I purchased were in very limited stock and I believe discontinued – or I would post a link. Check Earth for new styles online now- and in the future.
2. Anything at Moo Shoes.
I mentioned Moo Shoes above. Well if you don't know, Moo Shoes LES store is a super fabulous place to shop for your perfect pair of vegan shoes – no matter what you are seeking. A wide variety of styles will please moutain trekkers, city-dwellers, fashionistas and even beach bums. Moo Shoes store is pretty much the coolest!
…Well, maybe I'm factoring in the fact that they give away free "Anti-Fur" heart pins, they have an adorable resident desk-dwelling fuzzy black and white cat and they are just a block away from Babycakes Bakery…so even if you don't find your perfect pair of new shoes, you can at least cash in on treating yourself to a vegan cupcake, brownie, doughnut or my fave, the cinnamon toastie. I digress. Here are a few super chic shoes I found at Moo Shoes. You can buy Moo Shoes online too. But be warned, Moo Shoes' stock sells out fast, so check for new arrivals often.
Allure Shoe, Heart of Darkness, $90: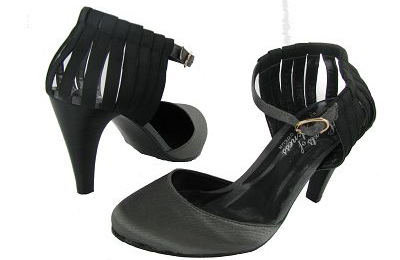 Poppy Shoes from Novacas, $109: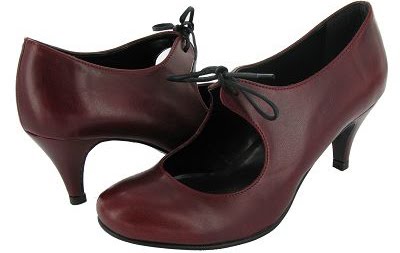 1. TOMS Shoes!

I am becoming a Tom's Shoes groupie. I am in love with my brand new summer season Tom's Pink Murray shoes. They arrived yesterday. I had an extra bounce in my step this morning as I took them out for a spin while doing my morning errands. Prancing along the NYC sidewalks, my feet were super cozy and these shoes passed my shoe comfort test. They remind me of ballet slippers. I was literally doing twirls down my apartment staircase this morning.
Plus, for every pair of shoes you buy, Tom's donates a pair to a child in need. How awesome is that? Shoes with a soul. Plus they come in a cute box with your very own Tom's Shoes 'flag'. Take a photo of your Tom's flag and shoes somewhere exotic and email it in. See the fan pics on Tom's website.
Here are my shoe pics I quickly took with my cell phone this morning. Love these shoes. I will be wearing them all summer long, and I'm tempted to get a second pair in a different pattern. Note: not all Tom's shoes styles are vegan, but they have a vegan-friendly category which makes it easy to peruse online. They have some awesome boots too. Find Vegan TOMS Shoes!
TOMs Vegan Shoe label…

100% VEGAN Lines? I received a comment from a reader who noted that a few of the brands in my list promote leather-containing footwear. Read my answer to this concern in the comments section.
*note all product images (except for the tom's shoes) were pulled from brand websites: crocs, mooshoes, earth, simple.
Even my kitty like TOMs…