Ok, so I am officially on a scone kick. It all started with my savory scones I made earlier this week and have been enjoying so much paired with a mug of matcha. And then I found myself with a fridge-filled with fresh spring strawberries so Vegan Strawberry Sunrise Scones became my Friday morning project. These are so delicious!
These fluffy scones bake up with tender insides and a crispy, buttery outside. The flavor is fresh strawberry meets orange zest and a hint of banana. I am in love. These are the perfect breakfast or brunch scones. I love the fruity flavors and energizing citrus aroma! Enjoy!..
Before baking..
I used sprouted grain flour again because I loved the texture it created for my last batch of scones. But you can use regular wheat flour if need be!
Strawberry Season! I love when berry season rolls in. Fresh, in-season and (preferably local and organic) strawberries are sweet, juicy and bright red in color. I love just eating them on their own or adding to oatmeal, smoothies, cereal, salads and more.
The most fluffy and tender insides with a crispy, rich and buttery outside…

And one big carton of strawberries (about 1b) contains only around 150 calories! That is equivalent to most slices of bakery bread! Load up on fresh berries this season and beyond, they are some of nature's most healthy foods.

Strawberries are loaded with vitamin C, fiber and even lycopene form that bright red color.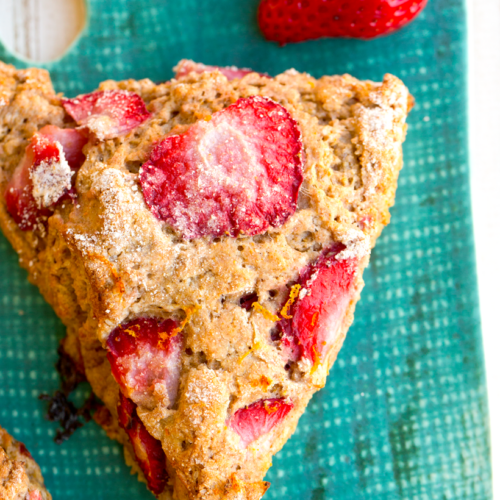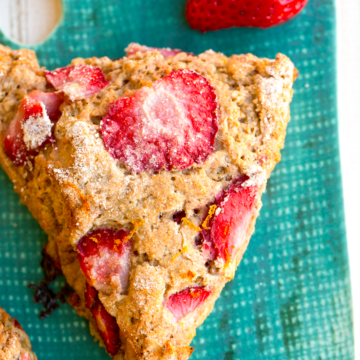 Strawberry Sunrise Scones
These fluffy, butter vegan scones have fruity flavors in each bite. strawberry, banana and orange.
Print
Pin
Ingredients
Dry:
2 cups sprouted grain flour (if using regular wheat flour, add another 2-4 tablespoon as needed to thicken dough)

1 tablespoon baking powder

½ teaspoon baking soda

½ teaspoon salt

¼ cup raw sugar
Blend:
2 ripe bananas

¼ cup vegan cream cheese (or a rich plain yogurt)

1 teaspoon orange zest

2 tablespoon almond milk

¼ teaspoon vanilla extract
Fold in:
1 stick (½ cup) vegan butter, grated or finely chopped

1 ¼ cups diced or sliced strawberries, rinsed and dried well
Instructions
Preheat oven to 400 degrees. Line a baking pan with parchment paper.

Add the dry ingredients to a large mixing bowl and stir to combine.

Add all the "blend" wet ingredients to a blender and blend until smooth.

Pour the wet mixture into the dry bowl and stir until the dough becomes clumpy.

Fold in the grated or chopped vegan butter and finally the strawberries. Knead the dough in the bowl with your hands. Add some flour to your hands if it feels a bit too sticky.

Transfer the dough to a floured surface and press out the dough to a circle – about a foot in diameter. Cut the dough in half, then quarters, then eights – like cutting a pizza. Place the triangle slices on the baking sheet.