This post is sponsored by Wild Blueberries of North America.
Bring on the winter holidays and the festive party season that comes along with it! When I think of the winter holidays I think of twinkly, white lights, crackling fireplaces, the warm hum of laughter and holiday cheer, and a mellow loop of holiday music playing in the background. And when people gather, one thing is certain: food! More specifically, party snacks. So today I share my Vegan Wild Blueberry Cashew Spread on Crostini with Fresh Basil…

I have been to many holiday parties where all you find are traditional cheese plates, Christmas cookies, rich desserts and maybe a less-than-exciting looking veggie platter with a few dips set out. Well, fruits and veggies are my favorite things to use for any holiday spread, so I was so excited to create something amazing using one of my favorite fruits.. Wild Blueberries!
Did you know that Wild Blueberries are actually 10,000 years old, wild and naturally nestled into the land that they grow on to this day, but also easily accessible because you can find them in your grocer's frozen food aisle? So while everyone is bragging about their "aged" cheeses or fine old wines, you can be smart and sassy with your spread of 10,000 year-old berries. Boom.
Do something healthy this holiday season and create a few Wild Bites. With this holiday spread you'll bring on the antioxidants with Wild Blueberries.
Enjoy and have a happy start to the holiday season everyone!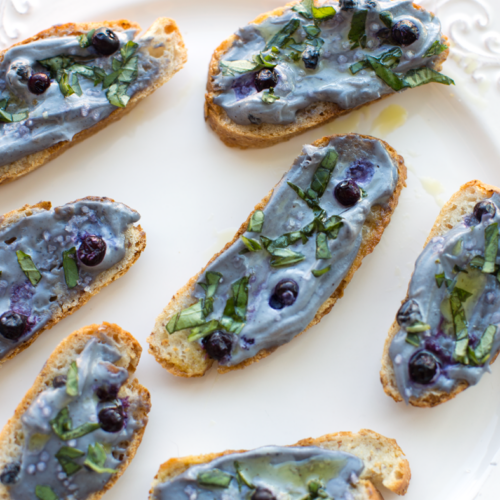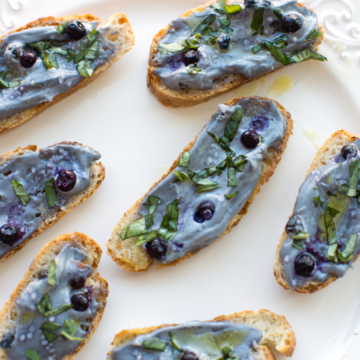 Vegan Wild Blueberry Cashew Spread on Crostini with Fresh Basil
These delicious Wild Blueberry crostini bites are slathered with pretty purple cashew cheese with accents of fresh basil.
Print
Pin
Ingredients
1 ½ cups raw cashews

½ cup frozen Wild Blueberries, warmed to room temp

2 tablespoon coconut butter, melted (or sub with coconut oil if needed, but butter is a bit creamier)

¼ teaspoon pink salt or fleur de se
Crostini:
1 loaf french bread or a gluten-free substitute, sliced into crostini rounds

1 bunch fresh basil or mint

¼ cup frozen Wild Blueberries

Extra virgin olive oil

Fleur de sel or pink salt

Optional: lemon or orange zest
Instructions
The day before you plan to prepare the cream cheese spread, soak your raw cashews in warm water. Soak for at least eight hours for the silkiest spread. Cashews will process more smoothly the more soaked they are.

Drain your cashews and rinse well in warm water. Add the soaked cashews to a food processor or high-speed blender. Also add in the Wild Blueberries, coconut butter and salt. Process until smooth. The juices from the Wild Blueberries along with the soft melted coconut butter should be enough to process the cashews, but if your cashews are on the dry side or the blend isn't coming together, add non-dairy milk in splashes until it blends clean. You want a rich, velvety spread.

Pour the cashew butter into a small bowl and fold 2 tablespoon of Wild Blueberries into the spread. Cover the bowl with foil or plastic wrap and place in the fridge to chill – at least an hour should do it.

Preheat oven to 350 degrees. Lay all your bread slices on a baking sheet, brush them with a tiny bit of extra virgin olive oil if desired, toast just until the edges are nice and crispy. Remove the bread from the oven and let cool for ten minutes.

Spread the chilled Wild Blueberry spread on the crostini. Garnish with a few Wild Blueberries, extra virgin olive oil, finely chopped basil or mint and a pinch of fleur de sel.. Enjoy!