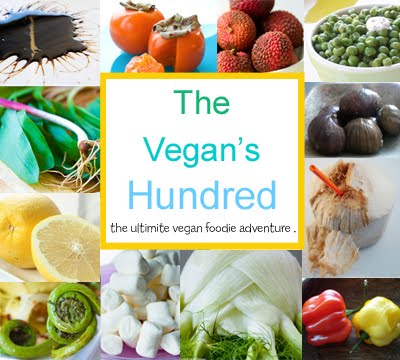 A while back, Andrew of the foodie blog Very Good Taste, posted an article called the Omnivore's Hundred. The "Omnivore's 100" is a list of Andrew's interpretation of the 100 foods every omnivore needs to try. The list gathered a loyal following as bloggers and foodies everywhere began following Andrew's instructions to re-post the list and join in the challenge. He instructs everyone to cross out things they'd never eat and bold the foods they have already conquered. Fun right? Well as much as I loved the idea, as I began to read the food list I knew I couldn't participate. Venison, snake, goat's milk and haggis. Definitely NOT vegan-friendly.
Vegan Hundred. I love the idea of challenging foodies to try as many new, classicly delicious and unusual foods as they can. So I give to you: the vegan's 100. One-hundred foods that every vegan (or any curious foodie) must try at least once. Check out the list and details on how you can participate in this foodie adventure…

The Challenge: Just as the omnivore list does, I challenge you to re-post this list and participate in the challenge! Cross out or italicize all the foods you would never eat, bold foods you have tried and update your list as you participate in trying all the foods on my Vegan's 100 list. Then if you'd like, post a link to your list in my comments section so others can see how you are doing. I tried to stay true to the original omnivore 100 by leaving on a few of the vegan food items on Andrew's list. However, since most of the foods were not vegan, there was a lot of space to fill! My criteria for food items were that they had to be either a unique whole food (like a lychee) or a notably stand-out-delicious way to prepare a common food (like scrambled tofu).
The Vegan's Hundred
Here's what I want you to do:

1) Copy this list into your blog or social networking site profile, including these instructions.
2) Bold all the items you've eaten.
3) Cross out or italicize any items that you would never consider eating.
4) Optional extra: Post a comment on this post linking to your results.
I hope you will join this vegan foodie tasting adventure.
Post the link to your list in the comments-if you have any questions, leave them in the comments as well!
…lets show the omnivores that the question "what do vegans eat?" definitely has over 100 amazing answers…!
The HHL Vegan Hundred:
1. Molasses
2. Cactus/Nopales
3. Scrambled Tofu
4. Grilled Portobella Caps
5. Fresh Ground Horseradish
6. Sweet Potato Biscuits
7. Arepa
8. Vegan Cole Slaw
9. Ginger Carrot Soup
10. Fiddlehead Ferns
11. Roasted Elephant Garlic
12. Umeboshi
13. Almond Butter Toast
14. Aloe Vera
15. H and H Bagel NYC
16. Slow Roasted Butternut Squash
17. White truffle
18. Fruit wine made from something other than grapes
19. Freshly ground wasabi
20. Coconut Milk Ice Cream (not store bought)
21. Heirloom tomatoes
22. Orchard-fresh pressed apple cider
23. Organic California Mango (in season Sept-Oct only)
24. Quinoa
25. Papaya Smoothie
26. Raw Scotch Bonnet (habanero) pepper (just a bite!…hot!
27. Goji Berry Tea
28. Fennel
29. Vegan Chocolate Chip Cookie
30. Radishes and Vegan Buttery Spread
31. Starfruit
32. Oven fresh Sourdough bread
33. Sangria made with premium fruit and juices
34. Sauerkraut
35. Acai Smoothie
36. Blue Foot Mushrooms
37. Vegan Cupcake from Babycakes nyc
38. Sweet Potatoes and Tempeh combo
39. Falafel
40. Spelt Crust Pizza
41. Salt and Pepper Oyster Mushrooms
42. Jicama Slaw
43. Pumpkin Edamame Ginger Dumplings
44. Hemp Milk
45. Rose Champagne
46. Fuyu
47. Raw Avocado-Coconut Soup
48. Tofu Pesto Sandwich
49. Apple-Lemon-Ginger-Cayenne fresh-pressed juice…with Extra Ginger
50. Grilled Seitan
51. Prickly pear
52. Fresh Pressed Almond Milk
53. Concord Grapes off the vine
54. Ramps
55. Coconut Water fresh from a young coconut
56. Organic Arugula
57. Vidalia Onion
58. Sampler of organic produce from Diamond Organics
59. Honeycrisp Apple
60. Poi
61. Vegan Campfire-toasted Smores
62. Grape seed Oil
63. Farm fresh-picked Peach
64. Freshly-made pita bread with freshly-made hummus
65. Chestnut Snack Packs
66. Fresh Guava
67. Mint Chocolate Chip Oatmeal Cookies
68. Raw Mallomar from One Lucky Duck, NYC
69. Fried plantains
70. Mache
71. Golden Beets
72. Barrel-Fresh Pickles
73. Liquid Smoke
74. Meyer Lemon
75. Veggie Paella
76. Vegan Lasagna (raw optional)
77. Kombucha
78. Homemade Soy Milk
79. Lapsang souchong
80. Lychee Bellini
81. Tempeh Bacon
82. Sprouted Grain Bread
83. Lemon Pepper Tempeh
84. Vanilla Bean
85. Watercress
86. Carrot you pulled out of the ground yourself
87. Vegan In-Season Fruit Pie
88. Flowers
89. Corn Chowder
90. High Quality Vegan Raw Chocolate
91. Yellow fuzz-free Kiwi
92. White Flesh Grapefruit
93. harissa
94. Coconut Oil
95. Jackfruit
96. Homemade Risotto
97. Spirulina
98. Seedless 'Pixie' Tangerine
99. Gourmet Sorbet, not store bought
100. Fresh Plucked English Peas
*Want more info? Foodista links and HHL links are shown in a double list below*
The HHL Vegan Hundred:
1. Molasses
2. Cactus/Nopales
3. Scrambled Tofu
4. Grilled Portobella Caps
5. Fresh Ground Horseradish
6. Sweet Potato Biscuits
7. Arepa
8. Vegan Cole Slaw
9. Ginger Carrot Soup
10. Fiddlehead Ferns
11. Roasted Elephant Garlic
12. Umeboshi
13. Almond Butter Toast
14. Aloe Vera
15. H and H Bagel NYC
16. Slow Roasted Butternut Squash
17. White truffle
18. Fruit wine made from something other than grapes
19. Freshly ground wasabi
20. Coconut Milk Ice Cream (not store bought)
21. Heirloom tomatoes
22. Orchard-fresh pressed apple cider
23. Organic California Mango (in season Sept-Oct only)
24. Quinoa
25. Papaya Smoothie
26. Raw Scotch Bonnet (habanero) pepper (just a bite!…hot!
27. Goji Berry Tea
28. Fennel
29. Vegan Chocolate Chip Cookie
30. Radishes and Vegan Buttery Spread
31. Starfruit
32. Oven fresh Sourdough bread
33. Sangria made with premium fruit and juices
34. Sauerkraut
35. Acai Smoothie
36. Blue Foot Mushrooms
37. Vegan Cupcake from Babycakes nyc
38. Sweet Potatoes and Tempeh combo
39. Falafel
40. Spelt Crust Pizza
41. Salt and Pepper Oyster Mushrooms
42. Jicama Slaw
43. Pumpkin Edamame Ginger Dumplings (Kitchen Club NYC)
44. Hemp Milk
45. Rose Champagne
46. Fuyu
47. Raw Avocado-Coconut Soup
48. Tofu or Chik'n Pesto Sandwich
49. Apple-Lemon-Ginger-Cayenne fresh-pressed juice…with Extra Ginger
50. Grilled Seitan
51. Prickly pear
52. Fresh Pressed Almond Milk
53. Concord Grapes off the vine
54. Ramps
55. Coconut Water fresh from a young coconut
56. Organic Arugula
57. Vidalia Onion
58. Sampler of organic produce from Diamond Organics
59. Honeycrisp Apple
60. Poi
61. Vegan Campfire-toasted Smores
62. Grapeseed Oil
63. Farm fresh-picked Peach
64. Freshly-made pita bread with freshly-made hummus
65. Chestnut Snack Packs
66. Fresh Guava
67. Mint Chocolate Chip Oatmeal Cookies
68. Mallomar from One Lucky Duck, nyc
69. Fried plantains
70. Mache
71. Golden Beets
72. Barrel-Fresh Pickles
73. Liquid Smoke
74. Meyer Lemon
75. Veggie Paella
76. Vegan Lasagna (raw optional)
77. Kombucha
78. Homemade Soy Milk
79. Lapsang souchong
80. Lychee Bellini
81. Tempeh Bacon
82. Sprouted Grain Bread
83. Lemon Pepper Tempeh
84. Vanilla Bean
85. Watercress
86. Carrot you pulled out of the ground yourself
87. Vegan In-Season Fruit Pie
88. Flowers
89. Corn Chowder
90. High Quality Vegan Raw Chocolate
91. Yellow fuzz-free Kiwi
92. White Flesh Grapefruit
93. harissa
94. Coconut Oil
95. Jackfruit
96. Homemade Risotto
97. Spirulina
98. Seedless 'Pixie' Tangerine
99. Gourmet Sorbet, not store bought
100. Fresh Plucked English Peas