Last year I did my very first Veggie Girl Power Interview Series. It featured a few of my veggie girl idols like Marilu, Chloe Jo, Rory, Sarma, Amanda Cohen, Erin McKenna and more. I had so much fun celebrating the strength, grace and wisdom of these superwomen that I knew I had to make my VGP series an annual event. After weeks of planning, I'm excited to unveil this year's Veggie Girl Power ladies. Lets meet them! And see the Interview Series Schedule…

What is Veggie Girl Power?? This series celebrate female trailblazers who Inspire Us! These veg-superstars are women with experience, wisdom, creativity, skills, heart, passion, grace, drive, dedication and personality!
Inspired! Again. And a few months ago I was at a panel event here in NYC and finally met Chloe Jo Berman for the first time in person. She told me how much she loved my first VGP series and said I should definitely do another one. Well nothing like a little inspiration from Chloe Jo to kick me into gear. The next day I got to work on my wish list of ladies to interview for this year's series. I sent out invites and today I am announcing them to you!..
Series Schedule: Veggie Girl Power 2010
Nov 30th – Gena Hamshaw
Dec 1st – Chloe Coscarelli
Dec 3rd – Susan Voisin
Dec 5th – Carolyn Scott
Dec 7th – Ani Phyo
Dec 8th – Heather Mills
Dec 11th – Alex Jamieson
Dec 13th – Isa Chandra *sorry Isa is not in the header VGP image above! She was a bonus add-in. Photos will be in her interview (and I snuck one in below)
I couldn't be more thrilled about this year's line-up of ladies!
Here's a brief intro to the ladies you'll meet in this year's Veggie Girl Power series…
* Chloe is a bubbly vegan cupcake superstar ingenue who conquered Cupcake Wars on the Food Network – and has been in the veg spotlight ever since! She has been featured in VegNews, The New York Times, on her website ChefChloe.com and more. Chloe Coscarelli has some serious Veggie Girl Power!
*Ani has a fantastic line-up of raw vegan books featuring creative, delicious, healthy and easy recipes. She was recently featured in Food & Wine Magazine. Ani's website AniPhyo.com is an inspiring resource for fresh ideas and fabulous recipes. Ani Phyo glows with Veggie Girl Power spirit.
*Susan of FatFreeVegan.com has been gathering veggie fans for a while now. She was recently crowned "Favorite Blogger" in the 2010 VegNews Veggie Awards – A title she has held since 2007! Her blog is filled with gorgeous food photography, fun stories and amazing recipes. Susan Voisin shares her Veggie Girl Power everyday.
*Heather really needs no introduction. Her passionate voice and message of compassion has been featured everywhere – Heather's devotion to animal rights and vegan living has inspired millions all over the world. Heather was the VegNews Person of the Year in 2009. Heather's website showcases her many achievements in making the world a better place for both animals and humans. She even showed off her grace by appearing on ABC's Dancing with the Stars – Heather Mills sparkles with Veggie Girl Power!
*Gena, an NYC food blogger, ChoosingRaw.com, and clinical nutritionist, is one of those super-fun ladies who speaks her mind without hesitation. And when she does, everyone pays attention! I met Gena at the Dole Summit this past month and knew I had to include her in this year's series. Gena's Veggie Girl Power vibes will empower veggie girls everywhere.
*Alex, a multi-talented vegan chef and author, first appeared to many of us on 'the big screen' in the award-winning documentary Super Size Me. And ever since then she has been an authority on healthy vegan cooking and living. Her website, NutritionforEmpoweredWomen.com showcases her impressive vegan path. Alex has been seen on Oprah, The Final Word, 30 Days and The National Health Test with Bryant Gumble. Alexandra Jamieson lives and breathes the Veggie Girl Power spirit.
*Carolyn is a bubbly, ambitious vegan entrepreneur who travels the world seeking the best vegan travel has to offer – all so that she can share her finds with her fans on HealthyVoyager.com. Carolyn has her own radio show and a vast collection of vegan travel videos on her site. If you ever need vegan travel advice – Carolyn is your go-to girl. Carolyn Scott travels far and wide with her vibrant Veggie Girl Power spirit!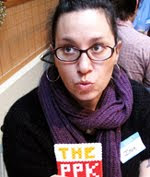 *Isa Chandra Moskowitz is the author of several best-selling cookbooks: Vegan with a Vengeance, Vegan Cupcakes Take Over the World, Veganomicon, Vegan Brunch, and Vegan Cookies Invade Your Cookie Jar. Isa's website Post Punk Kitchen is a vegan online mecca. For my 27th birthday, my sister bought me Veganomicon – a few months later I started my blog. Thanks for the veggie girl *inspiration* Isa.
2009. And be sure to check out last year's Veggie Girl Power Interviews and "Best of" VGP post!..
Sarma Melngailis
Chef Amanda Cohen
Marilu Henner
Rory Freedman
Chloe Jo Berman
Karina Allrich
Kristen Suzanne
Erin McKenna
"Best Of" VGP 2009